---
KILLERS

---
January 24, 2014
Q&A guests: Writer-codirector-producer Timo Tjahjanto,
stars Kazuki Kitamura and Rin Takanashi

---

Rin Takanashi, Kazuki Kitamura, Timo Tjahjanto. Photo © FCCJ.

Marking a groundbreaking collaboration between Japan and Indonesia, the highly anticipated Killers arrived at FCCJ just days after its world premiere at the 2014 Sundance Film Festival and less than a week before its Japan debut on February 1. The pan-Asian thriller was coproduced by Nikkatsu Corp. and Indonesian production house Guerilla Merah Films. Shot in Tokyo and Jakarta, the film's creative team includes some of the hottest names in the business: producer Yoshinori Chiba of Cold Fish fame and executive producer Gareth Evans of The Raid: Redemption.
One-half of the acclaimed directing duo the Mo Brothers, Timo Tjahjanto heaped praise on Nikkatsu's support of the venture, which spent only 15 days shooting in Tokyo before moving to Jakarta for 40 more.
Although some people were scared off by the MC's description of Killers and the truly frightening Japanese poster, they were missing the bigger picture: this film is one of the first major international coproductions with a Japan studio — a trend that will surely continue. Films in this violent, psychological thriller genre (sometimes derisively called "torture porn") are an outgrowth of the J-Horror films that became so popular worldwide in the 90s, another big story. These genre films also tend to be cheaply made, but they also tend to be among the most profitable films at the global box office.
So Killers is an immensely newsworthy film — as well as a well-reviewed one — and the FCCJ audience was privileged to have an opportunity to discuss its making with the filmmaking team.

© 2013 NIKKATSU/Guerilla Merah Films
Media Coverage
---
AU REVOIR L'ETÉ

---
January 9, 2014
Q&A guests: Director Koji Fukada, producer-actor Kiki Sugino
and star Fumi Nikaido

---
Kiki Sugino, Fumi Nikaido, Koji Fukada

The captivating Au Revoir L'ete, the award-winning new film from director Koji Fukada, kicked off our 2014 Film Night screenings. Three years after his blackly humorous Hospitalité scooped up awards and wowed international audiences, Fukada's charming homage to Eric Rohmer has been following suit on the festival circuit. Fukada was joined by next-generation film royalty producer-actor Kiki Sugino and star Fumi Nikaido for the Q&A, during which Nikaido revealed that she had been shooting Sion Sono's Why Don't You Play in Hell?— in which she plays a bitch on wheels — at the same time as Fukada's film. In Au Revoir L'ete, Nikaido (of Himizu fame) plays the beguiling 18-year-old Sakuko, who accompanies her aunt to the countryside for a few weeks in the waning days of summer, meets a variety of local characters, befriends a Fukushima refugee who works part-time at his uncle's love hotel, and observes the increasingly complicated love lives of her aunt and other adults with growing interest. Leisurely paced and gently comical — but packing an emotional punch or two — Au Revoir L'ete brought a ray of summer warmth to a frigid January day at FCCJ.
— Photos by Koichi Mori except where noted.
Media Coverage
Wednesday, January 01, 2014
---
WELCOME to the Film Committee Blog
---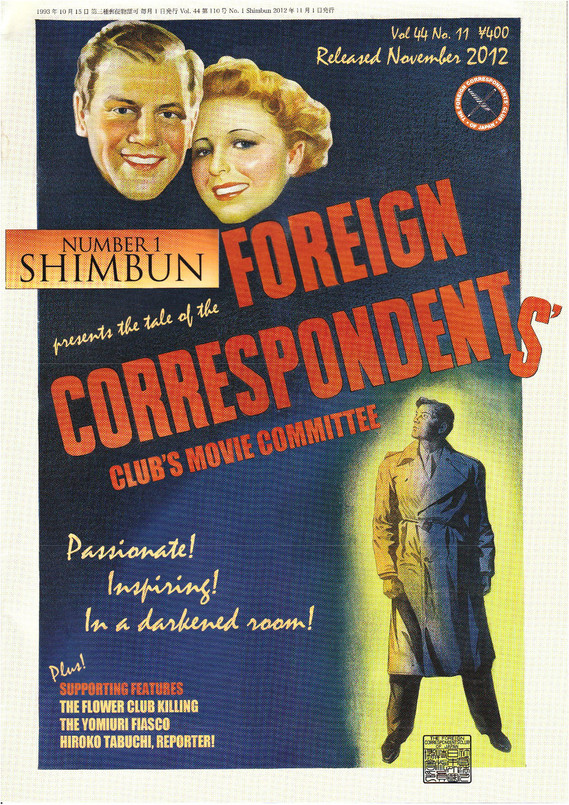 The FCCJ is home to Japan's only ongoing (free!) film series with English subtitles and filmmaker Q&A sessions. Over the past five years, we have hosted about 20 sneak previews and special screenings a year, making the Club a must-stop venue for previews of new releases, particularly specialty and award-winning films (although we don't slight commercial releases if they are making news). Because our events provide a rare opportunity for filmmakers and stars to interact openly with the press, our Film Nights lead to great sound bites, photos and video grabs — resulting in generous, immediate coverage in Japanese print, broadcast and online media — and also act as a springboard to overseas sales and festival berths, since foreign correspondents and film critics often start the buzz after seeing the films here at FCCJ first.
The Movie Committee goes after the most noteworthy, newsworthy films and filmmakers, seeking depth, breadth and variety as we line up titles large and small, narrative and documentary, foreign and Japanese, by known and up-and-coming directors.
Although we host more intimate gatherings for issues-oriented documentaries, we've attracted huge crowds for films as diverse as Yang Li's contentious documentary Yasukuni, Tra Ahn Hung's Norwegian Wood, the late Koji Wakamatsu's Caterpillar, the Osamu Mukai vehicle We Can't Change the World, but We Wanna Build a School in Cambodia, Iranian maestro Amir Naderi's Tokyo-set Cut, Yoko Narahashi's Emperor, and even Underwater Love, the world's first pink (soft-porn) musical.
In the past few years, we have sneak previewed Japan's official Oscar selections, Kaneto Shindo's Postcard and Yonghi Yang's Our Homeland, along with Oscar nominees Five Broken Cameras, from Palestine and Israel, Lucy Walker's stunning The Tsunami and the Cherry Blossom. After each screening, we have hosted animated Q&A sessions with a range of international and Japanese talent, including screen legends Kyoko Kagawa, Joe Shishido, Chieko Matsubara, Kiki Kilin and Koji Yakusho.
In 2014, we will continue making every effort to bring noteworthy documentary and narrative films to the FCCJ in a timely manner — enabling members/guests and outside press not only to see them before their Japanese release, but always with English/Japanese subtitles and the presence of the filmmakers/stars themselves. The FCCJ is still the only venue in Japan that provides this privilege on an ongoing basis.
The FCCJ now has a new website, and we are kicking off 2014 by starting this blog about our screening series. Check back frequently for postings on upcoming events, as well as photos and links to press coverage from past events.
— Posted by Karen Severns