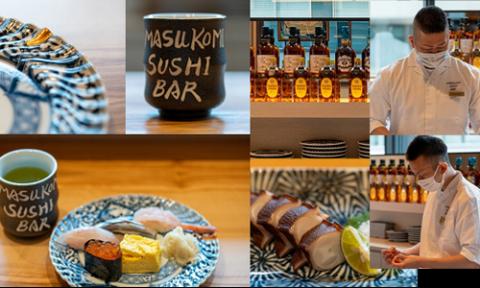 Dear Members,
With our much anticipated reopening just days away, please find below the lunch and dinner selections for your dining pleasure.
Due to very high demand at this time, the evening menu will initially be limited to a choice of 2 full course menus created to introduce members to the
best of the master chef's signature dishes.
It is our hope to become acquainted with the tastes and preferences of our members in the weeks ahead.
We sincerely look forward to welcoming you to the new Masukomi Sushi Bar.
Lunch
Masukomi lunch plate
From 1,360 yen (plus tax)   *No service charge at lunch
Evening
Two 'Omakase' course menus introducing the finest of Masukomi dishes:
Course A:  13,000 yen (excluding tax and service charge)
Course B:   8,000 yen (excluding tax and service charge)
*Reservations for dinner will be limited to course dinners at this time.
A la carte menu will also be available.
Whisky 'bottle keep' is available from 7,000 yen (+ tax) for a limited opening special selection of 55 bottles.
Make your reservation by phone at 03-3211-8184 (Weekdays only)
Masukomi Sushi Bar
リニューアルオープンを目前に控え、ランチとディナーのメニューをご紹介します。
当初、イブニングメニューは、シェフのシグネチャーメニューを紹介する2種類のフルコースメニューをご紹介いたします。
今後、会員の皆様のお好みに合わせたメニューをご提案させていただきます。
ランチ
マスコミランチプレート
1,360 円 (税別)より
*ランチ時はサービス料を頂きません。
ディナー
おまかせコースメニュー
13,000 円 (税・サービス料別)
8,000 円 (税・サービス料別)
*コース料理のみご予約を承ります。
単品料理もご用意致します。
ウィスキーボトルキープご利用可能
7,000 円 (税別)より
第一次募集55本でご用意しております。
ご予約はお電話にてお願いいたします。03-3211-8184 平日のみ
ご来店お待ち申し上げております。
マスコミ・スシバー