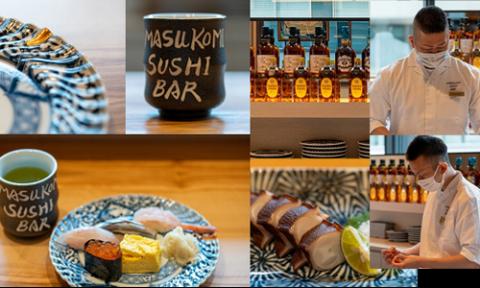 FCCJ Sushi Bar Menu - New Price List (from November 14, 2022)
Dear Members!
This is to inform you that the Maskomi Sushi Bar will raise the prices of the lunch menu this month after reviewing the ongoing price rises in food.
Ariso Sushi is aware of the popularity of its lunch menu and will take the utmost care to provide members with value for money by upgrading the new set offer.
We respectfully invite members to continue their patronage and look forward to serving everyone.
ランチ (11月14日より)
Lunch (from November 14th)
おまかせ握り / Omakase Nigiri
4,500 yen
天然本まぐろ丼 / Natural Bluefin Tuna Rice Bowl
3,600 yen
ばらちらし / Bara Chirashi
3,300 yen
ウニ入りばらちらし / Uni-iri Bara Chirashi
4,400 yen
ディナー Dinner
おまかせコース / Omakase Course
10,000 yen
Price without tax included
F&B Committee
---------------------------------------------------------------------
The Echizen Crab Season Is Here!
Great news for FCCJ sushi aficionados and crab fans:
The king of Japan's famed crab delicacy, the Echizen crab from Fukui prefecture, is back in season, and ready to return to our menu at Masukomi Sushi bar from November 10th. Masukomi Sushi is proud to serve the best of Echizen from the rocky, plankton rich waters off the shore of Mikuni in Fukui Prefecture.  The Fukui Echizen is renowned for its rare succulence which has made it the favorite of crab connoisseurs across Japan for generations and has been selected for a special annual presentation to the Imperial Household. Let our Sushi Master treat you to the pleasures of the fabled Echizen crab, available from Thursday at the Masukomi Sushi Bar. Reservation required.*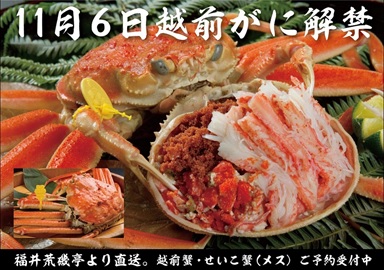 Echizen Crab Selection:
Seiko Crab (female)
Medium: 8,000 yen (plus tax)
Large: 13,000 yen (plus tax)
Echizen Crab (male)
700 grams: 40,000 yen (plus tax)
800 - 900 grams: 60,000 yen (plus tax)
1 kilogram: 80,000 yen (plus tax)
1.2 kilogram: 120,000 yen (plus tax)
Cancellation policy
100% charge will apply if the cancellation is not made by the afternoon of the previous day.
For reservation, please call Masukomi Sushi Bar Direct at 03-3211-8184
Masukomi Sushi Bar
Dear Members,
With our much anticipated reopening just days away, please find below the lunch and dinner selections for your dining pleasure.
Due to very high demand at this time, the evening menu will initially be limited to a choice of 2 full course menus created to introduce members to the
best of the master chef's signature dishes.
It is our hope to become acquainted with the tastes and preferences of our members in the weeks ahead.
We sincerely look forward to welcoming you to the new Masukomi Sushi Bar.
Lunch
Masukomi lunch plate
From 1,360 yen (plus tax)   *No service charge at lunch
Evening
Two 'Omakase' course menus introducing the finest of Masukomi dishes:
Course A:  13,000 yen (excluding tax and service charge)
Course B:   8,000 yen (excluding tax and service charge)
*Reservations for dinner will be limited to course dinners at this time.
A la carte menu will also be available.
Whisky 'bottle keep' is available from 7,000 yen (+ tax) for a limited opening special selection of 55 bottles.
Make your reservation by phone at 03-3211-8184 (Weekdays only)
Masukomi Sushi Bar
11月14日からの寿司バーバーメニューの価格変更につきまして
会員の皆様へ
平素より、マスコミ寿司バーをご利用いただき、厚く御礼申し上げます。
この度は、原材料の高騰に伴い、一部メニューの価格変更を致します運びとなりましたので、会員様にご理解いただけますよう、ご連絡を差し上げております。
当店では、お客様に天然の高品質な魚を使用し、少しでもリーズナブルに楽しんでいただけるよう企業努力を続けてまいりましたが、先述する理由により、価格の維持が困難となりました。
日頃より当店をご利用いただいております会員様におかれましては、何卒ご理解くださいますようお願いいたします。
これからも、皆様に愛されるマスコミ寿司バーであり続けられますよう、サービスの向上に努めてまいりますので、是非変わらぬご愛顧をお願い申し上げます。
ランチ (11月14日より)
Lunch (from November 14th)
おまかせ握り / Omakase Nigiri
4,500 yen
天然本まぐろ丼 / Natural Bluefin Tuna Rice Bowl
3,600 yen
ばらちらし / Bara Chirashi
3,300 yen
ウニ入りばらちらし / Uni-iri Bara Chirashi
4,400 yen
ディナー Dinner
おまかせコース / Omakase Course
10,000 yen
Price without tax included
マスコミ・スシバー
-----------------------------------------------------------
皇室献上で有名な「越前がに」が11月6日より解禁します。(お出しできるのは10日から)
当店が仕入れるのは、福井県三国沖のプランクトンが豊富な岩場に生息する越前がに。 良質な漁場で育った越前がにの迫力とその味は感動ものです。会員様のご予約に合わせ、茹でたてアツアツの越前がにを、熟練のスタッフがつきっきりで捌かせていただきます。お寿司との相性も最高。甲羅酒も楽しんでいただけますので是非一度ご賞味ください。*予約必須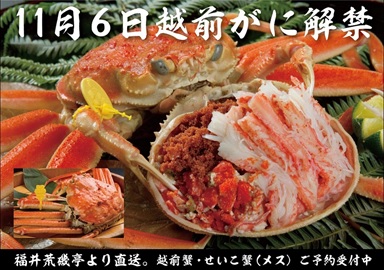 価格
せいこがに (メス)
中 8,000 円 (税別)
大13,000 円 (税別)
越前がに(オス)
700g: 40,000 円 (税別)
800から900g: 60,000 円 (税別)
1㎏: 80,000 円 (税別)
1.2㎏:120,000 円 (税別)
キャンセルポリシー
前日午後までにキャンセルがなかった場合は 全額チャージがかかります。(発送前であればチャージいたしません)
ご予約: マスコミ寿司バー直通 03-3211-8184
マスコミ・スシバー
マスコミ・スシバー メニューのお知らせ
リニューアルオープンを目前に控え、ランチとディナーのメニューをご紹介します。
当初、イブニングメニューは、シェフのシグネチャーメニューを紹介する2種類のフルコースメニューをご紹介いたします。
今後、会員の皆様のお好みに合わせたメニューをご提案させていただきます。
ランチ
マスコミランチプレート
1,360 円 (税別)より
*ランチ時はサービス料を頂きません。
ディナー
おまかせコースメニュー
13,000 円 (税・サービス料別)
8,000 円 (税・サービス料別)
*コース料理のみご予約を承ります。
単品料理もご用意致します。
ウィスキーボトルキープご利用可能
7,000 円 (税別)より
第一次募集55本でご用意しております。
ご予約はお電話にてお願いいたします。03-3211-8184 平日のみ
ご来店お待ち申し上げております。
マスコミ・スシバー