July 15, 2020
Q&A guests: Director Moët Hayami, actors Yayoi Inamoto and Miyuki Ono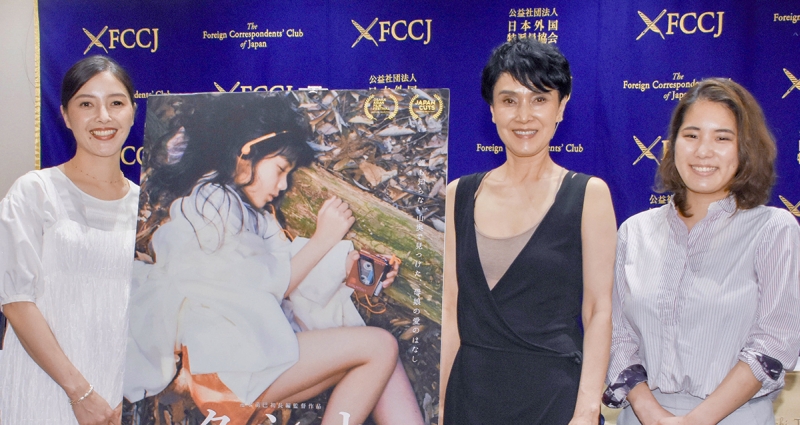 Writer-director Moët Hayami (right) with her stars, Yayoi Inamoto (left), and Miyuki Ono. ©FCCJ
In these times of self-isolation and social distancing, a film like Kushina, what will you be feels almost like allegory.
From our mid-2020 vantage point, it's hard to resist reading it as a cautionary tale about the fragility of our cultural ecosystems, the ease with which interlopers can rend the social fabric, and the real/imagined threats that external forces pose to even the most tightknit of communities.
The enigmatic first feature of Moët Hayami, Kushina is set in a remote matriarchal utopia. Hidden deep in the forested mountains of Japan, cloaked in almost otherworldly scenery, its residents live off the grid among the near-ruins of what might be a long-vanished civilization, with only the basic necessities and clothing that appears nearly feudal.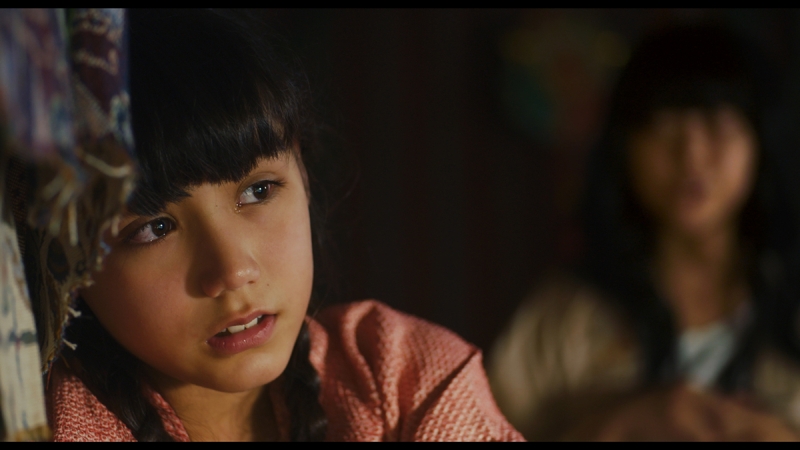 © ATELIER KUSHINA
Fourteen-year-old Kushina (Ikumi Kader) is the youngest inhabitant of this village of women, born and raised here, while others had come intent on suicide but stayed on to live with like-minded souls. The female sanctuary was founded by fierce matriarch Onikuma (Miyuki Ono), who had fled modern "civilization" with her daughter Kagu (Tomona Hirota) when she was 14 and had become pregnant with Kushina.
Onikuma hasn't completely cut ties with the outside world — she makes long, dangerous trips to the city to trade the cannabis the women cultivate for food and other provisions. But she will do anything to protect the isolation of the colony. And soon, she will have to.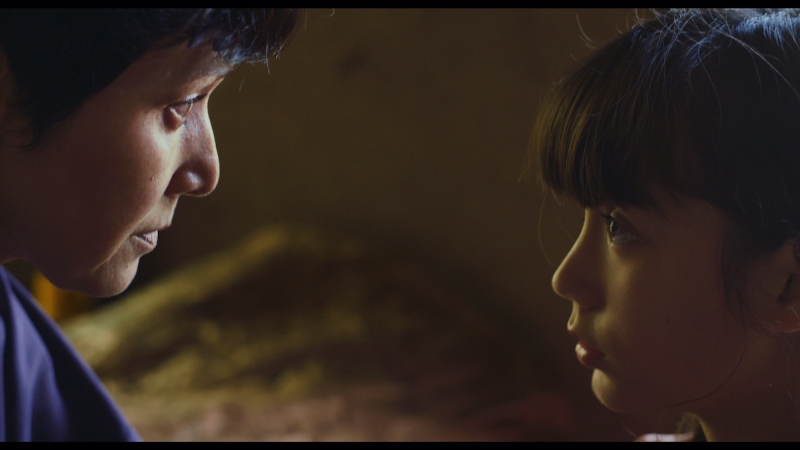 Onikuma and Kushina. © ATELIER KUSHINA
The peaceful existence is upended by the arrival of anthropologist Soko (Yayoi Inamoto) and her male assistant Keita (Suguru Onuma), who have been searching for the village for some time. "Human beauty develops distinctively in isolated communities," Soko had told him, and she now has her chance to document the proof. She finds herself enchanted with Kushina's innocence and her curiosity about what lies beyond the woods, and she unwittingly crosses the line, altering the women's lives forever.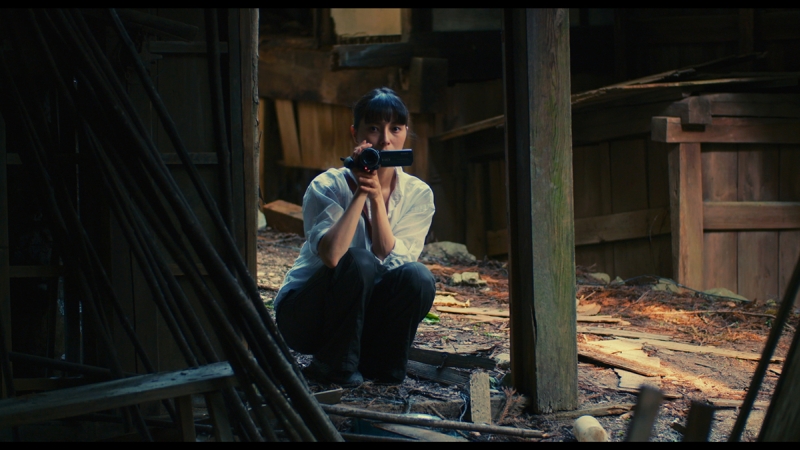 Soko documents her find. © ATELIER KUSHINA
Appearing with two of her lead actresses for the Q&A session after the screening of her film, the director was asked what had compelled her to create such an unusual world. "The seed of the story was actually not this community of women living in the forest," admitted Hayami. "The seed was that I wanted to create a mother-daughter story — it all sprang from there. I also imagined that if you're very young and you get pregnant in Japan, it must be really suffocating.
Hayami earned immediate acclaim for her debut feature. ©FCCJ
"That led me to imagine what would happen if a woman got pregnant, ran away to the forest to commit suicide, and decided instead to stay. As we all know, there are these jukai, or seas of trees (aka suicide forests) in which there's no way out, once you go in. But I imagined if a woman went in and decided to stay, she might build a community, whereas a man would probably drift away. That's how I started creating the characters and the story."
Hayami admitted that she had been repeatedly cautioned against shooting too much and for too long, considering the limited budget and her inexperience. When the location was finally decided on —somewhere in Yamanashi Prefecture that is difficult to find even by GPS (a situation echoed in the film) — the director had even more reason to limit the shoot. She would eventually do her own production and costume design, as well as spending 2 years on editing the film.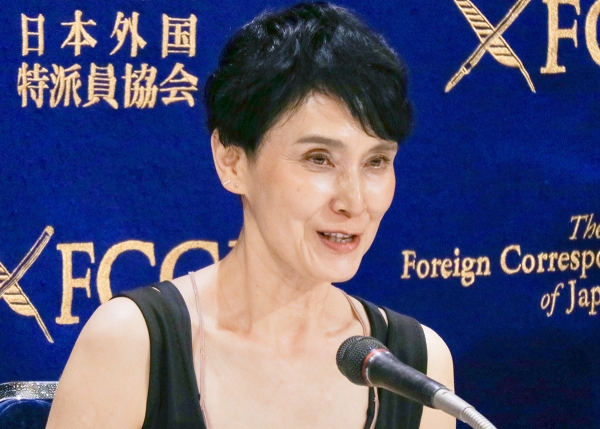 Ono marks her return to the screen with an indelible role. ©Koichi Mori
Magnificently shot (by Ryo Muramatsu, the director's husband), Kushina had its world premiere at the Osaka Asian Film Festival in 2018, where it won the Japan Cuts Award, taking its director and stars to New York City for a widely heralded screening. And yet, Hayami ultimately decided against releasing it in Japan.
Believers in kismet might imagine that distribution was delayed so it could coincide with the coronavirus pandemic 2 years later, thus lending the film a newfound resonance. The truth is nearly as remarkable.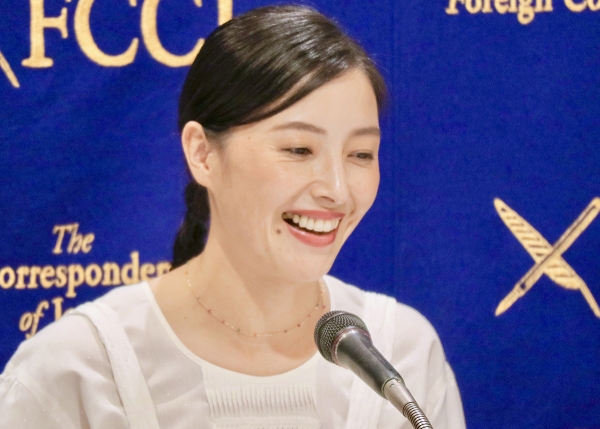 Popular TV actress Inamoto makes her film debut in Kushina. ©Koichi Mori
"I had the opportunity to screen the film at several film festivals in 2018, and I was approached about distributing it," recalled Hayami. "However, when my mother read a few of the interviews I did, she seemed shocked and hurt at what I'd said. I realized that I'd put her in an unpleasant position. She told me she now recognized she had caused me a lot of pain and perhaps she'd made a mistake in the way she'd raised me.
"Since it wasn't my intention to depict that in the film, I decided to let it lie a little bit while I grappled with how to release it commercially. It took me 2 years, during which I worked on other projects. I wanted my mother to understand my intentions, and in order to move forward with my next project, I needed to see this one released first."

©Koichi Mori
An audience member asked, "Did your mother intuit this from watching the film, or was it only when you started doing press for the film? I'm curious because writers often have the problem that family members read themselves into their characters, even when they aren't meant to."
Responded Hayami, "My mother saw the movie before reading the interviews and said she didn't understand what it was about (laughter). Then she read the interviews and said it was quite shocking to discover that it was about herself. So she revisited the film, and told me 'I still didn't understand.' (more laughter) But my older sister watched the film and burst into tears, so I could see that we were on the same page."

©FCCJ
If Hayami saw herself as Kushina, then it's arguable that the little girl's grandmother in the film, Onikuma, is her mother's stand-in. Miyuki Ono plays the character with gravitas and overprotective intensity, reminding us how much she's been missed. Ono had made her film debut in 1979 opposite the late, great Bunta Sugawara, and gone on to appear in a range of distinctive works, including Ridley Scott's Black Rain (1989).
But as she told the audience, "I'd been away from film for 16 years when we shot Kushina (in 2016), since I had become a mother myself. During that time I also became a regular audience member. Maybe because I was watching more, I started finding an increasing number of Japanese films that were really interesting. I wanted to work with this new generation of talented filmmakers, and that was the main impetus for me to sign on to this project.
Hayami was asked whether the film's haunting poster image — depicting Kushina in the forest, curled up like a cat as she listens again and again to a song on her fading Walkman cassette player — might have been the inciting image for the script. But the director said she had instead seen the image of a woman returning home from somewhere far away. (We hear Kushina's song only after the credits have rolled, when Doris Day's "Que Sera Sera" fills the soundtrack. It turns out that this was a song that deeply connected Hayami and her mother, and thus seems to be a covert message of hope, and of forgiveness.)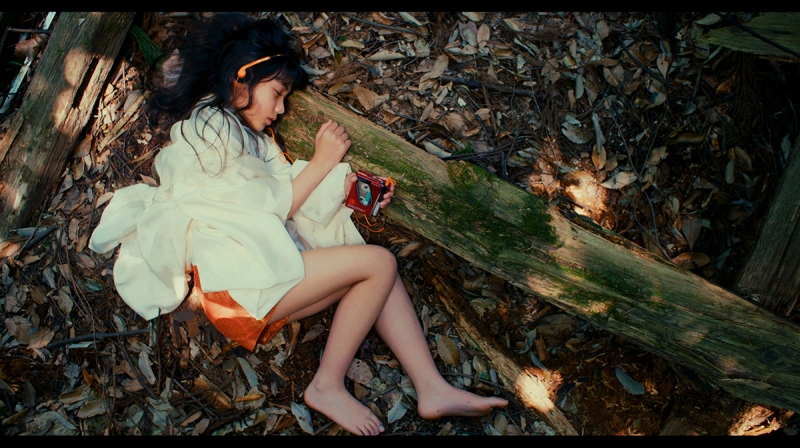 © ATELIER KUSHINA
TV tarento Yayoi Inamoto, who made her film debut playing the anthropologist in the film, was asked whether she imagines Kushina is thankful that her character has drawn her into the real world, away from the isolated life she's led. Responded Inamoto, "I guess we need to have a sequel to know [for sure], but as the mother of 3 children myself, I have to say that if one of them were taken away like that, it would be unthinkable to me. Of course, given the kind of environment that this little girl was brought up in, there's no way of knowing."
When Hayami was lauded for her costume design, particularly the choice to color-code characters, Hayami explained, "Since their thoughts and sentiments are quite ambiguous in the story, I thought that it was important to understand what each character's function was, and to use clear color themes. I indicated that in the screenplay, but there was also a lot of discussion with my crew. And Ms. Ono kindly brought some of her own clothes, so we mixed and matched them."
Said Ono (whose defining color is midnight blue), "My character changes clothes (to more modern garb) when she goes into town so she can more easily blend in. But all the costumes and kimono existed [in some form or another]; none of them were created from scratch. I think that brings a level of reality to the community, because if women came together to live in the forest, they would probably be wearing clothing like this, not buying new pieces."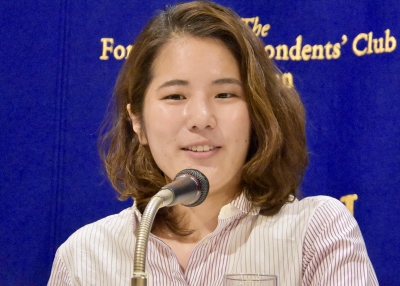 ©FCCJ
She continued, "When I was doing an interview with a male journalist earlier tonight, he mentioned perhaps he should go visit his mother. This is not a didactic film — it is about the power and the strength and the beauty of female characters. In that sense, you can call it a fantasy that is infused with reality.
"When I was working as an actress 20 years ago, there weren't many films that depicted females with a sense of agency or intention. They were always these fragile beings that men had to protect. I was in my 20s and 30s at the time, and I remember feeling very uneasy about being pigeonholed into that kind of stereotype.

©Koichi Mori (left), ©FCCJ (right)
"This film, on the other hand, allows you to see the power that females have, how they raise their children, what it truly means to love and the depth of emotions that come with that. I think it must be a revelation for male audiences of the younger generation. It's a way of seeing women through new eyes. These are not fragile, outdated characters. This is not to say that traditional women should be looked down upon, but rather, that the way they've been depicted [is wrong], and that goes for films from many countries around the world."
Inamoto concurred. "I hope audiences consider the genesis of the project as a mother-daughter story, but I imagine it must be very interesting to view the story as a man," she said. "After all, it [includes] a man going into a village where men are not allowed. And it's also about an outsider who goes into a community intending no harm at all but who creates a kind of rupture in that society, in the end. I guess that alludes to the many forms of affection that exist, which might be another interesting way of seeing the story."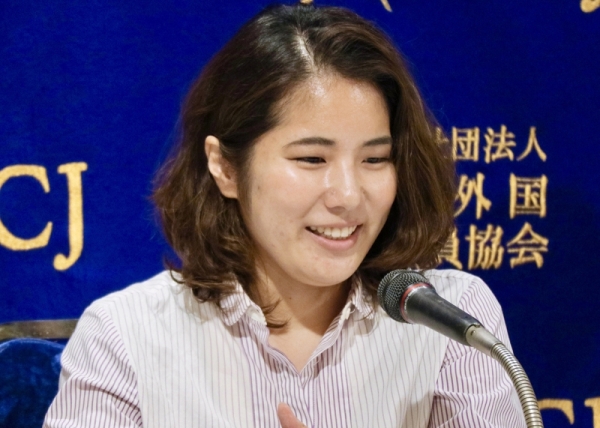 ©Koichi Mori
Finally, speaking rather cryptically (unless one has been apprised of the situation with her mother), Moët Hayami told the audience, "We have to make many decisions throughout the course of our lives, and a lot of them are driven by love. I'd like the audience to think about the fact that when you give love to someone, you don't always know that it is being received.
"We were working on a very low budget, but I love fantasy films. I don't think there are many prominent Japanese films that are [like the fantasies being made overseas], and this is my own attempt at making one."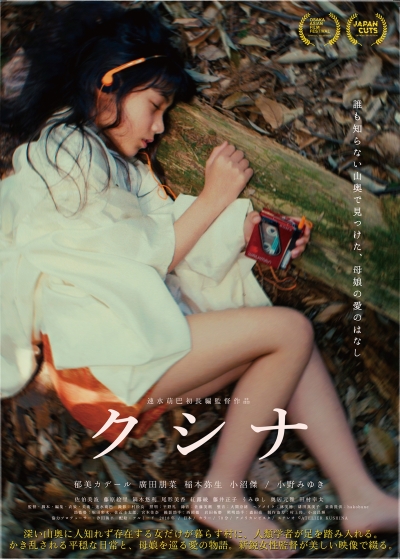 © ATELIER KUSHINA
Posted by Karen Severns, Saturday, July 18, 2020
Selected Media Exposure
Read more
Published in: July
Tag: Moet Hayami, Miyuki Ono, Yayoi Inamoto, awardwinning, Osaka Asian Film Festival, Japan Cuts    
Comments