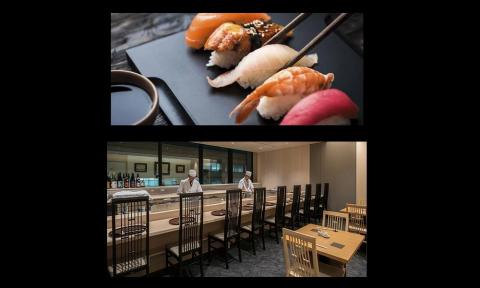 Masukomi Sushi Bar Menu
There has been a slight increase in our set menu prices due to market price changes. (As of August 24, 2020: PDF)
----------------------------------------------------------------
The Masukomi Sushi Bar Special Limited Offer
New Year Special
The set, which comes in 2 'ojuh' boxes, is created on our premises to the most exacting standards our guests enjoy
at the Masukomi Sushi Bar, with special extras added to welcome the New Year.
New Year Special Price
2 'ojuh' boxes for 2 - 3 people: 27,500 yen (Tax included)
Orders can be made immediately until sets are sold out.
Special sets will be available for pick-up between 16:00 and 20:00 on Dec. 31st.
For reservations, please call the Masukomi Sushi Bar directly at 03-3211-8184.
MENU
Box One
Assorted Sashimi
*1 box superior grade sea urchin 
*Natural tuna 
*Red sea bream 
*Marlin Tuna Toro 
*Deluxe Salmon
*Snow Crab
Box Two
Assorted sake accompaniment includes:
*Chinese Roast Pork 
*Grilled Salmon with Saikyo Sauce
*Duck Pastrami
*Red and White Kamaboko
*Simmered Kurumaebi in Soy Sauce 
*Simmered Abalone 
*Simmered Komochi Sweetfish Kanroni
*Pickled Salmon Roe in Soy Sauce 
* Matsumae-zuke
Sushi Bar's Selection of Frozen Tuna
Medium fatty tuna and Tuna lean meat, limited to 10 sets!
500g per set
11,000 yen (Tax included)
The Masukomi Sushi Bar
------------------------------------------------------------

新年の御節用 お造り盛り合わせと酒肴詰合せの二段重の販売のおしらせ
マスコミ寿司バー特製のご家庭用 お造り盛り合わせと酒肴詰合せの二段重を今年も御用意いたしました。
お造り盛り合わせと酒肴詰合せの二段重 (2-3名様用)
価格 27,500円 (税込) 
販売期間 本メール配信時から予定数までの御案内となります。
引渡し日時: 2021年12月31日 16:00-20:00
メニュー
一の重
お造り盛り合わせ
*箱ウニ1枚 
*天然マグロ 
*真鯛 
*メカジキ トロ 
*極上サーモン 
*ズワイガニ
二の重
酒肴詰合せ
*やわらか焼き豚 
*サーモンの西京焼き 
*合鴨のパストラミ 
*紅白小袖 
*つの字車海老
*煮鮑 
*子持ち鮎甘露煮  
*イクラ醬油漬け 
*松前漬け
寿司屋選り抜きの冷凍本マグロ
中トロ、赤身セット (10セット限定販売)
1セット約 500g 
11,000 円 (税込)
ご注文は直通のお電話のみ承ります。
マスコミ寿司バー直通 03-3211-8184
皆様のご予約お待ちしております。
マスコミ寿司バー
----------------------------------------------------------------
Masukomi Sushi Bar Special Offer: Limited Menu in November
Fresh Oyster Course
9,020 yen per person (Inc. tax)
Sakizuke
Assorted Appetizer
Assorted Sashimi
Grilled Fish
Hashiyasume
Fresh Oyster
Special Nigiri Sush 5pieces & Tamagoyaki
Soup
Dessert
*Reservations are only available for dinner.
*If you do not like oysters, please inform us when you make your reservation and we will be happy to substitute other ingredients.
*Reservations are accepted by phone only at 03- 3211- 8184 (direct)
Kindly note that reservations cancelled less than 24 hours in advance will be charged in full.
We look forward to welcoming you to the Masukomi Sushi Bar.
The Masukomi Sushi Bar
マスコミ寿司バー提供 11月の特別コースのご案内
旬の牡蠣コース 御一人様 9,020 円 (税込)
先付
前菜盛り
刺身盛り合わせ(5点)
焼魚
箸休め
真牡蠣
特鮮握り寿司五貫 玉子焼き
お椀
デザート
*ご予約の、ディナータイムのみの提供になります。
*牡蠣が苦手な方は他の物でご用意いたします、ご予約の時にお申し付け下さい。
*ご予約はメールでは受け付けておりません、必ず電話でのご予約をお願い致します。
マスコミ寿司バー直通 03-3211-8184
尚、24時間以内のキャンセルは、全額チャージとなりますのでご了承ください。
会員様のご来店、従業員一同心よりお待ちしております。
マスコミ寿司バー