Image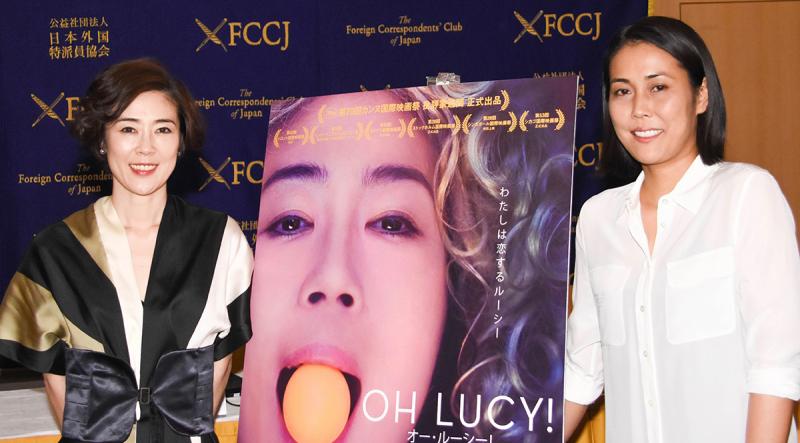 Atsuko Hirayanagi has set a high bar for herself. Her first feature, the Japan-US coproduction Oh Lucy!, premiered at the Cannes Film Festival in mid-2017, finished the year with Independent Spirit Awards nominations for Best First Feature and Best Actress (for Shinobu Terajima's beautifully calibrated performance), and earned rapturous critical praise during its recent rollouts in the US, France and elsewhere.
A poignant character study that deep-dives into the lonely life of a protagonist whose type is rarely depicted on screen, Oh Lucy! is an off-kilter culture-clash comedy combined with a deeply moving drama. Upon its world premiere at Cannes, Variety called it "a chocolate truffle with an arsenic core," and Hirayanagi's greatest accomplishment is that the film's bittersweet aftertaste is pleasantly light and lingering.
Appearing for the Q&A session following FCCJ's sneak preview screening, the writer-director and her star admitted they are curious about audience reactions on the film 's home turf. Said Hirayanagi, "I'm grateful that Oh Lucy! is opening in Japan, and I'm extremely curious about how the Japanese audience is going to react, and how they'll feel about this film. Being here is kind of surreal, and at the same time, a dream come true."

Terajima and Hirayanagi get a laugh out of costar Josh Hartnett's video message (left ©FCCJ, right ©Edwin Karmiol).
Terajima, who was making her third visit to FCCJ (after sneak peaks of Vibrator and Koji Wakamatsu's Caterpillar, which won her the Silver Bear for Best Actress at the 2010 Berlin International Film Festival), began on a serious note: "I'm very pleased that I could be here tonight on this very special occasion." Then she smiled her inimitable smile before continuing, "Today is my wedding anniversary. I've been married 11 years, and I'm so happy that I could be here." (To her credit, it wasn't at all clear whether she was being gracious or slightly facetious.)
There were more punchlines to come when Terajima's costar, Josh Hartnett (Black Hawk Down, Penny Dreadful), dropped in to chat about his experiences by video. About his director, he said, "Atsuko Hirayanagi is one of the most quietly hilarious people I've ever met. [Guffaws ensued on the dais.] I spent a lot of time with Atsuko on the press tour, and everyone I introduced her to thinks she is genuinely one of the funniest people around. She's a joy to work with, and a lovely human being. I'm very proud of her for making this film, and grateful to her for letting me be a part of it."
As for Terajima, he ribbed, "Shinobu claims that she doesn't speak English, but that is not true. [More guffaws.] She didn't let on that she could understand everything I was saying until deep into production, so she made me feel at a disadvantage, and quite uncomfortable, [but] in a good way." He then lowered his voice, whispering conspiratorially about how she would disappear to play Candy Crush before certain scenes. "In my opinion, it was the best way to prepare for work that I've ever seen."
After apologizing for asking so many questions on set, he said, "I hope it didn't affect anyone negatively, including you, Shinobu. Thank you for your patience."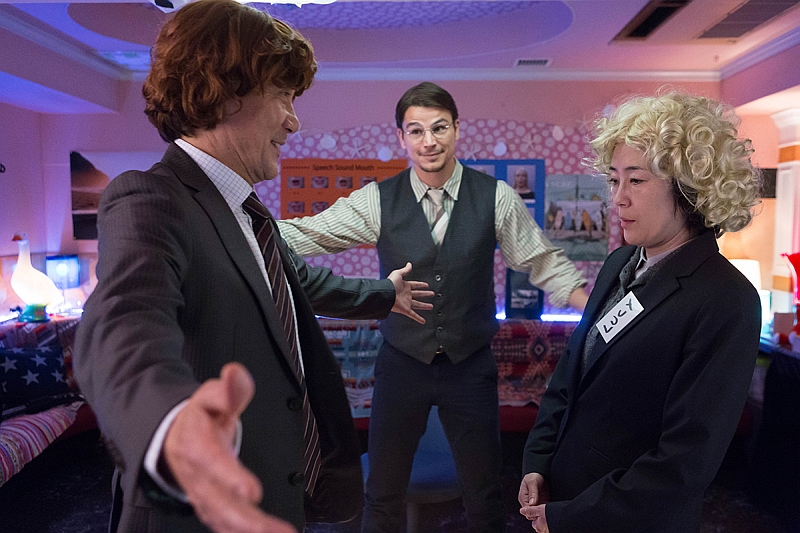 Acclaimed actor Koji Yakusho, left, with Hartnett and Terajima. ©OH LUCY,LLC All Rights Reserved.
He went on to laud the cast for being so "well prepared and artistically inspired," but mock-warned, "The next time we all work together, you're going to do it here, on my turf."
In fact, Oh Lucy! does spend substantial time on Hartnett's turf. Hirayanagi herself is based in the US, after growing up in Japan, going to the US as a high-school exchange student, and then graduating from New York University's Tisch School of the Arts in Singapore. Her thesis film was a short version of Oh Lucy!, which went on to win nearly 40 awards around the globe, including prizes at the Cannes, Sundance, Toronto and SXSW film festivals. Although she was courted to direct other projects, she decided to first explore Lucy's story further, and with initial funding from Sundance and Japan's NHK, went on to craft the feature version.
As the film opens, chain-smoking office lady Setsuko (Terajima) is clearly stuck in a rut, both professionally and in her seemingly non-existent personal life. En route to work one morning, a man on her crowded platform whispers "Goodbye" in her ear before leaping in front of the train. If that's not enough to shake her up, a fellow OL is retiring, and she may be the closest thing to an office ally that Setsuko has. When her niece Mika (Shioli Kutsuna) begs her to fill in at her pricey English classes (reimbursing her directly for the fees), it seems to be just the diversion Setsuko needs.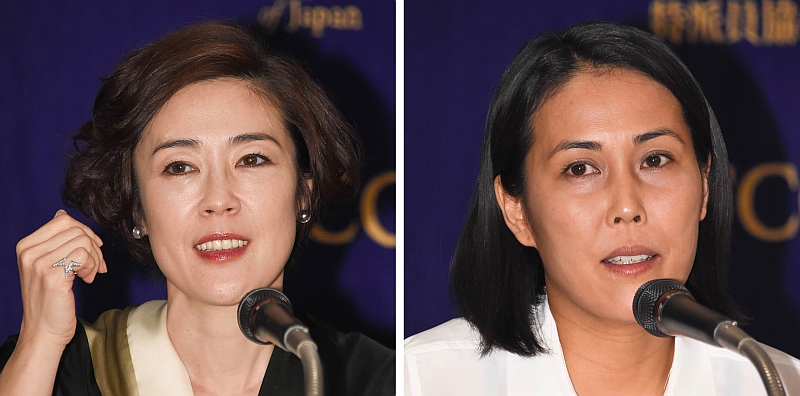 The veteran actress and the first-time feature director.  ©FCCJ
Her unorthodox instructor, John (Hartnett), greets her with a warm embrace — "I'm a hugger, what can I say?" — has her don a curly blonde wig and pick her new name out of a box. Setsuko becomes "Lucy" and is encouraged to be "lazy and relaxed" when she speaks American English (a ping pong ball apparently helps). The new identity unleashes her inner she-vamp, empowering her to say all the things she's pent up, some of which she instantly regrets. But it also rekindles the flames of hope in her heart. She's immediately smitten with John, and thus aggravated when the red-wigged, widowed "Tom" (the great Koji Yakusho), joins the class and she no longer has the teacher's hugs all to herself.
Then John suddenly disappears and Setsuko, nearly inconsolable, discovers that he's left for Southern California with Mika. Desperate to see him again, she takes off in hot pursuit with her estranged sister, Ayako (Kaho Minami), in tow. Their first surprise, after realizing that California isn't all beaches and glorious sunsets, is that John is no longer the Charisma Man he was in Tokyo, and Mika has fled. They coerce him into chauffeuring their search for her, and Setsuko/Lucy seizes one last chance at midlife liberation.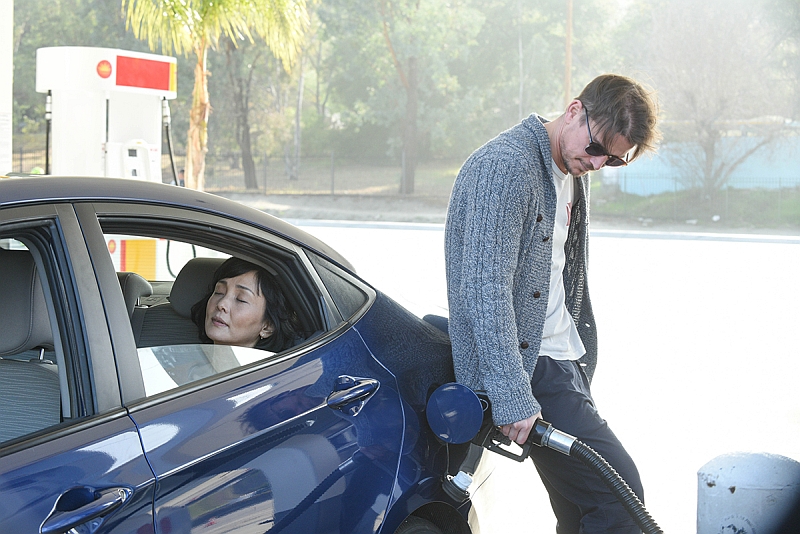 Ayako (Kaho Minami) joins Setsuko in America, where Hartnett becomes
the bickering sisters' chauffeur.  ©OH LUCY,LLC All Rights Reserved.
Praising Terajima for her ability to play both "lifeless" (in Japan) and "full of life" (in California), a journalist asked how she'd mentally prepared for the difference. "Was it a geographic thing?" he asked. Explained the actress, "We shot all of the Japan scenes before we left for the states, so the geography did rub off on the character. The vastness of America, where you can walk a long way without ever bumping into someone, really elevates your spirit. I think the way I played the role was affected by that. We didn't change my makeup, but even the director said I looked more beautiful in America. So I think the environment freed both Setsuko's, and my, spirit. It was a really fun shoot to do."
Hirayanagi was asked about her own relationship to America, since the film "presents America as a liberating space, but also rather twisted, dangerous and cruel." The director began, "I'm not sure which part is twisted… I think American people are more present and speak to you as a person, rather than what your title may represent." Switching back to the film, she then said, "So it was freeing for Setsuko, and not being labeled as an office lady or single or a chain smoker was freeing. No one knew who she was, so she could create something that she wants to be. I think that's where the magic, the empowerment, of being in the states comes from. It freed her up and let her find the part of herself that she didn't know existed."


  Top left ©Edwin Karmiol, bottom left ©Pierre Boutier, right two ©FCCJ.
To a question about the superb casting, Hirayanagi immediately responded, "Shinobu-san was a no-brainer. "The producers sent me a list of actresses because I'm away from Japan, so they thought I wouldn't know actresses in her age group. But I saw her name and I knew she would be perfect. I knew her from Vibrator, one of the great Japanese films, and she was phenomenal. So we sent her the script and the short, we talked and she said 'Yes.'"
Was she influenced to cast Koji Yakusho by his charming role in Shall We Dance? one attendee wondered. Although his role in Oh Lucy! is a small one, it is absolutely essential to the film, particularly in its closing moments. "Of course I know Shall We Dance? and there are similar threads in both films; but there were a lot of coincidences that came together and resulted in our casting him. We had him in mind from the beginning, but we weren't sure how to approach him. I finally decided there could be no harm in asking him. He's extremely versatile, and being able to cast him was like a dream. They say 'shoot for the stars' in English, and that's what we did. And we got the stars."
A film academic asked whether either Hirayanagi or Terajima had been challenged by differences in acting or shooting styles between the US and Japan. Said the director, "I think the main issue for Japanese actors is coverage, since we have more coverage if you try to shoot in so-called American style. I was in constant negotiations between my [cinematographer], who's based in Hollywood and wants to take pictures as beautiful as possible, and my Japanese actors, who were getting tired from doing so many takes of the same scene. I wound up shooting Shinobu-san first, then Josh, since he's used to it and gets warmed up after more takes."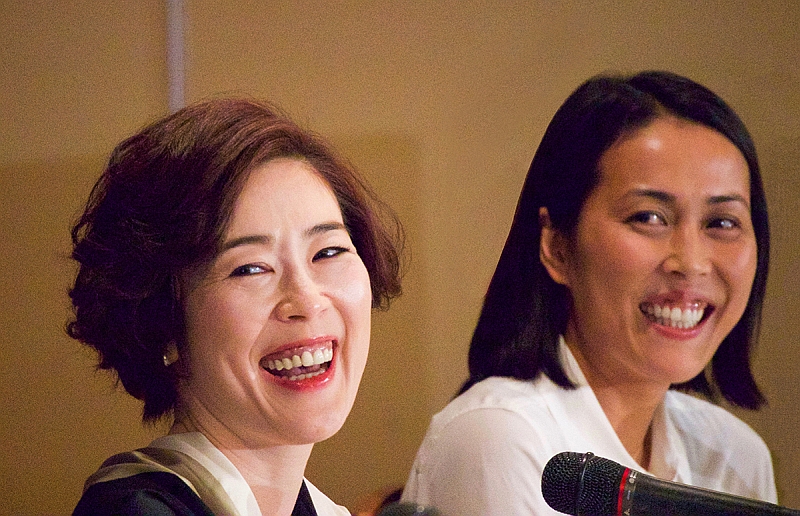 Terajima and Hirayanagi react to Hartnett's video message. ©FCCJ
Said Terajima, "I underwent very harsh training with Koji Wakamatsu, who made super-indie films and would go straight into shooting without any run-throughs. With Oh Lucy!, we did the same shots over and over again, and it was just as exhausting as Wakamatsu-san's style. As for acting styles, I really don't think it comes down to nationalities, but because Atsuko-san has a black belt in karate, I think she really knows how to read people. She's able to meticulously gauge how and to what degree she should direct [each actor], so she can achieve the results she wants."
Terajima then shared her experience at her first awards ceremony in Los Angeles: "I was really busy at the time of the Independent Spirit Awards, and could only fly over for 1.5 days. The Independent Spirits aren't as well known in Japan as the Oscars, and I was curious what it would be like. But being there, you really feel like America is the country of cinema. You feel that everyone's so passionate about the film industry. I got to meet [eventual Best Actress winner] Frances McDormand, and she'd seen Oh Lucy! and told me it was a wonderful film. Without going, you don't realize the extent of the passion for film, so it was a really rewarding experience."
Added Hirayanagi, "By the way, Frances McDormand was very, very complimentary about Shinobu-san's performance. She's not going to say it herself, so I have to add this fact."
And it is, indeed, a fact.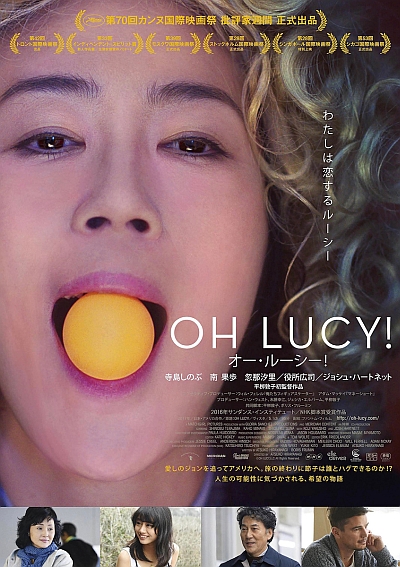 ©OH LUCY,LLC All Rights Reserved
Posted by Karen Severns, Saturday, April 28, 2018
Selected Media Exposure
Read more
Published in: April
Tag: Shinobu Terajima, Atsuko Hirayanagi, Koji Yakusho, Koji Wakamatsu, Cannes Film Festival, awardwinning    
Comments