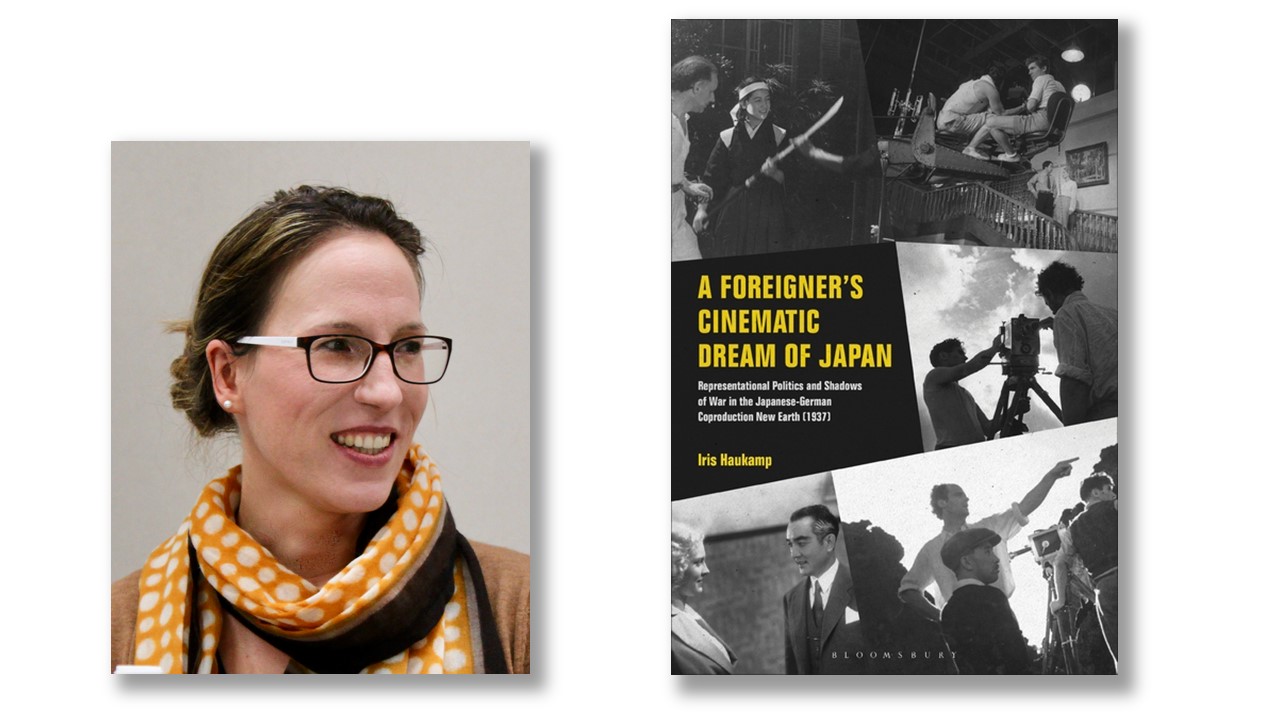 A Foreigner's Cinematic Dream of Japan retells the story of "Japan's first international export film," or "[Nazi-]German propaganda played out on Japanese soil." These are labels given to The New Earth, a narrative film scripted and shot by a binational crew in Japan in 1936. Atarashiki tsuchi and Die Tochter des Samurai, the German title, premiered to much fanfare in Tokyo and Berlin, respectively, in 1937 and now holds a firm place in film history as an exercise in politically motivated propaganda.
 
In her talk, Iris Haukamp will introduce selected scenes and motifs from the film and set them into the context of 1936. She will talk about the film production itself, a complex and ambitious undertaking, and explain her reasons for re-opening the books and archives on this much-discussed film project in German-Japanese politico-cultural history. She will also detail differences between two versions of the film, one directed by the German director Arnold Fanck and one by his Japanese colleague Mansaku Itami. The two directors clashed over the authenticity of the representation of Japan on screen. Her research sheds light not only on the films themselves, but also on our understanding of the time frame of its production, with both countries on the brink of war.
 
Iris Haukamp has an academic background in Japanese studies and gender studies, having received her PhD in film and media studies from the School of Oriental and African Studies (SOAS), London, in 2015. She then moved on to Tokyo University of Foreign Studies (TUFS), where she has been teaching classes in Japanese film history, film analysis and film theory, while continuing her research in trans-war co-productions and the filmmaking practices of the early Shōwa period. Her most recent publication is "The Four Lives of Matsugorō the Lawless: Agency, Constraint and What is 'Worthy' of Film Censorship in Trans-war Japan," a chapter in Japanese Visual Media: Politicizing the Screen, edited by Eyal Ben-Ari and Jennifer Coates. 
 
Doors open at 6:15 pm. Dinner is served from 6:30 pm. The presentation starts from 7:15 pm. Menu: Small Salad/ Roasted Chicken with Mushroom Sauce/ Chocolate Cake with Blood Orange Sorbet/ Coffee or Tea with One Drink. Book Break charges are 3,000 yen/ 4,000 yen (members/ non-members) per person. FCCJ members can sign up at the reception desk. Reservations cancelled less than 72 hours in advance will be charged in full. Non-members can reserve at the reception desk by email (front@fccj.or.jp). Payment is in advance till Friday, July 2nd, 2021. No refund is available unless the event is cancelled by FCCJ.
This Book Break will not be available for online attendance.
Attendees with food restriction should inform the reception desk (front@fccj.or.jp) three days before the event. We kindly ask for your cooperation with Covid-19 prevention measures at the reception and to wear a mask in the premises. Thank you.
 
(The talk will be in English. No photography, no filming, and no audio-recording allowed)
Book Break
https://www.fccj.or.jp/event/book-break