A TV journalist grapples with "the truth" when her story hits too close to home
Sneak Preview Screening: "A Balance (Yuko no Tenbin)" followed by a Q&A
with director Yujiro Harumoto and producer Sunao Katabuchi
Monday, September 13 at 5:00 pm*
*Please note early start time.
In Japanese with English subtitles Japan, 2020 152 minutes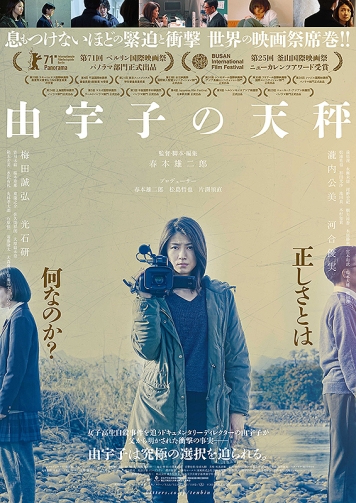 Writer-director: Yujiro Harumoto    
Producers: Yujiro Harumoto, Tetsuya Matsushima, Sunao Katabuchi
Starring: Kumi Takiuchi, Yuumi Kawai, Masahiro Umeda, Yuya Matsuura, Misa Wada,
Ryo Ikeda, Tomoki Kimura, Yohta Kawase, Mitsuko Oka, Ken Mitsuishi
Film courtesy of Bitters End
Television director Yuko (Takiuchi, in a masterful central performance) works parttime at a cram school run by her father (Mitsuishi, equally compelling) and is determined that her next project, a documentary about a teacher and a student who both committed suicide after accusations they were having an affair, won't be censored by the station's conservative editorial staff. Her colleague dismissively calls it a "regular piece about bullying," but Yuko is determined to avoid the usual sensationalist coverage and deliver a balanced report.
Her empathy proves invaluable in earning the trust of the families involved, and the documentary shapes up to be nuanced and insightful… until Yuko talks with a young female student who's being bullied and suddenly finds herself enmeshed in a sexual-abuse scandal that hits far closer to home. It will not only force her to rethink the roles of victim and victimizer, but to confront her unshakable sense of righteousness. After an attempted cover-up, Yuko will finally face her own reckoning with "the truth."
In his second film, Yujiro Harumoto crafts a gripping morality tale about the power of the press and public opinion, and the shifting sands of perception. Inspired by our era of "fake news," the writer-director notes, "We've been trained to think of history and news as being 'true,' and we have forgotten the importance of interrogating these sources."
Already a multiple award winner at international film festivals, as well as at Tokyo Filmex, "A Balance" is a must-see for anyone involved in covering the news, and for followers of thought-provoking, conversation-sparking cinema.
Please join us for this sneak preview of "A Balance" before the film's release in Japan on September 17.
For more (in Japanese): https://bitters.co.jp/tenbin/
YUJIRO HARUMOTO studied at the Nihon University College of Art and began his directing career at Shochiku Kyoto Studio under the aegis of filmmakers Akira Inoue and Shigeru Ishihara, among others. He worked on several jidaigeki period films and TV series before making his feature debut with "Going the Distance" (2016), which screened at such festivals as the Tokyo International Film Festival, Camera Japan and Nippon Connection, winning several awards. Harumoto's second film, "A Balance," was premiered at the Pingyao International Film Festival, where it scooped up the Jury Award and the People's Choice Award for Best Film, before winning further awards at the Busan International Film Festival and Tokyo Filmex.
SUNAO KATABUCHI is a screenwriter, storyboard artist and director of animated films. He began his career with Telecom Animation Film before moving to Studio 4°C, where he developed "Princess Arete" (2001). He then joined Madhouse and worked on a variety of animated films, including the award-winning "Mai Mai Miracle" (2009), before writing and directing the critically lauded "In This Corner of the World" (2016), which was widely released overseas. He followed up with the extended "In This Corner (and Other Corners) of the World" in 2019. Katabuchi is a Project Professor at the College of Art, Nihon University.
IMPORTANT NOTE: Temperatures will be taken in the reception area and masks are absolutely mandatory.
We kindly ask for your cooperation with Covid-19 prevention measures at the reception and that you wear a mask on the premises. 
Please make your reservations at the FCCJ Reception Desk 03 3211-3161 or register below.
All film screenings are private, noncommercial events primarily for FCCJ members and their guests.
     
- Karen Severns, Film Committee