The family that plays together stays together
Sneak Preview Screening: "THE ASADAS (Asadake!)"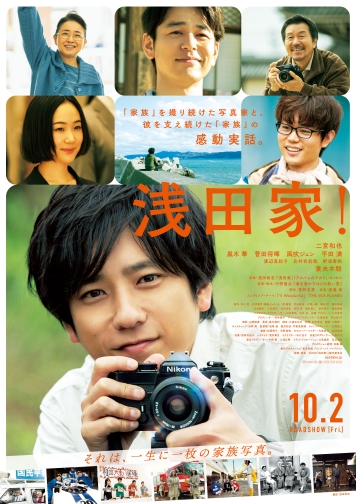 followed by a Q&A with director Ryota Nakano and photographer Masashi Asada
Wednesday, September 30 at 6:30 pm*
*Please note early start time
In Japanese with English subtitles
Japan, 2020 127 minutes  
Directed by: Ryota Nakano
Written by: Ryota Nakano and Tomoe Kanno,
inspired by Masashi Asada's life and photos
Produced by: Shinji Ogawa, Yusuke Wakabayashi
Starring: Kazunari Ninomiya, Haru Kuroki, Masaki Suda,
Jun Fubuki, Mitsuru Hirata, Satoshi Tsumabuki  
Film courtesy of Toho        
IMPORTANT NOTE: We will be limiting the audience to 50 people to assure safety.
Temperatures will be taken in the reception area and masks will be mandatory;
please bring your own.
Ryota Nakano's playful, poignant new film opens on the scene of a funeral, with the dearly departed surrounded by mourning family members. "Oh, no," we think, "this will be another tearjerker like the director's last two hits, 'Her Love Boils Bathwater' and 'A Long Goodbye' - I'd better get more Kleenex."
But then Nakano follows his mourners back in time, and within moments, we are overtaken by fits of laughter. We're also immediately enchanted by this family of four and its unusual dynamic. Whether you're familiar with the Asadas or not - they have been immortalized in an ongoing series of hilarious, inventive photographs - you will definitely want to spend time with "The Asadas."
The film was inspired by the real-life Masashi Asada's exploits, and while judiciously skirting hagiography, it allows Kazunari Ninomiya ("Letters from Iwo Jima," "Nagasaki: Memories of My Son")
to express Masashi's reckless, free-spirited character in ways that are both charming and sympathetic.
Masashi is given his first camera by his photo-nut father (Hirata) at age 12, and decides he will grow up to be a photographer. When he's close to flunking out of art school, he's assigned to take the one photo he would take if he knew it would be his last. Masashi decides to recreate a childhood incident in which the entire family, including his elder brother Yukihiro (Tsumabuki) and mom (Fubuki) are in the hospital together. The Asadas have so much fun with the reenactment that Masashi begins shooting them in a range of cosplay getups: as firefighters, racecar drivers, superheroes, ramen chefs, rockband members, politicians and more.
But no Tokyo publisher will touch the "family photos," and Masashi has to rely on childhood crush Wakana (Kuroki) for support. After his fortunes finally begin to turn - in a twist that is stranger than fiction - he starts receiving requests to take family photos from across Japan. When the Fukushima disasters occur, he rushes to the devastated area to check on one of the families he had shot, and winds up staying on in a pivotal role.
With spirited recreations from Masashi's bestselling photobooks and a cast working in top form, "The Asadas" pays tribute not only to the significance of family ties but also to the power of the photograph. As Masashi puts it, "a single photo can make memories tangible and sometimes, it can even give us the strength to live on." Please join us for this sneak preview before the film's release across Japan on October 2.
For more (in Japanese): https://asadake.jp
Writer-director RYOTA NAKANO graduated from the Japan Institute of the Moving Image, where he won the Shohei Imamura Award for his short "As We Go Cheering Our Flaming Lives" (2000). He continued to make shorts while working as a TV director and an assistant director in film, including the award-winning "Rocket Punch" (2006). In 2008 he was selected for the prestigious New Directions in Japanese Cinema by the Agency for Cultural Affairs, and his feature debut, "Capturing Dad," (2012) won Best Director at the Skip City International D-Cinema Festival, a first for local directors. It was also invited to the Berlin International Film Festival and won 14 awards domestically and abroad. Nakano's commercial debut was "Her Love Boils Bath Water" (2016), which won Best Film, Best Actress, Best Supporting Actress and Best Newcomer (for Nakano) at the 41st Hochi Film Awards, as well as Japan Academy Prize nominations for Best Film, Best Director, Best Screenplay, Best Actress, Best Supporting Actress and Best New Actor. His 2019 "A Long Goodbye" was a long-running hit.
Photographer MASASHI ASADA graduated from the Japan Institute of Photography and Film, and worked as a studio assistant before going independent. In 2009, he won the 34th Kimura Ihei Award for his photobook "The Asadas" (Akaaka Art Publishing, 2008). In 2010, his first large-scale solo exhibition was held at the Mie Prefectural Art Museum. His work is actively presented in solo exhibitions and art projects across Japan and abroad. His books include "Album no Chikara" (Akaaka, 2015), a collection of photographs taken over the course of two years documenting the people who washed photos damaged in the Tohoku Earthquake and returned them to their owners; "New Life" (Akaaka), "Kazoku Shimbun" (Gentosha), "Hachinohe Review" (Bijutsu Shuppan-sha), "Kazoku shashin wa de aru" (Akishobo) and "Homework: Graduation Photograph" (Akaaka). His latest book "Asada-Studio (tentative)" will be published by Seigensha Art Publishing this fall.
Please make your reservations at the FCCJ Reception Desk 03 3211-3161 or register below.
You may attend the Q&A session without attending the screening, but you will not have seating priority and
please inform the Reception Desk to assure there is seating available.
All film screenings are private, noncommercial events primarily for FCCJ members and their guests.
- Karen Severns, Film Committee