A Hedonist Finds Love… and Family
Sneak Preview Screening: "Egoist" followed by a Q&A with
director Daishi Matsunaga and actor Hio Miyazawa
Monday, February 6 at 6:00 pm*
*Please note early start time.
In Japanese with English subtitles
Japan 2022 120 minutes  
Warning: Mature content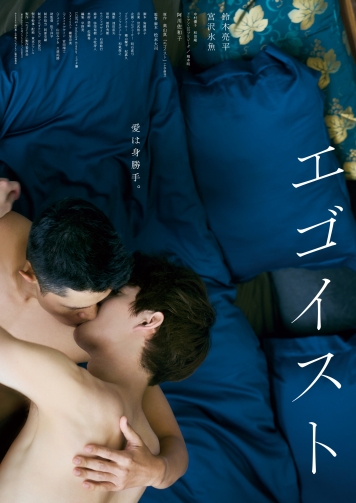 Directed by: Daishi Matsunaga
Written by: Daishi Matsunaga and Kyoko Inukai, inspired by the novel by Makoto Takayama    
Produced by: Naomi Akashi, Rampei Yokoyama, Yoshi Kino
Starring: Ryohei Suzuki, Hio Miyazawa, Sawako Agawa
Film courtesy of Tokyo Theatres
In Daishi Matsunaga's heralded new film, which boasts three awards-worthy performances, his old friend Ryohei Suzuki nearly sparkles with elegance, taste and personal charm as the protagonist, Kosuke. A wealthy fashion magazine editor with a close circle of artistic, bon vivant friends, Kosuke is surprised to find himself falling so quickly for his new personal trainer, Ryuta (Miyazawa). A financially strapped high-school dropout who's nevertheless as gorgeous as his new client, Ryuta juggles a number of jobs to support his doting single mother, Taeko (Agawa, a revelation in the role).
A relationship between the two men develops, and they bask in one another's considerable glow even after Kosuke discovers that Ryuta is a sex worker. Taeko warmly welcomes Kosuke to dinner one night, not letting on that she knows he might be more than a friend. Because Kosuke never recovered from his mother's death when he was young, Taeko's maternal attention seems like balm for his lonely soul. But tragedy is on the horizon.
Despite tugging at the heartstrings, "Egoist" is suffused with delicacy and naturalism, completely sidestepping melodrama in its beautifully humanist depiction of LGBTQ+ and maternal relationships. Inspired by a semi-autobiographical novel by author Makoto Takayama, it also features two of Japan's hottest stars - Suzuki ("Tokyo Tribe," "Last of the Wolves") and Miyazawa ("Moonlight Shadow," "The Legend and Butterfly") - in explicit sex scenes.
"Egoist" is the first Japanese production that involved both an LGBTQ+ inclusive director and an intimacy choreographer. The film's press kit also includes a statement about the filmmakers' commitment to accurately representing the LGBTQ+ community and a request for those writing about the film to master the correct LGBTQ+-related words and phrases (a glossary then follows).
 
Please join us for this sneak preview of the unforgettable "Egoist" before its Japanese release on February 10.
For more (in Japanese): https://egoist-movie.com/
Writer-director DAISHI MATSUNAGA earned international attention and extensive festival play for the documentary he shot over 10 years, "Pyuupiru 2001-2008" (2011), about his transgender performance-artist friend. In 2015, his first theatrically released fiction feature, "Pieta in the Toilet," received numerous domestic awards, including the Directors Guild of Japan's New Directors Award, as well as berths at many international festivals. In 2018, he was one of three directors in the Japan Foundation-Tokyo International Film Festival omnibus film "Asian Three-Fold Mirror 2018: Journey." He has also directed "Hanalei Bay" (2018) and "Pure Japanese" (2021). "Egoist" world premiered in Competition at the 2022 Tokyo International Film Festival.
Actor HIO MIYAZAWA made his film debut in "Kakegururi: The Movie" (2019), starred in Rikiya Imaizumi's "His" (2020), and won the Japan Academy Award for Best Newcomer for "Kiba: The Fangs of Fiction" (2021). He has also appeared in Edmund Yeo's "Moonlight Shadow" (2021) and "Goodbye Cruel World" (2022), and can be seen in theaters from the end of January, playing the infamous Mitsuhide Akechi in "The Legend and Butterfly." He is also active on the stage and the small screen, and appeared in NHK's 106th asadora, "Chimudondon," in 2022.
Please make your reservations at the FCCJ Reception Desk 03 3211-3161 or register below.
All film screenings are private, noncommercial events primarily for FCCJ members and their guests.
We kindly ask for your cooperation with Covid-19 prevention measures at the reception desk and masks are absolutely mandatory on the premises (crowded venue).
- Karen Severns, Film Committee