Sneak Preview Screening of "Passing Fancy (Dekigokoro)"
and Panel, Q&A Session in collaboration with TIFF
featuring director Hideo Jojo, TIFF Festival Chairman Hiroyasu Ando
and TIFF Programming Director Shozo Ichiyama
Tuesday, October 3, 2023
TIFF panel: 5:00 - 5:45 pm
Screening of "Passing Fancy": 6:00 - 6:50 pm
Q&A session: 6:50 - 7:30 pm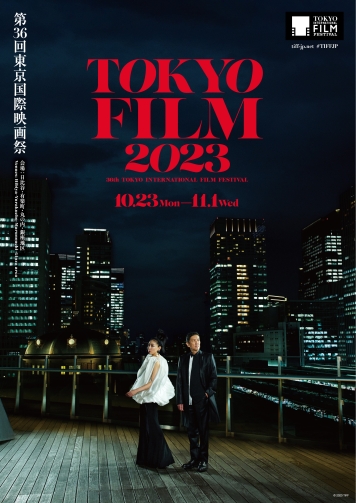 The Film Committee is pleased to once again welcome our friends from the Tokyo International Film Festival (TIFF), to discuss highlights from the 36th edition of the festival, which will be celebrating both the 120th anniversary of Yasujiro Ozu's birth as well as the 70th anniversary of Godzilla. We will hear about the Japanese titles being showcased and the special events being planned, followed by a special English-subtitled screening of a new adaptation of Ozu's 1933 silent opus "Passing Fancy (Dekigokoro)."
The director of the new version, Hideo Jojo, will join TIFF Chairman Hiroyasu Ando and Programming Director Shozo Ichiyama at a panel focusing on TIFF highlights, and also be on hand for a Q&A session following the screening.
Jojo has been named the Nippon Cinema Now Director in Focus this year, and four of his latest films will be showcased during the festival. Jojo has directed over 100 films since his debut, including the notable recent films Love Nonetheless, I Want to Be Killed by a High School Girl, Believers and Nighttime Warbles, demonstrating his "prolific and energetic contributions to producing high-quality works."
The 36th edition of TIFF will run from October 23 – November 1 at venues in the Hibiya/Yurakucho/Marunouchi/Ginza area.
Special Screening: PASSING FANCY (Dekigokoro)
In Japanese with English subtitles
Japan, 2023 46 minutes  
Directed by: Hideo Jojo
Written by: Hideo Jojo, based on the Yasujiro Ozu film "Passing Fancy"
Produced by: Takehisa Tokuda (WOWOW), Keita Tsutsumiguchi (WOWOW),
Katsuko Hara (Shochiku), Takashi Katsuki (Shochiku)
Starring: Kei Tanaka, Keisuke Watanabe, Sei Shiraishi,
Yurito Mori, Makiko Watanabe
Film courtesy of WOWOW
For more (in Japanese): https://www.wowow.co.jp/drama/original/ozu/
Hideo Jojo's "Passing Fancy" is the first episode in an exciting new series of films produced by the WOWOW Channel and Shochiku to commemorate the 120th anniversary of Yasujiro Ozu's birth (as well as the 60th anniversary of his death) in December 2023. The series spotlights the revered director's early silent films by creating modern adaptations with dialogue and in color, giving viewers a chance to enjoy Ozu's less- known humorous tales in an updated idiom, demonstrating that the stories remain fresh and universal.
Ozu's "Passing Fancy" was released 90 years ago and ranked No. 1 in Kinema Junpo magazine's 1933 Best Ten. It launched the auteur's "Kihachi Mono" series, which depicted the life of a downtown denizen named Kihachi, who's said to be the origin of the Shochiku Ofuna style, including the later "Tora-san" series.
In Jojo's update, Kei Tanaka plays Kihachi, a single father and free spirit who seems to be more interested in drinking and gambling than in his smart son Tomio (Mori), who aces all his exams and gets bullied by jealous classmates. Kihachi's friend and fellow factory worker Jiro (Watanabe) helps out with Tomio, but the boy is otherwise on his own. One night, Kihachi and Jiro come across Harue (Shiraishi), an attractive young woman who's looking for a job. Unwittingly, she soon drives a wedge between the two men.
Comments Jojo: "I was worried about how to approach this project, but when I started to write the script, I was a little surprised to realize that the core of the characters' feelings have not changed. The expressions in films have changed a lot since the past, but many things remain the same. I made this film with a sense of awe and wonder that I was now sharing the same film history as Yasujiro Ozu. It was a very enjoyable job."
HIDEO JOJO created 8mm movies while studying at Musashino Art University before becoming an assistant director on pink (erotic) films. His directorial debut, "Married Women Who Want a Taste" (2003), won the Bronze Prize and New Director Award at the 2003 Pink Grand Prix. Over the past 20 years, he has directed over 100 films, most of them pink or video works, and has also been a prolific screenwriter for other directors across a range of genres. From 2016 to 2019, he won the Pink Grand Prix four times in a row. He won the Yokohama Film Festival Best Director Award for the popular baseball film "On the Edge of Their Seats" in 2020. His recent titles include "Love, Nonetheless" (2022), "Believers" (2022) and "Thorns of Beauty" (2023).
HIROYASU ANDO entered Japan's Ministry of Foreign Affairs after graduating from the University of Tokyo in 1970, and served as a diplomat in the US, the Philippines and the UK. He then served as the Private Secretary for the Prime Minister, the Minister-Counselor at the Embassy of Japan in the US, the Director-General in charge of Middle East and African Affairs, the Ambassador of the Consulate General of Japan in New York, the Assistant Chief Cabinet Secretary and the Ambassador to Italy. From 2011 to 2020, he focused on international cultural exchange initiatives as the President of the Japan Foundation. He was named Chairman of TIFF in 2019.
SHOZO ICHIYAMA began his career producing films at Shochiku and Office Kitano, focusing mainly on work by non-Japanese filmmakers, and continues to be an independent producer. Among his major films are Hou Hsiao-Hsien's "Flowers of Shanghai" (1998), Samira Makhmalbaf's "Blackboards" (2000), and Jia Zhangke's "A Touch of Sin" (2013). From 1992 to 1999, Ichiyama served as a programmer for Tokyo International Film Festival, before launching Tokyo FILMeX in 2000. He served as the program director there until 2021, when he left to become the Programming Director of TIFF. Since 2013, he has been a visiting professor at the Tokyo University of the Arts. He is the recipient of the 2019 Kawakita Award.
TOKYO INTERNATIONAL FILM FESTIVAL (TIFF) is the only Japanese film festival accredited by the International Federation of Film Producers Associations (FIAPF).* TIFF started in 1985 as Japan's first major film festival and has grown to become one of the leading film festivals in Asia. Celebrating its 36th anniversary in 2023, TIFF continues to seek out excellent films from around the world and brings them to Tokyo, where filmmakers and film fans can enjoy them, meet emerging filmmakers, and be inspired. TIFF is serving as a member of the FIAPF Festivals Committee from 2021-2024.
Please make your reservations at the FCCJ Reception Desk 03 3211-3161 or register from below. All film screenings are private, noncommercial events primarily for FCCJ members and their guests.
We kindly ask for your cooperation with Covid-19 prevention measures at the reception desk and masks are absolutely mandatory on the premises.
(Club regulation is relaxed but we have decided to keep it since audience will be forced to sit in close proximity to others)
- Karen Severns, Film Committee
*FIAPF is an international organization that oversees issues related to the film industry and international film festivals.