Special Screening of "Intolerance (Kuhaku)", Q&A Session and
panel in collaboration with TIFF featuring director Keisuke Yoshida, TIFF Festival Chairman Hiroyasu Ando and TIFF Programming Director Shozo Ichiyama
Tuesday, October 5, 2021
Special Screening of Intolerance (Kuhaku):
In Japanese with English subtitles
Japan, 2021 107 minutes
TIFF panel: 4:30 – 5:15 pm
Special screening: 5:25 – 7:15 pm
Q&A session: 7:20 – 8:00 pm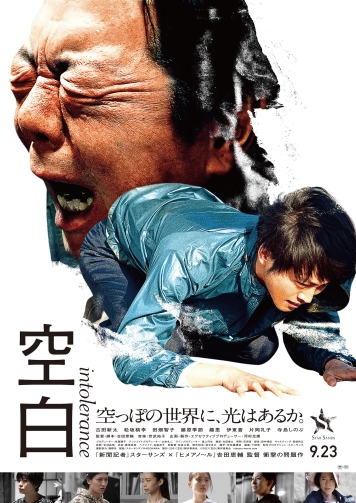 The Film Committee is pleased to once again welcome our friends from the Tokyo International Film Festival (TIFF), to discuss highlights for the upcoming festival. TIFF has announced that it plans to hold a hybrid (online plus physical) 34th edition in 2021, and we will hear more about that from TIFF Chairman Hiroyasu Ando and Programming Director Shozo Ichiyama.
They will be joined by director Keisuke Yoshida, who has been named TIFF's Director in Focus this year, in the newly expanded Nippon Cinema Now section. Yoshida first came to international attention with "The Workhorse & the Bigmouth" (2013), and three of his most recent films will be showcased during the festival.
Following a discussion about TIFF highlights and more details on Nippon Cinema Now, there will be a very special screening of Yoshida's hard-hitting new film, "Intolerance," and a Q&A session with the director.
The 34th TIFF will run from October 30 – November 8 at its new main venues in the Hibiya/Yurakucho/Ginza area.
Special Screening: Intolerance (Kuhaku)
In Japanese with English subtitles
Japan, 2021 107 minutes  
Directed by: Keisuke Yoshida
Written by: Keisuke Yoshida
Produced by: Junko Sato
Starring: Arata Furuta, Tori Matsuzaka, Tomoko Tabata,
Kisestu Fujiwara, Shinobu Terajima
Film courtesy of Star Sands
For more (in Japanese): https://kuhaku-movie.com
Keisuke Yoshida's penchant for telling dark, disturbing stories reaches its apex with "Intolerance," a film of exhilarating dramatic power that features a perfectly calibrated screenplay and a towering, career-best performance from veteran character actor Arata Furuta.
In a nowhere town, Naoto (Matsuzaka) runs a small supermarket. When a young shoplifter slips from his grasp, he gives chase and tragedy ensues. The girl's far-from-doting father, Mitsuru (Furuta), refuses to believe Naoto's accusation that she was stealing, and confronts the situation with violence. His belligerence draws relentless media coverage of the case, and eventually upends several lives.
Mitsuru is not the only character in the film who is stuck in a moral conundrum, and "Intolerance" lives up to its name, particularly in its portrayal of society's rush to judgment and the media's manipulation of the truth. While Yoshida deftly inserts lighter moments, he is unflinching in his exploration of weighty themes like guilt and salvation, both private and public. And through it all, there is Furuta, whose character morphs from monster to grieving father in a redemptive arc of heartbreaking authenticity and poignancy.
KEISUKE YOSHIDA started making self-financed films while enrolled at the Tokyo Visual Arts school, and worked on Shinya Tsukamoto's productions as a lighting technician. His 2006 feature debut, "Raw Summer," earned the Grand Prize at the Yubari International Fantastic Film Festival, and his following work has been regularly invited to international film festivals. Highlights include "The Workhorse & the Bigmouth" (2013), "Himeanole" (2016), "Thicker Than Water" (2018), "Come On Irene" (2018) and earlier this year, "Blue" (2021).
HIROYASU ANDO entered Japan's Ministry of Foreign Affairs after graduating from the University of Tokyo, and served as a diplomat in the US, the Philippines and the UK. He then served as the Private Secretary for the Prime Minister, the Minister-Counselor at the Embassy of Japan in the US, the Director-General in charge of Middle East and African Affairs, the Ambassador of the Consulate General of Japan in New York, the Assistant Chief Cabinet Secretary and the Ambassador to Italy. From 2011 to 2020, he focused on international cultural exchange initiatives as the President of the Japan Foundation. He was named Chairman of TIFF in 2019.
SHOZO ICHIYAMA began his career producing films at Shochiku and Office Kitano, focusing mainly on work by non-Japanese filmmakers, and continues to be an independent producer. Among his major films are Hou Hsiao-Hsien's "Flowers of Shanghai" (1998), Samira Makhmalbaf's "Blackboards" (2000), and Jia Zhangke's "A Touch of Sin" (2013). From 1992 to 1999, Ichiyama served as a programmer for Tokyo International Film Festival, before launching Tokyo FILMeX in 2000. He served as the program director there until 2021, when he left to become the Programming Director of TIFF. Since 2013, he has been a visiting professor at the Tokyo University of the Arts. He is the recipient of the 2019 Kawakita Award.
TOKYO INTERNATIONAL FILM FESTIVAL (TIFF) is the only Japanese film festival accredited by the International Federation of Film Producers Associations (FIAPF).* TIFF started in 1985 as Japan's first major film festival and has grown to become one of the leading film festivals in Asia. Celebrating its 34th anniversary in 2021, TIFF continues to seek out excellent films from around the world and bring them to Tokyo, where filmmakers and film fans can enjoy them, meet emerging filmmakers, and be inspired. TIFF is serving as a member of the FIAPF Festivals Committee from 2021-2024.
IMPORTANT NOTE: The audience will be limited to assure safety. Temperatures will be taken in the reception area and masks are mandatory. Please make your reservations at the FCCJ Reception Desk (3211-3161) or register below. All film screenings are private, noncommercial events primarily for FCCJ members and their guests.
*FIAPF is an international organization that oversees issues related to the film industry and international film festivals.
- Karen Severns, Film Committee