Image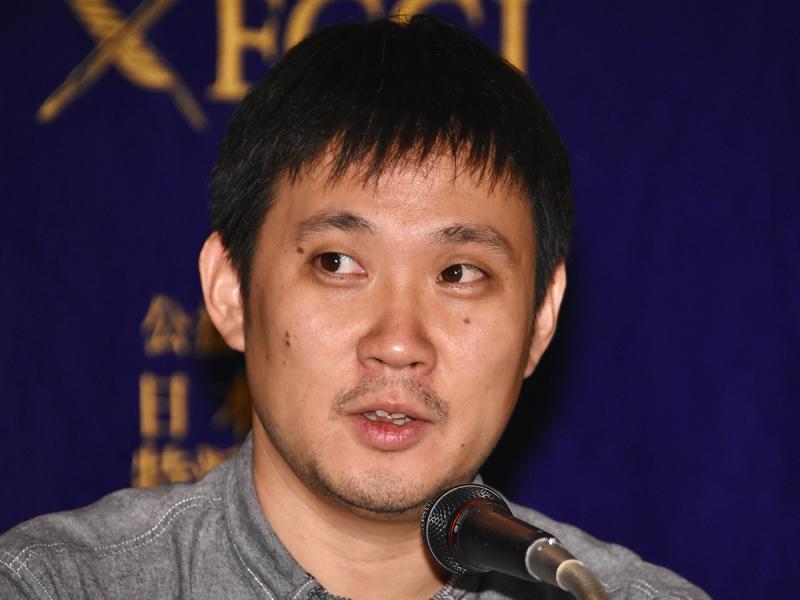 Doppelgängers are much in the news these days, thanks to the buzz surrounding the US documentary Three Identical Strangers, which lays bare a shocking tale of triplets separated at birth, reunited in adulthood through a fluke, and their heartbreaking search for answers.
Ryusuke Hamaguchi's Asako I & II also features a mystery centered on a doppelgänger, but audiences should not expect any pat explanations. This "twin," played impressively by Masahiro Higashide, is not the film's protagonist. As the (English) title makes clear, that would be Asako herself — although those Roman numerals can be interpreted in a number of ways.
Karata and Higashide.
© 2018 NETEMO SAMETEMO FILM PARTNERS & COMME DES CINÉMAS
Hamaguchi made his name guiding unknown actresses to a shower of awards from overseas festivals for his 5-hour 17-minute revelation Happy Hour in 2015. If the selection of Asako I & II for the Official Competition at this year's Cannes Film Festival is any indication, star Erika Karata may be poised for the same success. The film will shortly play at the Toronto, New York and San Sebastian film festivals, and its Japan release in 40+ theaters reflects Hamaguchi's newfound reputation as an internationally acclaimed auteur.
The director and his leading lady, who marks her first major role with Asako I & II, appeared after FCCJ's sneak preview screening and recalled their Cannes experience, the first red carpet for both. Said the director, with typical understatement, "I'm a cinephile, so to be on the other side of what I'd always watched was very exciting." Karata was still palpably excited: "To be able to participate was such a surprise. I didn't ever imagine I'd go there at such a young age and with my first lead role. I feel extremely lucky to have had such an experience. It was like a dream, just like the [Japanese] title of the film."

©FCCJ
Hamaguchi has already completed nine films in just over a decade — including a trilogy of documentaries centered around the Fukushima disaster — and has been a fixture on the festival circuit since his first release. But Asako I & II marks his first commercial release, and is also a Japan-France coproduction. Asked about the process of creation, he said, "I assume that not many people know the difference between working on an independent vs. a commercial film. The starkest difference is the scale and size of the budget. The level and quality, I'll call it, and the goals of the producers are also different. But my producers were familiar with my earlier films, so we were able to work together in a flexible fashion. We were able to meld my style with a more commercial style."
He continued, "The effect of it being a Japan-France coproduction is that it was easy to expand it into international territories, so there was no risk of having to recoup the budget in the Japanese market only. MK2 is handling international sales, and came onboard during the script stage. They've already sold the film in over 10 territories."
© 2018 NETEMO SAMETEMO FILM PARTNERS & COMME DES CINÉMAS
A journalist pointed out that Asako I & II is adapted from a bestseller by a female novelist (Akutagawa Prizewinner Tomoka Shibasaki, whose earlier novel "A Day on the Planet" also got the cinematic treatment), and that Hamaguchi had also cowritten the script with a female writer, Sachiko Tanaka. "Did you have to adjust your own perspective?" he was asked. Responded Hamaguchi, "They brought a lot to the story in terms of a female perspective. But you don't have to be a woman to understand Asako's actions. And you don't have to be a female to shoot a story like this. Ms. Karata was able to embody the character of Asako. She had extreme focus in playing the role, and I just let her lead me — all the way to Cannes."
(In a similar vein, it's worthwhile to note that Guardian film critic Peter Bradshaw suggested that the film is a reversal of traditional roles: "You've got a woman who falls for a guy's looks, not 'personality.' Asako I & II is about the female gaze, and male beauty.")
The bulk of the evening's questions focused on the doppelgänger in the room — the two characters played by Higashide, and their relationships with Asako.

©Koichi Mori
In the film, Osaka college student Asako (Karata) first sees Baku (Higashide) at a photography exhibit, and smiles to herself about his uncombed mop of hair, his flip- flops and coveralls. But shortly after leaving the museum, she turns to find him just feet away, and they exchange names. Then, as firecrackers literally go off behind them, they kiss deeply. A few days later, they relate their meet-cute story to disbelieving friends at an izakaya. "It's fate," says Baku. Asako's BFF Haruyo (Sairi Ito, in a standout performance) immediately warns her, "He's a heartbreaker — I know he's gonna make you cry." And indeed, Haruyo is right. The happy couple has only 6 months together before Baku disappears one day while out shopping for shoes.
Inconsolable, Asako finally moves to Tokyo and takes a barista job. Sometime later, she comes face to face with Baku again, although she gradually accepts that he is actually who he says he is: Ryohei Maruko (also played by Higashide), a straight-laced marketing executive for a sake company near her café. Confused by Asako's sudden advances, followed by a sudden chill when she realizes her mistake, Ryohei falls as hard for Asako as she fell for Baku. A serious, reliable type — the polar opposite of her ex — he gradually wins her trust, and they're brought firmly together by the shock of the 2011 Tohoku earthquake. But whether it's really love is a mystery, even to Asako. Although their lives fall into a comfortable pattern, her secret obsession with Baku keeps getting in the way. And then, 5 years later, Asako is confronted with the ghost of her past, and makes an astounding choice.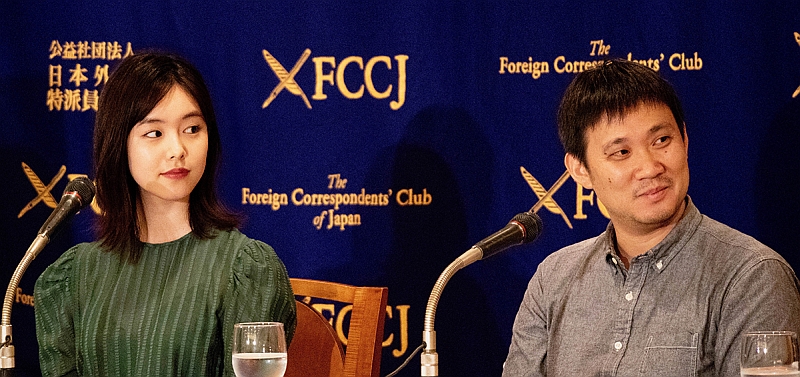 Karata and Hamaguchi react to a question.  ©Koichi Mori
A member of the FCCJ audience wondered about the motivations of Baku, whom he called "emotionless," and how much the film differs from the novel. Admitted Hamaguchi, "I stayed true to the novel, but I've received quite a lot of questions about Baku during my overseas travels to show the film. That made me realize how indispensable he is to the story arc. As to what motivates him, that's not depicted in the novel, nor is it explained why he leaves Asako. Since he's a character that can't be explained by emotional impulse or motivation, he becomes a wonderful catalyst in the story arc. And it allows for a wonderful departure from realism."
Asked about the experience of acting opposite not just one, but two Higashides, Karata said, "He plays two very different characters, and he was very different on set, too. When he played Baku, he felt like a fragile, ephemeral character. I felt like I was with him but not really with him at all. When he played Ryohei, I felt enveloped by the love he had for the character of Asako, like I was floating in this bubble of love that he'd created. He helped me a lot in playing my character."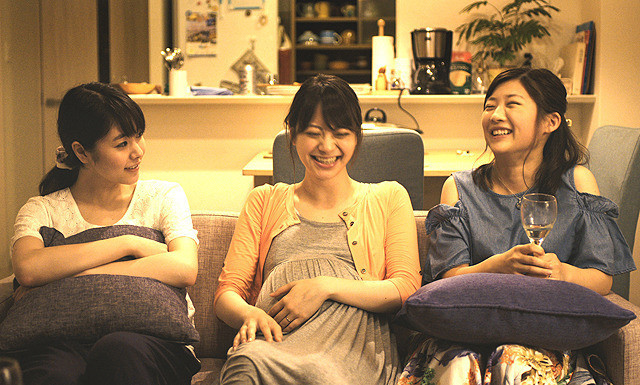 Asako shares a laugh with friends.
© 2018 NETEMO SAMETEMO FILM PARTNERS & COMME DES CINÉMAS
She also mentioned that she'd read the original novel several times and kept notes on lines of dialogue that she especially liked. For a certain scene, in which she falls asleep and is awoken with a kiss, it "allowed me to feel like I was in the same state of mind as Asako was in the novel. The way Higashide-san kissed me [as Baku] was quite different from the way he'd kissed me as Ryohei. I had this sense of, 'Who is this man? He's so different.' That's exactly the way it was depicted in the novel. It's a [pivotal moment] that is very disconcerting to her."
Although the film was overshadowed by the eventual Palm d'Or winner, Hirokazu Kore-eda's Shoplifters (see the June blog), Asako I & II is perhaps the more universal story of the two. An enigmatic meditation on first love, and the staggering power it exerts over our ability to move on with our lives once it ends, it is sure to prompt many audience members to revisit their idealized memories of youth.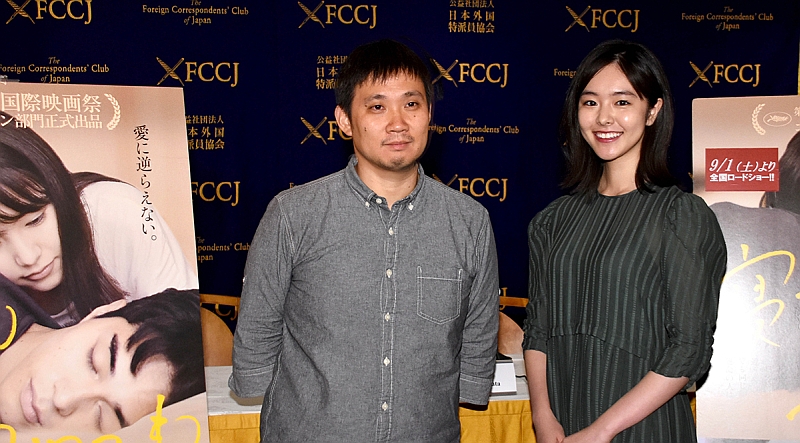 Hamaguchi and Karata relax at the end of the session. ©FCCJ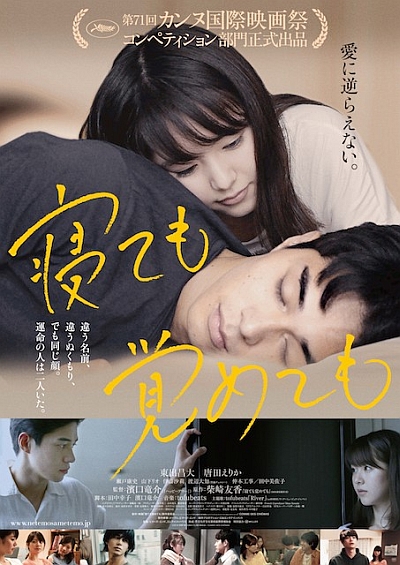 © 2018 NETEMO SAMETEMO FILM PARTNERS & COMME DES CINÉMAS
Posted by Karen Severns, Friday, August 31, 2018
Selected Media Exposure
Read more
Published in: August
Tag: Cannes Film Festival    
Comments