Image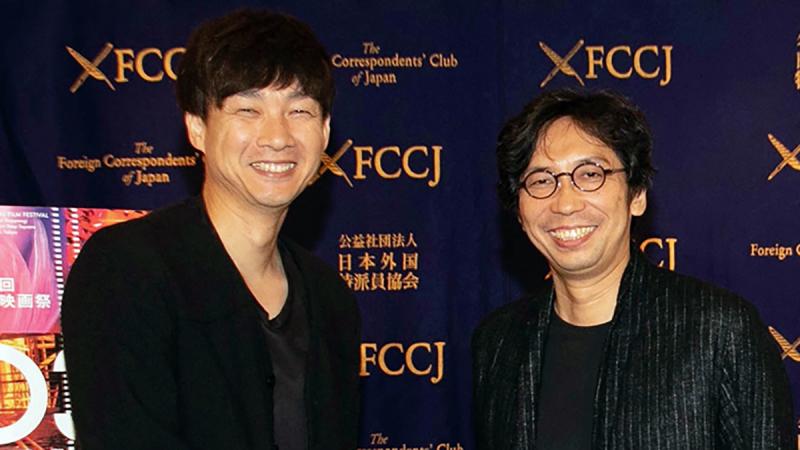 The Film Committee's annual event in conjunction with the Tokyo International Film Festival (TIFF) did not focus, as it has for the past decade, on the Japanese films in this year's 31st edition. Instead, two of Japan's most acclaimed directors, Isao Yukisada (Go, River's Edge) and Daishi Matsunaga (Pieta in the Toilet, Hanalei Bay), joined us to discuss their participation in the omnibus film project Asian Three-Fold Mirror.
A coproduction between the Japan Foundation Asia Center and TIFF, Asian Three-Fold Mirror has twice brought together three young directors from Japan and other Asian countries to co-create omnibus films with a common theme. The first volume, Asian Three-Fold Mirror 2016: Reflections, which included Yukisada's Pigeon, debuted at the 29th TIFF. On October 26, the second volume, Asian Three-Fold Mirror 2018: Journey, which includes Matsunaga's Hekishu, will have its world premiere at the 31st TIFF.
Prior to the special screening of Pigeon and a sneak preview of Journey, the directors spoke briefly of their experiences working outside Japan. "I've been really influenced by Asian films," said Yukisada. "In Malaysia, where I shot Pigeon, there's a very famous director called Yasmin Ahmad, whose work really influenced me. Unfortunately, she passed away recently. But I wondered how my own filmmaking might change when combined with the atmosphere of Malaysian film. The tradition of filmmaking in each country should be enjoyed and appreciated, and I have very fond memories of my experience working with an international cast and crew in Malaysia."  


Clockwise from uppper left: TIFF Director Takeo Hisamatsu, Japan Foundation President Hiroyasu Ando, TIFF Japan Now Programming Advisor Kohei Ando, Yukisada, Matsunaga. Top right ©Mance Thompson, Others ©FCCJ
Matsunaga agreed. "I worked with a crew from China, Indonesia, Myanmar and the UK on Hekishu, which was shot in Myanmar," he said. "It was really a great experience, allowing me to learn a lot and grow as a director."
Discussing the importance of this ongoing coproduction project for the film festival, TIFF Director Takeo Hisamatsu told the FCCJ audience, "TIFF has been focusing on Asia and other themes since my predecessor's time. Of course we're an international film festival, so we think it's important for a number of reasons, including distance, to have a strong relationship and interactions with other countries in Asia. We would like to continue working with the Japan Foundation Asia Center to focus more attention on the region. We believe that Asian Three-Fold Mirror is a wonderful project, and we hope it will continue."
Providing important context for the project, Japan Foundation President Hiroyasu Ando noted, "Fifty-three percent of the world's population is in Asia, and the rapidly growing economies of the region are acting as an engine for the world economy. Most of the foreign tourists coming to Japan are Asian. For these and other reasons, we believe Asia will continue to be very important to Japan, and we are working to create a two-way cultural flow between Japan and the cultures of Asia."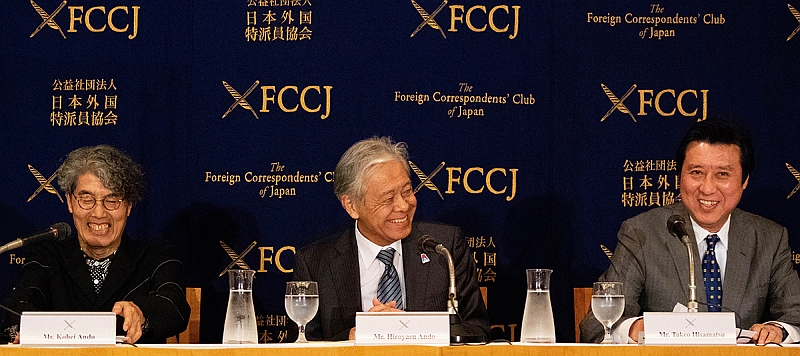 The panel shares a laugh.  ©Koichi Mori
When queried specifically about the future of Asian Three-Fold Mirror, he responded, "The Japan Foundation would like to continue working with TIFF on cultural exchanges between Japan and Asian countries. Asia is a vast region, and we're looking forward to hearing feedback from audiences at TIFF as well as around Asia, in regards to the direction of the next Asian Three-Fold Mirror project."
Hisamatsu also spoke briefly about some of the other highlights at this year's festival, which runs from October 25 – November 3. Among them is the addition of a Best Director prize in the Japanese Cinema Splash section, which is devoted to indie film and has nurtured the careers of such notable filmmakers are Rikiya Imaizumi, Daigo Matsui, Eiji Uchida and Hirobumi Watanabe.
Programming Advisor Kohei Ando also revealed some of the highlights of his Japan Now lineup. "There's a global trend right now to reduce everything to a slogan, like ' America First,'" he said. "With this year's Japan Now, we want to do the opposite, and focus on films that highlight Japanese ambiguity. We are showcasing the work of internationally renowned actor Koji Yakusho, who's famous for revealing the ambiguous natures of the diverse characters that he's played. We're starting with his starring role in The Eel, which won the Palm d'Or at the Cannes Film Festival 20 years ago, and showing a total of five films, including his latest, Blood of Wolves, in which he portrays a very ambiguous detective. Mr. Yakusho will be attending every screening for a Q&A session, along with the film's directors. We are also showing nine other films that are among the best works of this past year."
(Included in the Japan Now lineup is Yukisada's River's Edge. Not included, to Ando's regret, is Matsunaga's Hanalei Bay, the adaptation of a Haruki Murakami short story. The film opens just before TIFF and thus wasn't available for festival screenings.)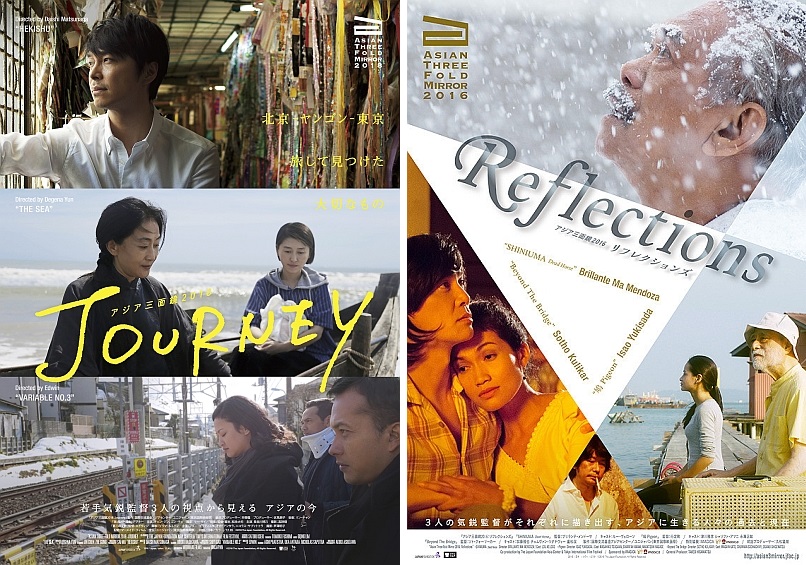 ©2018, ©2016 The Japan Foundation. All Rights Reserved.
Following the Asian Three-Fold Mirror screenings, Yukisada and Matsunaga returned to the dais and fielded a range of questions about their omnibus contributions.
Prompted for examples of differences in film production styles, Yukisada said, "In Malaysia, film shoots begin with a group photo, followed by a meal together. The Japanese crew members got really impatient about that, but it dawned on me that it was really Malaysian. They want to work together in harmony, so they take the time to share a meal and get to know each other before they start working. Unlike Japanese crews, Malaysians will never argue on set. They avoid conflict as much as possible. I think it encapsulates Malaysia, because it's a nation where so many people from diverse cultures are living and working together. I really felt ashamed of our Japanese impatience, and I felt it was a great lesson."
Matsunaga mentioned that he had shot Hanalei Bay in Hawaii before shooting in Myanmar, and noted that both places are far stricter about crews not working as long without a break as they do in Japan. "In Myanmar," he said, "if you work over 12 hours, it becomes another day and you're charged accordingly. That would be unthinkable in Japan. Even though Myanmar's film industry is still developing, they're already protecting casts and crews in this way. I felt the crew had great respect for my wishes, and would try their best to realize them. In my limited experience with Japanese crews, that's not the case. Everyone seems to have their own ideas here, which they feel strongly about. It felt really liberating, working with the international crew in Myanmar."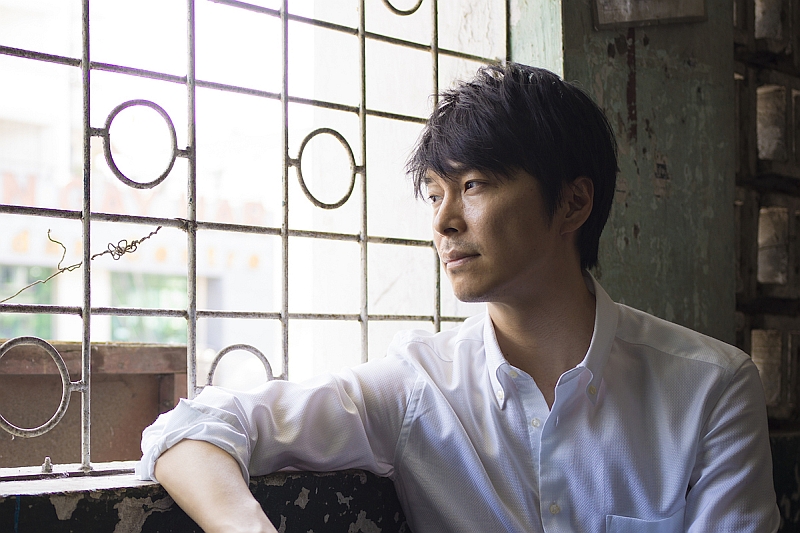 Hiroki Hasegawa in Hekishu. ©2018 The Japan Foundation. All Rights Reserved
A journalist from Indonesia asked how it came about that popular Indonesian actor Nicholas Saputra appeared in all three of the Journey films. Matsunaga answered, "I had Skype meetings, as well as meeting in person with my fellow omnibus directors, Degena Yun [from Inner Mongolia, China] and Edwin [from Indonesia], and we decided that we should have a common theme that would unite our three films. We also decided, since Nicholas had already been cast to star in Edwin's film, that we could give him small cameos in each of our films, as a way to further unite our work. Nicholas' role in Edwin's film is a rather mysterious Japanese-like man, and that inspired both me and Degena in our scripts."
Matsunaga's Hekishu is set in Yangon, Myanmar, which is experiencing rapid democratization and urban renewal, although the old cityscape is still prominent, especially around the city's slow-moving circular railway. A Japanese businessman, Suzuki (Hiroki Hasegawa of Shin Godzilla) arrives to work on the implementation of a new rapid- transit system. Yet, after meeting a Burmese seamstress named Su Su (Nandar Myat Aung), he begins to question just how much progress is actually good for the residents, many of whom will be displaced by the upgrade.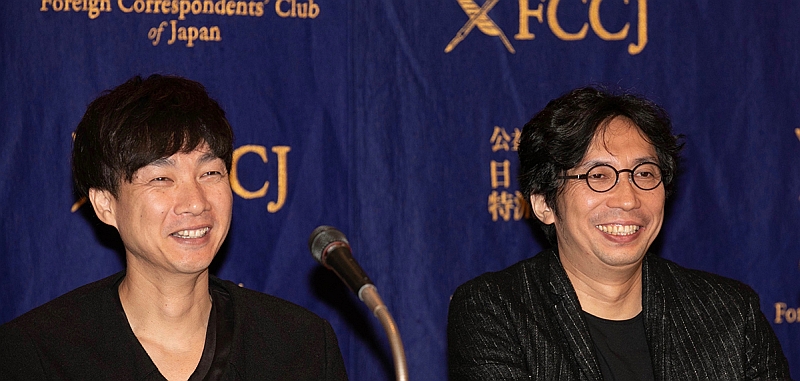 ©Mance Thompson
"I wanted to show the existing railway, and capture it as it is, almost like a documentary," recalled Matsunaga. "I started my career with documentaries, and that appealed to me. When I thought about who I should cast for the role of the businessman, I wanted an actor who wouldn't draw too much attention to himself, to maintain this documentary feel. I thought of Mr. Hasegawa because he has a unique presence, but at the same time, I thought he would blend into the landscape of Myanmar."
Asked how he had cast Nandar Myat Aung, who is a first-time actressl, Matsunaga said, "We had assistance from the Myanmar-based production company and held auditions with professionals. But I wanted someone who wouldn't 'act,' since it would undermine Mr. Hasegawa's naturalness. We found her at an art school [where she's currently studying film]."
Yukisada's Pigeon is set in Penang, Malaysia, which is home to many Japanese retirees. The story revolves around a lonely old man (acting legend Masahiko Tsugawa) who lives in a spacious house and keeps pigeons on the roof. After his greedy son (Masatoshi Nagase) visits and flies into a rage, the old man grows even closer to his empathetic caregiver, Yasmin (Sharifah Amani). With her help, he is finally able to visit the beach where his brothers were killed during WWII and to make peace with their spirits.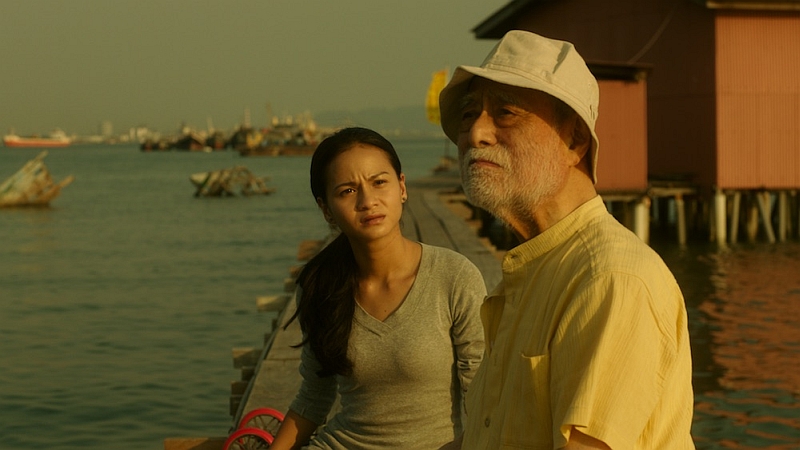 Sharifah Amani and Masahiko Tsugawa in Pigeon. ©2016 The Japan Foundation.
All Rights Reserved
Yukisada was asked about working with Tsugawa, who died in early August. "When I heard about his death, it was really a shock for me, as well as for the people we worked with on the film," he recalled. "He was famous for hating to work overseas, and it was an incredible honor that he agreed to accept the role and come to Malaysia. It was the only chance I'd had to work with him, and he was playing a role that was based on my own grandfather. His intensity intimidated the cast and crew at first, but they came to really love him. None of us will ever forget the experience of working with him."
Yukisada also spoke about casting his actress. "Sharifah Amani had been acting in the films of Yasmin Ahmad, the director I respected so much, since she was a child. After I couldn't find anyone appropriate during auditions, I contacted her and reached her when she was shopping in a department store. So I rushed to the store and met her in a coffee shop there. It was so surprising how generally cheerful she is, yet when she's hurt or depressed, she cries like a small child. It's really rare to find someone like that."
A Malaysian journalist lauded Yukisada' direction, saying that Pigeon felt "very much like a Malaysian, not a Japanese, film." How, he wondered, did the director write such realistic interactions between the Malaysian characters and direct them to such authentic performances?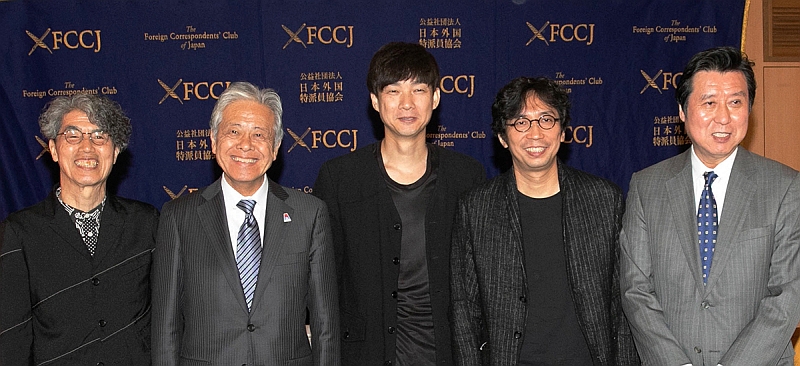 ©Mance Thompson
"What a compliment! Thank you," responded Yukisada. "I have to admit that it was Sharifah Amani and the other actress, whom she had recommended, who came up with ideas. I wrote the storyline, but the details, and their reactions, were devised by the two women. I'm sure that's why you felt it was so authentic."
He couldn't resist adding, "Also, I must say that Malaysian actors are surprisingly good at pronouncing Japanese as if they understand every line. They all grow up watching Japanese animated shows like Captain Tsubasa, Dragon Ball and Sailor Moon. That's where the line about Sailor Moon came from.
Asian Three-Fold Mirror 2016: Reflections is getting a theatrical release in Tokyo — after 2 years making the rounds of festivals and special events overseas — from October 12-18. Following its world premiere at TIFF, Asian Three-Fold Mirror 2018: Journey will also be theatrically released, from November 9 to 15.
Poster Visual Tokyo International Film Festival
Posted by Karen Severns, Thursday, October 04, 2018
Selected Media Exposure
Read more
Published in: October
Tag: Tokyo International Film Festival, Japan Foundation Asia Center, Isao Yukisada, Daishi Matsunaga, coproduction, omnibus    
Comments