Image
Fans of Kazuaki Kiriya's first two epic adventure stories, both innovative special-effects extravaganzas — Casshern (2004), in which a reincarnated warrior saves the world from genetically modified human mutants, and Goemon (2009), a ninja thriller based on the Japanese folk hero who resembles Robin Hood — probably weren't surprised when they heard that his new film is a take on the legendary revenge tale Chushingura, aka 47 Ronin. But for the first time in his career, the idea didn't originate with Kiriya himself.
His Last Knights marks several other significant milestones in the director's career. Not only is it his debut English-language film, it is also the first time he didn't shoot on a digital backlot in Japan. Even more impressively, it stars no less than Morgan Freeman and Clive Owen as the two leads, with a wealth of award-winning actors in supporting roles. The number of Japanese directors who have helmed big-budget English-language films featuring Hollywood stars can be counted on just about two fingers — and both of them made J-horror remakes.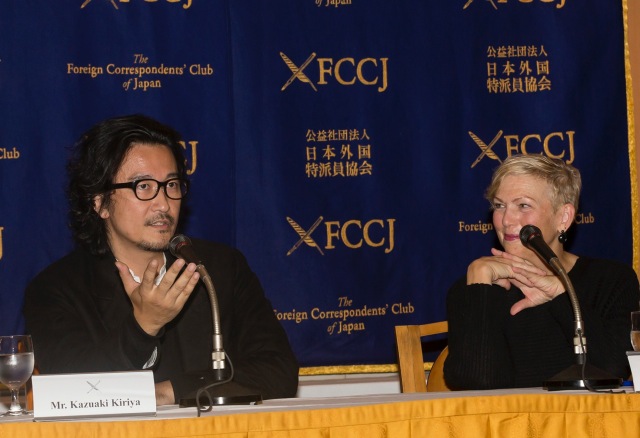 The emcee was happy to leave the floor to the locquacious director.
Photo ©Mance Thompson
During a thoroughly candid Q&A session following a sneak preview screening of Last Knights — candor is clearly one of Kiriya's defining traits, along with charm, self-reflection and occasional self-deprecation — he recalled receiving the script (by Canadian Michael Konyves) from producer Jim Thompson in 2009, and wanting to make it immediately. "But unfortunately," he said, "there was another project in development called 47 Ronin, with Keanu Reeves. So the studios rejected this film and that left us the independent route. So we went around the world to get financing for the film, and that took us two or three years before we could go into production."
The unlikely hero was Owen, the Oscar-nominated British star who's been carving out a new audience (pun intended) with his TV hit The Knick. "Clive helped us get financing. He was the first on board," Kiriya said. "I sent him the script, he liked it and he saw my film [Goemon]. After two weeks, I got a call from him and he said he was in. Then he waited [for production to start for] three years. He's a cool guy."
No argument here, ahem. Owen is absolutely electrifying in Last Knights, which transplants the 47 ronin to a European-ish setting during the Middle Ages, focusing on feudal warriors who seek to avenge the loss of their master at the hands of a sadistic minister. Owen is Commander Raiden, head of a band of elite soldiers and surrogate son to Bartok (Freeman), the lord of a vassal kingdom. For his services and devotion, Bartok names Raiden his heir and gives him a cherished sword. But when Bartok refuses to pay a bribe to a greedy minister and speaks openly (and eloquently, as only Freeman can) about the corruption of the empire, he is sentenced to death, with Raiden forced to be his executioner. Bartok's estate is divided and the clan disbanded as Raiden nurses his despair with alcohol, falling so low he even sells Bartok's sword for more drink. After a year, Raiden's men and his wife will have nothing more to do with him. Yet the evil minister still suspects the men will attempt to exact vengeance… and with good reason.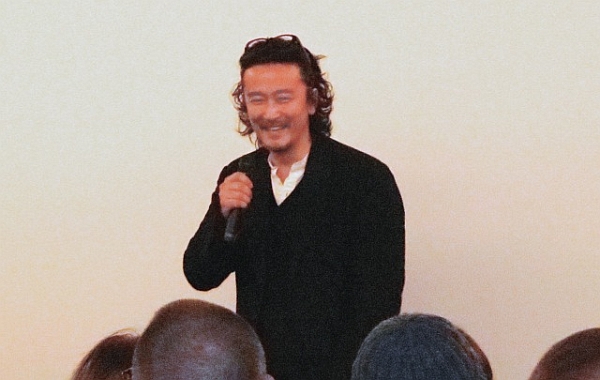 Last Knights was sold to 30 territories, but Japan wasn't one of them. Kiriya is working with Gaga on the nationwide release.
Loyalty, honor and payback are familiar themes in Japanese films, but Last Knights doesn't exactly go where it's expected to go, and the sword-fighting scenes, which don't occur until quite late (by Hollywood standards), are not the point. This is a more contemplative, more realistic approach than the Keanu Reeves version, shot on stunning locations throughout the Czech Republic, in mostly natural lighting, by the great Mexican cinematographer Antonio Riestra. Chambara fanboys may be disappointed, but patient viewers will be amply rewarded.
"This movie is not about the battles," Kiriya emphasized. "It's about the conflict between the world of material[ism] and the world of the soul, the spirit. That argument is valid is this world today. Everybody worships materials and things, but does that make us happy? I know it's a cliché, idealistic notion, but it's a huge question that we're hearing more now."
Speaking of the film's "mix of peoples," as one audience member put it (critics dubbed it "a veritable Middle Ages melting pot"), Kiriya explained, "Originally, the script was written to be played by Japanese actors, and it was set in Japan. Like Memoirs of a Geisha, with an Asian cast, shot in Asia but all in English. But I was thinking about doing it more like Akira Kurosawa's Ran, which is Shakespeare transplanted to Japan. Then I decided, let's forget the race issue, let's just find the best actors from all over the world. That's what I told my casting agent, and we got actors from 17 countries. I was very lucky to get these actors." (At which point, Kiriya ticked off many of their names, with exclamations like "wow!" and "I mean, come on," punctuating each.)
"I'm hoping that this will become a trend," continued Kiriya, "to open the doors to actors from Asia, the Middle East, to break the typecasting. That was my intention."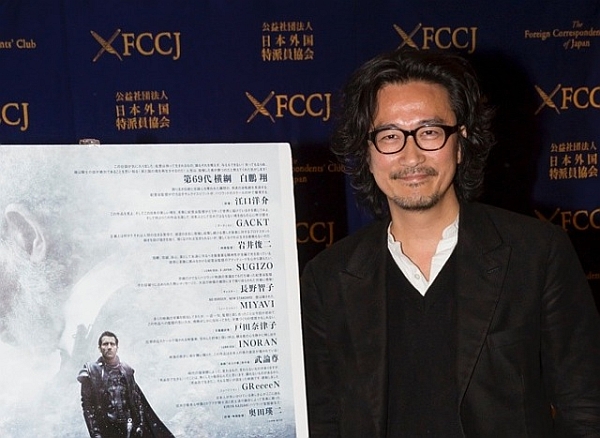 Kiriya with the Japanese poster, adorned with raves
from a range ofJapanese stars.
Photo ©Mance Thompson
It wasn't just the film's cast that hailed from far and wide; after the 50-day shoot in Europe ended, Kiriya presided over a truly global post-production process. His Oscar-winning editor, Mark Sanger (Gravity), "happened to be in London, and I happened to be in Tokyo," laughed Kiriya. "But we just communicated on Skype and we edited online. I think it's a beautiful thing that's happening in the film world — we can collaborate [through the internet] in the true sense… We had the orchestra in Moscow, I was in LA with the musical team, and we connected through the internet in real time. They played, we gave them notes right there, [the score] was recorded and it was done. The CGI was done mostly in Korea, but also in India and Louisiana, everything was done online."
But Kiriya lamented the "unforgiving" nature of today's film industry, where studio budgets have now ballooned to $300 million on a regular basis (Kiriya's was closer to $22 million), and many directors have fled to the greener pastures of television production. "It's becoming very, very unforgiving. [Films have] to be in a specified style, fit a certain format, a certain taste, a certain genre. Even in the '80s, we never saw what we're seeing today. It's very difficult, especially for small, independent filmmakers. They make great, small films but you can't watch them — the theaters are all closing, because even for promotion, you need a lot of money. Everything's become about the business model, not art. It's the battle of the business models."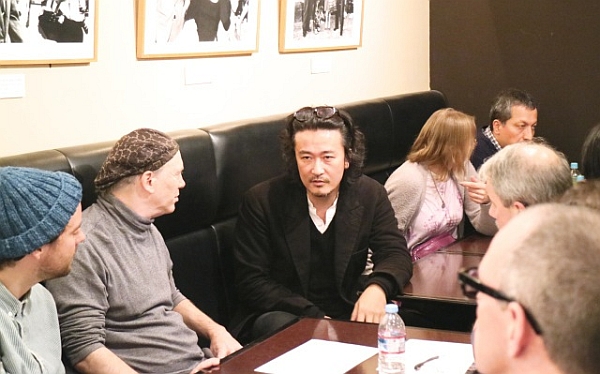 Kiriya chats about the industry with critics from Twitch Film, the Japan Times and Metropolis.
To a question about differences between the original 47 Ronin story and Last Knights, Kiriya responded: "I fought really hard to keep the essence… at some point, I was going to make Morgan Freeman commit harakiri [as per the original], but at the last minute, we changed it. It's like, harakiri is already a stereotype, a Japanese thing, like Mount Fuji, sakura, sushi, sumo, harakiri, right? I didn't want to go there." While the audience laughed, Kiriya hesitated, and then explained that his grandfather had committed suicide after the war, and that it was personal to him. "I just didn't want it to be that kitsch Japanese thing. [Harakiri] is a sacred act, it's called 'self-deciding' in Japanese. So I had Clive Owen kill him instead, since they're like father and son. I'm proud of that scene. I think it was a good choice."
—Spoiler alert —
As for the ending — which does not, like the original tale, feature a mass suicide, but is seemingly unclear about the fate of Raiden — Kiriya said, "Again, we needed to transcend that Japanese thing, that stereotype, of the spirit of the samurai. But to me, the samurai spirit [exists] in Europe, in America, in Africa, China, everywhere. What did I mean by the ending? I want audiences to decide."
— Photos by Koichi Mori where uncredited.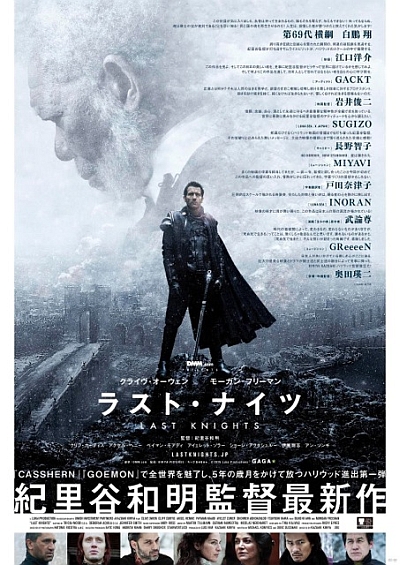 ©2015 Luka Productions
©2015 Shochiku
Posted by Karen Severns, Thursday, November 05, 2015
Media Coverage
Read more
Published in: November
Tag: Kazuaki Kiriya, 47 Ronin, samurai, Clive Owen, Morgan Freeman, independent film, international coproduction    
Comments