April 2021 Exhibition: Soliloquy of the Full Moon
Artwork by Kozo Chiba
April 3 - May 7, 2021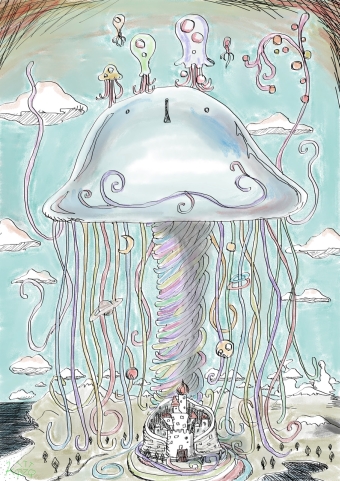 At this time, when people find it difficult to throw off the feelings of unease brought about by the COVID-19 pandemic, I am very grateful to the Foreign Correspondent's Club of Japan for having been offered this opportunity to hold an exhibition.
As a result of the pandemic, I have held a virtual exhibition on the Internet in order to allow people to see my work, but although this experiment could be considered a success with regard to health safety, I cannot help but feel that it focused on data dissemination than art.
However,  as an artist I am excited at the thought of holding this exhibition in a real space,  allowing people to take the time to experience the warmth of my work in person as they travel through the world created in my pictures and enjoy the absurd worldview presented there.
In closing, I would like to take this opportunity to offer my heartfelt gratitude to Bruce Osborn and his wife, Yoshiko, for making this exhibition possible, to Koike Keiko of KEPT, my father and mother for their unflagging support, and all my friends for their help.
Kozo Chiba