Image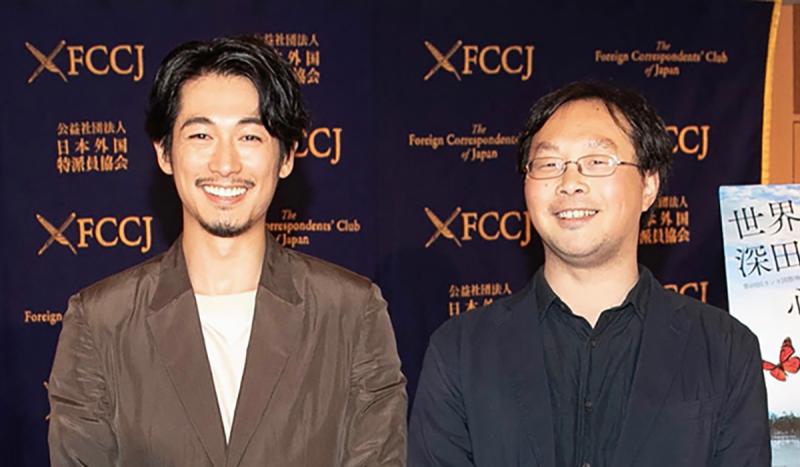 Those who are familiar with writer-director Koji Fukada's award-winning work, particularly his 2016 Harmonium, the Jury Prizewinner in the Cannes Un Certain Regard section, will find that his first international coproduction feels both more placid and yet politically charged.
Those familiar with the work of actor Dean Fujioka, a homegrown megastar with a fervid Asian following, may be surprised by his limited screen time in a film by a director whose leanings are resolutely arthouse, rather than commercial.
Yet both men have clearly benefitted from the collaboration, and Fujioka's presence is sure to help The Man from the Sea reach a much-expanded audience.


 All photos ©Mance Thompson, except bottom right:  ©FCCJ
Speaking briefly prior to FCCJ's screening, Fukada promised, "It's a much lighter film than my last one." Indeed, while much of the story concerns the developing inter-relationships between its four central characters, it is set against the backdrop of real-life tragedy in the seaside town of Banda Aceh, Sumatra. An area once devastated by the 2004 Indian Ocean earthquake and tsunami, it inspired the director to craft a tale marked by parallels with Japan's own triple disasters in March 2011.
Fukada explained, "The idea for the film came from a visit I made to Banda Aceh back in December 2011, to shoot a tsunami symposium. It was really interesting, because I discovered big differences in the way [Indonesians and Japanese] view life and death. That's what stimulated me to consider shooting against that backdrop."
Evoking both the splendor and the wrath of nature, infused with a palpable sense of loss and hope as well as an ineffable magic realism, The Man from the Sea contains documentary interview footage touching on the still-fresh memories of the tsunami as well as the area's recent civil war, and further back, lingering recollections of the hardships of World War II.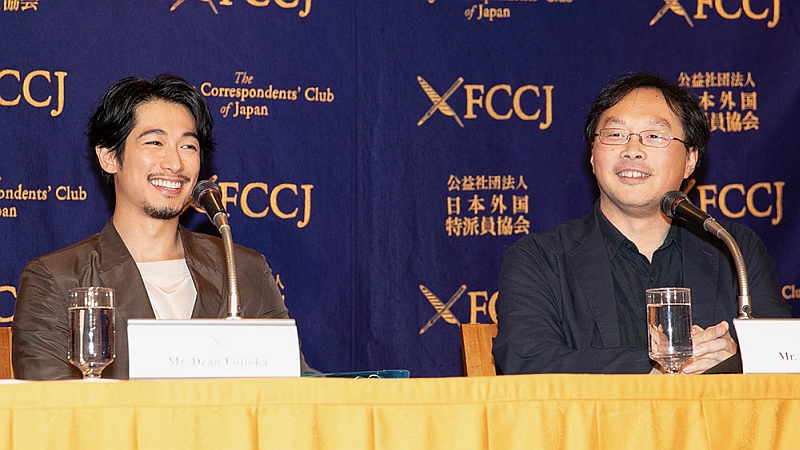 ©Mance Thompson
But these scenes are interwoven with the burgeoning romances of the film's Japanese and Indonesian protagonists — whose cross-border rapport makes it seem as if the usual barriers of nationality and language simply don't exist. And then there is the sudden arrival of a mysterious visitor (a driving motif of both Harmonium and Fukada's earlier Hospitalité), who shakes the equilibrium of the community.
As The Man from the Sea opens, we meet Japanese aid worker Takako (Mayu Tsuruta), who has settled in Banda Aceh, assisting in ongoing reforestation and other disaster recovery projects with her son Takashi (Taiga), while her husband remains in Yogyakarta. Both are fluent in Indonesian and completely comfortable in their adopted culture. On the day Takako's niece Sachiko (Junko Abe) is scheduled to arrive on a visit from Japan, a man (Fujioka) is found lying on a beach, apparently stricken by amnesia, and Takako is called to help. He seems able to understand Japanese and Indonesian, but he cannot — or will not — speak. While his identity is being ascertained, she reluctantly agrees to let him stay at her house overnight.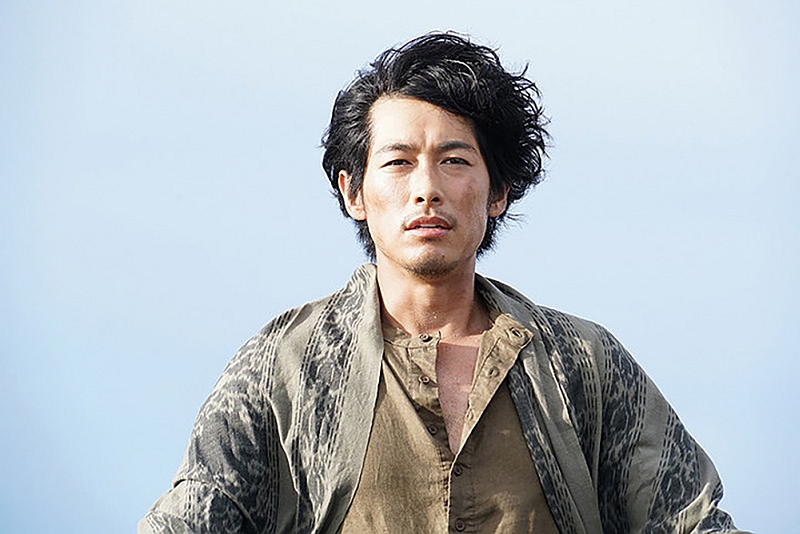 Fujioka as the mysterious, magical man from the sea.
©︎2018 "The Man from the Sea" FILM PARTNERS
Takako nicknames the stranger Laut, meaning "sea" in Indonesian, and he seems content to just... be. Smiling serenely, he sits by himself as life swirls around him. Takako, assisted by aspiring journalist Ilma (Sekar Sari), attemps to uncover who this enigmatic visitor is and where he came from, while Sachiko gets settled in and meets Takashi's college friend Kris (Adipati Dolken). He helps her begin her own search for the beach her father so fondly remembered, where she hopes to scatter his ashes.
And then gradually, strange phenomena begin occurring in Laut's presence. He seems to have the power to make dead fish jump, cold showers run warm, bubbles of water float, and the dead appear to loved ones. Is he really Naoki Kuroda, the missing tourist, as locals suspect? Or is he something altogether more ambiguous?


Photos on left: ©Mance Thompson; on right: ©FCCJ
As the Q&A session got under way, Fukada elaborated on the process of bringing the film to fruition, seven years after he attended the disaster seminar in Banda Aceh: "The Indonesian visit also influenced another of my films, Au Revoir l'Eté. About a year after I completed that, I started discussing this project with a producer at Nikkatsu. But it's really difficult if you try to make a project in Japan that isn't based on another work. That's why we had funding also from France and Indonesia (Japan's Nikkatsu Corporation teamed up with France's Commes des Cinemas and Indonesia's Kaninga Pictures to coproduce), as well as creative input. It was a really rewarding project for me."
Greeting the audience as if they were old friends (he had last visited FCCJ a full year ago, but his affability is a large part of his appeal), Fujioka said in American-inflected English, "I hope you liked the film, and have your own answers to this mysterious piece of work. I believe it's not something that's binary — it's got an open ending that I think opens up a dialogue for viewers."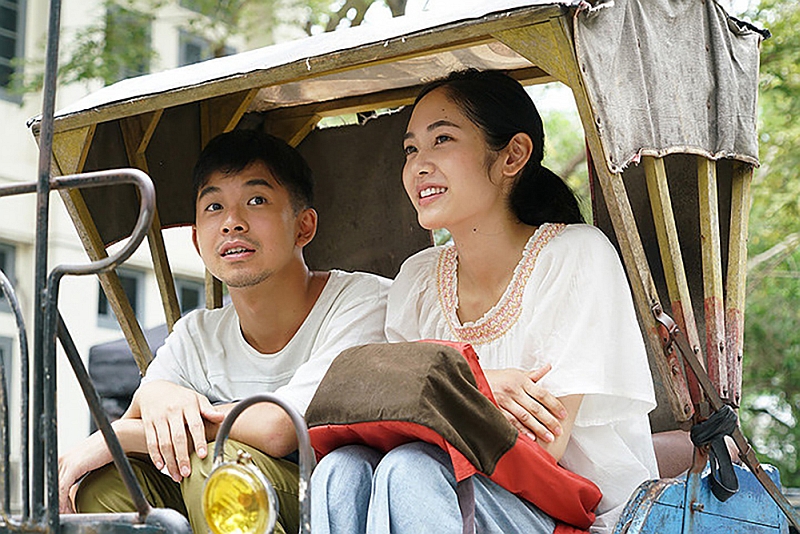 Takashi and Sachiko take a taxi in Banda Aceh. 
©︎2018 "The Man from the Sea" FILM PARTNERS
Asked whether he had taken the role of Laut because he'd wanted to work with Fukada, or because he'd wanted to work in Indonesia, Fujioka immediately responded, "Both. My family is in Jakarta, and I always wanted to do something that's related to my wife's home country. I wanted to make something that, when my kids grow up, they'll be proud of me, they'll know why I'm missing this time with them now. When I pick projects, my criteria are whether the character, the story or the film will allow me to feel proud of myself as a good father."
As for his director, Fujioka enthused, "Mr. Fukada's script was great. It was original, it was really creative, it was eccentric, and you could call it unkind, in a way — it doesn't end with easy [answers]. It doesn't really emit any message or define how it should be interpreted."
Although the film's overarching meaning(s) can be considered ambiguous, Fukada does not shy from difficult themes. One of these is the fluid notion of national identity. The character of Takashi, for example, wrestles with his Japaneseness, since he considers himself to be essentially Indonesian; and the man from the sea, while he appears to be Japanese, is essentially a man without a country.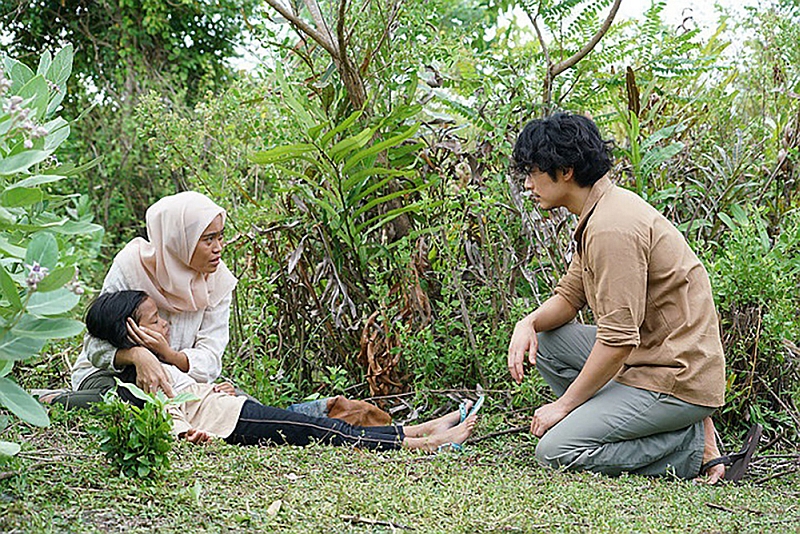 Laut and Ilma help a girl with heat exhaustion. ©︎2018 "The Man from the Sea" FILM PARTNERS
Noting that he had also questioned such notions in films like his 2009 Hospitalité, one journalist asked the director to expand upon the theme. "Indeed, national identity is one theme of the film," said Fukada. "I was intrigued when I realized during my visit to Banda Aceh that I had seen footage of the great tsunami of 2004 and yet, had considered it only as a [distant] news story among many others. Yet the way I perceived the 3/11 disasters here was different, and I had [distanced myself] by making a distinction between 'here' and 'there.' It made me want to depict this through characters that had Indonesian and Japanese national identities, and try to juxtapose those against Laut, who has no national identity at all, and thus give the audience the opportunity to think about identity."
Pressing further on the same issue, another audience member asked the director why he'd felt a "narrative compulsion" to shoot the film abroad, and whether it would have been impossible to make it in Japan. "I don't think it's necessarily impossible to explore this theme in Japan," Fukada answered. "For example, there's work like Kenji Miyazawa's 'Matasaburo of the Wind' (a short story in which village schoolchildren believe that a new transfer student is the embodiment of a legendary wind sprite) — so it's a universal theme, in a way."
As in his prior visit, Fujioka made all his responses in English. ©︎Mance Thompson
He continued, "But I found that when I placed the story in Indonesia, it was an even better match than I'd anticipated. I had discovered that Indonesians have a spiritual nature, and more of an acceptance of the supernatural. The man Nu, who appears in the documentary within the film, said that after he'd lost his wife and daughter in the disaster, his wife had forgiven him for remarrying, and his daughter had come to him in a dream and led him to where [her remains could be found]. He talked about it in a very natural way, not as if it were any kind of special experience for him.
"Also, when we were shooting on location, we always had 'rain stoppers.' These were people who offered prayers to stop the rain, whenever it looked like rain was imminent. All the Japanese crew found this unusual, but for the Indonesian crew, it was an everyday thing. I think it's only normal that the people of Aceh would receive the character of Laut in a very natural way."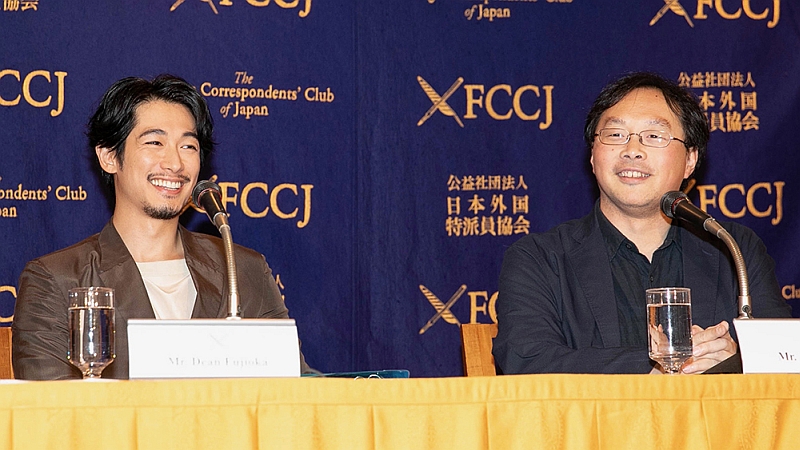 ©︎Mance Thompson
Recalling an interview he'd conducted with Fujioka when his I Am Ichihashi: Journal of a Murderer was coming out in 2013, a journalist said they'd spoken about the difficulty of preparing for a role when an actor feels he has nothing in common with the character. "For this film, then, how did you go about preparing to play a character who is basically unknowable?" he asked.
Responded Fujioka, "It was really difficult, because I understood from the script that this guy is not human. I had to lose the smell of any ethnicity or nationality. He's basically like a plant, or an alien — I never had a concrete answer from Mr. Fukada — but he's like nature itself. I had only a couple of lines to speak in a couple of different languages, so it was basically like a choreographed art installation. It was something equivalent to dancing or shooting an action film, although Laut wasn't really active. It was a subtle way of moving my body. I remember that Mr. Fukada reminded me every single day to hunch over — he said my posture was too good to be Laut. I had to hunch over and keep that little smile, and that's how I forged this art installation."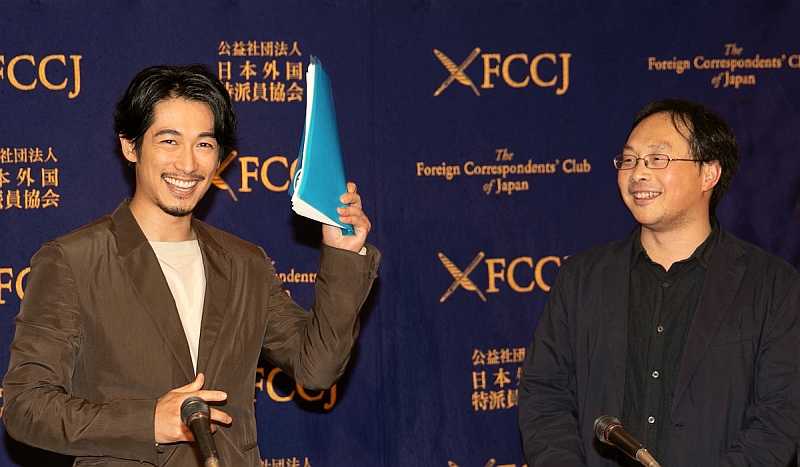 Fujioka brandishes the script, after reading his favorite line — which was dropped from the finished film.  ©︎Mance Thompson
Noting that they'd had a good rapport on set, and he had completely trusted Fukada, Fujioka said, "I think a complicated character is easier to act, in a way, because there are a lot of things you can bring out, you can dig deep into your soul and your memories and bring out emotions. But this time, since he's not human, it was extremely difficult. …[But] we collaborated on this piece of work named Laut."
It was only later, as photographers were assembling near the dais for a photo call, that Fujioka was asked about the blue notebook he was carrying. "This is the script," he explained, opening it to the first page. "Mr. Fukada omitted the first line on page 1 of the script. I loved this line: 'I'm satisfied with the universe, but I'm not satisfied with the world.' I thought it was beautiful. I think it basically explains who Laut is and the theme of the film. So I brought the script today because I just thought it was such a pity that it wound up being dropped during post-production."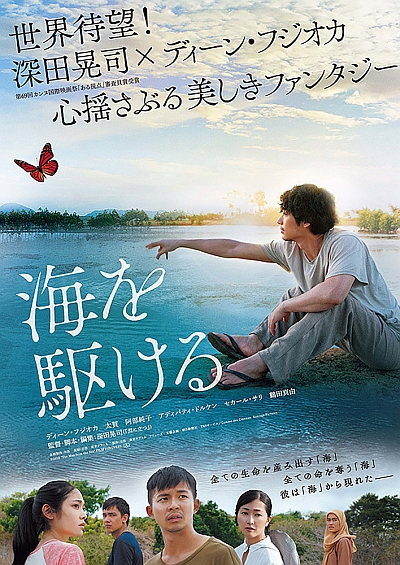 ©2018 "The Man from the Sea" FILM PARTNERS
Posted by Karen Severns, Friday, May 25, 2018
Selected Media Exposure
Read more
Published in: May
Tag: Koji Fukada, Dean Fujioka, international coproduction, Banda Aceh, Cannes, awardwinning, Indian Ocean earthquake, Fukushima disaster, documentary    
Comments