Image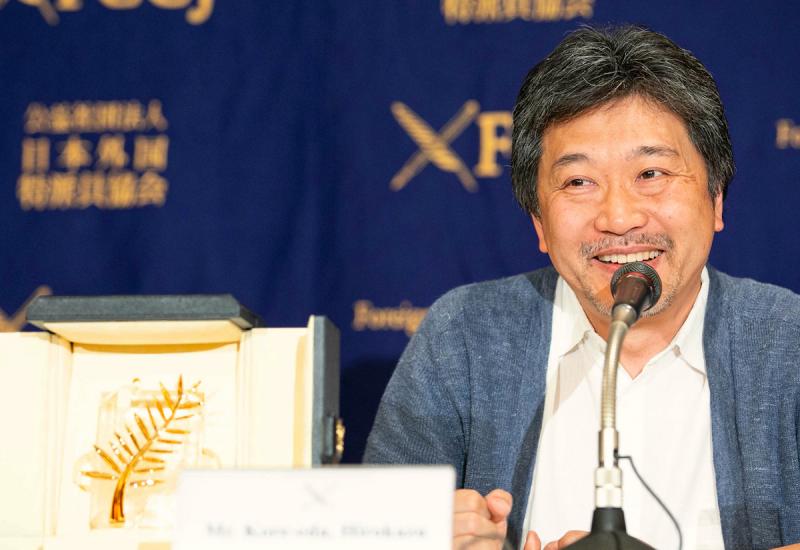 Even the infrequent filmgoer in Japan knows that Hirokazu Kore-eda became the first Japanese director in 21 years to win the coveted Palme d'Or at the Cannes Film Festival on May 19, for his latest masterwork, Shoplifters.
But the good news was quickly hijacked by right-wing Japanese commentators, who — without viewing the film, and perhaps without having a clue that the bulk of Japanese cinema does not treat the country's social ills as if they are taboo subjects — immediately began condemning it for the damage it could cause to Japan's international reputation.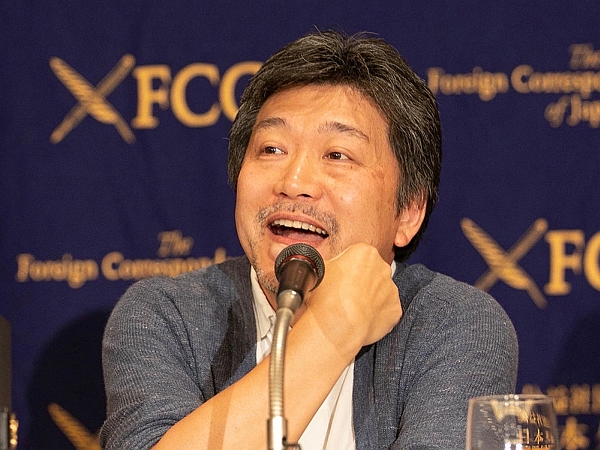 ©Mance Thompson
Soon, the headlines had politicized the win even further, suggesting that Prime Minister Abe's reported failure to call Kore-eda with congratulations was surely proof that he disapproved of its empathetic portrait of a family living in poverty and shoplifting to get by.
The director attempted to set the record straight in a message posted to his website on June 6, protesting that "discourse surrounding this film has included both criticism and praise … [arrived at] by juxtaposing it against the values asserted by the current administration." He went on to write: "A film is not a vehicle to accuse, or to relay a specific message. If we reduce a film to this, we lose all hope for cinema to ignite a richer conversation. I have never made a film to praise or to criticize something. That kind of filmmaking is nothing but propaganda."
Of course it's no secret that the auteur has always incorporated social issues into his work, particularly his documentaries. But he rarely foregrounds them in his narrative films, with the exceptions of his 2001 Distance and his 2004 Nobody Knows, both of which also earned acclaim at Cannes.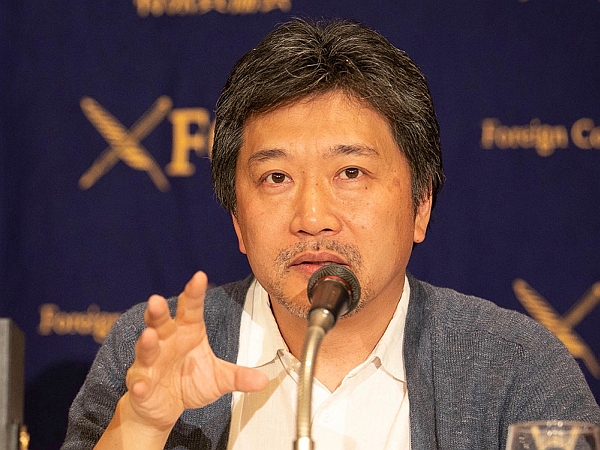 ©Mance Thompson
For those familiar with his oeuvre, Shoplifters can be seen as a continuation of Kore-eda's concerns with the trials and tribulations of the "family" unit, and his ongoing exploration of the strength and fragility of bonds forged by choice, not blood. This was the overriding theme of his 2015 Cannes Jury Prizewinning Like Father, Like Son.
As with the writer-director's previous domestic dramas, Shoplifters is a thoroughly engaging film, both gently comedic and heart-wrenchingly sad, and it features winning performances from a familiar — and much-loved — cast, including Kore-eda regulars Kirin Kiki and Lily Franky. It also features a breathtakingly brilliant turn by Sakura Ando, collaborating with him for the first time. (The only moment of the film that can possibly be interpreted as subversive is when Ando wears a t-shirt bearing the message Freedom is never voluntary. It must be demanded by the oppressed.)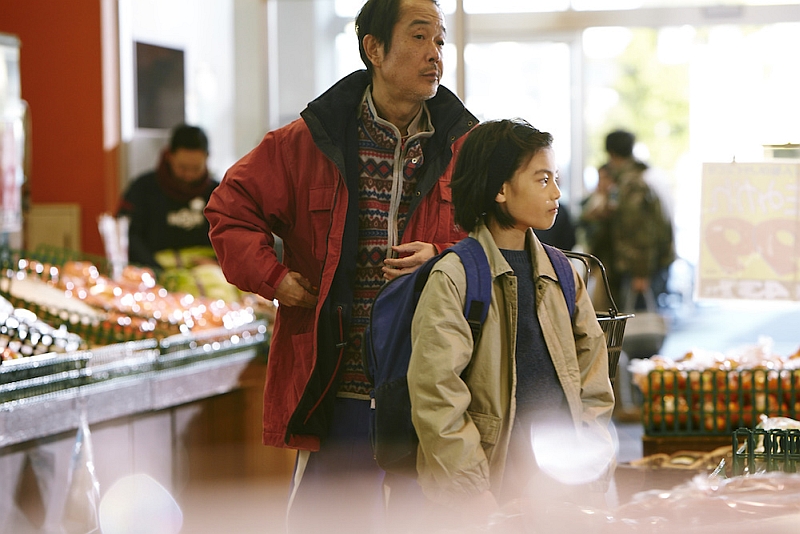 Osamu and Shota case a supermarket before taking what they need.
© 2018 FUJI TELEVISION NETWORK/GAGA CORPORATION/AOI PRO. INC.
ALL RIGHTS RESERVED.
It's no surprise that the FCCJ screening of Shoplifters was one of the biggest draws in recent memory, although it's a shame that the 80+ people on the waiting list could not be seated. After eight TV cameras and dozens of additional Japanese press members were accommodated, the filmmaker entered the thronged room carrying his Palm d'Or box, and despite being exhausted from 2 weeks of constant interviews and evident lack of sleep, answered questions with the same contemplative regard that marks all his work.
After obliging everyone by opening the box and showing his prize, Kore-eda recalled his Cannes experience, and his elation at the praise of the jurors for the film's directing and acting. Addressing the elephant in the room, he then went on to say, "I've participated in many overseas film festivals since 2000, and there has been a lot of mention about the lack of criticism of Japanese society and politics [in the selected Japanese films]. I would say that this has to do with the distribution system in Japan. Oftentimes, the more major film companies will not handle films with heavy themes. This has resulted in the diminishing of the diversity and variety of Japanese films at festivals abroad."
He admitted to being surprised about the approach taken by Japanese media: "I keep hearing that either I or my film is causing quite a stir. But I would put a positive spin on this. It's a welcome thing, because it's no longer just a film being released. It's gone beyond those boundaries and will reach many more people. So it's not such a bad thing."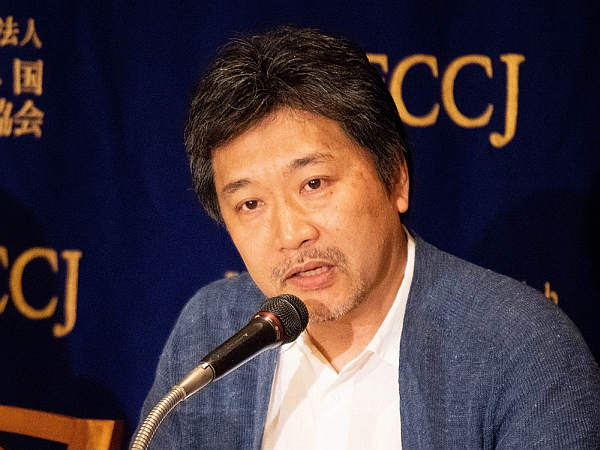 ©︎Koichi Mori
Indeed, no spin should be required. Shoplifters features one of the most endearing, close-knit families to hit Japanese screens since… the blue-collar family in the director's own Like Father, Like Son, which has so far been his biggest hit around the world.
In this era of belt-tightening and widening income gaps, young Shota (Jyo Kairi) has been taught how to pinch the things they need but can't afford by his father Osamu (Franky, channeling his lovable patriarch in Like Father, Like Son). "The stuff in stores doesn't belong to anyone yet," Osamu reassures him. The two work seamlessly together on the job, trading secret signals and celebrating with fist-bumps before bringing their booty back to the ramshackle dwelling they share with Nobuyo (Ando), Nobuyo's sister Aki (Mayu Matsuoka), and granny Hatsue (Kiki), whose small pension payments supplement the income of the adults' minimum-wage jobs.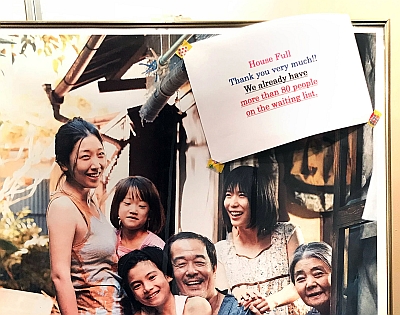 The poster outside the screening room, noting the full house. ©Koichi Mori
Returning home one frigid night, Osamu rescues a tiny girl, Yuri (Miyu Sasaki), who is malnourished and too shy to speak. At first reluctant to shelter (and feed) yet another mouth, Nobuyo realizes that the child is being abused and decides to take her in. Despite Shota's initial resentment of his new "sister," and the occasional incident (a broken leg, a lost job, a death), the family lives happily together, taking trips to the beach, building a snowman, watching Osamu's magic tricks. And then, a routline shoplifting spree triggers a startling outcome, and as hidden secrets are unraveled, threatens to undue the bonds uniting them.
Mentioning that Kore-eda has said his script was inspired by recent news stories, a journalist asked about the family who had stolen fishing rods (a similar event occurs in the film), and what kind of research had been conducted. "I read about the court case involving the family," said the director. "They hadn't pawned the rods for cash yet. They still had them, which was why they were caught. I imagined that the family must have loved fishing, and immediately had a clear image of a father and son fishing with stolen rods." He laughed. "I apologize to all the fishing stores out there."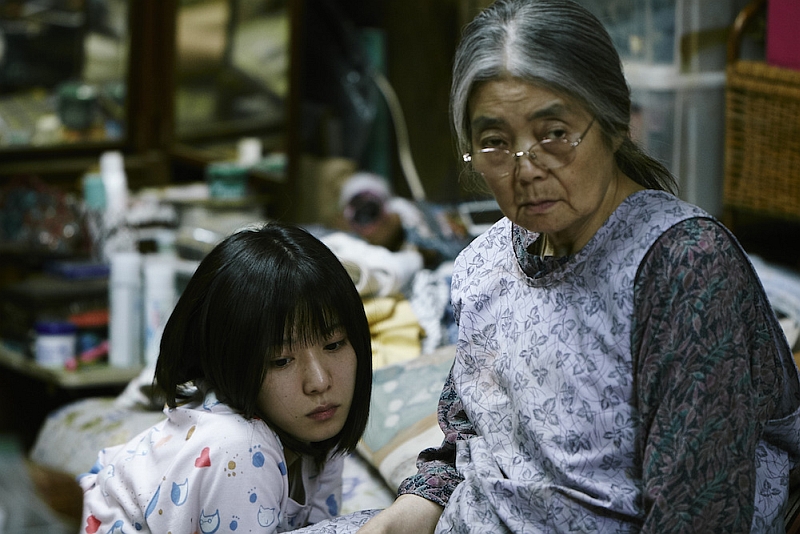 Aki and Hatsue in the overcrowded central room of the house.
© 2018 FUJI TELEVISION NETWORK/GAGA CORPORATION/AOI PRO. INC.
ALL RIGHTS RESERVED.
He continued, "The story isn't based on one particular incident, but rather on various incidents involving families committing crimes. I wanted to depict a family or close-knit community that wasn't bound by blood. The first thing that came to mind was a family bound by crime, such as by [real-life] cases of pension fraud in which families failed to report the death of parents, and fraudulently claimed the pension payments. I also wanted to depict a family or close-knit community that was bound not by kindness, but by money. I didn't want to go too soft or easy on this.
"Another idea that made its way into the film came from research we did at a facility for abused children. There was one girl who came back from school with her [heavy backpack] and we asked what she was studying. She pulled out this Japanese picture book called 'Swimmy,' and started reading. The facility workers scolded her for taking up too much of our time, but she wouldn't stop. She read all the way to the very end, and we all clapped, and she just beamed. I imagined that she probably wanted to read it to her parents, and that left a really deep impression on me. So I had the boy read 'Swimmy' in the film.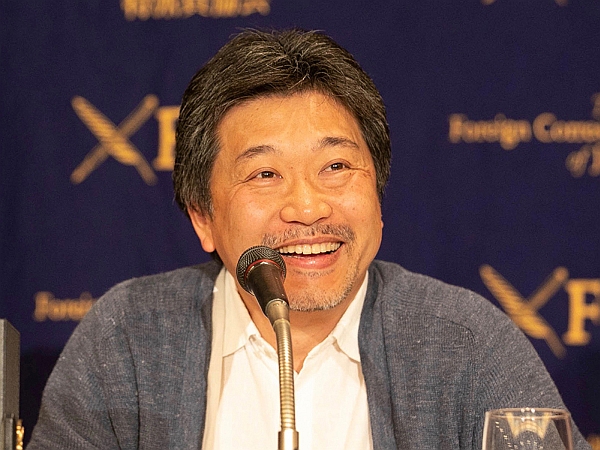 ©Mance Thompson
A Japanese journalist asked whether Kore-eda could possibly have "targeted the film at Japanese politicians, due to its treatment of social problems" that are being overlooked. The director immediately responded, "Not in particular. I say No because I've felt this way since the days when I worked in TV. One of my coworkers told me, 'When you make a film, target it toward one individual and keep that person firmly in mind. If you do that, you'll be able to reach many people.' I was in my 20s at the time, and I've continued to have this stance."
Anticipating the next question, he continued, "I think for this film, I targeted it at the young girl who read us 'Swimmy.'"
Referencing a particularly enchanting scene of togetherness, in which the family sits on the porch of their tiny home, eating watermelon and listening to the fireworks that they're not able to see for all the tall buildings surrounding them, one attendee asked how important the physical dwelling was to the story. Kore-eda recalled Cannes Jury President Cate Blanchett's speech before presenting him with the Palm d'Or, "in which she mentioned the 'invisible people' in the film. That was definitely a key motif. It's about what we cannot hear and cannot see. There are scenes in which people aren't able to see each other through the window or hear each other's voices. The parts that are hidden and unseen, left to the audience's imagination, were an important motif throughout the film.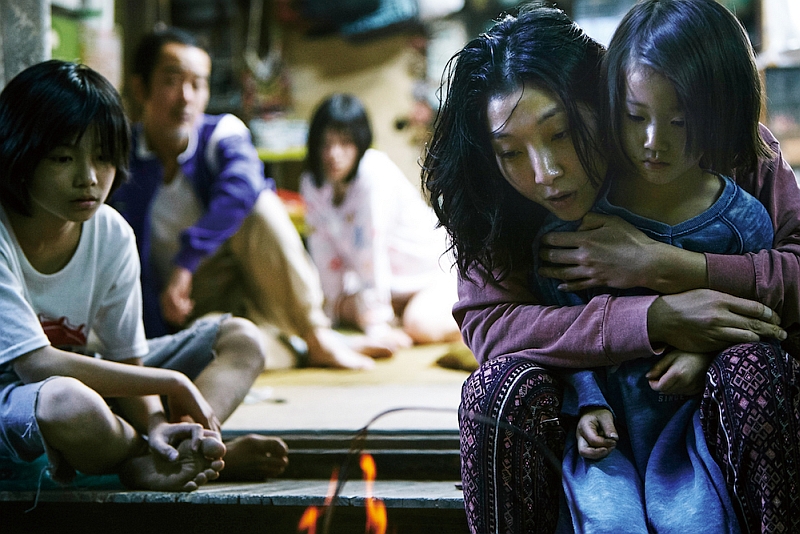 Nobuyo tells Yuri "people who love you hug, not hit."
© 2018 FUJI TELEVISION NETWORK/GAGA CORPORATION/AOI PRO. INC.
ALL RIGHTS RESERVED.
"We were very lucky to be able to find that house, which we used for the location shots. I think it's a big factor in the success of the film. My request was to find a single-story house surrounded by tall buildings, and my amazing crew found it. We actually shot some of the interiors on a set that reproduced interiors from the house. Thanks to the wonderful production design, even I can't recall exactly which scenes we shot on location and which were on the set. It was really believable that these people were living together in this house, and I think it's one of the main characters in the film."
Hoping for a scoop, an entertainment reporter asked Kore-eda about the progress on his next film, rumored to star French icons Catherine Deneuve and Juliette Binoche. "We actually haven't officially announced anything about the new project," he responded, "so it's puzzling how much information has been leaked, [including] cast names and how much they're getting paid. I don't know how much I can disclose, but I can say that the shoot is planned for the autumn in France, predominantly in France, with French actors and actresses. We're planning an official announcement next month, and I'll be going to Paris from June."

©︎Koichi Mori
While the newly minted Cannes Palm d'Or winner heads off to direct his foreign-language debut, filmgoers in Tokyo will be treated to English-subtitled screenings starting from June 23 at Wald 9 Cinemas in Shinjuku. But overseas fans won't have long to wait: Shoplifters has been sold to an astounding 149 countries, including North America, where the film's distributor, Magnolia, continues an impressive run (recent releases include RBG and Oscar nominees I Am Not Your Negro and The Square, which was last year's Palme d'Or winner).
It is not difficult to imagine that Hirokazu Kore-eda, master of the delicately lyrical, understated humanist drama, will grace the Academy Awards stage in 2019.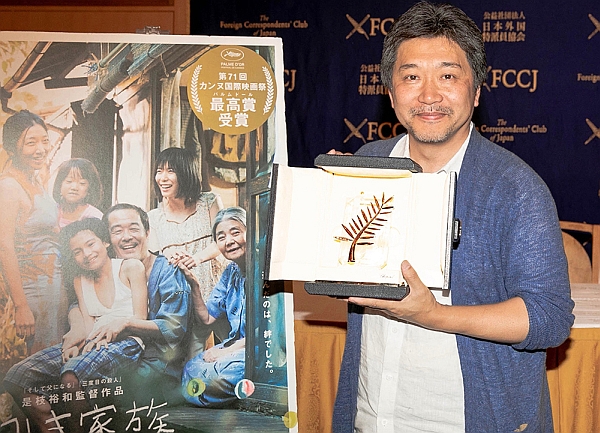 ©Mance Thompson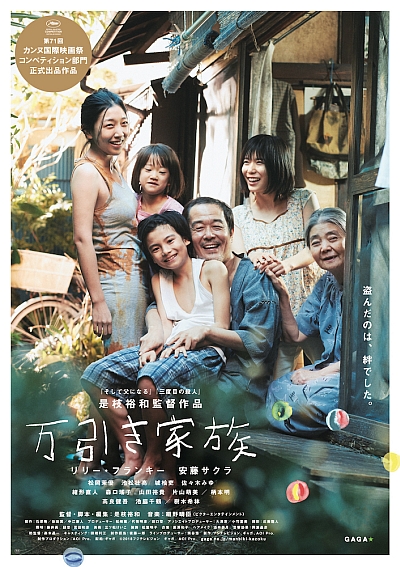 © 2018 FUJI TELEVISION NETWORK/GAGA CORPORATION/AOI PRO. INC. ALL RIGHTS RESERVED.
Posted by Karen Severns, Friday, June 08, 2018
Selected Media Exposure
   Selected TV Exposure
    映画「万引き家族」で最高賞是枝裕和監督反響の大きさにぼやき
    2018年6月7日放送 5:43 - 5:45 フジテレビ
    めざましテレビ OH!めざめエンタ NOW
    是枝裕和監督次回作構想一部明らかに
    2018年6月7日放送 5:08 - 5:09NHK総合
    NHKニュースおはよう日本(ニュース)
    気になる次回作は…
    2018年6月7日放送 4:20 - 4:21TBS
    はやドキ!はやドキ!エンタメ
Read more
Published in: June
Tag: Hirokazu Koreeda, Cannes Film Festival, Palme d'Or, family bonds, awardwinning    
Comments