Asa-kai – FCCJ Breakfast Meeting
Satoki Yoshida, Mountain climber
 
8:00-9:15 Thursday, April 11, 2019
(The speech will be in English and
Q & A will be in English or Japanese)
"From Sea to Seven Summits"
Our speaker at the FCCJ's next Asakai event is Satoki Yoshida. After graduating Waseda University in 2016 with a Master of Science Degree, he joined Goldman Sachs and seemed on track for a corporate life. Then the mountains called.
Yoshida, 28, climbed Africa's highest peak, Mount Kilimanjaro, as a student. This was a spark for his current adventure "From Sea to Seven Summits." He quit his job to climb the highest mountains on seven continents. This is a traditional challenge in mountaineering, but he is doing it by starting each trek from an ocean shore.
Yoshida will talk about what motivated him to start this adventure, the challenges so far and what he hopes to achieve. Also, how he uses crowd-funding to help finance the expeditions.
In September, he climbed Mount Kosciusko, the highest peak in Australia in a six-day trek. He took 21 days to summit Elbrus, Europe's tallest mountain. A second climb of Kilimanjaro required 17 days from the Indian Ocean. He summited Mount Aconcagua in Argentine on Feb. 6 this year after a 22-day trek. The next climb will start in May with a 45-day expedition to climb Mount Denali (formerly Mount McKinley), the highest peak in North America. Yoshida will attempt Mount Everest in a 90-day expedition in February 2020. To complete the "Big Seven" he will take 60 days to climb Mount Vinson in Antarctica in November 2020.
Yoshida has talked of the great satisfaction in completing each peak. Come and hear his story of how he walked away from the safety and security of a corporate life to follow an adventure climbing mountains.
Doors open for TV crew at 07:30, for all others at 07:45, still cameras included.
Please reserve in advance, 03-3211-3161 or on the website (still & TV cameras inclusive). Reservations cancelled less than 72 hours in advance will be charged in full. Reservations and cancellations are not complete without confirmation. Cancellation should be made by phone call.
Fee: including a breakfast for FCCJ members: 1,500yen and for non-FCCJ members: 2,000yen (incl. club entrance fee). Non members to attend may pay in cash.
Associate Members Liaison Committee (AMLC)

FCCJ Asa-Kai
2019年4月11日(木)
午前8時‐9時15分
「Sea to seven Summits」
若き元投資銀行家の挑戦
スピーカー 吉田智輝
次回のFCCJの朝会のスピーカーは吉田智輝氏です。早稲田大学修士課程を2016年終了後、ゴールドマンサックスに就職、通常の会社員生活の道を歩み始めるかに見えました。
そこで山が彼を呼んだのです。
現在28歳の吉田氏は、学生時代にアフリカ最高峰のキリマンジャロ山の登頂しました。これが彼の「海から七大山頂へ」プロジェクトの芽生えとなったのです。彼は七大大陸の最高峰に登るために職を捨てました。ここまでは登山の伝統的な挑戦でした。しかし七大陸最高峰に海岸線から歩き始めることで挑戦するのです。
吉田氏はまず何が彼をこの冒険に駆り立てたか、これまでの挑戦、何を目指しているのかについて語るでしょう。さらに吉田氏はこの冒険の資金調達にクラウドファンディングを使っています。
昨年9月には彼はオーストラリア最高峰のコシウスコ山を6日間かけて登りました。次にヨーロッパ最高峰のエルブス山の登頂に成功しました。彼にとって二回目のキリマンジャロの登頂はインド洋から17日かけて登りました。今年の2月6日にはアルゼンチンのアコンカグア山の登頂に成功。次の挑戦は5月に北アメリカの最高峰でかつてはマッキンリーの名前で知られたデナリ山に45日かけてのアタックを予定しています。2020年2月には90日かけてエベレスト山へ挑戦。「Big Seven」挑戦のしめくくりは2020年11月に60日間かけての南極大陸ビンソン山への挑戦を計画しています。
今まで吉田氏は各々の山頂を制覇した満足を語ってきました。安全で守られた会社員生活を捨て山に登る冒険に吉田氏がいかに飛び込んだか、皆さん彼の話をぜひ聞きにきてください。
https://www.asahi.com/articles/DA3S13887476.html?fbclid=IwAR3V3ginOU79x95CGAHumI0IfY2pSuDGAzw4GbqoHkSm1R1QZw8a1UY1uVI
当日開場:TVクルー午前7時30分、その他報道写真記者及び会見参加者午前7時45分
費用:会員様1,500円、非会員様2,000円(税込み 朝食付きイベントとなります)
予約:FCCJ(03-3211-3161)まで電話予約をお願いします。
72時間以内のキャンセルはフルチャージとなります。キャンセルはお電話でのみ承ります。
非会員の方々の参加費は、現金でのお支払いを可能とします。
準会員連絡委員会 (AMLC)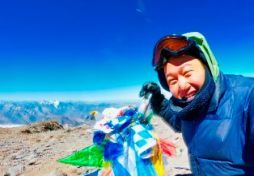 ​​​​​​​