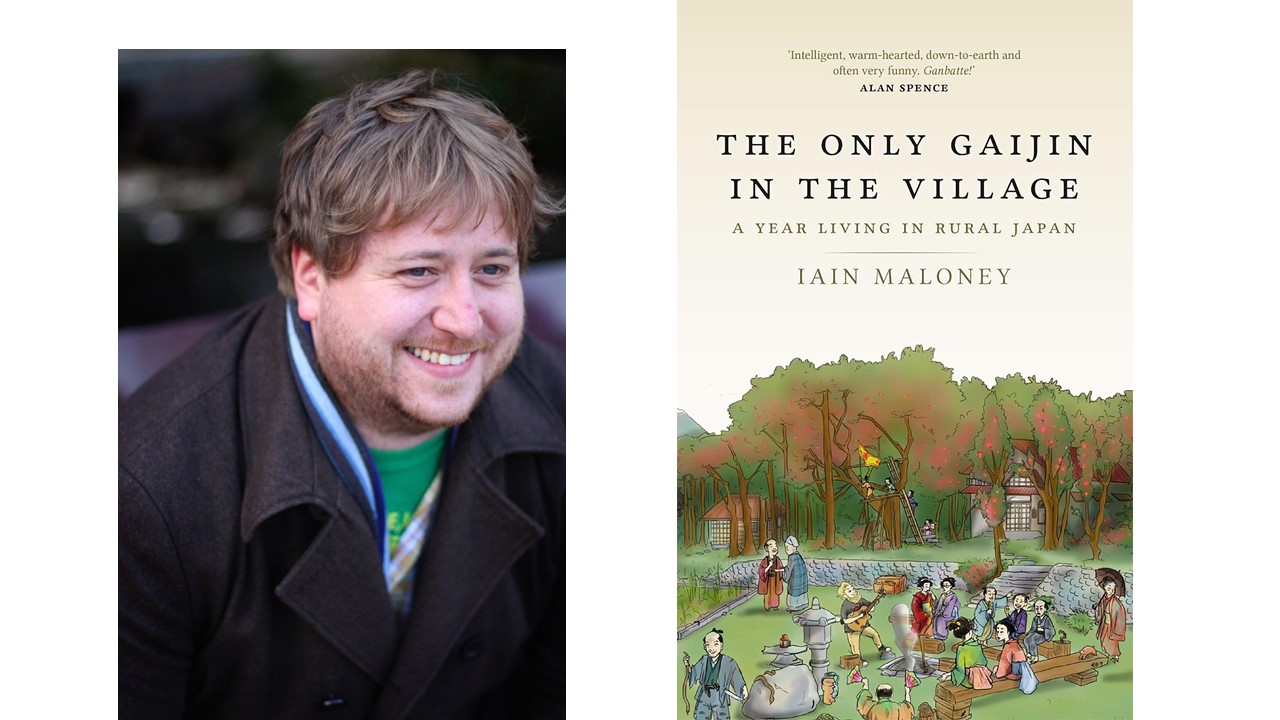 A Scotsman in provincial Japan, Iain Maloney, originally from Aberdeen, has lived in rural Gifu for five years. Together with his Japanese wife, he bought a house at the edge of a small village, a 20 minute drive from the nearest supermarket. His book, The Only Gaijin in the Village, captures his attempts to fit into the local community as its only foreigner.
Even after more than a decade of living in Japan and learning the language, life in the countryside was a culture shock for Maloney. Young people are abandoning the hinterland in search for work, leaving the elderly behind. The elderly have two things in abundance: time and curiosity. The author, under the watchful eye of his skeptical wife and his new neighbors, attempts amateur farming, basic gardening and other do-it-yourself activities. He writes about potential missile strikes and earthquakes, and the venomous snakes, terrifying centipedes and bees the size of small birds in his garden.
Told with self-deprecating humor, this memoir gives a fascinating insight into a side of Japan. Although it is not always easy being the only gaijin in the village, Maloney features this rural community with warmth and empathy, and portrays characters one rarely meets in Japan's big cities. 
Maloney is the author of three novels, The Waves Burn Bright, Silma Hill and First Time Solo, and a collection of poetry, Fractures. He writes for the Japan Times about literature. The Only Gaijin in the Village is his first non-fiction-book. 
Doors open at 5:30 pm. Dinner is served from 6:00 pm. The presentation starts from 6:30 pm. Menu: TBD/ Dessert/ Coffee or Tea with one drink. Book Break charges are 3,000 yen/ 4,000 yen (members/ non-members) per person. 
FCCJ members can sign up at the reception desk. Reservations cancelled less than 72 hours in advance will be charged in full. Non-members can reserve at the reception desk by email (front@fccj.or.jp). Payment is in advance till Friday, April 9th, 2021. No refund is available unless the event is cancelled by FCCJ.
Online attendance (via Zoom) is available at 550 yen per person. Please indicate the intention to attend online when signing up. Details on how to join online will be sent to individual emails after their reservations are confirmed.
Attendees with food restriction should inform the reception desk (front@fccj.or.jp) three days before the event.
We kindly ask for your cooperation with Covid-19 prevention measures at the reception and to wear a mask in the premises. Thank you.
(The talk will be in English)
 
Library, Archives & Workroom Committee