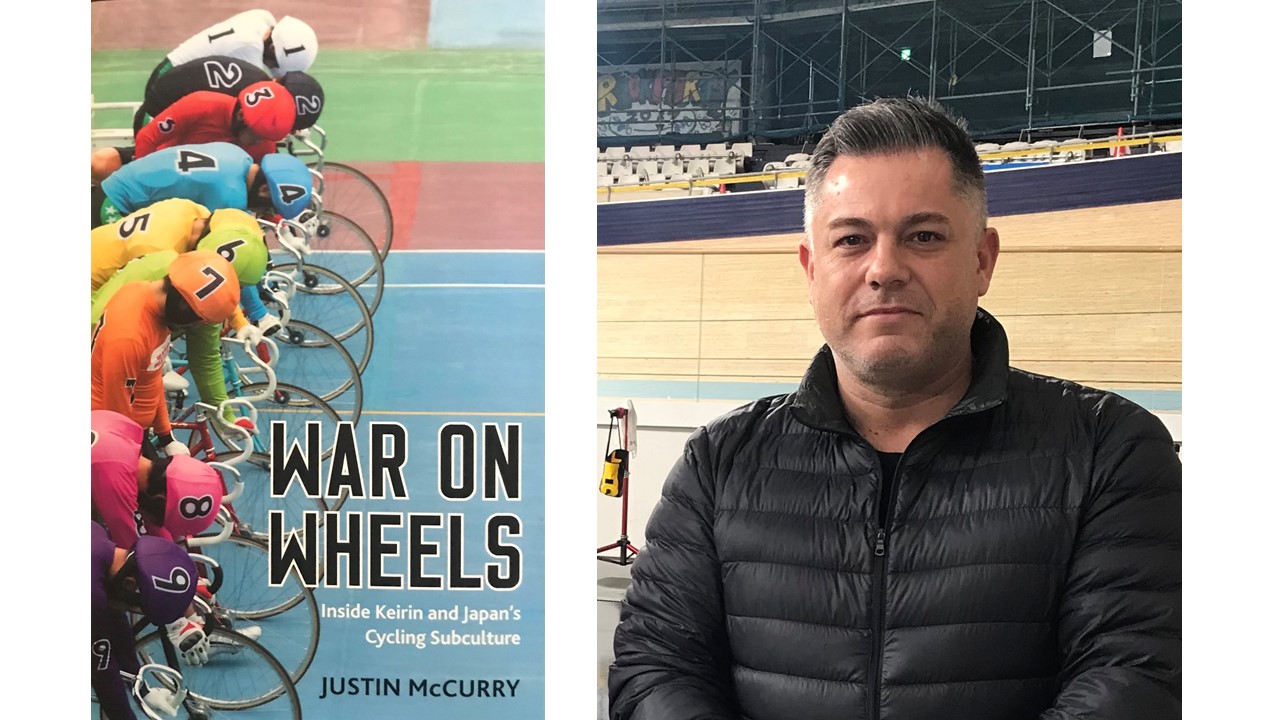 Justin McCurry, author of War on Wheels, explores the thrilling world of Japanese keirin (競輪) – a track cycling event invented in Japan more than 70 years ago to raise money from gambling to rebuild the country after World War II and to entertain a war-weary population.
These days, fans bet billions of dollars a year on races, with the top riders earning huge sums. In each race, a pacemaker leads nine riders around velodromes, then leaves the track with about one and a half laps to go – the cue for a frantic finish as the competitors reach speeds of up to 70 kph. Along the way, they block and shove each other, clash heads and occasionally crash.
To prevent race fixing, the cyclists spend meets living in dorms, with no access to online technology. Their lives are ruled by ritual and fierce competition, from their rookie days at the Japan Institute of Keirin near Mount Fuji to the annual Grand Prix final, whose winner takes home prize money of one million dollars. 
A small number of foreign riders are invited to compete in Japan every year, and some have overcome culture shock to prosper in the home of keirin. Olympic keirin, with its strict rules on contact, has become wildly popular since making its debut at Sydney 2000, although Japan has won just one medal – a bronze at Beijing 2008.
From keirin's chaotic origins to the role of female riders, War on Wheels explores a Japan we rarely see and a uniquely fascinating sporting culture. 
McCurry is the Guardian's Japan and Korea correspondent.
Doors open at 6:00 pm. Dinner is served from 6:15 pm. The presentation starts from 7:15 pm.
Menu: Salad/ Roasted Chicken with Cognac Sauce in Chestnut/ Chocolate Cake/ Coffee or Tea with One Drink. Book Break charges are 3,000 yen/ 4,000 yen (members/ non-members) per person.
FCCJ members can sign up at the reception desk. Reservations cancelled less than 72 hours in advance will be charged in full.
Non-members can reserve at the reception desk by email (front@fccj.or.jp). Payment is in advance till Friday, October 15th, 2021. No refund is available unless the event is cancelled by FCCJ.
Online attendance (via Zoom) is available at 550 yen per person. Please indicate the intention to attend online when signing up. Details on how to join online will be sent to individual emails after their reservations are confirmed.
Attendees with food restriction should inform the reception desk (front@fccj.or.jp) three days before the event. We kindly ask for your cooperation with Covid-19 prevention measures at the reception and to wear a mask in the premises. Thank you.
 
(The talk will be in English)