Cancellation of this Screening /Q&A event
January 15, 2021
Due to concerns about the Covid-19 situation, we regret that the screening/Q&A for "The Pledge to Megumi" on January 13 must be cancelled. The Film Committee hopes to reschedule the event during February, and will make an announcement about a new date as soon as it's feasible.
- Karen Severns, Film Committee
---------------------------------------------------------
Shining a light on Japan's most famous abductee
Sneak Preview Screening: "The Pledge to Megumi"
followed by a Q&A with director Sho Nobushi and Sakie Yokota
Wednesday, January 13 at 7:00 pm
In Japanese with English subtitles
Japan, 2020, 102 minutes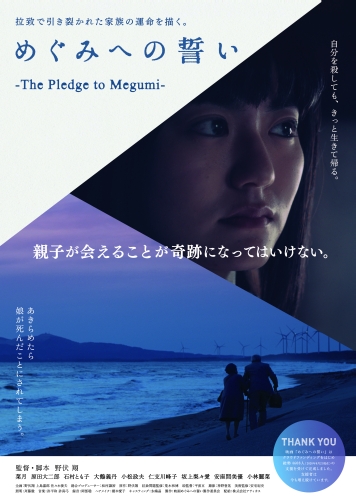 Writer-director: Sho Nobushi     
Producers: Sho Nobushi, Yoshiro Kamijima, Toshio Sasaki
Executive Producer: Yoshiyasu Matsumura
Abduction advisor: Kazuhiro Araki
Starring: Natsuki, Daijiro Harada, Tomoko Ishimura, Gitan Ohtsuru,
Masao Komatsu, Mineko Nishikawa, Riria Sakagami, Mew Azama,
Reina Kobayashi
Film courtesy of Atticus
IMPORTANT NOTE: Temperatures will be taken in the reception area and masks are absolutely mandatory.
Prime Minister Yoshihide Suga has made the North Korean abductions of Japanese nationals in the 1970s and 1980s his administration's "top priority," vowing that they will do whatever it takes to reunite the remaining abductees (officially numbering 17, although there may be hundreds) with their aging parents as soon as possible.
Underscoring the urgency, the Japanese government recently created an official YouTube channel to provide information about the issue. It features a 58-minute video that includes messages from representatives of the US, the EU and Australia, as well as families of the abductees. The channel also has an English-subtitled anime about Megumi Yokota, who was abducted in 1977 at the age of 13.
Few Japanese are unfamiliar with Shigeru Yokota and Sakie Yokota, the girl's parents and steadfast campaigners for her release. In 2010, a stage play titled "The Pledge to Megumi: Rescue" made its debut, and went on to be revived around Japan. Following a successful crowdfunding campaign, that play now forms the basis of a new docufiction by the same writer-director, Sho Nobushi, starring several well-known actors.
"The Pledge to Megumi" tells the story of Megumi Yokota before and during her abduction by North Korea, with scenes recreated based on information provided by returnees, as well as scenes of Shigeru and Sakie Yokota's efforts through the years to raise consciousness among the general public as well as the government.
Please join us for this sneak preview of "The Pledge to Megumi" and a rare chance to talk with Sakie Yokota, before the film's release on February 19.
For more (in Japanese): http://www.megumi-movie.net/
SHO NOBUSHI graduated from Dokkyo University and joined the prestigious theater company Bungakuza. Since founding his own theater company, Yasokai, in 1982, he has supervised over 100 performances. He launched Yasokai Cinema Project in 2007, and has directed the films "Musashi," "The Legend of Gattsu: My Dear Pit Bull," "First Love: Memory of the Summer" and "Fly High, Shinsengumi."
SAKIE YOKOTA and her late husband Shigeru (who died in June 2020), as well as their sons Takuya and Tetsuya, founded the Japanese National Association for the Rescue of Japanese Kidnapped by North Korea in 1997, which has tirelessly pressed for the release of the abductees. She has discussed the issue with three US presidents, and remains a powerful advocate for a resolution to the issue.
Please make your reservations at the FCCJ Reception Desk (3211-3161)  or register below.
All film screenings are private, noncommercial events primarily for FCCJ members and their guests.
- Karen Severns, Film Committee