An ancient Ainu ritual clashes with modernity in a gentle coming-of-age tale
Sneak Preview Screening: "AINU MOSIR" followed by a Q&A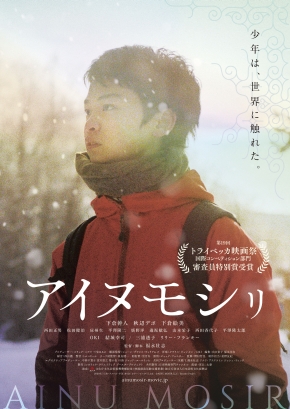 with director Takeshi Fukunaga and actor Debo Akibe
Thursday, October 8 at 7:00pm
In Japanese with English subtitles
Japan/USA/ China, 2020  84 minutes  
Writer-director: Takeshi Fukunaga     
Producers: Eric Nyari, Harue Miyake
Cinematographer: Sean Price Williams
Starring: Kanto Shimokura, Emi Shimokura, Debo Akibe,
Oki, Koji Yuki, Toko Miura, Lily Franky
Film courtesy of Uzumasa        
IMPORTANT NOTE: We will be limiting the audience to 50 people to assure safety.
Temperatures will be taken in the reception area and masks will be mandatory;
please bring your own.
It takes a village to raise a child, but in Takeshi Fukunaga's beautifully crafted second feature, Ainu Mosir, it's a village that the protagonist is desperate to leave.
Kanto (Kanto Shimokura) is a sensitive 14-year-old boy of Ainu descent who lives in the UNESCO World Heritage site of Akan Kotan, a tiny Hokkaido settlement that doubles as a tourist trap. His mother runs one of Akan's craft shops and takes part in the nightly performances of Ainu music and dance "traditions," which are accompanied by flashing lights and videos.
Kanto wants none of it. Asked by his student counselor which high school he prefers, he says, "Anywhere, but here." Akan is "too tiny, it's not normal and they make you do Ainu stuff." Kanto plays guitar and sings hits like "Johnny B. Goode" in his middle school rock band, where the other students are also conflicted about their sense of identity. When a family friend named Debo (Akibe) takes him under his wing, it's clear Kanto has yet to come to terms with the loss of his father a year earlier. Debo teaches him the ways of their ancestors, shows him the path to the other side of the world where the dead live, and asks him to help raise a bear cub he's keeping.
What Kanto doesn't realize is that the bear is to be sacrificed in the ancient religious rite known as Iomante, to thank the kamui gods for the gifts they have bestowed upon humans. But the controversial rite has not been observed since 1975 and the villagers are at first opposed due to the impact it would have on tourism. "People won't accept it!" protests one. "No one else needs to understand," says Debo. "This is about us."
As Kanto grapples with his shifting sense of morality and takes his first tentative steps toward manhood, "Ainu Mosir" remains gently non-judgmental, fully immersing us in the sounds and sights of Akan Kotan, and underscoring the unique challenges facing all those who call the indigenous community home.
Please join us for this sneak preview before the film's release in Tokyo on October 17.
For more (in Japanese): http://ainumosir-movie.jp
Writer-director TAKESHI FUKUNAGA studied filmmaking in New York City, where he made his first feature, "Out of My Hand," which we screened at FCCJ in 2017. The film premiered in the Panorama section at the 2015 Berlin Film Festival, won awards at several US festivals was nominated for a John Cassavetes Independent Spirit Award in 2016. After 16 years in the US, Fukunaga moved to Tokyo in 2019 to complete "Ainu Mosir" and develop other projects. He spent 5 years making the film, with support from the Cannes Cinéfondation Residency, NHK Sundance screenwriting workshop, and Sam Spiegel International Film Lab. "Ainu Mosir" won a Special Jury Mention in the International Narrative Competition on its world premiere at the 2020 Tribeca Film Festival.
DEBO AKIBE was born in Akan Kotan, where he manages a folk craft store and is a managing director of the Akan Ainu Craft Cooperative. He spreads Ainu culture through wood carving, lecture activities and tour guiding, as well as being a Yukara playwright/director, a rock band singer, Ainu dancer and writer on Ainu culture. Akibe also appeared in Lee Sang-il's 2013 film "Unforgiven," starring Ken Watanabe and Koichi Sato.
Please make your reservations at the FCCJ Reception Desk 03 3211-3161 .
You may attend the Q&A session without attending the screening,
but you will not have seating priority and please inform the Reception Desk to assure there is seating available.
All film screenings are private, noncommercial events primarily for FCCJ members and their guests.
- Karen Severns, Film Committee