Siblings with a dark past attempt to escape an even darker future
Sneak Preview Screening: "Bad Lands"
followed by a Q&A with director Masato Harada
and producer-editor Eugene Harada
Thursday, September 7 at 6:15 pm*
*Although the urgent press conference is rescheduled to tomorrow, September 8th, we stick to our event starting time as it is.
In Japanese with English subtitles
Japan 2023 143 minutes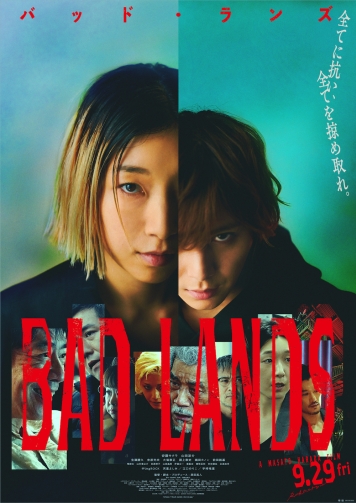 Written and directed by: Masato Harada (from the novel by Hiroyuki Kurokawa)
Produced by: Hidenobu Muramatsu, William Ireton, Hideo Katsumata, Julie K. Fujishima
Starring: Sakura Ando, Ryosuke Yamada, Katsuhisa Namase, Mitsuo Yoshihara,
Yasumasa Oba, Yasushi Fuchigami, Kanon Nawata, Koki Maeda, Suzume Kamo,
Kennosuke Yamamura
Film courtesy of Toei
Internationally acclaimed actress Sakura Ando ("Shoplifters," "A Man") delivers another astonishing performance in her first collaboration with renowned auteur Masato Harada, starring in a dark, enthralling crime-suspense story adapted from the bestselling novel "Keiso/Weeds" by Naoki Prize-winning author Hiroyuki Kurokawa.
Ando plays Neri, a ruthless con woman who helps run complex - and profitable - phone scams in the slums of Osaka. When her younger half-brother Joe (Yamada, who also appeared in Harada's "Baragaki: Unbroken Samurai") gets out of prison, Neri convinces her boss to hire him. But while Neri struggles with her lot in life at the lowest of society's echelons, Joe appears to derive psychopathic pleasure from the pain he inflicts on others. Worse, he exhibits none of his sister's professionalism.
Inhabiting a shadowy world of deceit and brutal criminal behavior, the two wayward siblings manage to play by the rules of the gang until one day, Joe hatches a scheme to pay off his mounting gambling debts and transform them from "have-nots" into "haves." Not surprisingly, it doesn't go off as planned. While it nets them bankbooks worth untold millions of yen, their attempts to escape from the cesspool of the bad lands prove nearly impossible.
What they don't realize is that the relentless detectives of the Special Fraud Squad of the Osaka Prefectural Police have been in hot pursuit, and so is Neri's ex, a brutal tech billionaire with unlimited resources. As the bloodhounds close in, the mayhem and bloodshed ratchets up to 11.
Harada proves once again that he is a master storyteller with a brilliant eye for casting actors who will provoke the greatest empathy from the least deserving of characters. Far more than just a cops-and-robbers procedural, "Bad Lands" is a multitextured exploration of a marginalized yet tightknit community that comes undone when desperation and greed start to tear it apart.
Please join us for this sneak preview of "Bad Lands" ahead of the film's Japanese release on September 29, 2023.
For more (in Japanese): https://bad-lands-movie.jp/
Writer-director MASATO HARADA is acclaimed for a range of compelling films across every genre that have successfully merged social criticism with world-class entertainment. He has received international attention for such titles as "Kamikaze Taxi" (1994), "Bounce Ko Gals" (2017), "Jubaku: Spellbound" (1999), "Chronicle of My Mother" (2011), "The Emperor in August" (2015), "Sekigahara" (2017, which netted him the Japan Academy Award for Best Director), "Baragaki: Unbroken Samurai" (2021) and "Hell Dogs" (2022). He is making his unprecedented seventh appearance at FCCJ.
Producer-editor EUGENE HARADA was raised in the U.S. and Japan, and has been acting since childhood. In 1979, he made his impressive film debut playing a baby in "Farewell, Movie Friend: Indian Summer," directed by Masato Harada. He went on to appear in nearly all subsequent Harada films, as well as in films by other directors, after studying acting at the Neighborhood Playhouse in New York and in Tokyo. In 2003, he also began editing films, and has since received Best Editing honors four times at the Japan Academy Awards: in 2009 for "Climber's High," in 2013 for "Chronicle of My Mother," in 2016 for "The Emperor in August," and in 2018 for "Sekigahara."
Please make your reservations at the FCCJ Reception Desk 03 3211-3161 or from https://www.fccj.or.jp.
All film screenings are private, noncommercial events primarily for FCCJ members and their guests.
We kindly ask for your cooperation with Covid-19 prevention measures at the reception desk and masks are absolutely mandatory on the premises.
(Club regulation is relaxed but we have decided to keep it since audience will be forced to sit in close proximity to others)
- Karen Severns, Film Committee