A haunting tribute to one of the many forgotten Fukushima heroes
Sneak Preview Screening: "BOLT" followed by a Q&A
with director Kaizo Hayashi and star Shiro Sano
Wednesday, December 2 at 7:00 pm
In Japanese with English subtitles
Japan, 2019 80 minutes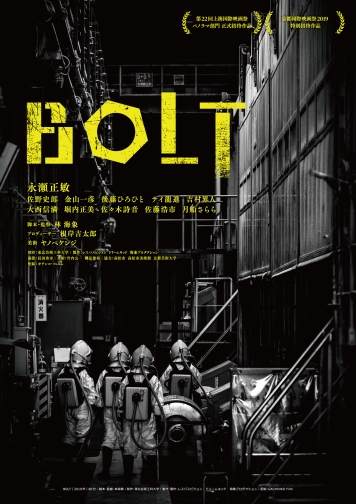 Directed by: Kaizo Hayashi
Written by: Kaizo Hayashi    
Producer: Kichitaro Negishi
Art director: Kenji Yanobe
Starring: Masatoshi Nagase, Shiro Sano, Sarara Tsukifune,
Kazuhiko Kaneyama, Kaito Yoshimura, Koichi Sato (voice only)
Film courtesy of Gachinko Films    
The 3/11 disasters at the Fukushima Daiichi Nuclear Power Plant are never far from the news. Just last month, the Japanese government announced it must make a decision about whether to release a huge quantity of treated water from the plant into the ocean in order to speed up the decommissioning work. It is a move opposed by the fishing industry as well as environmentalists.
Nearly 10 years after the triple meltdowns, there are still 7,000 people at the plant, working on the decommissioning effort. While the first responders have been celebrated in "Fukushima 50," the commercial hit we screened at FCCJ in February, what of the 20,000 who were at the site when disaster hit? What toll did the experience take physically, emotionally, spiritually?
Veteran arthouse director Kaizo Hayashi has brought together several celebrated collaborators to create a hauntingly beautiful tribute to one of those 20,000, a nameless character played by Masatoshi Nagase. In the first of three episodes, which is based on a true story, he is an emergency worker at the plant on 3/11, leading a small team through a dangerously radioactive environment to fasten a bolt that will prevent contaminated water from leaking. In the second episode, set 2 years later, he is a cleanup technician clearing out houses in an evacuated zone; in the third, set in 2014, he is living and working in a Goodyear Tire garage. On a snowy night, a sports car crashes outside, and he rescues the driver. She bears a striking resemblance to his wife, who was swept away in the 3/11 tsunami…
"Bolt" is arguably the most visually and aurally ravishing work of art related to the Fukushima disasters, calling to mind the films of David Lynch ("Blue Velvet," "Lost Highway") and Jean-Pierre Jeunet ("City of Lost Children"). Rooted in reality but impressionistic in its dreamlike imagery, it features art direction and costumes by acclaimed artist Kenji Yanobe, who creates consumer products for nuclear holocaust survival. The director himself has also created a meticulous sound design and an evocative score. (And listen for the voice of Koichi Sato as the Fukushima Daichi plant manager, performed before he went on to star in "Fukushima 50.")
Please join us for this sneak preview of "Bolt" before the film's release in Japan on December 11.
For more (in Japanese): http://g-film.net/bolt/
KAIZO HAYASHI made his directorial debut with "To Sleep so as to Dream" (1986), which earned him international acclaim. He is best known for his neo- noir Maiku Hama trilogy, starring Masatoshi Nagase: "The Most Terrible Time in My Life" (1994), "Stairway to the Distant Past" (1995) and "The Trap" (1996). He served as creative director on the 2000 Konami videogame "7 Blades" for the PlayStation 2, and directed two episodes of "Power Rangers: Time Force" (2001, 2004). Hayashi is a beloved and influential professor at Kyoto University of Art and Design and Tohoku University of Art and Design.
SHIRO SANO became a member of several theatrical troupes, including Juro Kara's Jokyo Gekijo, while attending art school. His first starring role in a film was in Kaizo Hayashi's 1986 "To Sleep so as to Dream," but he gained his greatest fame playing the character Fuyuhiko in the 1992 TV drama "Zutto Anata ga Suki datta." He has starred in several "Godzilla" films, and in two films we recently screened at FCCJ, "We Are Little Zombies" (2019) and "Fukushima 50" (2020). Sano will be next be seen in Daihachi Yoshida's "Kiba: The Fangs of Fiction" (2021).
Please make your reservations at the FCCJ Reception Desk (3211-3161)  or register below.
All film screenings are private, noncommercial events primarily for FCCJ members and their guests.
- Karen Severns, Film Committee