A former gangster moves with alarming ease into venture capitalism
Sneak Preview Screening: "Joint" followed by a Q&A with director
Oudai Kojima, star Ikken Yamamoto and executive producer
Changbak Kim
Tuesday, November 16 at 5:30 pm*
*Please note early start time
In Japanese with English subtitles
Japan, 2021 114 minutes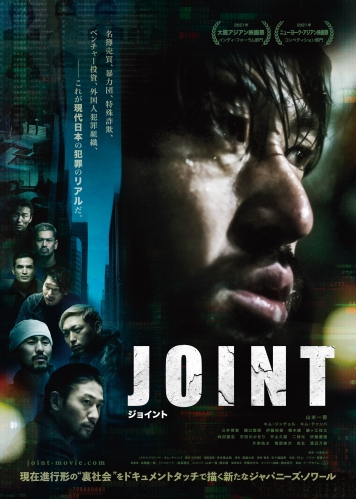 Directed by: Oudai Kojima
Written by: HVMR
Executive Producer: Changbak Kim
Starring:
Ikken Yamamoto, Jin-Cheol Kim, Changbak Kim, Keisuke Mitsui, Sogen Higuchi, Yuki Ito, Ryo Sakuragi, Keita Kanegae, Takashi Hayashida, Kaori Udagawa, Hikaru Futagami, Hisayoshi Hirayama, Keitoku Ito, Yuta Katagishi, Eiji Nanbu, Shogen, Bambi Watanabe
Film courtesy of Eachtime
Back in the day, the yakuza dealt in black-market goods and illicit substances; these days, they've moved into dozens of legitimate businesses. But none of them is as big - nor as bad - as Big Data. Oudai Kojima's remarkably atmospheric film debut, "Joint," probes the complexities of the gangsters' increasingly borderless operations, from phone fraud to venture capitalism, with a verisimilitude that is both informative and terrifying at once.
After serving two years in the joint, Takeshi Ishigami (Yamamoto, in a powerful debut) is determined to avoid a life of crime. After working in construction and saving up enough to begin paying back his debts, however, he slips right into that liminal space between gangster and businessman. With his Korean friend Junghi (Jin-Cheol Kim), he starts selling personal data, some of it extracted by immigrant workers from old smartphones, to his yakuza pal Yuki, a member of the Oshima Clan. Soon, Takeshi builds a database that's dense and accurate - perfect for running scams.
But still determined to get out of crime, he invests instead in an IT company and uses the mass data he acquired illegally for legit purposes. But when he tries to cut ties with Junghi, things start spiraling out of control. As tensions between the Oshima and the Ichikawa clans explode into all-out yakuza warfare, Takeshi struggles to steer clear of the conflict, confronting familiar issues of loyalty and betrayal… and revenge.
Working on a shoestring budget with a small crew of mostly novices, Oudai Kojima reinvigorates the yakuza genre by combining impressionistic noir, European arthouse stylings and documentary authenticity with elegant camerawork from Shintaro Teramoto, committed performances from a coterie of should-be stars, and playful tropes from classic jitsuroku eiga (onscreen text identifies the names and gang affiliations of major characters, and explains the rules of each high-stakes financial game).
Please join us for this sneak preview of "Joint" before the film's release in Japan on November 12.
For more (in Japanese): http://joint-movie.com
Director OUDAI KOJIMA was born in Kobe, and lived in New York City for 10 years in his youth. After studying architecture at Tokyo University, he began making films, serving as an assistant director to Tomokazu Yamada before going freelance and starting to direct full time. He directed numerous music videos, commercials and short films before tackling his feature debut "Joint." It premiered at the 2021 Osaka Asian Film Festival and played in competition at the New York Asian Film Festival.
IKKEN YAMAMOTO is a popular fashion model who makes his powerful acting debut with "Joint," in which he plays the protagonist, Takeshi Ishigami.
Executive producer/actor CHANGBAK KIM was raised in Japan, but began his career as a model in South Korea in 2015. He returned to Japan in 2018 and began acting in small roles. He plays Il-yeong in "Joint," as well as being the film's executive producer.
Please make your reservations at the FCCJ Reception Desk 03 3211-3161 or register below. All film screenings are private, noncommercial events primarily for FCCJ members and their guests. We kindly ask for your cooperation with Covid-19 prevention measures at the reception desk and that you wear a mask on the premises.
- Karen Severns, Film Committee