A man walks backward and ordinary lives are transformed
Sneak Preview Screening: "KONTORA"
followed by a Q&A with director Anshul Chauhan and
stars Wan Marui and Hidemasa Mase
Thursday, March 11 at 5:00 pm* 
*Note revised start time

So as to comply with the government's request to end gatherings by 8pm, we will begin this screening event one hour earlier than planned, at 5pm. If you have already made 
reservations but cannot attend due to the earlier start time, please immediately contact the Reception Desk and let them know.
In Japanese with English subtitles Japan, 2019 144 minutes  
IMPORTANT NOTE: Temperatures will be taken in the reception area and masks are absolutely mandatory.
Written and directed by: Anshul Chauhan
Produced by: Anshul Chauhan    
Co-produced by: Mina Moteki, Taichi Yamada
Cinematography by: Max Golomidov
Starring: Wan Marui, Hidemasa Mase, Taichi Yamada,
Seira, Takuzo Shimizu, Ai Sakauchi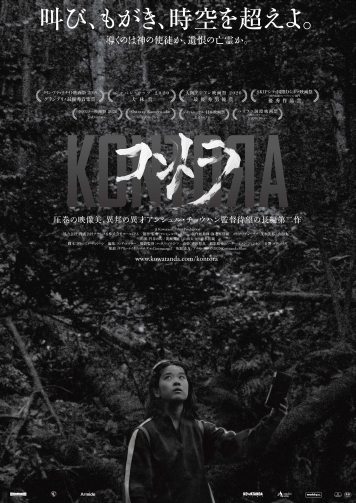 Film courtesy of Really Like Films
When the venerable Tallinn Black Nights Film Festival (POFF) announced in late 2019 that its Grand Prize had gone to a Japanese film for the first time ever, industry watchers were mystified by the director's name. "Anshul Chauhan" was obviously not Japanese, but just what was it?
By the time "Kontora" had snagged awards at the Osaka Asian Film Festival and the Skip City International D-Cinema Festival, as well as winning the inaugural Obayashi Prize (named after late, great filmmaker Nobuhiko Obayashi) at Japan Cuts in New York City, "Anshul Chauhan" and his film had become the subject of extensive domestic news coverage.
Shot in just 10 days by a professional Indian animator and an Estonian cinematographer, with a Japanese cast and crew, the hauntingly monochrome "Kontora" manages to be Japan-specific and universal at the same time. It is also both a richly layered family drama and an allegorical depiction of the inextricable ties binding past to present.
The film focuses on Sora (Marui), a rebellious high schooler who lives in the countryside with her boozy, widowed father (Yamada) and beloved grandfather, who dies in the opening scene, leaving behind a WWII journal containing his vivid recollections of the horrors of war (the quotes are from real letters written by young Japanese soldiers). It also contains hints that there is treasure buried in the nearby forest, and Sora becomes obsessed with finding it. On one of her scouting trips, she comes across a strange homeless man (Mase) walking backwards into town. When his aimless journey is violently interrupted that night, Sora insists on helping him. But the enigmatic stranger is mute and otherwise "off." As her obsession with the buried treasure comingles with her interest in the peculiar man, her fractious relationship with her father begins to shatter.
Please join us for this sneak preview of "Kontora" before the film's release in Japan on March 20.
For more (in Japanese): https://www.kowatanda.com/kontora
ANSHUL CHAUHAN hails from north India and attended a military academy before graduating from college with an Arts degree. He began working as an animator in 2006 and in 2011, relocated to Tokyo to work on international projects for Polygon Pictures. He went on to work at OLM Pictures before moving to Square Enix, where he was involved in such large-scale projects as "Final Fantasy 15," "Kingdom Hearts 3," "Gantz: 0" and "Final Fantasy 7." Pursuing his personal passion to make live-action fictions, Chauhan founded Kowatanda Films in 2016, created three shorts and directed his feature debut, "Bad Poetry Tokyo," in 2018. It found critical success at Japanese and international film festivals before finally being picked up by a distributor and hitting theaters in 2020. "Kontora" is his second feature.
WAN MARUI made her film debut with a small role in Eiji Uchida's "Love and other Cults," which we screened at FCCJ in 2017. She went on to appear in Tatsuo Nishikawa's "The Other Home," and in TV films like Sakichi Sato's "Black Maiden," and Netflix's "Naked Director" and "Million Yen Women." "Kontora" marked her first leading role, but she has five more films scheduled for release in 2021.
HIDEMASA MASE is primarily a stage actor, although he also appears on TV and is a freelance illustrator and artist. His recent stage appearances include Bungakuza's "Red Shirt," T Factory's "La Lady Olga's Life," Sejunkan's "Far Marie," One Two Works' "Gloria" and "Sweet Hill" by Kazuma Kuwabara. He won the Best Actor Award at the 2020 Osaka Asian Film Festival for playing the backward-walking man in "Kontora," which marked his film debut.
Please make your reservations at the FCCJ Reception Desk (3211-3161)  or register below.
All film screenings are private, noncommercial events primarily for FCCJ members and their guests.
-Karen Severns, Film Committee