A psychiatrist falls for an enigmatic patient… with unexpected results
Sneak Preview Screening: "LOVE MOONING (Ai no Manazashi wo)" followed by a Q&A
with director Kunitoshi Manda and producer/star Kiki Sugino
Tuesday, November 9 at 5:30 pm*
*Please note early start time
In Japanese with English subtitles Japan, 2020 102 minutes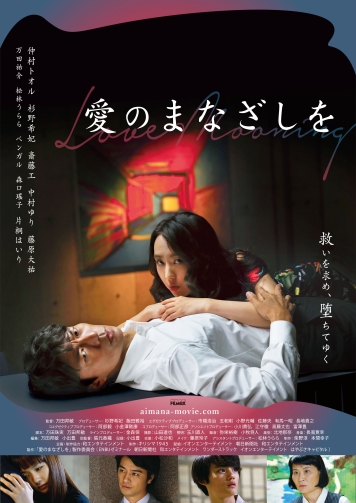 Directed by: Kunitoshi Manda
Written by: Tamami Manda, Kunitoshi Manda
Produced by: Kiki Sugino, Masahiro Handa
Starring: Toru Nakamura, Kiki Sugino, Takumi Saitoh, Yuri Nakamura, Taiyu Fujiwara,
Yusuke Manda, Urara Matsubayashi, Bengal, Yoko Moriguchi, Hairi Katagiri
Film courtesy of Love Mooning Film Partners
Director Kunitoshi Manda teams up for a third time with writer Tamami Manda on "Love Mooning, " a twisty, chilly thriller about amour fou starring his favorite leading man, Toru Nakamura. The actor also played key roles in the previous collaborations "Unloved" (2001) and "The Kiss" (2008).
In "Love Mooning," Nakamura plays busy psychiatrist Takashi, whose patients clearly appreciate his treatments, which include ample prescriptions. Takashi himself relies on tranquilizers to get through the evenings of follow-up work. A widower who hasn't recovered from the death of his wife Karou (Yuri Nakamura) 6 years earlier, he often spends the night in his office, to the consternation of his teenage son Yuki (Fujiwara), who's tended to by his maternal grandparents.
Things begin to change when Takashi starts treating the enigmatic Ayako (Sugino), and after she is no longer a patient, allows himself to fall in love again. But when Ayako realizes she is sharing the doctor with his deceased wife, her jealousy overwhelms her passion. Then Takashi's brother-in-law Shigeru (Saitoh), who harbors his own undying love for his sister and blames Takashi for her death, discovers secrets about Ayako's past… and the revenge game is on.
"Love Mooning" was the opening film of the 2020 Tokyo Filmex, where its high melodrama divided audiences used to the festival's preference for documentary-style realism. But Manda is in complete control of his compelling onscreen world, with its peculiar paintings, its lush colors, its overwrought histrionics and swelling music. Think Douglas Sirk with a touch of J-Horror.
Please join us for this sneak preview of "Love Mooning" before the film's release in Japan on November 12.
For more (in Japanese): https://aimana-movie.com
While still at Rikkyo University, director KUNITOSHI MANDA made independent films with Kiyoshi Kurosawa and other fellow students. He was the art director for Kurosawa's "Kandagawa Pervert Wars" (1983), and the cowriter and  assistant director on Kurosawa's "The Excitement of the Do-Re-Mi-Fa Girl" (1985). He made his own directorial debut in 1996, with the live-action version of "The Remnant 6," supervised by Mamoru Oshii. In 2001, his "Unloved" won both the Grand Rail d'Or and the Future Talent Prize of the Ecumenical Jury at Cannes Critic's Week. In 2004, "The Tunnel" premiered in the Cannes Directors' Fortnight. "The Kiss" (2007) was selected as the opening film of the Jeonju International Film Festival and won awards in Japan for Best Film, Best Script and Best Actress. Manda has also directed "Arigato" (2006), "Inumichi" (2014) and "Synchronizer" (2017). He teaches at the Film School of Tokyo and Rikkyo University.
KIKI SUGINO began her career while a study abroad student in Seoul, making her film debut as the star of the 2005 Korean film "One Shining Day," directed by Kim Sung-ho, followed by Kim Ki-duk's "Time." She then moved into producing as well, with films like "Hospitalité" (2010), which won her the Best New Actress Award at the Yokohama Film Festival, "Odayaka" (2012, which brought her the New Creator & Actress Award from Okinawa International Film Festival and the New Producer Award from the Japanese Professional Movie Awards), "Au revoir l'été" (2014) and "Chigasaki Story" (2015). Her own directorial debut, "Kyoto Elegy," premiered at TIFF in 2014, her sophomore feature, "Taksu" (2014), won her the Rising Director Award at the Busan Film Festival, and "Snow Woman" (2016) premiered at TIFF and won the Jury Prize at the QCinema International Film Festival. She starred in the 2019 Bulgaria-Japan co-production "A Picture with Yuki" and joins us at FCCJ for the 4th time.
IMPORTANT NOTE: Temperatures will be taken in the reception area and masks are absolutely mandatory.
We kindly ask for your cooperation with Covid-19 prevention measures at the reception and that you wear a mask on the premises. 
Please make your reservations at the FCCJ Reception Desk 03 3211-3161 or register below.
All film screenings are private, noncommercial events primarily for FCCJ members and their guests.
- Karen Severns, Film Committee
------------------------------------------------------------------------
精神科医は謎めいた患者に出会い..予期せぬ展開に
FCCJスニークプレビュー上映会: Love Mooning (愛のまなざしを)
イベント開催日: 11月9日火曜、2021年 17時30分*開始
*上映の時間が通常より早いため御注意下さい。
上映後の質疑応答登壇者:
万田 邦敏監督 
プロデューサー・スター: 杉野 希妃
このたびのScreeningイベントに関しては上映会、質疑応答共にFCCJ会員の方々に
予約制限はございません。
オンライン
http://www.fccj.or.jp
電話
FCCJ レセプションデスク 03 3211-3161
にて御予約下さい。
- Karen Severns, Film Committee