A mythic tale of female oppression and liberation
Sneak Preview Screening: "Mountain Woman (Yama Onna)" followed by a Q&A with
director Takeshi Fukunaga and actress Anna Yamada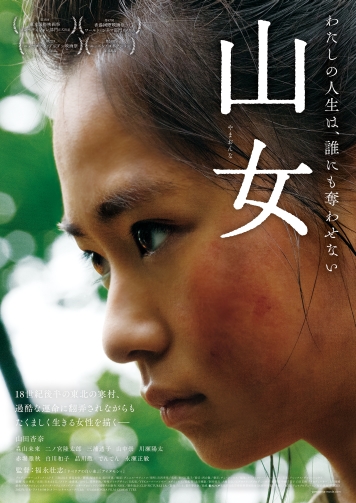 Monday, June 26 at 6:00 pm*
*Please note early start time.
In Japanese with English subtitles
Japan 2022 100 minutes  
Directed by: Takeshi Fukunaga
Written by: Takeshi Fukunaga, Ikue Osada
Produced by: Eric Nyari, Harue Miyake, Mio Ietomi
Starring: Anna Yamada, Mirai Moriyama, Masatoshi Nagase,
Ryutaro Ninomiya, Toko Miura
Film courtesy of Animo Produce
Takeshi Fukunaga's haunting third film, "Mountain Woman," is set in a Tohoku village in the late 18th century, but its existential tale of man vs. nature, of rural human cruelty, of generational shame, and of individual resilience in the face of impossibly harsh discrimination resonates across the centuries.
As the film opens - in one of the most shocking recent scenes outside of the horror genre - Rin (Yamada) goes about the job of helping a family dispose of a newborn. The village is in its second year of a devastating famine, and babies are being discarded because they are simply extra mouths to feed. Rin is the only daughter in an outcast family, and with her younger brother and irresponsible father, Ihei (Nagase), she is obliged to do the other residents' dirty work.
Although they're surrounded by bucolic splendor, no sun reaches the farmers' crops and there's almost nothing to eat, driving inhabitants to acts of brutality and desperation. Only too willing to turn to ancient superstitions for help, the village elders embrace a legend about virgin sacrifice as the solution to their crisis. When she is falsely accused of theft, Rin is selected as the offering to the gods. She flees to the forbidden realm of Mt. Hayachine, where the spirits of the locals go when they die. There she meets a mysterious figure (Moriyama), whom the villagers greatly fear, and her quest for survival gradually transforms into a journey to self-actualization.
Beautifully shot in all-natural lighting by cinematographer Daniel Satinoff (who worked on "Tokyo Vice"), with an evocative score by Alex Zhang Hungtai, "Mountain Woman" is bleak and atmospheric in a way that will remind audiences of social-realist films from Japan's golden era, like "The Ballad of Narayama." Cinema may have changed, but as this film reminds us, times have not.
Please join us for this sneak preview of "Mountain Woman" ahead of the film's Japanese release on June 30.
For more (in Japanese): https://yamaonna-movie.com
Writer-director TAKESHI FUKUNAGA hails from Hokkaido and studied filmmaking in New York City. His directorial debut, "Out of My Hand" (2015, shot in Liberia and NYC), premiered in Berlin's Panorama section, won the US Best Fiction Award at the LA Film Festival and was nominated for an Independent Spirit Award. His second film, "Ainu Mosir" (2020, shot in Hokkaido), won a Special Jury Mention at the Tribeca Film Festival and was picked up for worldwide distribution by Netflix. He recently directed episodes of "Tokyo Vice" Season 2 and the upcoming remake of "Shogun."
ANNA YAMADA made her acting debut on TV in 2013 at the age of twelve, and has continued to appear in many popular series. Her film debut came in 2016 with "Too Young to Die!", and she quickly established her credentials with the lead role in anti-bullying masterwork "Liverleaf" (2018). Among highlights of her film work are "Little Love Song" (2019), "Georama Boy Panorama Girl" (2020), "The Master Plan" (2021), "Suicide Forest Village" (2021) and "Unlock Your Heart" (2021).
Please make your reservations at the FCCJ Reception Desk 03 3211-3161 or for register below.
All film screenings are private, noncommercial events primarily for FCCJ members and their guests.
We kindly ask for your cooperation with Covid-19 prevention measures at the reception desk and masks are absolutely mandatory on the premises. (Club regulation is relaxed but we have decided to keep it since audience will be forced to sit in close proximity to others)    
- Karen Severns, Film Committee