A son brings his father's controversial erotic manga to life
Sneak Preview Screening  Tezuka's Barbara (Barubora) followed by a Q&A
with director Macoto Tezka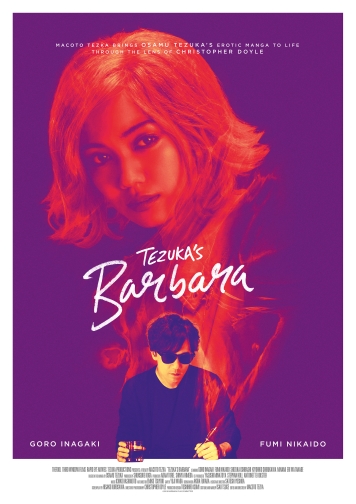 Tuesday, November 17 at 7:00 pm           
In Japanese with English subtitles
Japan/Germany/UK, 2019 100 minutes
Directed by: Macoto Tezka
Written by: Hisako Kurosawa      
Producers: Shunsuke Koga, Adam Torel, Shinya Himeda
Cinematographers: Christopher Doyle, Kubbie Tsoi
Starring: Goro Inagaki, Fumi Nikaido, Kiyohiko Shibukawa,
Shizuka Ishibashi, Eri Watanabe    
Film courtesy of Aeon Entertainment
    
IMPORTANT NOTE:
Temperatures will be taken in the reception area and masks are absolutely mandatory.
In 1973, the godfather of Japanese comics Osamu Tezuka began serializing "Barbara," a dark and sexually-charged manga depicting a famous author's gradual descent into debauchery (some of it taboo) and eventual madness. Loosely inspired by Offenbach's "The Tales of Hoffman," its story of obsession, lust and literary corruption was supernaturally tinged and deliciously strange.
In celebration of what would have been Tezuka's 90th birthday in November 2018, his son, Macoto Tezka, began creating the first live-action version of the transgressive manga, with support from producers in Japan, Germany and the UK, swooning retro-glam cinematography by Christopher Doyle, and a jazzy, rappy soundtrack by Ichiko Hashimoto.
"Tezuka's Barbara" follows the story of writer Yosuke Mikura (a jaded Inagaki), who prowls the backstreets of late-night Shinjuku in sunglasses and - despite being at the pinnacle of success, with the groupies and fawning politicians to prove it - knows that he's creatively bankrupt and heading downhill fast. He also has a dark secret: he is a slave to crippling sexual perversions, which often result in peculiar encounters with animals and inanimate objects that he hallucinates to be women.
One night, Mikura finds a young woman lying in a drunken stupor in an underpass, and takes her home for a shower. Her name is Barbara (Nikaido), and while she remains filthy, drunken and obnoxious, she has read all his work and is able to quote French poetry. She admonishes him for selling out, cooks him meals, rescues him from his most bizarre paramours and surprisingly, becomes his friend. Her presence jolts him out of writer's block and away from self-absorption.
But once the relationship is consummated, harm comes to Mikura's closest friends. When he meets Barbara's mom, Mnemosyne (Eri Watanabe, in the film's campiest costume), his suspicion that her daughter is an actual muse seems confirmed and the story begins a final descent into occultism and depravity.
Please join us for this sneak preview of "Tezuka's Barbara" before the film's release in Japan on November 20.
For more (in Japanese): https://barbara-themovie.com
MACOTO TEZKA won a prize for his debut 8mm film and praise from renowned director Nagisa Oshima, which encouraged him to study film. He made his 16mm feature debut, "The Legend of the Stardust Brothers," while still in college. He has continued to create both experimental and feature films, including a pioneering V-cinema title, "Youkai Tengoku: Ghost Hero," and a documentary about Akira Kurosawa. Tezka spent 10 years adapting novelist Ango Sakaguchi's "Hakuchi: The Innocent," (1999), which was widely shown overseas. His animated feature film "Black Jack" won the outstanding performance award at the Tokyo Animation Award. His live-action features "Black Kiss" (2004) and "The Brand New Legend of the Stardust Brothers" (2016) played at the Tokyo International Film Festival. Tezka also supervises various projects and productions related to Osamu Tezuka.
IMPORTANT NOTE: Temperatures will be taken in the reception area and masks are absolutely mandatory. Please make your reservations at the FCCJ Reception Desk (3211-3161)  or register below.
All film screenings are private, noncommercial events primarily for FCCJ members and their guests.
- Karen Severns, Film Committee