Special Screening of "A GIRL MISSING (Yokogao)", Q&A Session and Japan Now panel in collaboration with TIFF
Monday, October 19, 2020, 17:00 - 21:00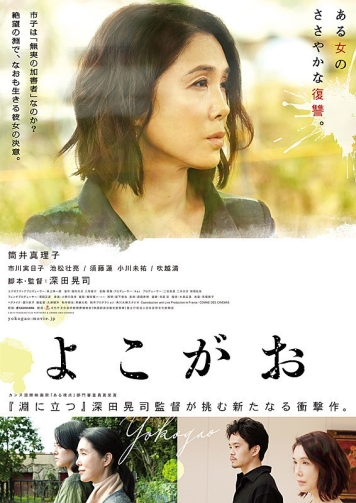 Special Screening of "A GIRL MISSING (Yokogao)", Q&A Session and
Japan Now panel in collaboration with TIFF featuring acclaimed director Koji Fukada,
TIFF Festival Chairman Hiroyasu Ando and TIFF Selection Committee member Kohei Ando
Monday, October 19A GIRL MISSING Yokogao 356p
Special Screening: A GIRL MISSING (Yokogao):
In Japanese with English subtitles
Japan, 2019 111 minutes
Japan Now panel: 5:00 – 5:45 pm
Special screening: 6:00 – 7:45 pm
Q&A session: 7:45 – 8:15 pm
IMPORTANT NOTE: The audience is limited to 50 people to assure safety. Temperatures will be taken in the reception area and masks will be mandatory; please bring your own. Please make your reservations at the FCCJ Reception Desk (03 3211-3161 ) or register below. All film screenings are private, noncommercial events primarily for FCCJ members and their guests.
The Film Committee is pleased to once again welcome our friends from the Tokyo International Film Festival (TIFF), especially in this very challenging year. TIFF has announced it will hold a physical 33rd edition in 2020, and we will hear about the festival's plans and highlights from TIFF Chairman Hiroyasu Ando and 33rd TIFF Selection Committee member Kohei Ando.
They will be joined by internationally acclaimed director Koji Fukada, whose latest film was a Cannes Film Festival 2020 Official Selection. Fukada has been named TIFF's Director in Focus this year, and there will be a mini- retrospective of his work at the festival.
Following a discussion about TIFF highlights and more details on the Fukada showcase, there will be a very special screening of Fukada's award-winning 2019 film, "A Girl Missing," and a Q&A session with the director.
The 33rd TIFF will run from October 31 – November 9 at locations in Roppongi, Hibiya and elsewhere in Tokyo.
Special Screening: A GIRL MISSING (Yokogao)
In Japanese with English subtitles
Japan, 2019 111 minutes
Directed by: Koji Fukada
Written by: Koji Fukada
Produced by: Naohiko Ninomiya, Daisuke Futagi, Hirohisa Mukuju, Masa Sawada Starring:
Mariko Tsutsui, Mikako Ichikawa, Sosuke Ikematsu, Mitsuru Fukikoshi, Ren Sudo, Miyu Ogawa
Film courtesy of Kadokawa
For more (in Japanese): https://www.youtube.com/watch?v=o41lrZc5bbM
Koji Fukada reunites with the inimitable star of his Cannes award-winner "Harmonium," Mariko Tsutsui, for this layered story of a woman whose kindness is ruthlessly crushed following a scandal in which she is an innocent bystander. A master of the family-crisis genre, Fukada ratchets up the suspense and the ambiguities in "A Girl Missing," and creates a double-strand narrative of incredible chronological complexity that rewards viewer vigilance and packs a deeper emotional punch.
Ichiko (Tsutsui) is a devoted home hospice nurse to the cancer-stricken matriarch of the Oishi family, and surrogate mother to her two granddaughters, Motoko (Ichikawa) and Saki (Ogawa), whom she helps study for their exams. She is preparing to marry again, to a doctor
(Fukikoshi) whose young son clearly adores her. All is well until Saki goes missing and Ichiko's nephew is later implicated in the crime. At Motoko's urging, she says nothing to the police, but before the guilt can start consuming her, her relationship to the culprit goes public and the press makes her life a living hell.
As Fukada puts it, "Ichiko learns the hard way that social status, self-esteem and social attachments are like different floors in a building whose foundation was laid on shaky ground. And that shaky ground is not just under Ichiko, it is under all of us."
Mariko Tsutsui has been nominated as Best Actress for the role at the 14th Asian Film Awards, with the winners to be announced in October.
KOJI FUKADA studied at the Film School of Tokyo and joined the famed Seinendan theatrical company in 2005. His first feature film, starring Seinendan actors, "Human Comedy in Tokyo," was screened at the Rome International Film Festival in 2008, and his follow-up, "Hospitalité" (2010), won TIFF's Japanese Eyes section award and was widely heralded overseas. "Au revoir l'été" (2013), starring Fumi Nikaido, and "Sayonara" (2015), starring an android actress, continued building his global reputation. "Harmonium" (2016) won the Jury Award in the Un Certain Regard section at the Cannes Film Festival. "The Man from the Sea" (2018) was his first international coproduction. It was followed by the Locarno Film Festival selection "A Girl Missing" (2019). Fukada's latest film, "The Real Thing," was named to the Cannes Film Festival's 2020 Official Selection. Fukada was named a Chevalier of the Order of Arts and Letters in France in 2018.
HIROYASU ANDO entered Japan's Ministry of Foreign Affairs after graduating from the University of Tokyo in 1970, and served as a diplomat in the US, the Philippines and the UK. He then served as the Private Secretary for the Prime Minister, the Minister-Counselor at the Embassy of Japan in the US, the Director-General in charge of Middle East and African Affairs, the Ambassador of the Consulate General of Japan in New York, the Assistant Chief Cabinet Secretary and the Ambassador to Italy. Since October 2011, he has been working on international cultural exchange initiatives as the President of the Japan Foundation. He was named Chairman of TIFF in 2019.
KOHEI ANDO is a professor emeritus at Waseda University, a filmmaker, a producer and a tireless promoter of international collaborations. He began making films under Shuji Terayama and continued creating short art films during a 30-year career with TBS. He has received many awards for his work, from such festivals as Oberhausen, Hawaii and Montreux, and was a pioneer in high-vision filmmaking. Ando's work is in collections at major museums and film libraries in Paris, New York, Los Angeles, London and Tokyo, and he has been the focus of two French retrospectives. This marks Ando's sixth year as the programming advisor for Japan Now. He was named to the new TIFF Selection Committee in 2020.
TOKYO INTERNATIONAL FILM FESTIVAL (TIFF) is the only Japanese film festival accredited by the International Federation of Film Producers Associations (FIAPF).* TIFF started in 1985 as Japan's first major film festival and has grown to become one of the leading film festivals in Asia. Celebrating its 33rd anniversary in 2020, TIFF continues to seek out excellent films from around the world and brings them to Tokyo, where filmmakers and film fans can enjoy them, meet emerging filmmakers, and be inspired.
- Karen Severns, Film Committee
*FIAPF is an international organization that oversees issues related to the film industry and international film festivals.