Special In-Theater Sneak Preview:
ARASHI Anniversary Tour 5x20 Film: Record of Memories
followed by Q&A Session @ FCCJ
with director Yukihiko Tsutsumi and Arashi member Jun Matsumoto
in collaboration with Shochiku Multiplex Theatres
Monday, October 25, 2021
2:00 – 4:30 pm
Special Screening at Marunouchi Piccadilly Dolby Cinema:
(doors open at 1:30 pm; details at bottom)
5:00 – 5:45 pm
Q&A session at FCCJ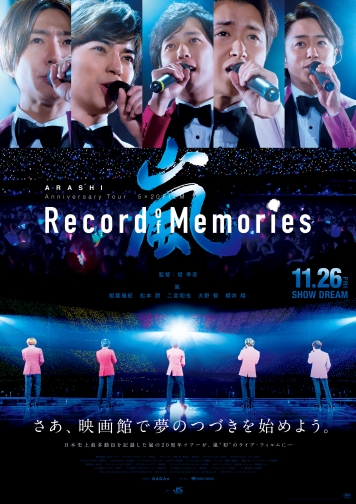 ARASHI Anniversary Tour 5x20 Film: Record of Memories
In Japanese with English subtitles
Japan, 2021 148 minutes
Directed by: Yukihiko Tsutsumi
Produced by: Julie K. Fujishima
Starring: Arashi (Masaki Aiba, Jun Matsumoto, Kazunari Ninomiya, Satoshi Ohno, Sho Sakurai)
Film courtesy of Shochiku
Legendary boyband Arashi ("Storm") kicked off their 20th anniversary series of concerts in November 2018. They would continue for another two years, putting on a record 50 shows in 5 stadium arenas before audiences of several million.
Smashing records are a big part of the Arashi lore. Since their debut on November 3, 1999 the supergroup recorded over 400 songs, sold more than 43 million records and notched 54 No. 1 singles, more than any other Japanese artist in history. They had performed for some 14 million people, including audiences in Asia. And their compilation of hit singles, "5×20 All the Best!! 1999-2019," was the world's top-selling album in 2019, at 3.3 million copies, outranking even Taylor Swift's "Lover" and BTS' "Map of the Soul: Persona."
Like the earlier boyband icons SMAP, whose careers had also been masterminded by Johnny Kitagawa of Johnny's & Associates, Arashi achieved an unprecedented level of success across entertainment industry genres, from music to television, film and theater, both as a group and individually. They had also served as Japan's tourism ambassadors, with their images adorning JAL's Arashi jetliners.
But in January 2019, at the height of their popularity, Arashi announced they would be taking a hiatus after December 31, 2020, to allow the members to "live freely" and to follow their dreams. They then shifted into overdrive. On November 3, 2019 they became the first Johnny's group to open social media accounts, launch a YouTube channel, and make their music available on Spotify and other streaming services.
In a final burst of activity against the backdrop of COVID-19 restrictions, the band also released their first three English-language singles, including a collaboration with Bruno Mars, and became the subjects of the behind-the-scenes 24-episode doc series "Arashi's Diary Voyage" on Netflix.
Finally, marking the first-ever concert film from Johnny & Associates, "ARASHI Anniversary Tour 5 × 20 Film: Record of Memories" was shot on a staggering 114 cameras and in full Dolby Cinema sound, as the boys performed before a live audience of 52,000 at Tokyo Dome on Dec. 23, 2019. Director Yukihiko Tsutsumi ("12 Suicidal Teens," "Hope"), who had directed the group's debut film "Pika☆nchi " (2002), captures the intensity and dynamism of the band's relentlessly upbeat high-energy pop, with tightly choreographed routines set against the backdrop of the world's largest video screen, as well as atop their trademark transparent floating platforms.
Please join us for this special screening of "ARASHI Anniversary Tour 5 × 20 Film: Record of Memories " ahead of its limited release in Tokyo on November 3, followed by a nationwide rollout on November 26.
For more (in Japanese): https://recordofmemories.jp
YUKIHIKO TSUTSUMI is one of Japan's most prolific and commercially successful directors. He made his directorial debut with a segment in the omnibus movie "Bakayaro! I'm Plenty Mad" (1988), and came to prominence with such popular TV series as "The Files of Young Kindaichi" (1995-97) and "Ikebukuro West Gate Park " (2000). Among his many film releases, highlights include popular franchises "Trick: The Movie" (2002, 2006, 2014), "20th Century Boys" (2008, 2009) and "SPEC" (2012, 2013). His latest work includes "The House Where the Mermaid Sleeps" (2018), "12 Suicidal Teens" (2019) and "Hope" (2020). In 2002, Tsutsumi directed Arashi in their first film, "Pika☆nchi Life Is Hard Dakedo Happy" (2002) followed by the sequel "Pika☆☆nchi Life Is Hard Dakara Happy" (2004).
JUN MATSUMOTO, aka MatsuJun and self-identified as "one-fifth of Arashi," began his career with talent agency Johnny & Associates in 1996, at the age of 12. He made his debut as a singer with Arashi in 1999, and since 2000, has served as the creative director/producer of Arashi's concerts. He has been acting since 1997, and has won numerous awards for his TV work. He made his film debut in 1998, with roles in films like "Boys Over Flowers Final" (2008) and "Narratage" (2017). He will next star in the upcoming "99.9 Criminal Lawyer: The Movie." Matsumoto was the driving force behind's the boyband's historic move online in 2019, and its nascent efforts to expand overseas, which had begun with the release of three English-language singles and were to be followed up with concerts that were canceled due to Covid-19.
 
IMPORTANT NOTES
TO ATTEND THE SCREENING
Seats for the special screening at Marunouchi Piccadilly Dolby Cinema (Address: Yurakucho Marion Annex 5F, 2-5-1 Yurakucho, Chiyoda-ku, Tokyo, 100-0006) are limited to 100 attendees, so register early. Members are limited to one guest only. Please bring your FCCJ member card to the theater.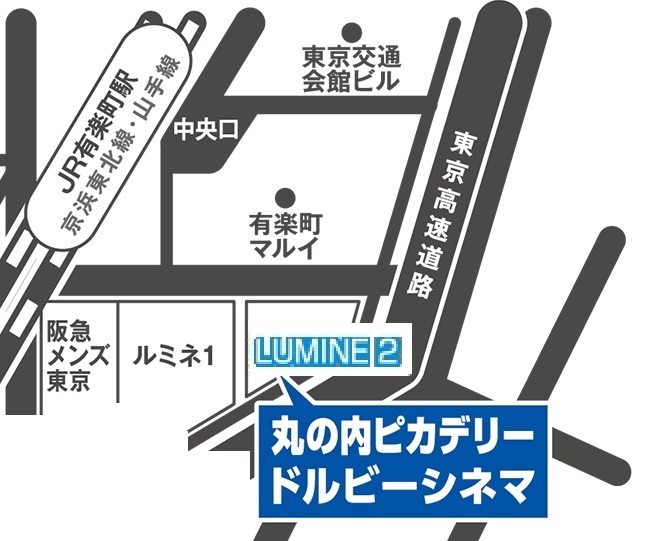 TO ATTEND THE Q&A SESSION (@FCCJ)
You may attend the Q&A session without attending the screening.
Seating is strictly limited and priority will be given to working journalists. Members may not bring guests, unless the guest has press credentials. Please note that photography and filming will be strictly controlled and restricted to professional photographers and other media who sign release forms at the press table in front of the venue.
Please make your reservations at the FCCJ Reception Desk (3211-3161) or register online. When registering, please indicate whether you will attend the screening+Q&A session, or just the Q&A session. You may be placed on a waiting list when seats are full.
All film screenings are private, noncommercial events primarily for FCCJ members and their guests.
    
- Karen Severns, Film Committee