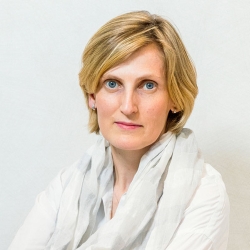 Dear members,
Looking for a place to bed down for the night, even in a derelict building? Many war correspondents were in 1945, and that's how our forerunner, the Tokyo Correspondents' Club started out. Looking at our posh Marunouchi premises now, it's hard to imagine our predecessors' desperation for a place to sleep in Japan's bombed-out capital.
This month's edition of the No. 1 Shimbun marks our 75th anniversary, so it's time to look back on our proud history as one of the world's oldest press clubs and celebrate our survival through some tough times to remain at the forefront of news coverage in Japan. We also peer into what the future might hold. While providing beds is no longer part of our role, it's clear that we're still a source of opportunities for our members to scrutinize those running the country, just as we were during the U.S. occupation.
General Douglas MacArthur was our guest in 1947, and this month our tireless Professional Activities Committee managed to snare former Defense Minister Shigeru Ishiba, one of the candidates for leadership of the Liberal Democratic Party, for a press conference — an event that featured prominently on domestic TV news bulletins. His comments about how objective information was suppressed in the 1940s to enable Japan to go to war certainly resonate in a world where the truth seems increasingly hard to come by. Ishiba's LDP colleagues, Tomomi Inada and Seiko Noda, both of whom have been cited as having the potential to become Japan's first female prime minister in the future, were also due to speak at the club as I write.
Many people have been eager to declare the journalism profession dead since the advent of social media, especially with robots now starting to play a role as writers of some of the basic financial market stories distributed by major media companies. The turnout for Ishiba's press conference, despite the pandemic, reminded me that robots are still no substitute for well-informed reporters who are prepared to hold the powerful to account in person, and that the FCCJ still has an important part to play in enabling them to do their job.
Looking back at the sometimes hilarious photographs from club anniversary events over the decades, I share many colleagues' sadness that there will be no gala event to mark our diamond anniversary this year. We simply couldn't risk the lives of members or staff by holding a big celebration amid the threat of Covid-19. But let's hope that we will be able to make up for that some time in 2021.
Finally, I do believe that the duty to provide objective information applies not only to governments, but to the FCCJ Board. We're looking into how best to keep you updated on our discussions and decisions, and hope to start doing that in more detail soon.

● Isabel Reynolds has been reporting for Bloomberg in Tokyo since 2012. She has lived in Japan for more than 20 years and been a Regular Member of the FCCJ for most of that time.
Photograph © Julio Shiiki