Image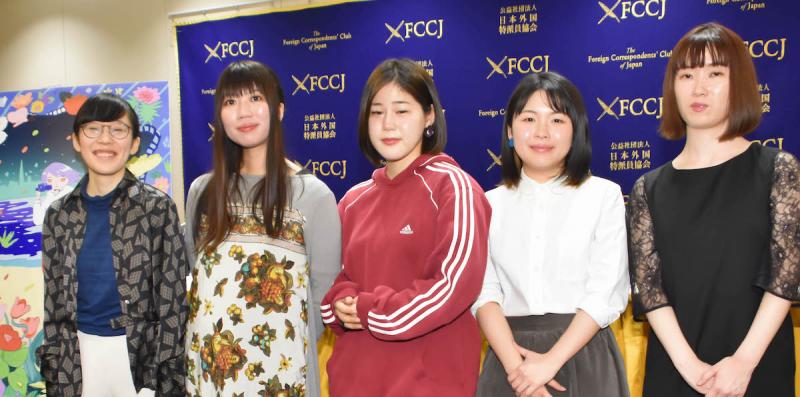 There are times when the Film Committee screens a work whose target audience is not the typical FCCJ demographic. This was one of those times.
But considering the dire statistics related to the global film industry — that women never account for more than 20% of the workforce, and that women directors helm an abysmal average of 7 – 10 % of the films made — it felt like the right time to expose attendees to something they wouldn't normally watch.
Aimed squarely at a young, female viewership, 21st Century Girl is an omnibus feature that is (to borrow the producer's declaration of independence) of the girls, by the girls and for the girls. The work of 15 women directors under the age of 30, each of whom contributed an 8-minute film, the package highlights a range of genres, visions and thematic concerns.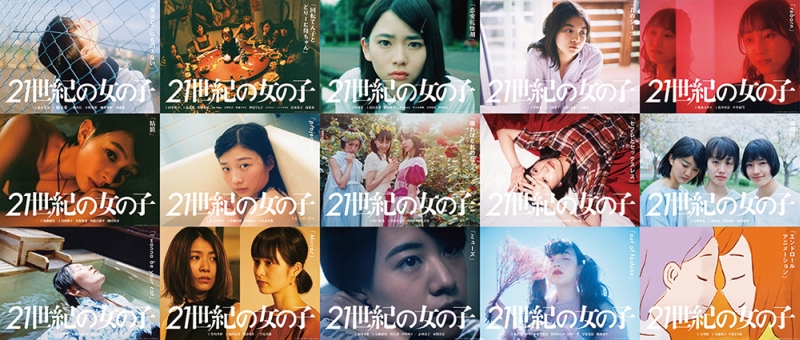 © "21st Century Girl Film Partners" (ABC Rights Business, VAP)
The films are all beautifully shot, with top-notch production and costume design, and star some of Japan's most popular actresses, including Kaho Minami, Ai Hashimoto, Shizuka Ishibashi, Mei Kurokawa, Kiki Sugino, Sairi Itoh and Serena Motola.
One need not be young, female or even Japanese to find points of empathy/ports of entry into these deeply-felt short stories, specific as they may be.
As Aya Igashi, one of the five directors who appeared at FCCJ's Q&A session, said, "The directors might be touching on something personal or on something universal, but I think the film delivers a direct message about what's going on in women's minds."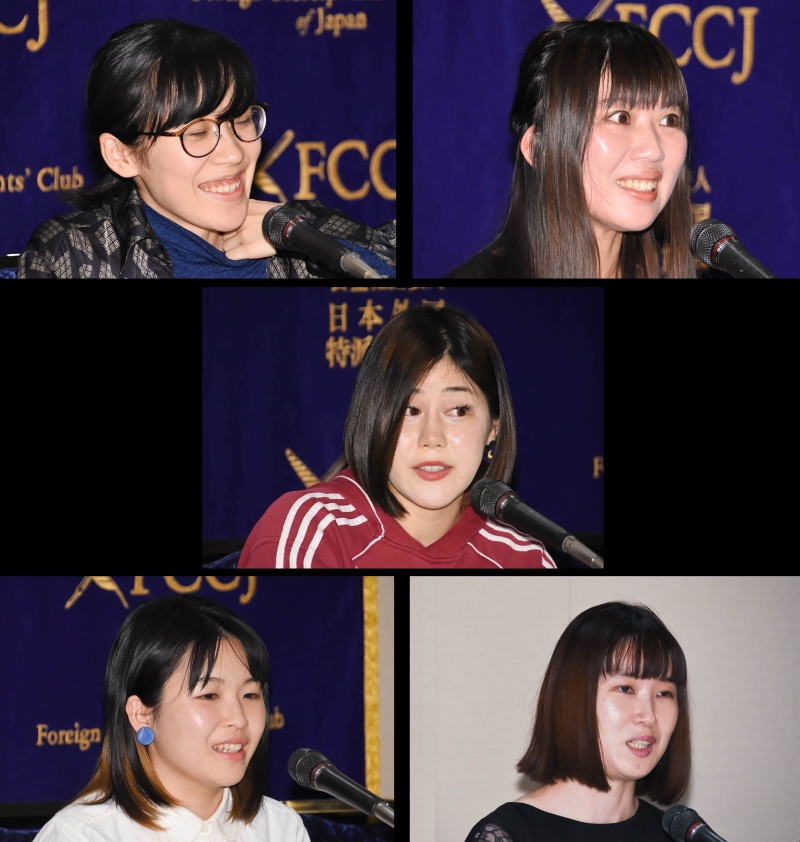 Clockwise from top left: Igashi, Kato, Yamato, Yasukawa, Takeuchi  ©FCCJ
21st Century Girl producer Ū-ki Yamato concurred. "All the protagonists in the films are female, in their teens or 20s," she explained. "It was intentionally skewed to women in their 20s because what we're all making is a kind of self- portrait. I think [taken all together], it's a pure record of our lives and our reality."
Many of the 15 emerging writer-directors have already won awards for their short work, have already appeared at Berlin, Cannes and other leading festivals, and have also released features. But none has yet tasted the box-office success that Yamato did with her 2016 release of Drowning Love. Rather than heading instantly into production on her next feature, as hitmakers are prone to do, she decided it was important to first develop and produce an ambitious, female-drive omnibus that would speak to the girls of the future.
When she had made the final selection of directors, she then gave them simple instructions. Recalled Yamato, "I requested that they capture a moment in which their sense of sexuality or gender was shaken or had wavered. That was the connecting theme between all the films. I did not give them any input on what kind of stories to tell or characters to depict.

Rights Business VAP
Producer-director Ū-ki Yamato and her film For Lonesome Blossoms
Left: ©Koichi Mori  Right: © "21st Century Girl Film Partners" (ABC Rights Business, VAP)
"I don't think there have been any other omnibus films like this anywhere else in the world, where all the films are directed by women in their 20s. It was a good opportunity to create a space for them to tell the stories they had to tell, at a time when their artistic sensitivities and imaginations are at their most ripe."
Before its world premiere at the Tokyo International Film Festival last November, Yamato told the audience, "I think there are many wonderful forms of art, but only through cinema, which has arms so long that it can reach all the way into the most remote areas, can they all be consolidated and contribute to changing a woman's life."
Asked during the Q&A session at FCCJ how she hoped the film might change female lives, Yamato responded, "Most art and film depicts women as objects. I wanted to counter that with films that portray them as strong, proactive characters. I wanted to convey [such characters] to rural regions in Japan, especially. I want these stories to leap beyond the boundaries of urban areas, because there's a larger gender gap in rural areas. And I hope they also cross boundaries to the rest of Asia. All of Asia is heavily infused with Confucian [patriarchal] philosophy, and women are more repressed."

Rights Business VAP
Director Aya Igashi and her film Your Sheet
Left: ©Koichi Mori  Right: © "21st Century Girl Film Partners" (ABC Rights Business, VAP)
Yamato's own short film in the omnibus, For Lonesome Blossoms, also elaborates on the role that cinema can play. It features 3 women dancing in a garden (one of whom is played by Erika Karata of Asako I & II), representing a "holy trinity of Mother, God and Cinema." They celebrate life and love before delivering a manifesto: "We will return the three primary colors to cinema, and for the first time, those working in the shadows will appear… We will create the ultimate art, combining love, language, religion and politics."
Admitted Aya Igashi, "When I saw the full film, I felt like I'd never seen anything like it before. It was really hard to digest, because each short film was so dense with meaning."
Igashi, whose Your Sheet focuses on Saho, a young woman living with her boyfriend who seems to be pining for or fantasizing about a female love, explained, "My film was just a way of answering as best I could the question about a moment that had shaken my gender or sexuality. But it's not that I limited myself to the constraints of the project; what you're seeing is my natural inclination as a filmmaker."

Business VAP
Director Ayaka Kato and her film Mucous Membrane  
Left: ©Koichi Mori  Right: © "21st Century Girl Film Partners" (ABC Rights Business, VAP)
With her 2018 feature Crimson Star having earning critical raves and begun its international festival journey, Igashi also said, "I want as many women as possible to see the film, but I also want to reach as wide a demographic as possible. I think that's what being a filmmaker and telling stories is all about. You do want to bring your art to the masses."
Ayaka Kato noted that although there was a unified theme, "Everyone's films are very different from each other's. It's only natural that each film is uniquely the director's own." Kato's film Mucous Membrane opens with a memorable shot of a woman counting the hairs on her lover's toe in extreme closeup, and focuses on two young women who work in a flower shop, as they deal with their relationships with men and gender expectations.
The director, whose second feature, Itsumo Tsukiyo ni Kome no Meshi, was released in Japan in 2018, later mentioned, "I think my segment was the only one that depicts sexual relationships between men and women. There are women in the world who happen to like sex, but it seems there's still a taboo about them expressing themselves in that way. I wonder why it's women only who are given this [stamp of shame]?"

Business VAP
Director Risa Takeuchi and her film Mirror
 Left: ©Koichi Mori  Right:© "21st Century Girl Film Partners" (ABC Rights Business, VAP)
Risa Takeuchi, whose feature Mitsuko and the Space Bump was released in Japanese theaters in 2018, agreed with Kato about the omnibus: "Even though there may be connecting themes or overlapping stories, there are also differences in each story, and I think we've been able to portray reality." Risa Takeuchi's own short film, Mirror, concerns the visit of a young woman to the gallery show of a celebrated "lesbian photographer," who turns out to be her former lover. While it shares the motif of voyeurism with several of the other works, one of its concerns is the boxes that artists are put into, and the lengths they'll go to create work.
She later noted that although she'd felt a bit uncomfortable about being restricted to addressing the theme of gender or sexuality, "As I continue in my career, I think I won't be able to avoid them. So I feel this was the first time that I was really being tested as a filmmaker."

Business VAP
Director Yuka Yasukawa and her film Muse
Left: ©Koichi Mori  Right: © "21st Century Girl Film Partners" (ABC Rights Business, VAP)
Yuka Yasukawa recalled that she was "keen on participating in this project because when it comes to gender, society tends to pigeonhole roles for males and females. People seem to have a really one-dimensional sense of what a woman is."
Her film Muse depicts a photographer (played by Shizuka Ishibashi of The Tokyo Night Sky is Always the Densest Shade of Blue) who befriends the wife of a famous novelist (Jun Murakami), whose heroines always die young. Before the photographer realizes she's fallen in love, however, there is a tragedy.
Said the director, "I wanted to depict this kind of story because it's about a novelist who fictionalizes his own wife. I thought that was a really invasive thing to do, to repress her personality until it's one dimensional. But the female photographer is able to see this novelist's muse as a whole person."
And taken all together, that's the accomplishment of 21st Century Girl: that a whole female, in all her complexity and full of promise, emerges. When Ayaka Kato remarked, "I'd love to see us all come together again in 30 years to make a film about grandmothers of the 21st century," a substantial portion of the audience nodded and smiled.
Yamato mentioned that an article in the Asahi Shimbun last month reported that only 3% of the major films made over the past 20 years in Japan had female directors. So remember these names: Yuka Eda, Momoko Fukuda, Kanae Higashi, Aya Igashi, Yurina Kaneko, Ayaka Kato, Hana Matsumoto, Aimi Natsuto, Yukari Sakamoto, Rin Shuto, Yuka Yasukawa, Risa Takeuchi, Sakura Tamagawa, Yoko Yamanaka, Ū-ki Yamato.
They have fully committed to ongoing careers in the film industry, and their time is now.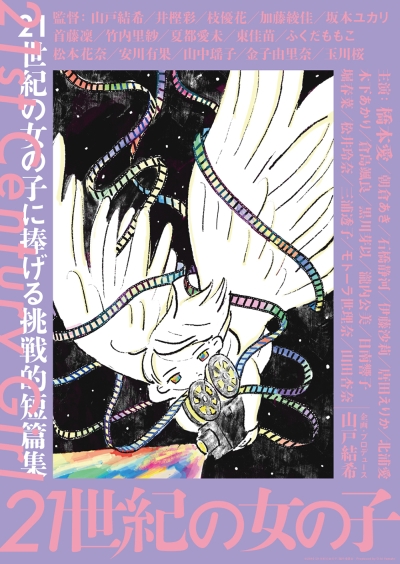 © "21st Century Girl Film Partners" (ABC Rights Business, VAP)
Posted by Karen Severns, Thursday, February 07, 2019
Selected Media Exposure