Image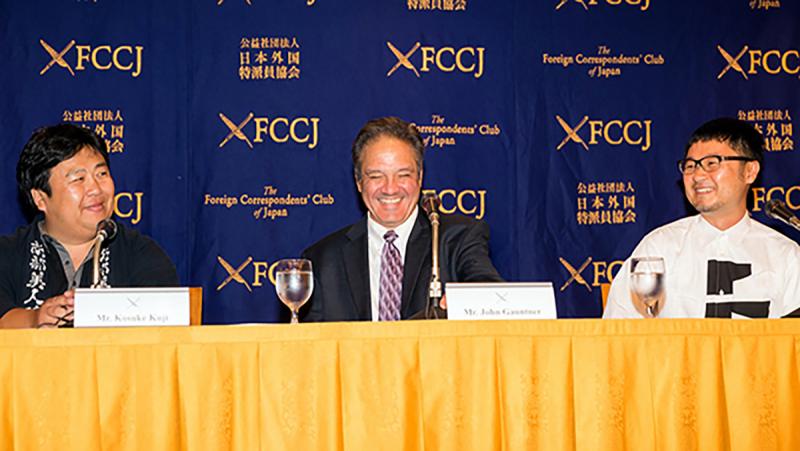 I may be a teetotaler, but I can appreciate a good alcohol-themed story when I see one, and Kampai! For the Love of Sake is exactly that — although it's really four stories, not just one. And as we discovered during the Q&A session after our screening, sake tales are as tasty, and as ancient, as the drink itself.
Nihonshu (the correct Japanese term) has a long history, and brewers faithfully followed the process created in the 15th century until the popularity of the drink began declining in the 1990s, partly because of the very constancy of the industry. Many breweries went out of business, or began producing beer or shochu intstead; but just in time for others, a revolution was born. Although the majority of Japan's 1,200-odd sake breweries are still small and family-owned, drastic changes have been occurring as younger kuramoto (brewery owners) stepped into their father's shoes. [Yes, it's still a man's business, but more on that below.]
Following the international success of an array of documentaries about food, especially Jiro Dreams of Sushi, along with the 2013 registration of washoku (the "traditional dietary cultures of the Japanese") on the UNESCO Intangible Cultural Heritage list, it's no wonder that sake — an essential ingredient, accompaniment and complement to Japanese cuisine — is now in the spotlight.
Mirai Konishi, a Hollywood-based film journalist, marks his feature directing debut with Kampai!, which was picked up for international distribution following its world premiere at the 2015 San Sebastian Film Festival and will be opening in the US in August. But he readily admits that he was not at all a sake connoisseur when he began the process. Quite the contrary: "I started the film because I had a big complex about sake. I'd been living in LA for 23 years, and every time I went to a Japanese restaurant, friends would ask me which sake to choose. I didn't have a clue."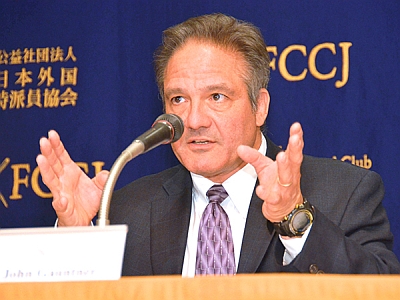 Top: Gaunter (©FCCJ), Left: Kuji (©Koichi Mori), Right: Konishi (©Mance Thompson)
A certified sake outsider, then, Konishi intriguingly chose to explore the rarefied, mysterious and secretive world of nihonshu through the eyes of three distinctive outsiders who have devoted themselves to its production and dissemination around the globe. Taking us on a fascinating journey from a small brewery in the mountains of Kyoto to a modern Japanese restaurant in London to a bustling sake-tasting event in the center of Tokyo, the film illustrates how these unique men, two of them non-Japanese, have turned their love affairs with sake into a celebration of Japan's finest progressive traditions.
The breakout star of the film — and perhaps the sake universe — is fifth-generation kuramoto Kosuke Kuji, of Nanbu Bijin Brewery in Iwate. The director met Kuji in LA, where the brewer himself was an outsider, but seemed to gain instant insider status despite speaking little English. "I was amazed by his vitality and energy," recalled Konishi. "He also had a lot of pride in his brewery, without being arrogant about it. I decided I wanted to know more." Thus, Kampai! was born.
In the film, Kuji vividly recalls his struggles convincing his father to let him "take sake to the next level" by applying the latest scientific knowledge to develop new labels, as well as to expand distribution overseas. His sake has gone on to win national and international awards, including the top prize in the Honjozo category of the International Wine Challenge, which he'll pick up in London in early July. The ebullient Kuji also earns bragging rights for earning Nanbu Bijin the first Kosher certification in the industry, and for the brewery's creation of "no sugar added" plum sake.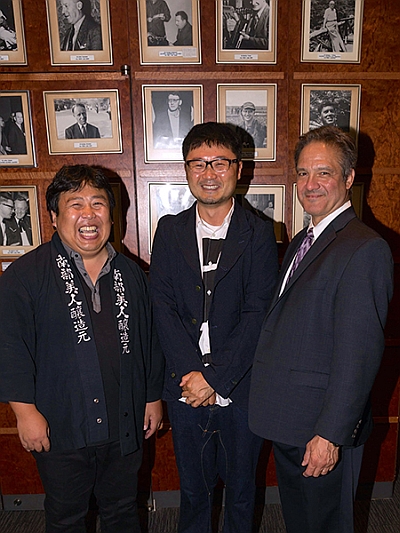 ©Mance Thompson
Also profiled in Kampai! is Ohio-born sake "evangelist" John Gauntner, recognized as the world's leading non-Japanese expert. The first foreign Master of Sake Tasting, as well as a certified Sake Expert Assessor, Gauntner recalls in the film his unlikely path to his calling, and discusses the development of his Sake Professional Course, which has educated hundreds around the world, including the owners and operators of many foreign sake-centric stores.
British brewer Philip Harper, the first non-Japanese to earn the prestigious title of toji, or master sake brewer, is the third outsider profiled in Kampai! Harper was hired to help save the faltering Kinoshita Brewery in Kyoto, and in the film, he draws parallels between his early life amid nature and his current life, while taking viewers through the deceptively simple process of brewing.
During the Q&A, one FCCJ audience member wondered whether the film's three outsiders were in any way representative of today's sake world, especially in their openness. Kuji jumped in to confirm that, "In a nutshell, we're all strange and weird. That's why we could make the film." On a more serious note, he explained, "Toward the end of the 1990s, we had this idea to take sake abroad, and that was considered unusual. Nihonshu was still very popular, but thinking about the future, we had this ambitious aspiration to sell more abroad."
Gauntner added, "I don't think the world of sake was actually closed. It's just that the business was doing so well until the mid-90s, there was no reason for brewers to advertise, or open up and talk to people so much. But over the past 10 to 20 years, a lot more kuramoto have been open, inviting people to come and visit them, making contact with the rest of the world because the need is there."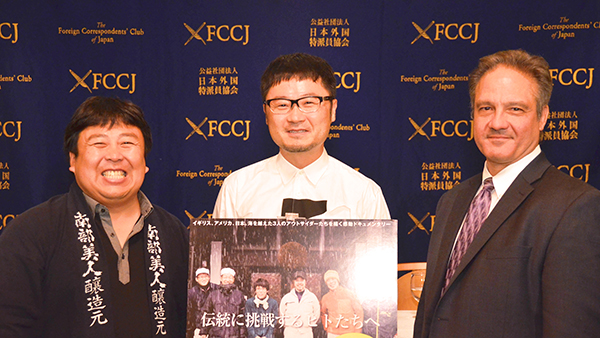 With the poster for the film, coming to screens around the world. ©FCCJ
One viewer asked why the film was so overwhelmingly male-focused, and whether the industry itself was still male dominated. Kuji replied, "Yes, women are still on the outside. But there are brewery owners who are female, and there are quite a few women toji — including Morikiri Rumiko, who makes the famous Rumiko no Sake." He then joked that Konishi's next film should focus on women in the industry, and suggested it be called Kampai Women!
"Female toji are really doing well these days," added Gauntner. "Out of about 1,200 breweries, I think there are 50 female toji, and a lot of them are really technically adept."
Sake has traditionally been strongly associated with Shintoism, and several viewers queried the absence of a religious context in the film. Konishi apologized for the oversight, admitting that he had travelled around Japan for the very first time during production of the film, and hadn't realized how strong the connection was. Said Kuji: "At the beginning of the film, you can see a long set of stairs. Those lead to the shrine behind my house. Back in ancient times, sake was made a Shinto shrines. I now regret not introducing my friend, who's a Shinto priest, to Konishi-san. He should make another sequel: God, Sake and Kampai!"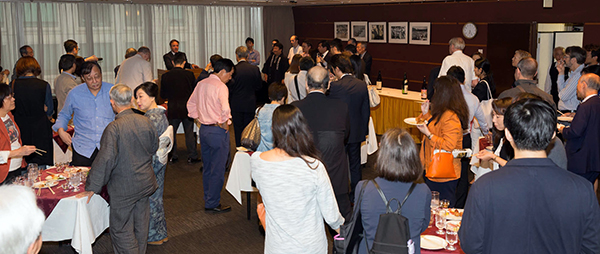 Sake-tasting partygoers (top left: ©FCCJ, top right: ©Koichi Mori, bottom: ©Mance Thompson)
Asked whether there were still myths and misconceptions about nihonshu overseas, Gauntner replied: "I've been talking about sake for so long, it's kind of hard to surprise me anymore. I try to anticipate misconceptions and counteract them. However, many people have no idea how it's made — some think it's distilled. And many people think it should always be served hot. Those are deeply rooted misunderstandings."
Kuji recalled that the biggest surprise for him, was discovering that Japanese living in the US were a major source of misleading information. "They would always say, 'Wow, Kuji-san, your sake is fantastic! It's nothing like the sake being sold here, which contains preservatives and tastes awful.' It's only the Japanese living overseas who think this. Huge mistake. There's not a single brewery in Japan that would put preservatives in sake. We don't need to. We heat it [pasteurize] during production, and then it doesn't go bad."
Whither sake's fortunes in the future? Will the washoku-led boom help overseas sales? According to Kuji, there has been a boom in new Japanese restaurants abroad following the UNESCO registration, but they are being opened primarily by non-Japanese as business opportunities. "Still, it's wonderful for our industry, since they all sell sake, and demand has risen."
According to Gauntner, "If you look at sake's popularity overseas, it's been holding steady for the past decade or so, before the washoku registration, although that will help. But if you look at industry statistics, what's really interesting is the premium sakes — honjozo, junmaishu and the four ginjo types together — are growing fairly steadily, on average, about 10% a year. And that's probably 35% of the market. The remaining 65% of the market, the futsushu, that's been contracting for a while, but the rate of contraction is slowing down. But premium sake is really on the increase, in terms of production, consumption and popularity, so the future of sake is quite bright."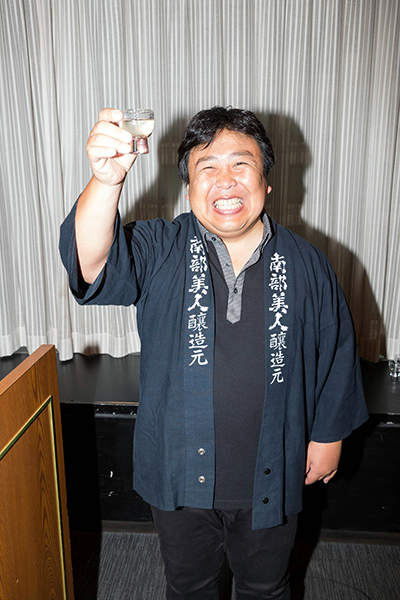 Kuji delivers the party's kampai.  ©Mance Thompson
However, when they were asked whether the industry is facing any major issues, several stumbling blocks emerged. Explained Kuji, "The biggest problem is the structure of the industry and government. The ministry that supervises all alcohol is not the Agriculture Ministry, but the National Tax Agency. Until recently, the taste and quality of sake was considered secondary; what was more important was that it was taxable. Obviously, the rice that sake is made from is under the Agriculture Ministry. They're closely connected, but under two different [government offices]. I've been saying for years that Nihonshu should also be under the Agriculture Ministry, which would make it very easy for us brewers to own our own ricefields, so we can have better control of our products. At the moment, it's difficult because of the supervisory agencies."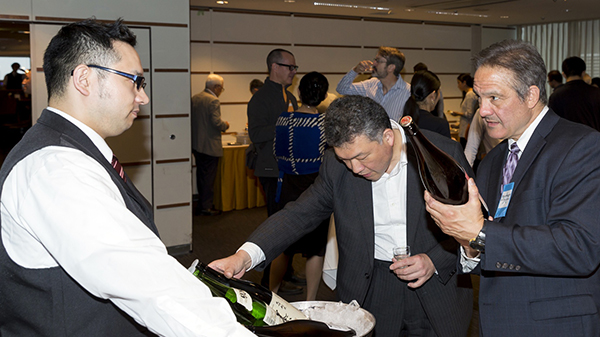 Gaunter and Haruo Matsuzaki, chairman of the Sake Export Association, discuss brands with FCCJ staff.  ©Mance Thompson
For Gauntner, the biggest problem is "Image. Looking at it from a consumer's point of view, a lot of young people think that sake is what old people drink. The image is not sexy, not fashionable. The other thing is that it's difficult to approach — there are different kinds, and it' s not as easy to comprehend as [other types of alcohol.]
The large crowd that attended the sake-tasting event prior to the screening clearly didn't find sake unsexy or unfashionable. The kuramoto of Kampai! offered three varieties — Philip Harper's Yanwari junmaishu (with a monkey basking in a hot spring, our vote for the best label ever), and Kuji's Dai-Ginjo and the newly award-winning Honjinzo —which FCCJ's chef paired perfectly with light snacks. As Gauntner and Kuji chatted with partygoers, there wasn't a dissatisfied drinker in the room.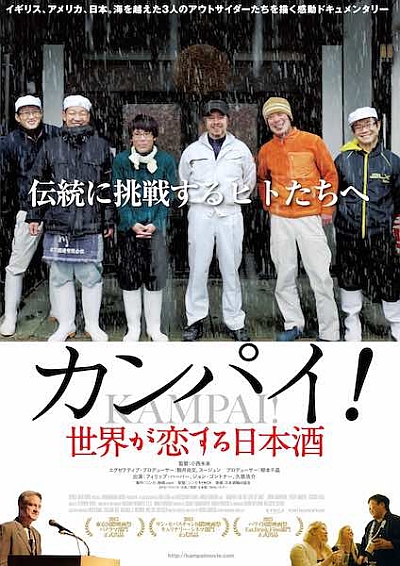 ©2015 Wagamama Media, LLC. All rights reserved.
Posted by Karen Severns, Wednesday, June 29, 2016
Media Coverage
Read more
Published in: June
Tag: Mirai Konishi, Kosuke Kuji, John Gauntner, sake, nihonshu, documentary    
Comments