Image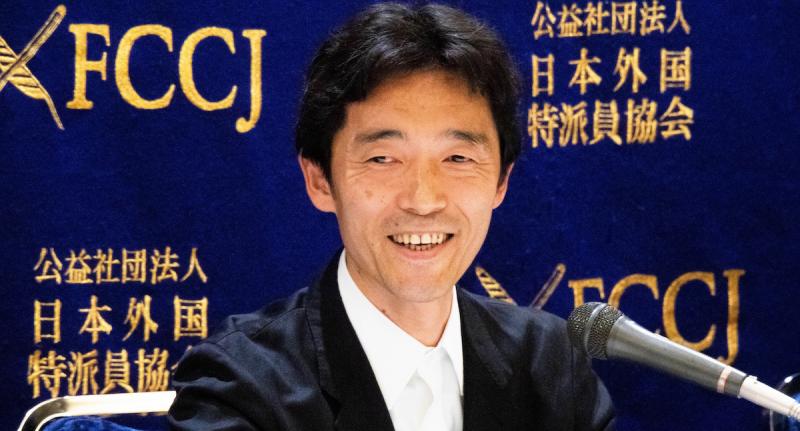 It's the type of question that every filmmaker secretly longs to hear.
It came to Shinsuke Sato following FCCJ's sneak preview of his hotly-anticipated period epic, Kingdom. "A lot of live-action adaptations of manga are a disappointment," an American film critic told him. "But yours are always so good. What's the secret sauce? What makes your adaptations so great?"
Forever humble, the director responded, "There's no secret sauce. When you have a script for an adaptation, you want to make it into a film that is good as a film. I don't feel the pressure of having to conform to the original work or to adhere to it as closely as possible. I approach manga adaptations the same way I approach an original story.

©︎FCCJ
"There are certain details I can imagine some might pay attention to. For example, this manga has x number of fans and they are expecting x type of work, and therefore we have to meet their expectations. I don't have that in mind. Instead, I think about what would ideally be a good film, sometimes drawing on my own experiences as a moviegoer. I start from scratch, in a sense, even if it's based on a manga."
Then, warming to the question, Sato delivered a few of the ingredients, if not the entire recipe. "When I do a manga adaptation, there are always two basic things that I want to accomplish," he admitted. First, for fans of the original work, I want to surprise them. I want the film to exceed their expectations by a mile. I want them to say, 'Wow. I didn't expect this!' I want to give them the type of entertainment that only cinema can give. I want them to understand why it was necessary to bring that work to the screen.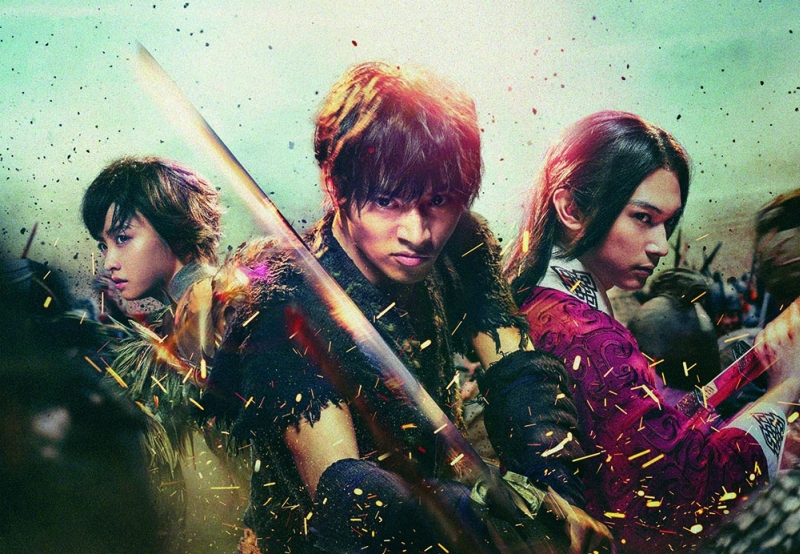 ©︎Yasuhisa Hara/Shueisha  ©︎KINGDOM Film Partners 2019
"Second, I want to entertain audience members who are not familiar with the original manga, and make it accessible even if they don't know what the story is. In order to accomplish these two objectives, you have to always be thinking about the essence of what is fun and entertaining. That's what I do."
And that's what he has done now for nearly 20 years, helming one blockbuster action hit after another, many of them also international award-winners. Heralded for his mastery of CG effects in bringing fantastical worlds to life, Sato's major works include the Gantz series (2011), the Library Wars series (2013 - 15), Death Note: Light Up the New World (2016), Inuyashiki (2018) and Bleach (2018).
Kingdom is not only certain to bring him another box-office success; there will surely be a sequel. Any doubters need only examine its pedigree.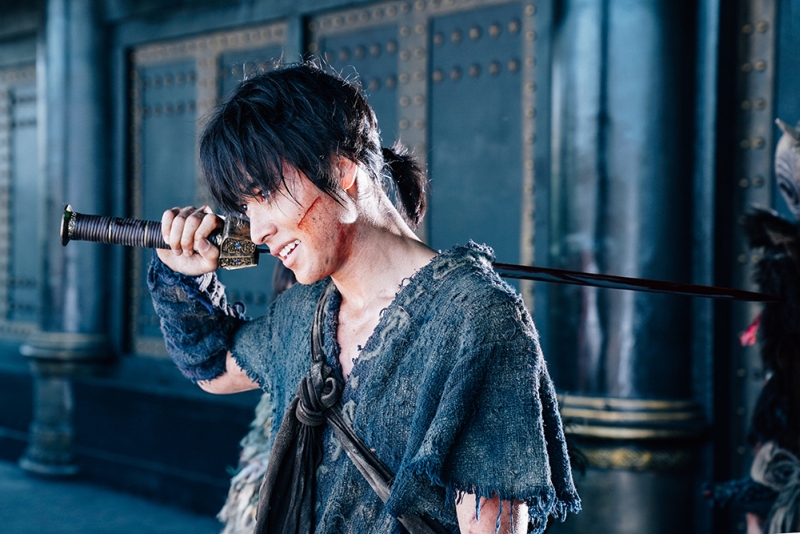 Kento Yamazaki as Shin. ©︎Yasuhisa Hara/Shueisha  ©︎KINGDOM Film Partners 2019
Kingdom is the first live-action adaptation of the bestselling manga series by Yasuhisa Hara, which started running in Shueisha's Weekly Young Jump in 2006, won the Tezuka Osamu Cultural Prize in 2013, and has now been collected into 53 volumes and sold an eye-popping 38 million copies.
To the eternal bemusement of non-Japanese, the series presents a fictionalized account of China's Warring States period, which ended in 221 BC when Ying Zheng, king of Qin, succeeded in conquering six rival states and unifying China. In Hara's manga, however, all the names of the characters — many of whom are based on actual historical figures — have Japanese names and speak in Japanese. The same is true of the film, so Ying Zheng becomes Eisei; his trusted general, Li Xin, is Shin; and his half-brother Zhao Chengjiao is Seikyou.
Kingdom achieves a widescreen grandeur and heroic scale that are rare in Japan, partially due to the film's budget (small by Hollywood's standards; bountiful by Japan's) and its three-week shoot on a massive open set in Zhejiang, China. Last year at this time, it was temporary home to a handful of Japan's leading young actors, 700 crew from Japan and China, close to 100 horses and some 10,000 extras.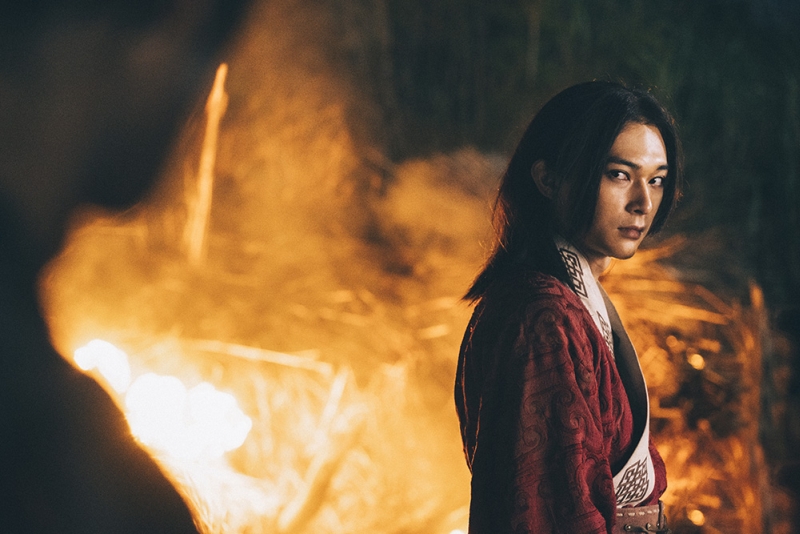 Ryo Yoshizawa as Eisei. ©︎Yasuhisa Hara/Shueisha  ©︎KINGDOM Film Partners 2019
Sato had first come to FCCJ in 2016 with his superlative zombie flick I Am a Hero, a film that benefitted greatly from its extensive location shooting in South Korea, about which the director and his star, Yo Oizumi, had shared both hilarious and heartwarming anecdotes.
Asked why he'd been inspired to shoot in China, Sato responded, "The film's story takes place in ancient China, so it was only natural to shoot there. That's what I'd envisioned from the moment the project started. I really wanted to see what it would be like to collaborate with a Chinese crew. Having had the experience of shooting in Korea, I had a lot of fond memories of all the sweat and toil we put into the production, and that influenced my desire to shoot in China.
"The collaboration in China was in much the same spirit as it had been in Korea. We had core crew members who were Japanese, but we also had a large local crew. There was some trepidation, because there are differences in customs and practices, and of course there was the language barrier. We were worried about how it would turn out, because we had massive scenes to shoot and limited financial resources. But when we arrived, we discovered how robust China's film industry has become. The crew were really skilled, and we enjoyed very effective collaboration through all the filmmaking processes. The Chinese crew put a lot of attention into details, and we really appreciated that."

©Koichi Mori
But the shoot wasn't without its challenges. Asked about the best and worst of these, Sato recalled, "We had crew members in Shanghai and Beijing. The studio lot was a 5-hour drive from Shanghai, so it was quite arduous logistically, and there was a lot of communication that couldn't take place in person. For example, we had a vendor in Beijing for all the costumes, and although we rented a lot of them, we also had to make many of them. So there was a lot of back-and-forth communications about the details. There were difficulties because what we wanted to do was often different from the style in which they were used to making costumes. It took a lot of time and effort to get all the nuances across.
"But what made a great impression on me was that they were really diligent and stuck with us until the very end. There were certain details that we wanted to fix or change, and with a Japanese production we might not have been able to do that. With this company, they responded to all our requests, and what they produced was very nicely done."
As with all of Sato's work, costumes are absolutely crucial to the creation of his colorful characters and his imaginative worlds. Kingdom is no exception.
Masami Nagasawa as Youtanwa. ©︎Yasuhisa Hara/Shueisha  ©︎KINGDOM Film Partners 2019
Set in approximately 245 BC, during China's Spring-Autumn Warring States period (770 BC-221 BC) in the state of Qin (present-day Shaanxi province), it tells the tale of two young war orphans, Shin (Kento Yamazaki), who dreams of becoming the greatest general under the heavens, and Hyou (Ryo Yoshizawa), who just wants to win against Shin in their daily sparring matches. They're separated in their teens, when an emissary from the king takes Hyou away to work in the palace. Shin continues to train alone and dream big. Then one day, Hyou suddenly returns.
He bears an urgent message, leading Shin to a surprising encounter with King Eisei (also Yoshizawa), who dreams of uniting all seven of the Warring States under a single banner. But Eisei's half-brother Seikyou (Kanata Hongo) has led a successful coup, and before unification, Eisei must first amass enough allies to help him reclaim the throne. Shin signs up, but the challenge is staggering: Seikyou has 80,000 soldiers at his beck and call, and Eisei's forces barely number 3,000.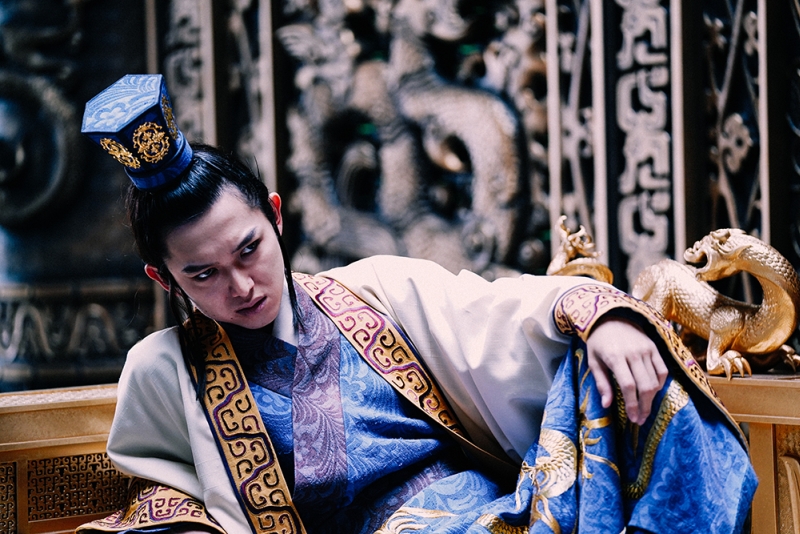 Kanata Hongo as Seikyou. ©︎Yasuhisa Hara/Shueisha  ©︎KINGDOM Film Partners 2019
Praised by another film critic for his direction of the film's many action scenes, Sato said, "I relied on crew members that I've worked with for a long time, all the way back to Princess Blade [in 2001]. We had all this experience of creating action sequences together, and that formed the basis of the film. We had a lot of discussion and debate about each sequence, and one of the things we did was to shoot video of all the action scenes in an empty room before going on to the set, because there's a lot of drama in those scenes, too. We shot footage like an indie film, cut it together and discussed what we needed to change. So there was one extra step in the process."
The director admitted that he couldn't take credit for the casting of megastar Kento Yamazaki (best known overseas for playing Josuke in JoJo's Bizarre Adventure: Diamond is Unbreakable). Asked why he'd been selected to play Shin, Sato explained, "The producer had already made the decision to cast him before I joined the project. It was like: 'Kingdom, with Kento Yamazaki.' Mr. Yamazaki has played a variety of roles in the past, but this was quite a departure from his previous films. I think it was a challenging and difficult process for him, but he is very savvy and smart, a really passionate actor. We discussed his approach to the character a lot, but what he created made it seem that he was accustomed to roles like this, and it fit him really well."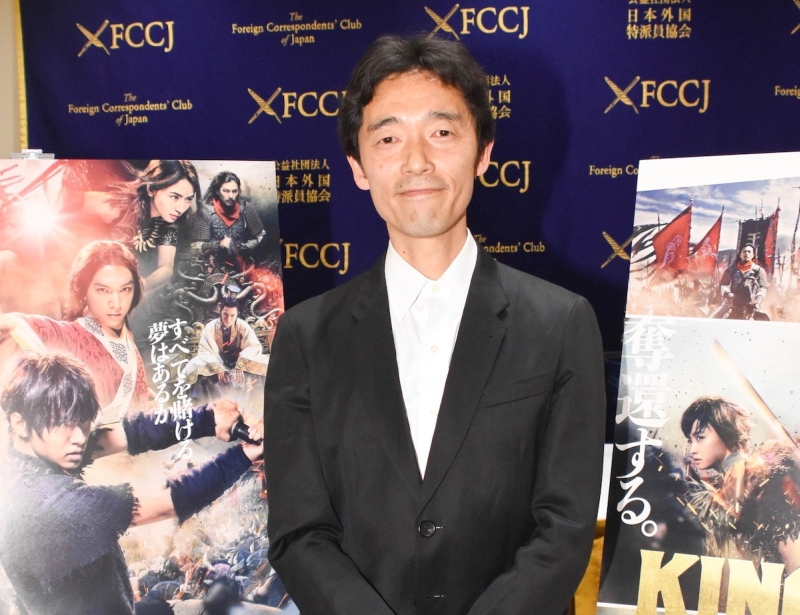 Sato with the posters for the film. ©FCCJ
With such an enormous cast, the leads aren't the only roles to savor. There is also Masami Nagasawa as Youtanwa, the high-kicking chieftan of the mountain tribe; Tak Sakaguchi as Saji, an exceedingly cruel mercenary; Masahiro Takashima as Eisei's righthand man Shobunkun; and Takao Osawa, making his return to film after a 3-year absence, as the greatest general under the heavens, Ouki.
How did Sato lure Osawa back to the cinema when he'd gone on public record as having lost his acting mojo? "General Ouki is a really popular character with fans, and I can imagine there was a lot of discussion about who was going to play the role," said Sato. "So a lot of thought went into the casting choice, as well as into the visual design. A lot of effort of went into the makeup, the beard, the armor. Because he's such an overwhelmingly powerful character in the manga, we thought it would be quite a feat for us to ground him in reality. I think we did a pretty good job of that, and I think Mr. Osawa delivered the vibrancy of the character that fans expect."
Whether Kingdom's realm will now expand to encompass the entire globe is yet unkown; but at least it will be coming to fans old and new in the US, where Funimation will be releasing the film later this year.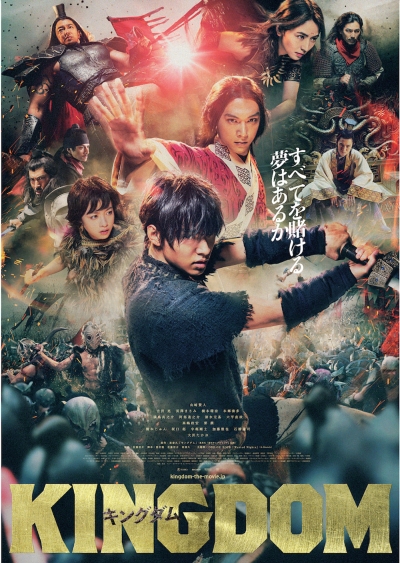 ©︎Yasuhisa Hara/Shueisha  ©︎KINGDOM Film Partners 2019
Posted by Karen Severns, Wednesday, April 17, 2019
Selected Media Exposure
Read more
Published in: April
Tag: Shinsuke Sato, Kento Yamazaki, manga adaptation, China, overseas shoot    
Comments