Image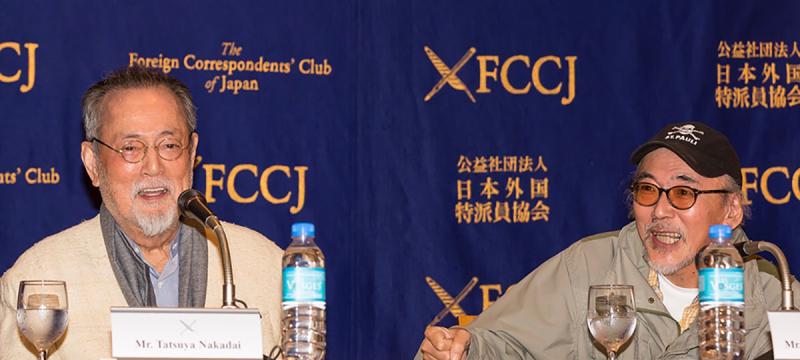 Just how young is Tatsuya Nakadai? Younger than any of us.
Eager to get the show on the road, Japan's greatest living actor strode energetically into FCCJ's packed screening room without waiting for the emcee to announce him, and seemed almost oblivious to the flashbulb onslaught, if not the sustained applause.
Without meaning to, Nakadai had perfectly evoked the character he plays in his new film, Lear on the Shore, a once-bright star of screen and stage who has just escaped from the luxury nursing home where his ungrateful daughter (Mieko Harada) and son-in-law Yukio (Hiroshi Abe) have stashed him, after forcing him to leave them everything in his will. Tugging a carry-on bag behind him, he strides purposefully along a deserted beach at dawn, unsure where he's come from or where he's going… but determined to find an audience that appreciates his talents. (The actual bag showed up at the photocall following the Q&A session, provoking much mirth.)
The great actor reunited with singular director Masahiro Kobayashi for the film, marking their third collaboration after Haru's Journey (2010) and Japan's Tragedy (2013). In Lear, Nakadai stars as the majestically barefoot, silk pajama-clad Chokitsu Kuwabatake, who has dementia and only fleetingly recalls his daughter's betrayal. But a thespian to the core, he can still recite great chunks of dialog from heralded performances.

Despite the film's many tragic undertones, there was ample laughter during the Q&A.   ©Mance Thompson
Nakadai had famously played the mad daimyo Hidetora Ichimonji, loosely based on Shakespeare's King Lear, in Akira Kurosawa's acclaimed Ran (1985). Befitting Kobayashi's preference for arthouse pacing, the auteur's new tragicomedy is as stripped down as Kurosawa's melodrama is supercharged. Yet the success of both films pivots on a towering performance by the celebrated star — and age has only burnished his brilliance.
On the dais, Nakadai said, "I am very old, in the final stages of my life. As you've just seen, the film depicts an actor named Chokitsu. There are indeed similarities between this role and myself. We are both 84 years old, we are both so-called stars, so I thought perhaps Mr. Kobayashi was making a documentary about me — although I didn't hear that directly from him."
Kobayashi admitted, "I had Mr. Nakadai in mind when I wrote the script for this film, and I wanted to bring him the project and pull him in. In order to pull him in, I wanted to surprise him. And to do that, I had to figure out what kind of story to concoct. Shakespeare was a playwright, and he would write certain roles for certain actors in his troupe, and I think that kind of style suits me, as well."

©Mance Thompson
He continued, "Before becoming a film director, I was a screenwriter for a little more than a decade. I was always careful about writing something that actors would want to do. In order to do that, you have to imagine situations and what they would say, and write a character in which they can evoke their own sentiments. If an actor is allowed to play a part like that, they can reveal their true selves and I presume that's quite an enjoyable process."
Speaking about Kurosawa's Ran, Roger Ebert once noted that there strong parallels between daimyo rulers and filmmakers, since both must "enforce their vision in a world seething with jealousy, finance, intrigue, vanity and greed." In Lear on the Shore, how much of Chokitsu is Nakadai and how much Kobayashi? When the film's fallen actor assures us that he "only wanted to please everyone" and later laments, "You claw your way to the top, then tumble down the other side," do the lines not borrow sentiments from both men?
While striding along that beach at daybreak, Chokitsu runs into a forlorn young woman and takes her for an assistant. "Are you my accomplice?" he jokes, but she is not amused. This, it turns out, is his younger daughter Nobuko (Haru Kuroki), sent packing by Chokitsu when she became pregnant years earlier. She has returned home for reasons that only become clear much later, and her father's failure to recognize her is another crushing blow. "I was the only one who loved you," she wails, but Chokitsu sees only an actress playing Lear's beloved youngest, Cordelia, and happily plays along, before turning to take his bows.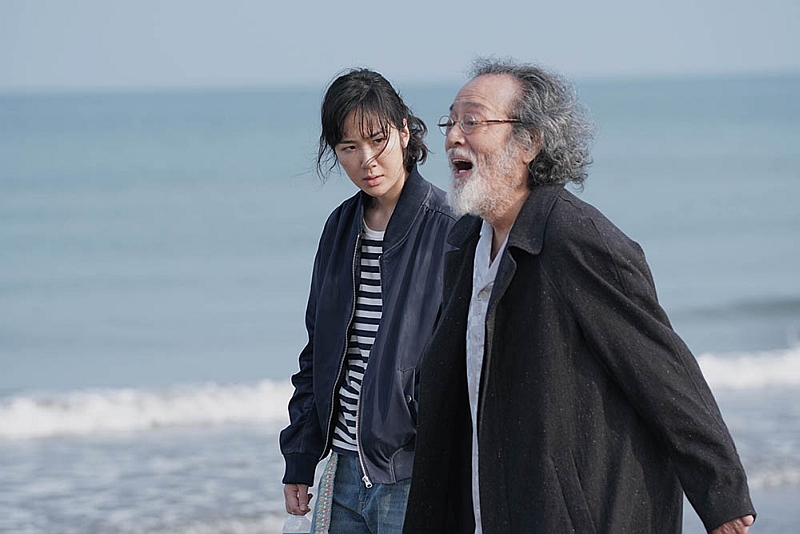 ©2017 "Lear on the Shore" Film Committee
The interactions between Nakadai and Kuroki — the National Living Treasure and the young sparkplug who won Best Actress at the Berlin Film Festival for Yoji Yamada's The Little House — are at the heart of the film, and one marvels at the level of craft.
A British journalist asked Nakadai what the Lear character actually means to him, and why he'd never played the role on stage. "It's always been my wish, for many years now, that I could someday do a full production of King Lear on the stage," answered Nakadai. "Akira Kurosawa's Ran was a Japanese adaptation of the play, and has a different perspective from Shakespeare's original, in that the protagonist, Hidetora, comes into conflict with his sons. Mr. Kurosawa himself said, 'This is a god's-eye portrayal of humans, and how they'll keep on fighting. War will never end, so long as humankind is on this earth.''
He paused. "I've been wondering myself, just how much Mr. Kobayashi was inspired by King Lear, and how much he put into the film." And he turned, eyebrow cocked in that familiar way, to his director.

©Mance Thompson (left), FCCJ (right)
Responded Kobayashi: "When I was young, there was this shingeki acting style [new drama style, based on Western realism], and Mr. Nakadai is of that school. What they did was import the works of Shakespeare and other foreign playwrights, and translate them into Japanese for their productions. Honestly speaking, it doesn't really suit my taste. What I wanted to do was not a costume play of King Lear [like Kurosawa's Ran], but rather, to depict what would happen if a Japanese were to play King Lear. What would that look like? How would that actor prepare for the role? Very much in the vein of Al Pacino's Looking for Richard, I didn't want to depict Lear himself, but to depict the life of an actor, and of acting."
Once again not waiting (this time for the interpreter to translate Kobayashi's remarks), Nakadai said, "I see. I didn't know that. I didn't ask about that when we were on the set."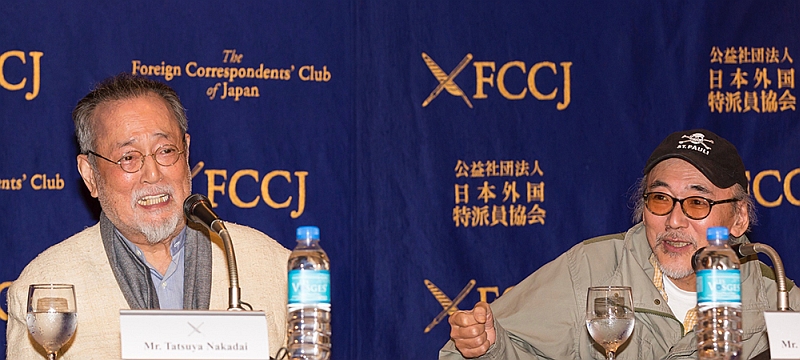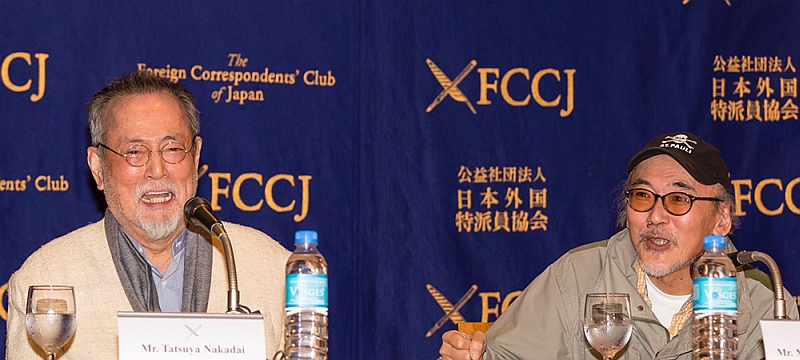 Kobayashi's revelation about the film's final scene came as a surprise to his star.  ©Mance Thompson
And he went on, "To speak about Mr. Kobayashi's work, [after this third collaboration] I think there's a connecting thread between these three films. Although he hasn't said it to me directly, they're all about aging and about whether you're able to say, when you have death staring at you, 'I have lived this life to the fullest.' I presume that's the common thread he's after. But on set, I just follow his orders."
Kobayashi was asked about his unusual shooting style, especially his choices of camera angles and long takes. "It's a difficult question to answer concisely," the director responded, "but I would say that a lot of thought went into what you see on the screen. It was intentional, for the first half, to have many long shots. What I was aiming at was to find a way to bring both comedy and pathos into the scenes. I think the long shots, with a tiny person in a vast landscape, are much funnier.
"The second half was also intentional," he added. "But despite going into the shoot with a meticulous plan and storyboards, you have to look at your actor, see what kind of acting he's doing and decide which approach would best reflect his acting."
"Mr. Kobayashi does long, long takes," confirmed Nakadai. "There was a lot of dialogue that I had to remember. For Japan's Tragedy, he kept the camera on my back for 20 minutes without cutting. That was one single cut. I was shocked by that. But I was quite satisfied when I saw the finished film, and I finally understood what he was getting at."
A foreign journalist asked about the film's unusual setting. "I've seen Lear done in the park, but I've never seen it on the beach," he said. "Was that freeing for you?"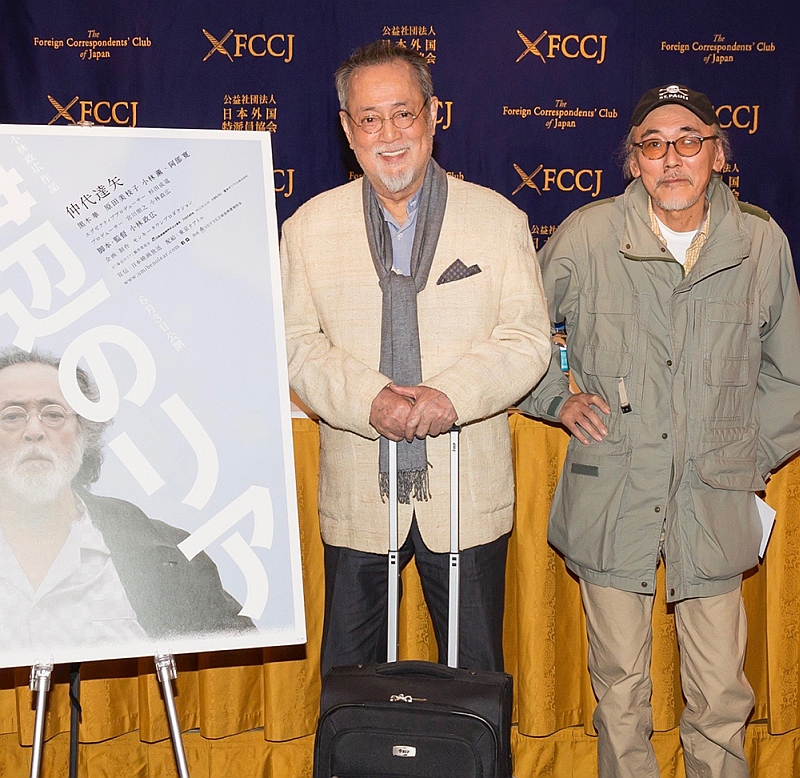 Chokitsu's very suitcase is reunited with Nakadai during the photocall.   ©Mance Thompson
Nakadai laughed. "No, actually. The background doesn't have much to do with the acting. Whether you're acting on stage or on a set or on a beach on the Noto Peninsula, like this time, it doesn't affect the acting approach. But I'm not a good swimmer. I can't swim. So [for the final scene], we had to rehearse the night before shooting. Mr. Kobayashi had asked me, 'Can you bear to be underwater for 10 seconds?' I said, 'Well, I don't know how to swim.' And he said, 'We'll have to rehearse.' We were in an onsen town, so we went to the bath together and rehearsed." He noticed the audience tittering and stopped. "I'm sorry to crush your imagination. I apologize."
He continued, "But I think Ms. Kuroki had the conscience to [pull me out of the water] a little faster than planned, because she was worried about me."
Kobayashi interjected, "In fact, I decided to wait more than 10 seconds. Ms. Kuroki was ready to jump into the frame but I tugged at her hand and told her to wait a few more seconds."
Nakadai shot him a look and then laughed appreciatively. "What a cunning director you are!"
And then he leapt to his feet to instigate the photocall.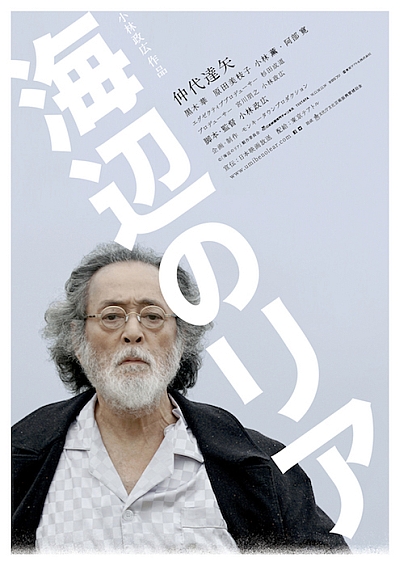 ©2017 "Lear on the Shore" Film Committee
Posted by Karen Severns, Friday, June 02, 2017
Press Coverage
Read more
Published in: May
Tag: Tatsuya Nakadai, Masahiro Kobayashi, Akira Kurosawa, Ran, King Lear, dementia, Haru Kuroki, Hiroshi Abe    
Comments