What Makes a Man? An Intimately Intertwined Enigma Unravels
Sneak Preview Screening: "A Man (Aru Otoko)" followed by a Q&A
with director Kei Ishikawa and novelist Keiichiro Hirano
Tuesday, November 1 at 6:00 pm*
*Please note early start time.
In Japanese with English subtitles
Japan 2022 121 minutes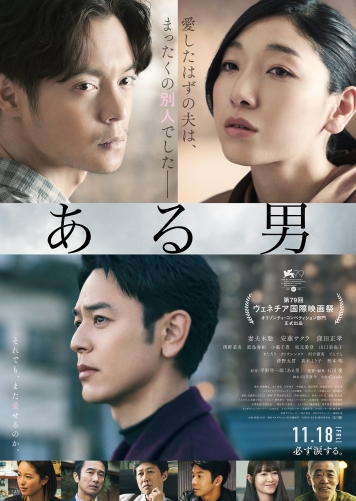 Directed by: Kei Ishikawa    
Written by: Kosuke Mukai, based on the novel by Keiichiro Hirano
Produced by: Minori Tabuchi, Shuhei Akita
Starring: Satoshi Tsumabuki, Sakura Ando, Masataka Kubota, Nana Seino
Film courtesy of Shochiku
Rie (Ando) is still grieving the loss of her young daughter and her past life in Yokohama when a kindred soul arrives in the family stationary store amid a rainstorm one day. Daisuke (Kubota) has come to this quiet backwater town to work in the lumber industry, but he has a real passion for sketching. Rie is charmed by his childlike drawings, and he deeply empathizes with her loneliness. Soon, the two have fallen in love and Daisuke happily becomes father to Rie's young son and their new daughter. But then tragedy strikes.
Rie contacts her former attorney in Yokohama, Kido (Tsumabuki), for assistance, never imagining what he will discover about her husband. As Kido grapples with the ongoing impact of his own racial heritage, the third-generation Zainichi Korean lawyer finds himself becoming obsessed with uncovering the truth about Daisuke's past. Soon, his own model family life is falling apart.
In this quiet, devastating film about the very nature of identity, the burdens of inheritance, and the unshakable bonds of love, adapted from Keiichiro Hirano's acclaimed novel, Kei Ishikawa addresses pressing societal issues and delves into insuperable philosophical questions, all the while juggling a complex, multilayered mystery story and guiding his all-star cast to exceptional performances.
Please join us for this sneak preview of the deeply affecting "A Man" prior to its Japanese release on November 18.
For more (in Japanese): https://movies.shochiku.co.jp/a-man/
Director KEI ISHIKAWA studied physics at Tohoku University and film directing at the Polish National Film School. After making several short films that screened at film festivals worldwide, he directed the Japanese-Polish co-production "Baby," which won the Bucheon Award from the Network of Asian Fantastic Films (NAFF) in 2013. His feature debut, "Gukoroku: Traces of Sin," premiered at the Venice International Film Festival in 2016 and won many awards. In 2019, "Listen to the Universe" won best picture at the Hochi Film Award and best director at the Mainichi Film Awards. "A Man" premiered in competition in the Venice Film Festival Orizzonti section.
Author KEIICHIRO HIRANO has written more than 15 novels since his 1999 debut "The Eclipse," which had made him the youngest-ever winner of the prestigious Akutagawa Prize. He received the Bunkamura Prix des Deux Magots for "Dawn" (2009), and "At the End of the Matinee" won the Watanabe Junichi Literary Prize in 2017, became a runaway bestseller and later a hit film. Many of his books have been translated and are widely read. "A Man," which won the Yomiuri Prize for Literature (2019), was the first of his novels to be translated into English, followed by "At the End of the Matinee" last year.
Please make your reservations at the FCCJ Reception Desk 03 3211-3161 or register below.
All film screenings are private, noncommercial events primarily for FCCJ members and their guests.
We kindly ask for your cooperation with Covid-19 prevention measures at the reception desk and masks are absolutely mandatory on the premises.
    
- Karen Severns, Film Committee
New Special Late-Night Menu for Film Nights
From November 1, the bar will serve a special late-night menu for filmgoers who place their orders by 9:00 pm.
The menu will include traditional Indonesian Nasi Goreng with Krupuk Udang (prawn crackers) for 1,400 yen and
Texas-style baked cheese nachos for 750 yen. Please join us.
Karen Severns and Ilgin Yorulmaz, Film Committee