The Foreign Correspondents' Club of Japan is a top venue for hosting events, located right in the center of Tokyo overlooking the Imperial Palace.  We are a full-service venue with on-site skilled professionals to make every event successful.
Press conferences, forums, product launches, lunch and dinner meetings, receptions, formal dinners and weddings are just a sampling of what we can do.  Our experienced, staff not only understands that each event is unique and has its own specific goals, but they also know how to help achieve those goals and solve issues that arise.
 
Please contact us to see how we can help plan your next event.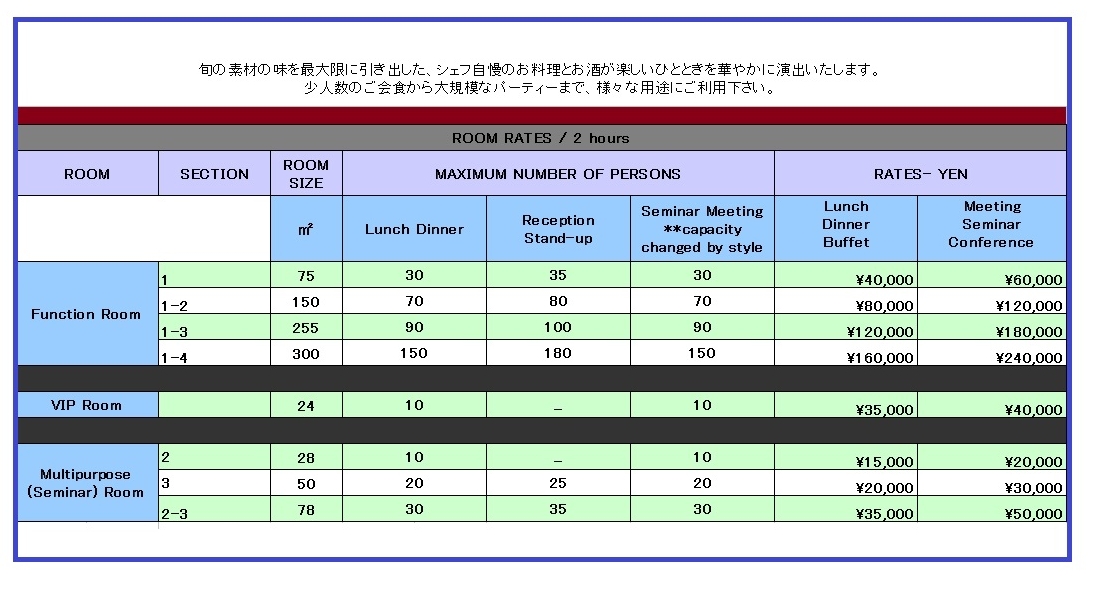 Food
Buffet or course meal is available from 4,000 yen upon request. Please note that a buffet is suitable for more than 20 participants.
Beverages
Per-glass charge or all-you-can-drink is available. If it is likely that each participant will drink more than four glasses of alcohol in two hours, all-you-can-drink (2,000 yen for two hours) is more suitable.
Equipment
Projector & Screen (80 inch)           10,000 yen    
Projector & Screen (100 inch)         11,000 yen
Screen (80 inch)                                1,500 yen
Screen (100 inch)                              3,500 yen
Piano                                                10,000 yen
Piano Tuning Fee                             15,000 yen
For More Information
Please contact us at 03-3211-8171
Operating Hours: 10:00-18:00, Monday-Friday