An outcast finds his voice and fights to restore human dignity in Meiji Japan
Sneak Preview Screening: Broken Commandment (Hakai)
followed by a Q&A with director Kazuo Maeda and actor Shotaro Mamiya
Tuesday, June 28 at 6:00 pm*
*Please note early start time.
In Japanese with English subtitles
Japan 2022 119 minutes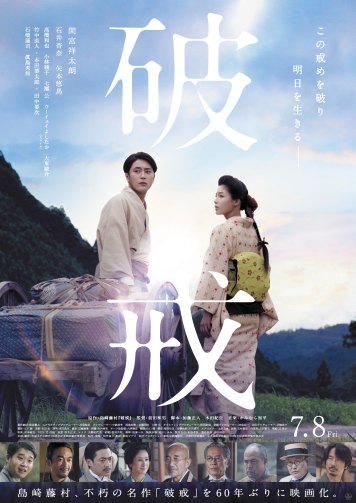 Directed by: Kazuo Maeda    
Written by:  Masato Kato, and Norio Kida, based on the novel "Hakai" by Toson Shimazaki
Produced by: Hiroyuki Chubachi, Hiroki Fukushima
Starring: Shotaro Mamiya, Anna Ishii, Yuma Yamoto, Kazuya Takahashi,
Ayako Kobayashi, Kou Nanase, Wooyear Yoshitaka, Shunsuke Daitoh,
Naoto Takenaka, Hirotaro Honda, Yohji Tanaka, Renji Ishibashi,
Hidekazu Mashima
Film courtesy of Toei Video
One hundred years ago, the Founding Congress of the Zenkoku Suiheisha issued Japan's first-ever human rights declaration, arguing that Burakumin, Zainichi Koreans, Ainu and other "disadvantaged minorities" deserved the same respect accorded others, and encouraging them to overcome "contemptible class differences" by uniting in efforts to "emancipate ourselves by promoting respect for human dignity."
Marking this important centenary - and reminding us that there is still much work to be done - is Kazuo Maeda's moving new adaptation of Toson Shimazaki's classic 1906 novel, "Hakai" (The Broken Commandment). It is the first film adaptation in 60 years of the timeless masterpiece, which was previously brought to the screen by Keisuke Kinoshita in Apostasy (1948) and by Kon Ichikawa in The Outcast (1962).
Set against the backdrop of the Russo-Japanese War, "Broken Commandment" tells the story of Ushimatsu Segawa (Mamiya), a compassionate rural schoolteacher who is living a lie that extracts a heavy toll on his soul. In childhood, Ushimatsu promised his father to never reveal his roots in the hisabetsu buraku (discriminated class), as he would be labeled an eta (pariah). It's a secret that has allowed him to become educated and avoid social rejection, but has also brought him a great deal of private agony.
Ushimatsu idolizes Rentaro Inoko (Mashima), a burakumin rights' activist and successful writer, whose latest work begins with the brave confession "I am an eta." But the schoolteacher is in love with a young woman from the former samurai class, Shiho (Ishii), and his courage fails him whenever he attempts to confess the truth to her. Unfortunately, a new colleague is also interested in Shiho, and sets about fomenting suspicion about Ushimatsu's background. He must either find his voice or flee.
"Broken Commandment's" stirring depiction of a man's awakening touches on issues that continue to plague us, from racism, classism and sexism to militarism. As the production notes put it, "Japan today is in a situation similar to that of the age of nationalism at the end of the Meiji period, with constitutional reform, revision of the Imperial Rescript on Education, and the rise of the opinion that war is inevitable."
Please join us for this sneak preview of "Broken Commandment" before the Japan release on July 8, 2022.
For more (in Japanese): https://hakai-movie.com
Director KAZUO MAEDA began his career as an assistant director for TV series at Kokusai Hoei, Toho, Daiei and Toei. In 1985, he directed and produced four large-scale exhibition films for the Tsukuba Science Expo, focusing on the indigenous cultures of various regions in Japan. He has since directed films, commercials, TV dramas, large-scale exhibition films, and promotional and educational films. His major works include "Fevered Angels" (1999) with Kippei Shiina, and "Mimi wo Sumasu" (2005), winner of the Grand Prize at the Educational Film Festival and the Minister of Education's Prize.
Actor SHOTARO MAMIYA made his acting debut on the TV series "Scrap Teacher" (2009) and worked steadily on the small screen and on stage before making his film debut in 2016 with "Litchi Hikari Club." Highlights of his ensuing film career include "Teiichi: Battle of Supreme High" (2017), "Death Row Family" (2017), "He Won't Kill, She Won't Die" (2019), "Red" (2020) and "Tokyo Revengers" (2021).
Please make your reservations at the FCCJ Reception Desk  03 3211-3161 or register below.
All film screenings are private, noncommercial events primarily for FCCJ members and their guests.
We kindly ask for your cooperation with Covid-19 prevention measures at the reception desk and that you wear a mask on the premises.
- Karen Severns, Film Committee