Image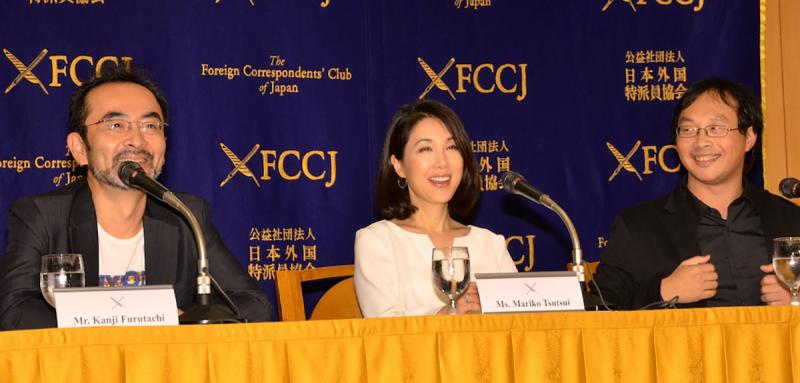 Extreme weight gain or loss for a film role is such a common celebrity headline in the West that it's all become a bit ho hum. After Robert De Niro snagged an Oscar for packing on pounds to play Jake LaMotta in Raging Bull, a long line of stars has followed suit, from Renee Zellwegger and Charlize Theron (big gains for Bridget Jones' Diary and Monster) to Christian Bale and Matthew McConaughey (big losses for The Machinist and Dallas Buyer's Club).
But such feats aren't common in Japan*, so when this exchange occurred at the beginning of the Q&A session for Harmonium, there were audible gasps from the audience:
Question: "How did you prepare to portray this couple who change so much between the first and second part of the film, which commences 8 years later?"
Mariko Tsutsui: "After reading the script, I realized my character undergoes drastic changes. I knew right away that it wouldn't be enough to express her inner turmoil without going through some physical changes, as well, and I discussed with the director how we might achieve that. One thing we did was to shoot in sequence."
Koji Fukada: "Since Ms. Tsutsui is too modest to mention this herself, I will add that she took the character's physical transformation seriously, and gained 13 kg [29 pounds] in 3 weeks."

Fukada can now add a Cannes Jury Prize to his mantel. ©Mance Thompson, Koichi Mori
The gasps erupted partially because Tsutsui was so glamorously slender on the FCCJ stage, and partially because the Method approach to acting has so few practitioners in Japan. One of them, coincidentally, was sitting right next to Tsutsui — her costar, Kanji Furutachi. The popular actor studied at the famed HB Studio in New York with Uta Hagen, Carol Rosenfeld and others, and his fellow alumni include De Niro, Al Pacino, Liza Minnelli, Anne Bancroft and Matthew Broderick.
Despite such bragging rights, Furutachi's disarming modesty remains intact. "No matter what kind of character I depict, I usually take the same approach," he admitted. "For this film, I hadn't had any of the experiences that my character has, so I had to rely more on my imagination. But I think I made the right decisions. I hope I made the right decisions."

Tsutsui is a theater and TV veteran with lengthy film credits, but this marks her first starring role.  ©FCCJ, Koichi Mori
Tsutsui mentioned that she'd made her decisions based on "hints" she received from Fukuda regarding his own parents' relationship, which was obviously fraught. "Mr. Furutachi and I are both theater veterans, and it's very easy for us to communicate because we can be straightforward with each other and say what we want to each other. But it does seem like our banter comes off like we're a husband and wife squabbling. That helped us during the shoot."
Interjected Furutachi (in English, without realizing he'd switched languages), "I think that's due to the magic of Mr. Fukada. We were perfectly cast as this couple. It's amazing. It's not like we had to even pretend, or make up something we didn't have. Maybe it was already there."
The director was asked how he managed to find two actors of the same caliber as international star Tadanobu Asano, thus assuring he wouldn't eclipse his costars. Said Fukada: "While I was writing the script, which was about 10 years ago, I already had Mr. Furutachi in mind [in the interim, the actor would play the interloper in Fukada's 2010 breakout hit Hospitalité, a role similar to Asano's in Harmonium]. Then three years ago, when we got the greenlight to go ahead, the producers suggested Ms. Tsutsui, and I saw right away that she would be perfect for the role of his wife. After that, we cast Mr. Asano. So he was actually cast last, after these two were already in place."
As Harmonium's inscrutable stranger in white coveralls, Asano is haunted and haunting; but his quietly commanding performance is more than matched by Furutachi and relative unknown Tsutsui, who is the true revelation here, particularly in her second-half transformation (the weight helps, but there is also gut-wrenching emotional heft).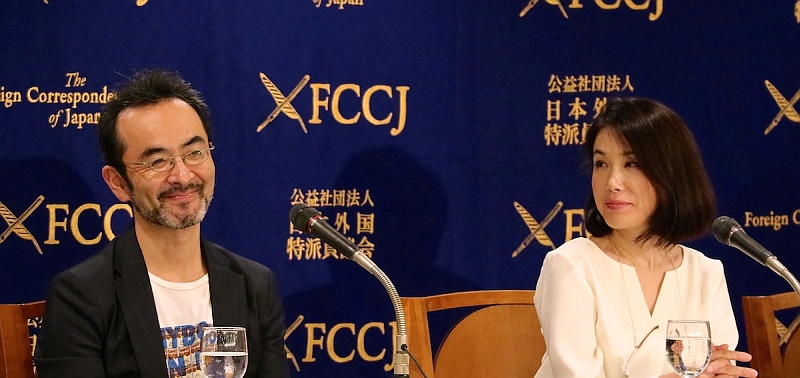 Furutachi and Tsutsui, an even match.  ©Koichi Mori
The synergy between all three costars is nothing short of startling, surely a contributing factor to the film's success at Cannes, where it emerged with the Un Certain Regard Jury Prize despite intense competition in a lineup that also included Cannes-favorite Hirokazu Kore-eda. The French festival does love dark portraits of fractured families, to be sure, but Fukada's win is a remarkable achievement for the indie filmmaker, whose budgets — impossibly low, even by Japan's rock-bottom standards — have been no match for his ambitions.
In just over a decade since his debut, Fukada has worked in a variety of genres and received awards for all his work (from black comic romp Hospitalité, to gentle coming-of-age frolic Au revoir l'eté, to apocalyptic fable Sayonara), but none has been quite as enigmatic, as strangely alluring yet serious minded, as his latest. While he has always infused his stories with Timely Themes (racism, ostracism, exile due to nuclear disaster), they have never overshadowed his central focus, which is forever and always on the disconnection between family members.
With Harmonium, he proves that he is not afraid to confront and crush the conventions of that most hackneyed of genres, the Japanese family drama. In the film's production notes, Fukada wrote: "I'm tired of all these Japanese films idealizing family ties. By continuing to relay this outdated and stereotypical image of an 'ideal family,' we deny the various other family types that actually exist."


Furutachi told the audience: "I actually come here sometimes to see films, so I usually sit on your side, looking this way. Tonight, I'm very honored  to be sitting on this side, looking the other way."     ©FCCJ
In Harmonium we watch, with sinking heart, as one such "family type" collapses following the arrival of an old acquaintance. We've just barely met Toshio (Furutachi), his wife Akie (Tsutsui) and their young daughter Hotaru (Momone Shinokawa) when Yasaka (Asano) arrives, just out of prison for murder and somehow linked to Toshio's past. Without consulting his wife, with whom relations are noticeably strained, Toshio moves the new arrival into a spare room in their cramped quarters, and puts him to work in the small factory downstairs. Yasaka is well mannered and hard-working; he washes his own dishes and wins over Hotaru with a blithe tune on the harmonium, which she's attempting to play. He also wins over Akie, attending church with her and confessing his past sins. But their flirtation clearly alarms Akie, even as her husband remains oblivious. Then one morning, a tragedy occurs, and the final estrangement of family members is complete. As the story jumps forward in time, the aftermath is chilling to behold. Probing undercurrents of surprising philosophical depth, Harmonium ends with an ambiguity that will incite discussion long after its final, devastating moments.
Film critic Mark Schilling, who would later bestow a rare 4.5 out of 5 stars on the film in the Japan Times, mentioned that on his second viewing, Harmonium's depiction of evil reminded him of Stanley Kubrick's The Shining. Fukada demurred. "I didn't want to depict Yasaka as an antihero or a villain or anything that could be construed as charismatic, because I don't think there's a clear line between what is evil and what is good. It's not black and white. I think we live in degrees of gray. Evil depends on what perspective you view it from. In some scenes Yasaka is gentle and kind, in some he's very threatening, in some he's gripped with an anger he can't control. I wanted to depict him in a multifaceted way."
When Fukada was asked where the idea for the story came from, he laughed, "I get that a lot." After admitting that he couldn't remember exactly what he was thinking 10 years earlier, he noted, "I do remember that I wanted to depict how violence could come into someone's life in such a random way, and just shatter it. Car accidents and acts of god can drastically change the course of life. I wanted to depict violence in a way that defies logic, defies cause and effect, defies crime and punishment."
With the Cannes trophy leading to an uptick in international sales, audiences in France can look forward to seeing Harmonium in theaters in December, while US audiences will have to wait only until early 2017.
*Perhaps this is about to change, with Tsutsui's in Harmonium, and Kenichi Matsuyama's 35-pound gain to play chess champion Satoshi Murayama in the upcoming Satoshi: A Move for Tomorrow.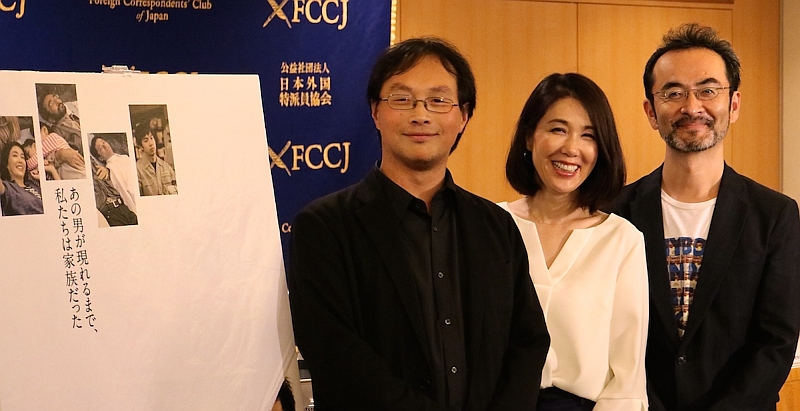 ©Koichi Mori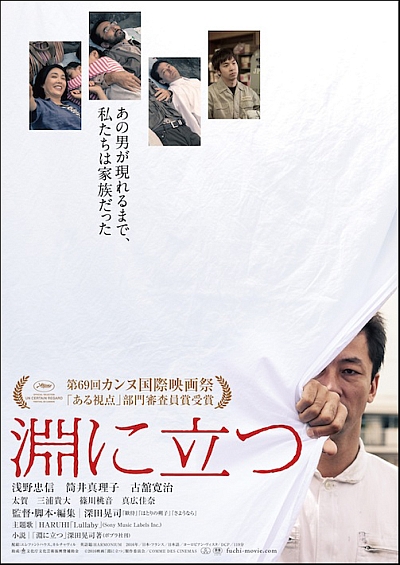 ©2016 FUCHI NI TATSU FILM PARTNERS & COMME DES CINEMAS
Posted by Karen Severns, Saturday, October 01, 2016
Media Coverage
Read more
Published in: September
Tag: Koji Fukada, Kanji Furutachi, Mariko Tsutsui, Cannes Film Festival, awardwinning    
Comments