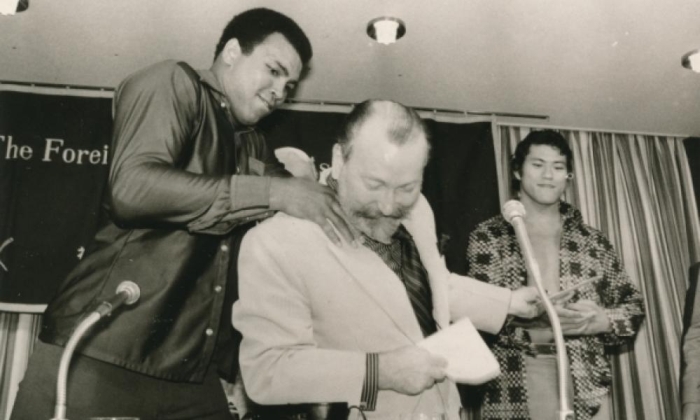 The FCCJ has seen more than it's share of the famous and infamous. On June 18, 1976, Muhammad Ali choked out the Club's Alvin Cullison while Antonio Inoki, who he was to fight in an upcoming bout, looks mildly interested.
ADVERSITY IS OFTEN THE TRIGGER for organizing press clubs. So it was in September of 1945 when, soon after the Occupation of Japan commenced under General Douglas MacArthur, disgruntled war correspondents banded together for a common cause. They opposed restriction of the number of journalists permitted into Japan due to insufficient billets during those chaotic weeks following the surrender. This small group of correspondents quickly formed "The Tokyo Correspondents Club," the forerunner of the FCCJ.
Faced with a lack of living quarters, the first objective of the new press club, headed by Howard Handleman (INS) with Don Starr (Chicago Tribune) and William Dunn (CBS) as 1st and 2nd vice-presidents, was to find a place to house correspondents coming to Japan. They found the war-battered, five-story Marunouchi Kaikan, derelict but still serviceable, located between MacArthur's headquarters in the Daiichi Seimei building and Tokyo Station. This they leased and repaired to provide hostel services for some 170 correspondents, making it operational in November of 1945 even before repairs were completed. They called it "No. 1 Shimbun Alley."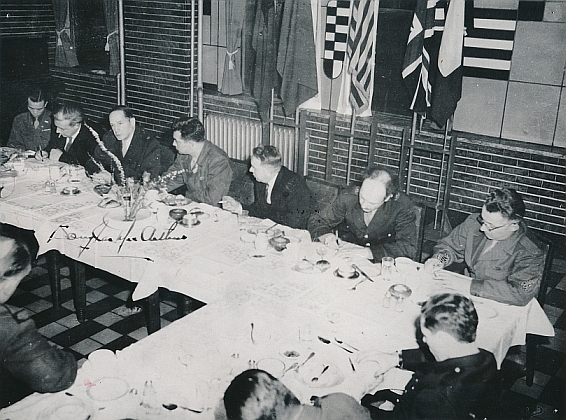 General Douglas MacArthur (3rd from left) at the Club, Mar. 17, 1947
Located in Marunouchi, the district between Tokyo station and the Imperial Palace, the "Alley" was part of Mitsubishi Estate's holdings that were later incorporated into one of those block-sized buildings erected after the Occupation. However, Marunouchi's nearby central street, Naka-dori, stretching ten blocks between Otemachi and Hibiya, would continue to be the Club's playground even after several moves. Not a bad place to be located, Naka-dori was convenient and destined to become Tokyo's somewhat narrower version of Park Avenue. The fabled Ginza district was also within walking distance.
"In June of 1950, the Korean War broke out,
and correspondents
once again surged into Japan"
Of those early war correspondents, a dwindling number kept the world informed about Japan's transformation under the Occupation, but by mid-1947 only 40 members remained. The Club was in straitened circumstances, with social events such as weekly dances and special dinners introduced to generate revenue toward the end of the 1940s. Then, in June of 1950, the Korean War broke out. Correspondents once again surged into Japan to cover that conflict, and Club membership jumped to a high of 350. Eighteen correspondents who died in the Korean conflict are memorialized on a plaque in the Club's entryway.
Sovereignty returned to Japan in 1952, bringing the Club under Japanese law. It changed its name to "The Foreign Correspondents Club of Japan" (FCCJ), and became a non-profit incorporated association (shadan hojin) sponsored by Japan's Foreign Ministry. But declining membership again became a problem following a rapid drop-off in correspondents after the 1953 Korean armistice, which led the Club in 1954 to move into the vacated American Club premises on a nearby corner property facing on Naka-dori. This move altered the character of the Club; the hostel atmosphere became a fading memory and there was a rapid increase in Associate members.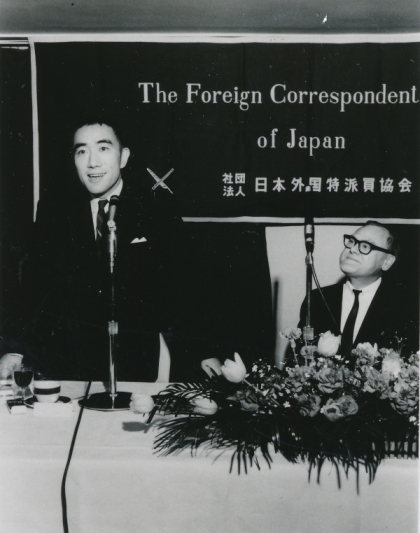 Yukio Mishima (and John Roderick), April 18, 1966
THE CLUB FROM ITS INCEPTION HAS been run by Regular members, correspondents assigned to Japan who elect from among their peers Club officers and Board directors as well as volunteers to participate in the many committees that make the Club viable and interesting. Associate membership, initially for family members, was a separate category from the first Club constitution in 1946. Non-family Associate members, such as accountant Bill Salter who contributed much to the smooth operation of the Club, became active from 1947. Over the years, many Associate members, like Salter, volunteered their talents as well. The ratio of Associates to Regular members was set at four-to-one in the mid-1960s.
In 1958, the FCCJ again moved down Naka-dori toward Hibiya to what would be its home for the next 18 years, the Chiyoda Building Annex. This new home had greater appeal for members in terms of layout and location. The FCCJ occupied the lower floors, with the main bar and dining room just upstairs from the first-floor reception, a library much expanded from its start in 1947, and workrooms available around the clock. A stag bar in the basement featured a huge calendar photo of a nude Marilyn Monroe, with competition at the entrance from an equally large photo of a nude Japanese model holding a "For Stags Only" sign. Such male chauvinistic touches later disappeared, with the "stag" tag being replaced in 1973 by a new/old name, "Shimbun Alley."
Entertainment and social events proliferated after the 1958 move, as the Club increasingly became the center of social life for members. Most popular from Year One were the anniversary parties, major events featuring skits by members who loved to spoof themselves and skewer the mighty. With changing times the skits fell by the wayside, as did the Inaugural and New Year's Eve parties, but in compensation a greater variety of parties appeared from the 1960s, including national "Nites" supported by embassies (ambassadors are FCCJ honorary members), cultural events scrutinizing aspects of Japan, prefectural offerings, wine and sake tastings, musical evenings, and movie nights, all of which continue today. The movie nights of earlier years later morphed into special presentations at which film directors were often present.
The FCCJ vs the 'press club' system
In 1959, foreign media encountered obstacles in their efforts to cover the wedding of Crown Prince Akihito and Michiko Shoda, bringing into focus the problem of access to local news sources. This prompted formation of the Foreign Press in Japan (FPIJ), sponsored by the FCCJ, to deal with coverage issues and freedom of the press. A key problem was, and is, Japan's kisha kurabu ("press club" or "reporters' club") system with its hundreds of small "clubs" attached to ministries, agencies, trade associations, and so on, that mostly limit access to press events to their own members. With the FPIJ as a key go-between, coverage of the 1964 Tokyo Olympics went much more smoothly, showing the value of the organization.
Professional activities—critical to the Club's identity—saw the Occupation-era military briefings and occasional press luncheons—attended by General MacArthur and other luminaries—replaced from the 1950s by more, and more varied, professional events. Club records show only two such events in 1956; this jumped to 30 within ten years and eventually vaulted past the 100 mark from 1991. Speakers at these events included prime ministers, presidents, foreign ministers, ambassadors, religious leaders, movie stars, cosmonauts, astronauts, writers, scholars, financiers, business tycoons, and experts from every field of human endeavor one can imagine – including a heart-transplant surgeon.
The Club's monthly publication, No. 1 Shimbun was founded in 1968 to keep members informed of Club affairs as well as professional and social events. A year later, it featured the first appearance of royalty at the Club, a reception for Princess Margaret and Lord Snowdon. Countless Club events have been covered since, including our semi-annual golf tournaments and our one-time softball team, the "Alley Cats." But no doubt one of the most memorable events covered was the 1974 professional luncheon with Prime Minister Kakuei Tanaka believed by many to have accelerated his downfall in connection with various scandals, including later Lockheed revelations. This generated contentious fallout within the Club as well as criticism from the Club's sponsor, Japan's Ministry of Foreign Affairs.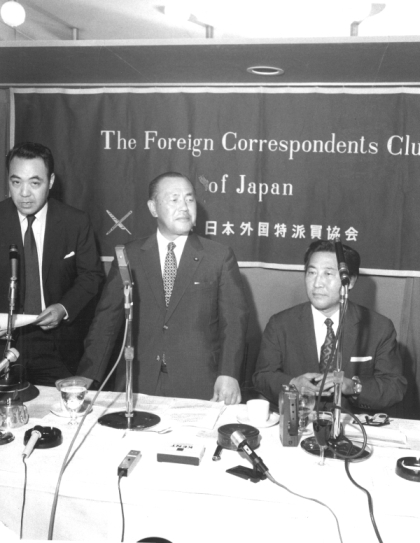 Prime Minister Kakuei Tanaka, October 11, 1972
RELOCATION CAME AGAIN IN 1976, this time to premises with a view. The 20th floor of the Yurakucho Denki Building on the corner of Naka-dori and Harumi-dori, the broad street separating the Marunouchi and Hibiya districts where it enters the Ginza area, became our new home. The views of a distant Mt. Fuji and much of Tokyo Bay delighted members, but over time these have become partially blocked by high-rise buildings mushrooming around us. A glance from the dining-room window down Naka-dori toward Otemachi still takes in Marunouchi, Japan's largest business district, as well as a partial view of the Imperial grounds, while the main bar overlooks the Ginza district.
In retrospect, each move, abetted by changing times, affected the Club's character. The 1954 move ended the war-correspondent era, even though members continued to cover conflicts in Asia. After the 1958 move, camaraderie at the Club became more diffused with the advent of business correspondents covering Japan's sustained economic growth and trade anomalies. A turning point came in 1964 when a business correspondent was for the first time elected FCCJ president, to the dismay of some generalists. Continuing specialization in business areas, finance, science, and culture followed the 1976 move to the Yurakucho Denki Building, with lessening camaraderie attributed to the specialists replacing the generalists of yore as a majority in the Club.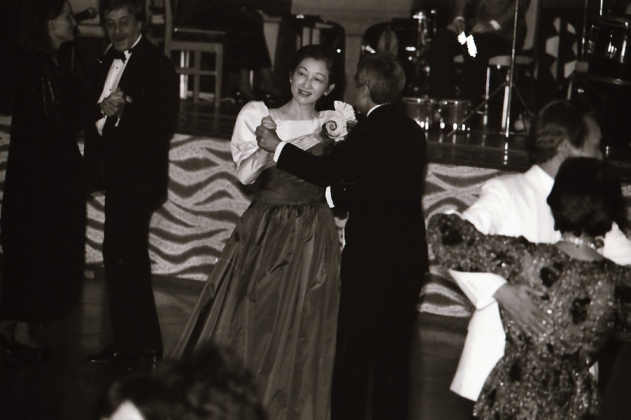 Then Crown Prince Akihito and Princess Michiko at the FCCJ's 40th anniversary party, Nov. 29, 1985        
(photo by Sadayuki Mikami, AP)
However, there was no lack of this spirit at our gala 40th anniversary party in 1985, with Crown Prince Akihito and Princess Michiko as special guests. But similar complaints came again in 1990 after installation of a sushi shop in place of the small "Shimbun Alley" bar, still dominated by the blowup of Marilyn Monroe, resulted in a diaspora of old-timers who had adopted it as a sanctuary. Although less noted, a far greater catalyst for change was the rapid growth of the digital age and networking that lessened the need to use Club facilities or to rub antennae with other journalists.
"1995 saw the Great Hanshin Earthquake
that destroyed Kobe 
and the
Aum Shinrikyo nerve-gas attack
in Tokyo"
Calamitous news in 1995 in the form of the Great Hanshin Earthquake that destroyed Kobe in January and the Aum Shinrikyo nerve-gas attack on a Tokyo subway in March caught the world's attention. However, Japan's bursting economic bubble in the early 1990s and the subsequent "lost decades" were to result in coverage shifting away from Japan to China and Korea in the new millenium. Overshadowing them all as news, including the bankruptcy of Japan Air Lines in 2010 and the Olympus Corporation scandal of October, 2011, were the triple events of earthquake, tsunami, and Fukushima nuclear plant meltdown on March 11, 2011. Journalists from around the world came to cover the aftermath.
THE YEAR OF 2011 WAS ALSO CRITICAL to the Club because of a revision to Japanese laws governing non-profit activities that would eliminate the FCCJ's shadan hojin legal status in 2014. After much debate, members opted to seek koeki or "public-interest" status, which means that 50 percent or more of Club funds must be used for public service or benefit. To meet this goal, the Club took action to outsource its food-and-beverage operations, which required a large and painful reduction in Club staff. A referendum in 2012 approved the Club's new Articles of Association as a koeki shadan hojin by a two-thirds majority, and a related revision of the Bylaws was passed in 2013. These will take effect upon change of status on April 1, 2014.
Despite changes, the FCCJ remains one of the oldest, largest and most active press clubs in the world in which journalistic ambience and the spirit of camaraderie remain alive and well. The membership stands at some 2,000, including in the Regular category over 300 foreign correspondents and their Japanese counterparts who have had significant careers outside Japan as well as over 200 Professional Associates, mostly working for local media. Associate members number somewhat fewer than 1,500 and include entrepreneurs, business executives, and professionals as well as authors and artists. Honorary membership, accorded to ambassadors, speakers at events, and special guests, is a separate category dating from the Club's earliest days that is not counted in our membership rolls.
The Club history, Foreign Correspondents in Japan, provides details and insights of the FCCJ's development over its first 50 years, from 1945 to 1995.