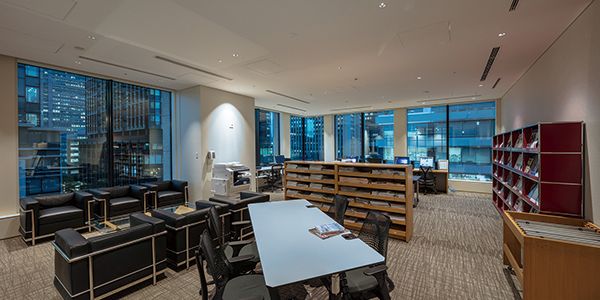 ALLEN RAYMOND LIBRARY 
The Library stocks a wide variety of resources on Japan and Asia including DVDs, books, newspapers in English and Japanese and English language newspaper clippings on Japan. Real-time news wire services from Reuters, Dow Jones, Kyodo News and Internet access are available.
The Library Committee sponsors Book Break events with authors of timely and interesting works. Please see the Book Break page for details and upcoming events.
View some of our Member's Books which are available in the library.
The Library office is open Monday to Friday 10:30-19:00. The office is closed on Saturdays, Sundays and Japanese National Holidays.
K.V. NARAIN WORKROOM
The Narain Workroom has 18 work booths with wired and wireless Internet access for your laptop and 3 telephone booths. It is accessible to regular and guest members 24 hours a day, all year round because FCCJ is where the news is made.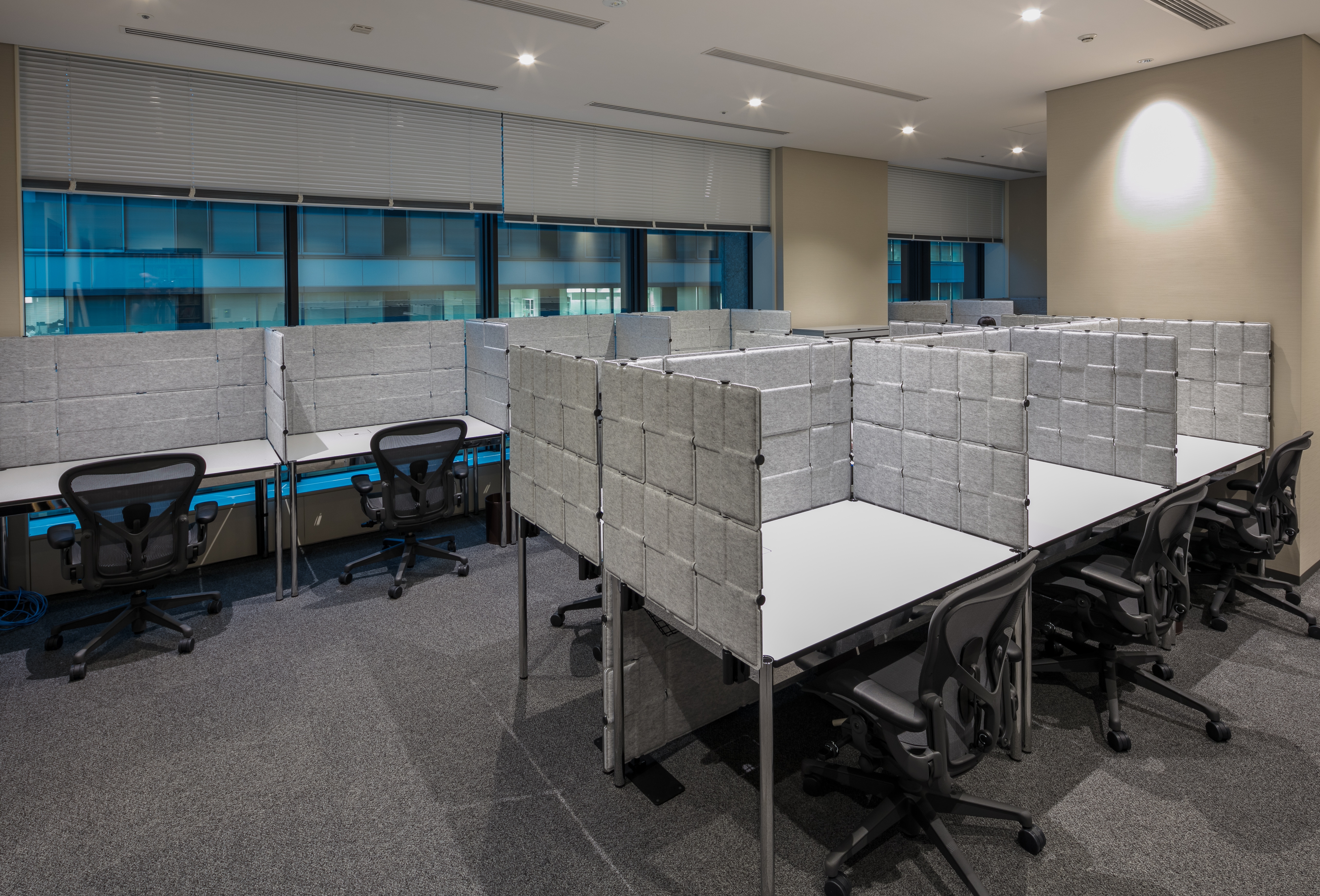 LIBRARY RESOURCES
The following major news resources are available in the library (as of December 2020):
Databases
Factiva
Nikkei Telecom
Wire Services
Kyodo News (English) / Jiji News (English) / Reuters
The databases may only be accessible on site (No remote access available).
Newspapers (English language) in alphabetical order
Guardian Weekly / Financial Times / International New York Times / Japan News (by the Yomiuri Shimbun) / The Japan Times / The Korea Herald / Stars and Stripes / The Wall Street Journal
Newspapers (Japanese language) in alphabetical order
Asahi Shimbun (朝日新聞) / Fuji Sankei Business i (フジサンケイ ビジネスアイ) Mainichi Shimbun(毎日新聞) / Nihon Keizai Shimbun (日本経済新聞) / Nikkan Gendai (日刊ゲンダイ) / Nikkei Veritas (日経ヴェリタス) / Sankei Shimbun(産経新聞) / Shimbun Akahata (しんぶん赤旗) / Toitsu Nippo (=One Korea Daily News / 統一日報) / Tokyo Shimbun (東京新聞) / Yomiuri Shimbun(読売新聞) / Yukan Fuji (夕刊フジ)
Newspaper (French language)
Le Monde (only available online)
Magazines and Periodicals
Approximately 60 English language titles including:
The Atlantic / Bloomberg Businessweek / The Christian Science Monitor / The Economist / Fixed Ops Journal (Automotive News) / Foreign Affairs / Foreign Policy / GRANTA / Harper's / Harvard Business Review / Mother Jones / National Geographic / The New Yorker / Private Eye / Prospect/ Spectator / TIME / Vanity Fair / Vogue / Writer's Digest / WIRED
Approximately 60 Japanese language titles including;
AERA / サンデー毎日 / 週刊朝日 / 週刊現代 / 週刊新潮 / 週刊文春 / 週刊ポスト / 東洋経済 / 日経ビジネス / エコノミスト/ プレジデント/ 文芸春秋 / 中央公論 / 世界 / 財界 / 選択 / FACTA / リベラルタイム / ZAITEN / サイゾー / フライデー/ 週刊金曜日
1 French language title: Le Nouvel Observateur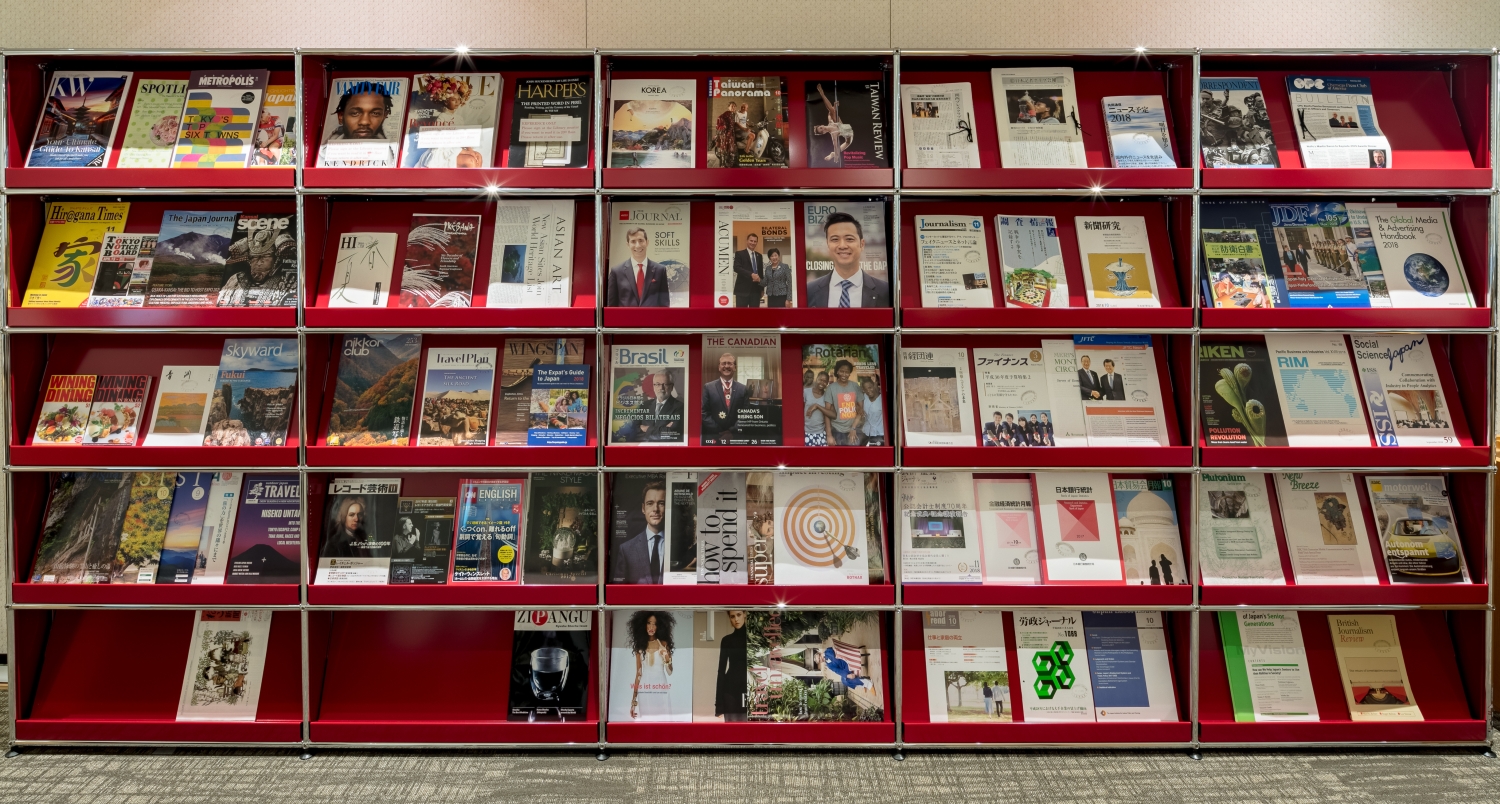 Online publications
Jacobin / NK News / Spiegel Digital (German language) / Academia.com / Jstor