The Pen & Quill
September 29, 2023
New Dining Era with ANAC and Masukomi Sushi Bar with BOS
Dear Members,
It is our pleasure to announce two exciting developments in the club's food and beverage services. On Oct. 2, ANA Catering Service will hold a Grand Opening to introduce its dining services in the main bar and Pen & Quill. The new concessionaire has agreed to serve all of the club favorites, while adding its own specialties to the menu. The wine list has been expanded along with the dessert menu.
Also on Oct. 2, BOS Partners will begin serving sushi and providing an exceptional dining experience at Masukomi Sushi Bar. Mr. Masahiko Ueda, CEO of BOS Partners, based in Tokyo, and "Sushi Sakaba Sushi ichi" in Tennozu Isle serves fine seafood dishes, including sushi. The Masukomi menu will include Kappo-style delicacies.
Please join us at the Oct. 2 Grand Opening to welcome these elite culinary professionals to our club and to enjoy the beginning of a new era of dining at the FCCJ.
Thank you,
Dave McCombs
President
Foreign Correspondents' Club of Japan
-----------------------------------------------------------------

2023年9月29日
FCCJダイニングの新時代到来のお知らせ
ANAC/マスコミ寿司バー (BOS)
会員の皆様へ
この度、当クラブの飲食サービスにおいて2つのエキサイティングな展開を発表できることを嬉しく思います。10月2日に、ANAケータリング・サービスがグランド・オープニングを行い、メイン・バーとペン&クイルでダイニング・サービスを開始いたします。 ANACは、これまでのクラブの人気メニューに加え、独自のスペシャルメニューを加えて下さいます。ワインリストもデザートメニューとともに拡大されます。
また、同じ日の10月2日からはBOSパートナーズがマスコミ寿司バーで、特別なダイニング体験を提供して下さることになりました。
BOSパートナーズCEOの上田雅彦氏は、天王洲アイルで「寿司酒場スシイチ」を経営されており、寿司をはじめ高級海鮮料理を提供しておられます。マスコミ寿司バーのメニューには割烹料理も含まれます。
10月2日から当クラブに来られる両社のエリートシェフの皆さんを歓迎し、ぜひ、FCCJダイニングの新時代の幕開けをお楽しみください。
よろしくお願いいたします。

日本外国特派員協会
会長 デイブ・マッコムズ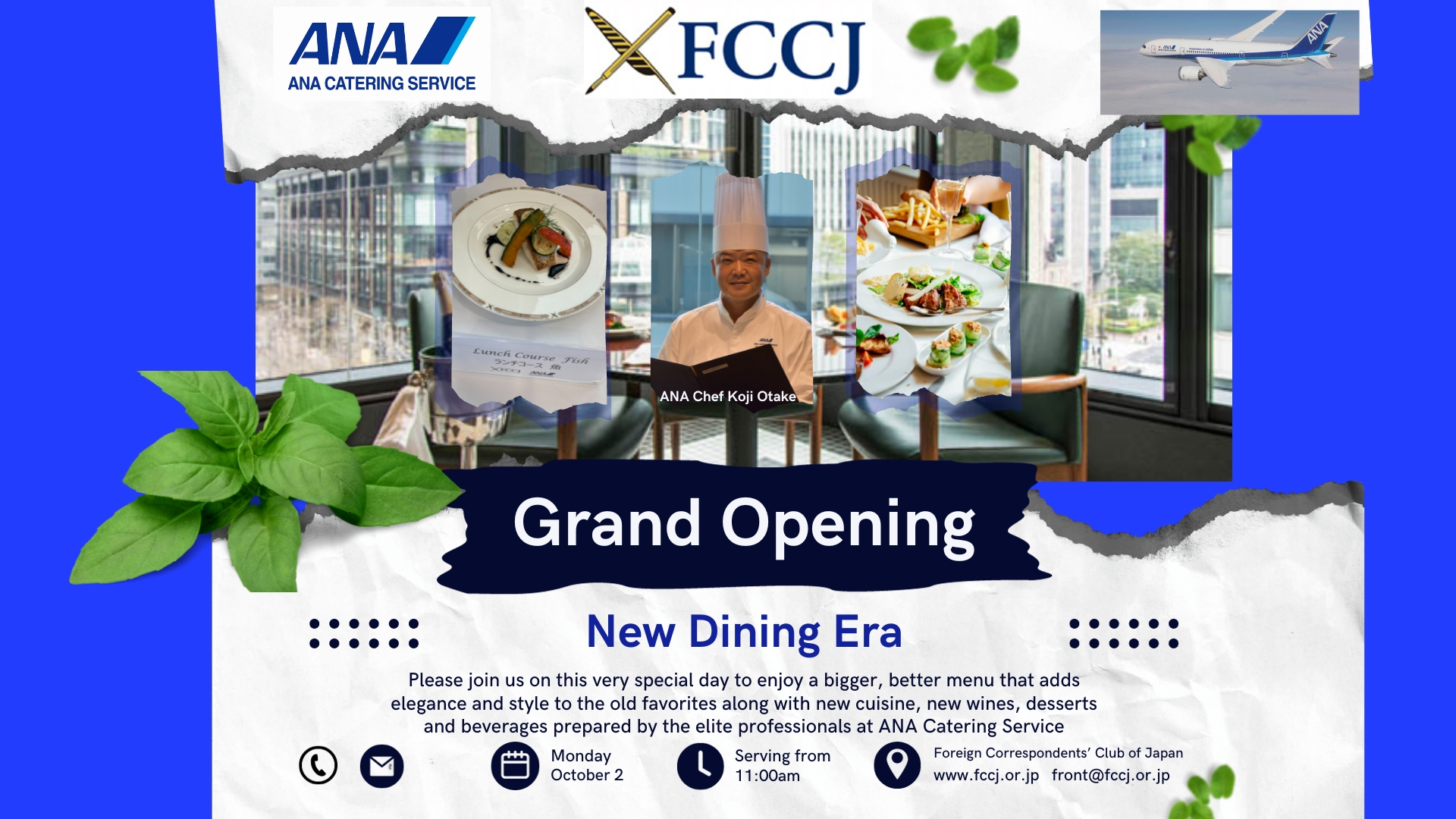 Announcement about new reservation and cancellation policy for ANAC Pen & Quill service
Dear Members,
Working with ANAC, we have upgraded the Pen & Quill menu to offer more fresh seasonal food and spectacular dishes that require more lead time to prepare.
We've also targeted a zero waste policy. To achieve these, we're asking Pen & Quill diners to reserve at least four weekdays in advance for lunch or dinner.
Cancellation policy:
Cancellations or change of number of people made on the day will be charged in full.
Club Management
Lunch: 11:45-15:00 (Last order: 13:30)
Dinner: 17:30-22:00 (Last order: 20:00)
Lunch 3,850 yen (tax included) Menu (as of October 2, 2023)
Lunch 5,500 yen (tax included) Menu (as of October 2, 2023)
Dinner 8,800 yen (tax included) Menu (as of October 2, 2023)
Dinner 13,200 yen (tax included) Menu (as of October 2, 2023)
Please make your reservation at Operation Office 03-3211-8171
Cancellation on the day will be charged in full.

FCCJ Management
------------------------------------------------------------------------------------------------------------------------------------------
お知らせ: ANAC ペン&クイル 新しい予約、キャンセルポリシーを導入します
会員の皆様
ANACの協力のもと、Pen & Quillのメニューをアップグレードし、より新鮮な季節の食材や、準備に時間を要する華やかな料理を提供できるようになりました。
また、廃棄物ゼロを目標に掲げています。これらを実現するため、Pen & Quillをご利用のお客様には、ランチまたはディナーの平日4日前までの御予約をお願いする事になりました。
御不便をおかけいたしますが何卒よろしくお願いいたします。
キャンセルポリシー:
御予約当日のキャンセル、人数変更は全額チャージさせていただきます。
クラブマネージメント
ランチ: 11:45-15:00(ラストオーダー: 13:30)
ディナー: 17:30- 22:00(ラストオーダー: 20:00)
Lunch 3,850 yen (tax included) Menu (as of October 2, 2023)
Lunch 5,500 yen (tax included) Menu (as of October 2, 2023)
Dinner 8,800 yen (tax included) Menu (as of October 2, 2023)
Dinner 13,200 yen (tax included) Menu (as of October 2, 2023)
御予約はオペレーションオフィス 03-3211-8171 にて承ります。
当日のキャンセルは全額ご請求させていただきます。
Sample Wine Menu
皆様のお越しをお待ちしております。
FCCJマネジメント