April 22, 2022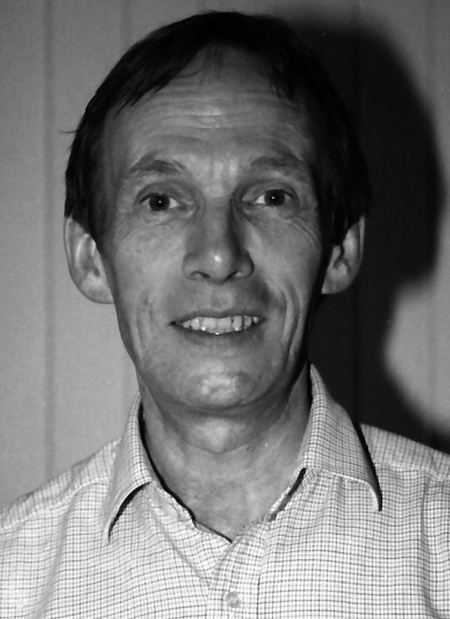 It is with deep sadness and regret that we announce the passing of veteran FCCJ Regular member, foreign correspondent and author Henry Scott Stokes at the age of 83 and after a lengthy period of illness.
Something of a legend in his time, Henry first came to Japan nearly sixty years ago in 1964 when he founded the Tokyo bureau of the Financial Times. which he headed until 1967 when he became bureau chief of The Times of London. He later went on to become Tokyo Bureau Chief of a third leading international newspaper, The New York Times, a position he occupied from 1978 to 1983.
Henry Johnstone Morland Scott-Stokes (to give him his full name) later went on to become a successful author with his best known book being "The life and death of Mishima Yukio" published in 1985. He also co-wrote "The Kwangju Uprising: An eyewitness press account of Korea's Tienamen" with Lee Jai Eui.
In a message informing the club of his father's passing, Harry Sugiyama Scott Stokes (a well known broadcaster and TV personality) referred to Henry as "my dear father, best mate and hero, Henry Johnstone Morland Scott-Stokes, former Tokyo Bureau Chief of the FT, The Times and The New York Times passed away peacefully in my mother's arms on Sunday morning, April 17th 2022." For now, added Harry "besides the pain and overwhelming grief, all I have for Henry is pure gratitude for being the best father I could ever have had."
Henry is survived by his son Harry and his widow Akiko.
A memorial event will be arranged shortly at the FCCJ.
Suvendrini Kakuchi
President,
FCCJ
Mr. Henry Scott-Stokes (1938-2022)
by Anthony Rowley
Henry Scott-Stokes (or Henry Johnstone Morland Scott-Stokes to use his full name) was quintessentially English, even though he spent the greater part of his life in Japan. He had a polish, charm and style that were perhaps better appreciated in his adopted home than in the increasingly brittle country of his birth.
He also had the quirkish sense of humour characteristic of "Wykehamists" as former pupils of Winchester College are known. Henry had studied at the independent boarding school for boys before going on to New College, Oxford.
He was entertaining and congenial, which made him an asset to life at the FCCJ. Henry had the singular distinction of having been bureau chief of no fewer than three leading international newspapers, all in rapid succession: the Financial Times bureau, which he opened in 1964 (the year he joined the FCCJ), The Times of London bureau (1967-1970) and The New York Times bureau (1978-1983).
The life of a foreign correspondent and bureau chief had a touch of romance in those days, before the arrival of the digital age meant dispatches from "our man in Tokyo" had to share space with agency reports and social media posts.
Henry's name was well known beyond Tokyo as I can attest from my days on The Times in the late 1960s and 1970s, when I would often hear him mentioned by colleagues at The Times and The Financial Times during our nightly gatherings at the bar of the Mermaid Theatre in Blackfriars – an unofficial press club.
Henry was perhaps better known for his books than for his articles. The best-known was The Life and death of Mishima Yukio, published 1985, in which he chronicled the life and dramatic end of his close friend.
He also co-authored, with Lee Jai Eui, The Kwangju Uprising – an eyewitness account of the bloody suppression of South Korea's pro-democracy movement in 1980.
A more recent book examined Japanese atrocities committed during the 1937 Rape of Nanking. Henry questioned the validity of some claims made about the incident, but later appeared to retract, and then reassert, his misgivings.
"Henry was both talented and controversial," says fellow correspondent and FCCJ veteran Bradley Martin. "He and I overlapped in Japan and Korea through some turbulent times [after] I arrived in 1977. I came to appreciate his willingness to rethink his own position if he concluded he had been in the wrong, and to try to make amends."
For almost a decade after leaving The New York Times, Henry worked with New York artists Christo and Jeanne-Claude on a joint work of art for Japan and America titled "The Umbrellas". In the l990s, he worked for several years for Mary Moore, daughter of the British sculptor Henry Moore.
Henry was, according to one account of his life, "raised in an atmosphere shaped by his Quaker mother's pacifism and his father's eclectic interests as an army officer in two world wars and also a scholar of both Winchester College and New College Oxford before becoming a lifelong businessman".
Born on June 15th, 1938, in Glastonbury, Somerset, Henry married Akiko Sugiyama, with whom he had a son, Harry Sugiyama Scott-Stokes. Harry, too, was educated at Winchester and then at Beijing Normal University and London University. He has since gone on to become a celebrity broadcaster and TV host.
Harry recalled a 2021 interview he did with his father for NHK, in which he asked him how he felt about his son failing to continue the long family tradition of studying at Oxford. Henry replied: "You failed upwards. Look at yourself now."
In a moving message informing the FCCJ of the death of his "fantastic" father, Harry referred to Henry as "my dear father, best mate and hero [who] passed away peacefully in my mother's arms on April 17th 2022. Henry died peacefully  in hospital at the age of 83 after a long battle with Parkinson's disease".
He added: "You may know Henry as a hard-working, gregarious, sometimes stubborn, classic British journalist with an extensive knowledge of Japan. I knew him as a fun-loving, smiling and proud father; a best mate who always had my back. I would like to thank everyone who supported him."
Fellow FCCJ member Haruko Watanabe, who served with Henry on the FCCJ Board and election committee, recalled the delight Henry had taken in striking the gong at the end of the first Speak Out event. No one who met Henry will forget that irrepressible sense of humor.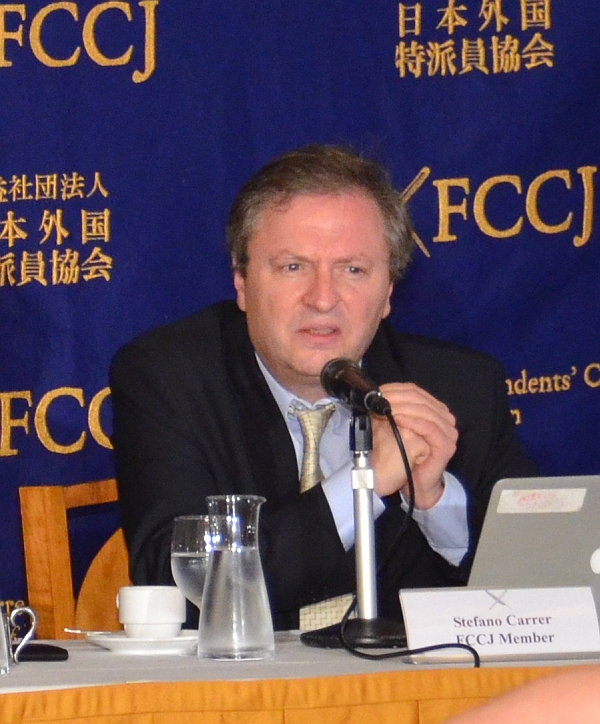 Mr. Stefano Carrer
In memory of Stefano
by Pio d'Emliia
Stefano Carrer, 59, our long-time friend and colleague, passed away on May 21 2020, in Italy. He was returning from a whole day of hiking near his home city, Como, where he he was serving the lockdown period at his parents' old house. He was late, and called his relatives who were waiting for him to join them at dinner. "Sorry I'll be late," he said. "Please go ahead. And don't worry." They didn't. They should have.
Sometime after that call, at around 7:30 pm, he disappeared. Rescue teams, which are very efficient in Italy thanks to thousands of volunteers and experienced alpine guides, started to look for him in the middle of the night. It took them two full days, a helicopter and several drones to find his body at the bottom of a very steep ravine. We can only hope that he died immediately, without any painful suffering. Aldo, his brother in law, joined the rescue team and formally identified the body. He also made sure nobody else saw it.
Stefano was an FCCJ member for the last 20 years or so. A senior member and mutual friend once called him "the good Italian," as compared to the bad one, me. He was right. For as much as I could be nasty, irreverent and (at times) furious, he was always gentle, polite, patient, and reasonable.
THE TRIPLE TRAGEDY OF March 11, 2011 brought us very close. On the very first night of the earthquake I called him and told him of my intention to try to reach the Sanriku coast and possibly Fukushima Daiichi on my scooter. My intention was just to let him know, something colleagues usually do in emergencies. I never expected him to ask me, "Do you have a spare helmet?" But he did; and I did.
In a matter of minutes we hit the road in the direction of Fukushima in the middle of the night, doing live reports here and there on Skype, which we were both using for the first time. Unfortunately, the road was totally blocked after Iwaki, so we had to return to Tokyo, wondering what to do. He was the one who had the brilliant idea to fly "beyond the battle field": if we can't reach from south, he said, let's get there from the north.
We boarded the last flight to Akita (Haneda airport would close shortly after) and went on a hectic and quite unusual quest for a car. (Eventually we got one for free from a small public works contractor who was a fan of Nakata and Moritomo, the famous Japanese soccer stars who use to play in Italy.) We reached a totally devastated city of  Kesenuma at dawn. We were the first foreigners there, reaching it even ahead of the Self Defense Forces.
Among the first people we met was an old man walking amid the ruins of his home. When he heard us speaking he smiled at us, like only Japanese people are able to do even in the most tragical situation, and welcomed us in perfect Italian. We later found out he was a leader of the Japanese rowing team at Rome Olympics, back in 1960. We continued exchanging nengajo from then until he passed away last year.
AFTER ONE FULL DAY driving south along the coast, we finally reached our destination right in front of the main entrance of the Fukushima Daiichi Nuclear Power Plant. There were no check points, only a couple of unattended road placards that read: "danger, traffic subjected to regulation." I would never have imagined Stefano could be so fearless and brave, determined to get our story out.
Stefano pursued a journalist career, specializing in economy and finances, after graduating with a law degree. After a few years as a stringer in the US, he was hired by the the prestigious economic newspaper Il Sole 24 Ore, the Italian equivalent of the Financial Times or Nikkei Shimbun. Japan was his dream, although nobody really knows what was the first impetus that drew him here. There must have been some personal reasons, probably an early love affair. He never married, but was very successful in getting women's attentions until he settled for the love of his life, Keiko, whom he was probably going to marry, in the end.
From his first moments in Japan on a formal assignment, he produced hundreds of stories—and, more recently, short videos—not only on the economy and finances. He was curious, deeply cultured, thanks to his classic studies, and a voracious reader. His stories, even the "driest" ones, always featured some proof of his deep understanding of the history, culture and tradition of Japan and East Asia.
Quite often, he also competently covered China, despite a very difficult relation with the local colleague who saw him as a threat for her post. This internal conflict probably contributed to the recent decision by the paper's bosses to close both offices, leaving East Asia with no resident correspondents. Stefano accepted the decision, of course, but was despondent and frustrated by the move. The last time I met him in Italy, back in February, he mentioned for the first time that he was looking forward to retirement, something that was hard for me to imagine.
Besides being a great and competent colleague and a very close friend, Stefano was a very active person. We would play tennis here in Tokyo and he used to join a sort of FCCJ ski club that we informally created a few years ago, along with Anthony Rowley, Joan Anderson and several other mutual friends. We will always treasure deep in our hearts the memories of our off-piste slopes and wild onsen adventures in wonderful, wild Hakkoda in Aomori prefecture.
Ciao Stefano, we will all miss you very much.

In Memoriam – Stefano Carrer
by Monzurul Huq
Monday, July 06, 2020
Stefano Carrer was the rare foreign correspondent in Japan who covered the country, but also took Japan deep into his heart. He did not simply cover Japan for his readers and audience, but presented the country with a love for the place and people, and Japan became his second home. His loss is great for his family and friends, and for those over the years with whom he shared his words and insights about the country. We would like to share some memories.
He traveled throughout Japan, often in the company of fellow journalists from other countries. Starting as a pen reporter in his early days in Japan, Stefano gradually moved to video for Il Sole 24 Ore. This was a transition that not everyone could do, but he managed it in a short period of time. Newspaper reporters now are asked by editorial bureaus to handle video, and many still feel uneasy handling video cameras. However, Stefano was quick to learn, and simply flooded his editorial office with video reports from Japan on issues, ranging from cos-play to Yasukuni visits. During his decade-long tenure in Japan, Stefano also covered every important story in the country. He later returned to the country to cover significant events after he was reassigned to his editorial office in Milan. I met him for the last time in Osaka for a G-20 summit. He was also the only foreign correspondent who had accompanied the now Emeritus Heisei Emperor on his last official visit to Vietnam and Thailand.
At the FCCJ, his warm presence was reassuring to friends and acquaintances. He talked about matters from his personal experience that were rich and colorful. This is what made him an eternal traveler willing to take any hardship for the sake of news coverage. I remember how eager he was to visit the border areas of Bangladesh and Myanmar to cover the Rohingya refugee crisis in 2017, although he couldn't go due to bureaucratic restrictions on both sides of the border.
Stefano was a true representative of media in the changing news world — always true to his convictions. His small video camera was with him wherever he went. I fondly remember that on some press tours he humbly requested me to hold the camera and record while he would continue narrating.
Stefano was not only a fellow journalist in Tokyo, but a pleasant companion with whom I've traveled around Japan. I remember during a press tour to Hokkaido that I joined him in a rafting competition. Neither of us were master rafters, and Stefano told me a story about always ending up on the losing side when someone joins an Italian. In death you don't disap- pear, Stefano! Your dedication, professional integrity and warm smiling presence will never be forgotten.
In Memoriam – Stefano Carrer
by Nanako Yamamori
I ran into Stefano on a Milan street just after he moved back from Tokyo. Life in Milan wasn't as exciting for Stefano, although he was busy and occasionally got away for short business trips. In Italy, he looked for every chance to stay in touch with Japan, such as Japan festivals, the Japan-Italy Business Group convention, the Far East Film Festival, and the Uniqlo Milan opening. If an event had anything to do with Japan, Stefano was there. He told me that he couldn't decide whether to join a gym or buy a car because he tried to postpone any decision that could tie him to the city. He was always ready to leave for Japan.
He took advantage of his Milanese salary-man status and looked after his parents, his niece Cristina, and often spent weekends at a second house in the countryside of Lombardy. He loved to go for walks in the mountains, resting at a local hot spring, and drinking his favorite Nebbiolo red wine. He was passionate about opera and we went to the Scala theater in Milan. He invited me to the ballet as well and I gave him a cherry tree that had become too tall for my terrace in return. He took it to his parents' house and his father planted it in their garden. He told me to visit to see how tall it had become.
Italian ambassador Giorgio Starace said: "I met him here in Japan, and he impressed me with his high professionalism and humility... He was a great man, and it's a great loss for all of us." Indeed, Stefano was a generous, unpretentious intellectual whose stories inspired us, and his memory we shall keep always.
Mr. Tsukasa Furukawa
Regular member TSUKASA FURUKAWA passed away December 11, 2019 in a Tokyo hospital after a long illness He was 87.
Furukawa was Tokyo Bureau chief for Fairchild Publications and a well-known figure on the Tokyo fashion scene.
He was an enthusiastic club participant and served three times on the Board of Directors as treasurer and first and second director, as well as on several committees.
The Foreign Correspondents' Club of Japan
March 22, 2019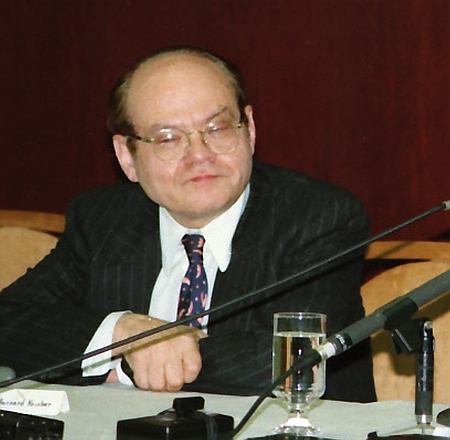 IN REMEMBRANCE OF BERNARD - "BERNIE" - KRISHER (1931-2019)
It is with regret that I announce to Club members the passing away of former regular member Bernard ("Bernie") Krisher in hospital in Tokyo on March 5, 2019. He was 87.
According to his obituary in the Cambodia Daily on March 18, his death from heart failure was disclosed by his family following a private burial in New York.
Krisher was chairman of World Assistance for Cambodia, publisher of The Cambodia Daily and former Newsweek Tokyo bureau chief.
Beginning his career as a foreign correspondent in Japan, Krisher dedicated his last three decades to humanitarian work in Cambodia.
He was a member of the FCCJ for 39 years, from November 1962 until August 2001
Born in Frankfurt, Germany, in 1931, he and his family fled Nazi Germany in 1937 as refugees, eventually reaching the U.S. in 1941 where they settled in New York.
Wishing from childhood to be a journalist, Krisher was drafted into the US army in 1953 and stationed for two years in Heidelberg, Germany, as a reporter for the European Stars and Stripes. He later joined the New York World-Telegram & Sun in 1955, first as a reporter, then assistant editor.
From 1961-62, he studied at Columbia University on a Ford Foundation fellowship in advanced international reporting, specializing in Japanese studies at the East Asian Institute.
In 1962, he left the World-Telegram & Sun and moved to Japan to join Newsweek as a reporter in the magazine's Tokyo bureau and was later promoted to become the magazine's Tokyo bureau chief in 1967, a position he held for the next 13 years.
Krisher interviewed many notable personalities including all Japanese prime ministers and other politicians, business leaders and cultural figures. His most famous interview was a one-on-one exclusive print interview with Emperor Hirohito just before the emperor's historic visit to the U.S. in 1975.
We offer our condolences to his wife, Akiko, and to his two children and two grandchildren.
Peter Langan
FCCJ President
February 27, 2019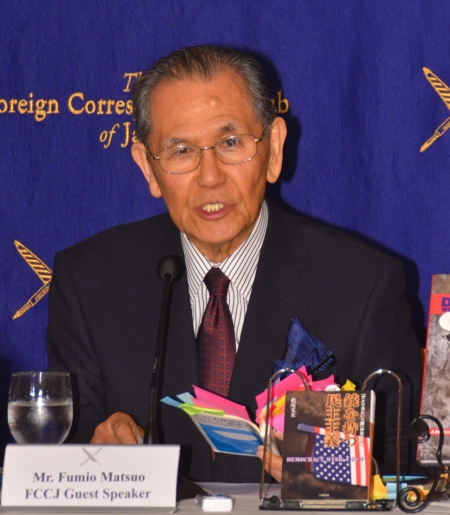 REMEMBERING FUMIO MATSUO
I regret to announce that Fumio Matsuo, one of our most distinguished regular members and a veteran Japanese journalist known for his efforts in calling for "true" postwar reconciliation between Japan and the United States, died of natural causes on February 25 while on a trip to New York state where he was visiting his family, Kyodo News reported. He was 85.
 According to local authorities, Matsuo, a former Kyodo News correspondent and an expert on U.S. politics, died of natural causes on Monday.
 A native of Tokyo, Matsuo joined Kyodo News in 1956 after graduating from Gakushuin University, Tokyo and served as Washington bureau chief inthe 1980s. In 2002 at the age of 68, he came out of retirement and returned to journalism, writing articles calling on Japanese and U.S. leaders to pay respective visits to Hiroshima and Pearl Harbor in symbolic acts of reconciliation between the former wartime foes.
 He received the Japan National Press Club Award in 2017 for helping through his work the realization of landmark visits to the historic sites in 2016 by then U.S. President Barack Obama and Japanese Prime Minister Shinzo Abe.
 His interest in the United States stemmed from experiencing the Doolittle Raid on the Japanese capital and other places following Japan's 1941 attack on Pearl Harbor in Hawaii. The United States dropped atomic bombs on the Japanese cities of Hiroshima and Nagasaki in August 1945, leading to Japan's surrender in World War II.
 Books Matsuo published included "The Day President Obama Offers Flowers at Hiroshima" in 2009 and "The Accommodating History of the U.S.- China Relationship" in 2017.
 Matsuo was deputy director of Kyodo News Service's economic news department, and the author, editor or translator of numerous books, including Nixon's America (1971), Report on Japan by Mike Mansfield (1978) and Nixon's Memories (1978).  He served as Kyodo's correspondent in New York and Washington from 1964-69, Bangkok bureau chief from 1972-75, and chief of the Washington bureau form 1981 to mid 1984.  From 1973-74 Matsuo was president of the Foreign Correspondents' Club of Bangkok. He became a member of the FCCJ in 1985.
 On behalf of the FCCJ membership I send our deepest condolences to his family.
Peter Langan
President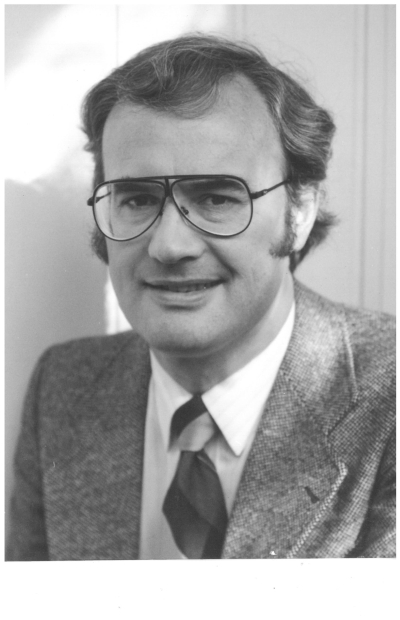 Mr. David Watts (1943-2016)
With a deep knowledge of Japanese politics, history and culture, David Watts was one of the distinguished foreign correspondents of The Times who for more than three decades ensured the steady flow of clear, well-written dispatches from Japan and the wider Asian region.
As Tokyo correspondent, he covered the boom years in the mid-1980s when Japanese technology, cars and electronics were making huge inroads into western markets. He also gave valuable insights into Japanese society, as traditional attitudes collided with western fashions, and young Japanese began travelling in huge numbers to Europe and America.
In covering Asia, both from Singapore from 1980 to 1984 and then as Asia editor based in Sydney, Watts witnessed momentous changes. He reported from Manila on the collapse of the Marcos regime in the Philippines, vividly describing the astonishment of demonstrators when they discovered that Imelda Marcos had a collection of some 3,000 shoes in the presidential palace. He covered the aftermath of the bloody Pol Pot regime in Cambodia, where, at one point, he got lost in the jungle; it took three weeks before he was able to make contact with The Times, which was finally able to assure his wife that he was alive.
Watts was also in East Timor during the uprising against Indonesian rule, and saw at first hand the brutal military crackdown in 1979 and the attempts to starve the population into submission. Twenty years later, as East Timor was struggling to consolidate its independence, he witnessed the backlash from the Indonesian military and the desperate attempts by United Nations forces to protect Timorese refugees who had fled to the UN compound in Dili. He was one of the few western journalists to report the massacres of Timorese hiding in churches, their panicked attempts to board Australian flights out of the island and the dangerous evacuation of refugees. He spent several terrifying nights under fire and travelled with the exhausted women and children who were packed into lorries and evacuated to safety.
He was diplomatic correspondent for two years and then deputy foreign editor from 1992 to 1998, when he played a key role in the running of the desk. His clear grasp of world affairs and encouragement of correspondents overseas ensured that The Times's coverage was timely, accurate and incisive. A dedicated journalist, he had a mischievous sense of humour, which mirrored his smile, and was usually a calming influence in the newsroom and on the phone. There were occasions, however, when he spoke his mind, sometimes quite forcefully.
After a brief spell back overseas as Asia editor, he returned to London in 2000 and was in charge during the biggest news story of the new millennium — the 2001 terrorist attacks on New York and Washington. Recognition of his role came with the Foreign Press Association award to The Times for its coverage of 9/11.
Throughout his career, he felt the pull of Japan. In 2004, he was made founding editor of a weekly supplement that the paper produced for the Japanese newspaper Yomiuri Shimbun.
David William Watts was born in North Yorkshire, the son of a land agent. He was educated at Denstone College, an independent school in Staffordshire. His first job in journalism was onThe Northern Echo, then edited by Harry Evans, a future editor of The Sunday Times and The Times.Passionately interested in aviation from an early age, he had wanted to become a fighter pilot, but failed the eye test. Nevertheless, he learnt to fly, and was determined to see more of the world. He went to Canada where, bluffing that he had once worked at the Savoy hotel in London, he procured a job as a waiter on the Canadian Pacific railway. He returned to Britain by sailing a catamaran across the Atlantic and then ventured east, taking the trans-Siberian railway. He arrived in Japan in 1970. It was here that he met his future wife, Shizuko, who was working as an interpreter at the Expo 70 world fair. He took a job as a teacher, and in 1971, at the age of 27, started an English-language newspaper, Kansai Action, in Kobe.
He returned overland to Britain on buses and trains across Pakistan and Iran, but was short of money and, at one point, was reduced to selling his blood to pay his way home. He arrived in England in 1973 and joined The Times a year later. Shizuko followed him in 1974 and they were married the next year. The couple had two sons, Mark and Dominic, who are both self-employed in London. They all survive him.
After he retired from The Times in 2007, Watts edited a magazine,Asian Affairs, which was published in New Delhi. He was often called back to The Times where his long experience as a foreign desk editor was still in demand.
His interest in aircraft never left him and, in his spare time, he would often visit airfields. He turned his knowledge into an acclaimed book, published in 2010, on the history of aviation in Bahrain, which covered the country's crucial role as a British staging post in the development of long-distance flight in the 1920s, through the Second World War to the founding of the Royal Bahrain Air Force and the Gulf War of 1991.
Diagnosed with liver cancer, Watts said nothing of his illness and continued writing. In tribute to his passion for aviation, his family will use donations to have his name inscribed on one of the famous Red Arrows.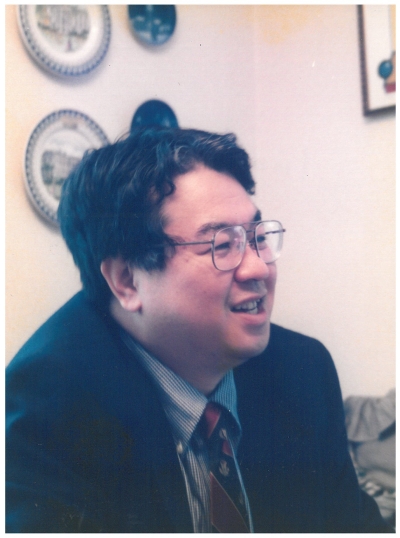 Mr. Hisayoshi Ina (1953-2016)
Mr. Hisayoshi Ina, Columnist and Senior Staff Writer at The Nihon Keizai Shimbun and a long-time member of the FCCJ, passed away on April 22 at the age of 62 years. Mr. Ina had been suffering from stomach cancer and was undergoing treatment at the time of his death.
Born in Tokyo, Mr. Ina joined Nihon Keizai Shinbun in 1976 after graduating from Waseda University. At Nikkei he covered mainly political news. During his long journalistic career at Nikkei, Mr. Ina served as a Senior Staff Writer covering foreign affairs and national security; was a regular contributor for the Sunday column "Kazamidori" (Weathercock); and also was the Washington Correspondent of the newspaper. His involvement with Nikkei lasted until the end of his life and his last sarcastically titled article "President Donald Tramp and the World" was published on April 4, just eighteen days before his death.
Mr. Ina was a prolific journalist with varied interests who also had a passion for Haiku. He was awarded the Vaughn-Ueda Memorial Award, the Japanese equivalent of the Pulitzer Prize, in 1998, as recognition of his journalistic accomplishment. During his later years he also held the post of Visiting Professor of Doshisha University and authored the book "Life of A Diplomat, Fumihiko Togo: Negotiator with U.S. Post War Period", which was published by Chuo Koron, Inc.
Mr. Ina is survived by his wife, Ms. Yoshiko Kijima, who is currently serving as a Minister at the Japanese Embassy in Jakarta, Indonesia.
Kenji Obayashi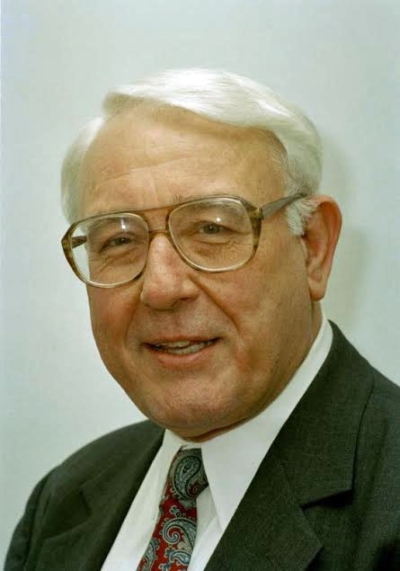 James C. Lagier (1935-2015)
JAMES C. LAGIER, a former Associated Press bureau chief in the U.S. and Japan, and FCCJ president, died on Nov. 21 in Walnut Creek, California, after battling cancer, according to his niece, Sydney Lagier. He was 80.

A native of Manteca, California, Lagier joined the AP in Honolulu in 1962 and retired in 2001 as chief of the Tokyo bureau. The two locations were fitting bookends to a career that also took Lagier to San Francisco, Los Angeles, Boston, New York, Columbus, Ohio, and Fresno, California, as a reporter, newsroom manager and executive. "I never met anyone who didn't like Jim Lagier," said Louis D. Boccardi, AP's president and chief executive officer from 1985 to 2003.

Early in his career, Lagier covered America's atmospheric nuclear tests in the Pacific and flew on a B-52 bombing mission over Vietnam from Guam. While serving as news desk editor in Los Angeles in 1968, he worked on coverage of the assassination of U.S. Sen. Robert F. Kennedy and filed the AP bulletin on Kennedy's death. As bureau chief in San Francisco from 1972 to 1974, he oversaw coverage of the kidnapping of newspaper heiress Patty Hearst. And in Japan, he supervised reporting about the 1995 Kobe earthquake that killed more than 6,000 people.

Lagier once said during an interview that he felt like he was on a "yo-yo" at one point in his AP career. "I felt like I was a vagabond, and I was so astounded that I was being chosen for these fabulous jobs," he said. "I mean, a lower-middle-class person, born into poverty, suddenly having these electrifying jobs in the world's oldest, largest and most lovable news-gathering organization."

Lagier said a highlight of his news career was his tenure in the San Francisco bureau, where he was responsible for coverage of Northern California during Vietnam War protests. Lagier previously worked in AP's Fresno bureau, where he wrote about Cesar Chavez's efforts to organize farm workers.

In 1975, Lagier became bureau chief for Ohio. His news editor there, Henry Heilbrunn, recalled that Lagier frequently walked his newsrooms at all hours, stopping at desks to urge his staff to "be happy in your work."

The following year, Lagier was appointed general executive for New England, based in Boston. Starting in 1979, he served as deputy director for newspaper membership at AP headquarters in New York City.

Lagier was transferred to Tokyo in 1993, returning to a country he had visited while serving in the U.S. Army in Seoul, Korea.

Lagier graduated with honors from the University of California, Berkeley in 1962 and left the AP for a year in 1966 to complete graduate school and teach journalism there. He was a benefactor to the University of California, establishing a charitable trust in journalism and leaving a gift to the music department.
Before joining AP, he worked as the sports editor and a general assignment reporter at the Hanford Sentinel in California. Lagier was also an accomplished pianist and studied with jazz piano teachers in the New York City area. --AP

A colleague remembers
by Kaz Abiko

THE NEWS OF JIM Lagier's passing deeply saddened us in Tokyo, even though we knew it was coming, as he had been receiving hospice care at his home. As everyone who knew him would agree, he was a wonderful person, certainly one of a kind.

Jim served as Tokyo bureau chief for the AP from 1993 through 2001 and as FCCJ president, 1995-96.He was asked to run for FCCJ president because the Club needed a solid representative of a major news organization to head the Club in its 50th anniversary year, although he had been in Tokyo for only two years.

At the 50th anniversary party, Jim marveled at the Club, saying, "Its membership consists of some of the most memorable journalists, scalawags and hangers-on as you can find anywhere: petulant, irritating, crusty, crotchety, witty, caring, childish, emotional, sentimental, articulate, opinionated, cynical, rude, hard-drinking, hard-driving. That's the short list."

Because of the high yen and Japan's economic downturn, Club membership had dropped to a low of about 1,700. Jim orchestrated a membership drive that helped increase the number to more than 2,000 in five months.

Jim was a paternal figure at AP Tokyo as well as the FCCJ – a loving and caring father of the family. He also was a skilled manager and adept politician. Markus Kreutz, former AP chief of communication in Tokyo, said, "Witnessing one particular sensitive meeting with overseas visitors that was conducted by Jim and concluded in the most pleasant of manners, I came away thinking that Jim could tame a lion if need be."

He used to say that the AP is "the world's oldest, largest and most lovable news agency." During his retirement party at the FCCJ in 2001, I said he was "the AP's oldest, largest and most lovable bureau chief." We will miss him greatly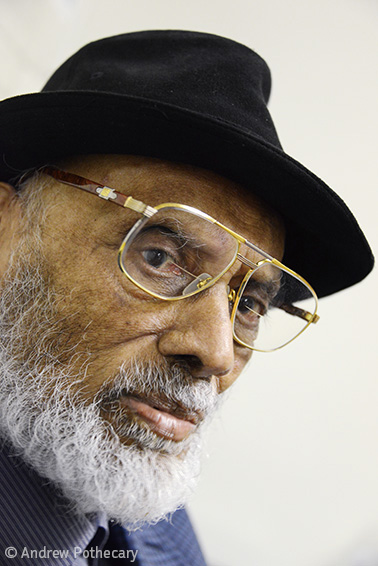 Vellayappa "Chuck" Chokalingam
By Monzurul Huq
OUR BELOVED CHUCK LINGAM breathed his last peacefully at home on Sept. 23. He had been hospitalized from a bout of pneumonia but had recovered and was released on Sept. 9. He would have been 101 years old this month.
Those who had become close to Chuck during his long tenure as a member of the FCCJ will all remember him fondly and feel his absence in their hearts. He departs us after travelling a long road stretching over a century that made him a living witness to events shaping modern Japan. Born in Nov. 1914, Vellayappa Chokalingam, known to fellow Club members as "Chuck" or "Lingam," came to Japan in the 1930s and joined the Club half a century ago in 1965. As a result, remembering Chuck is like remembering the many years of the existence of the FCCJ, as well as Japan's war-time and post-war history. In some ways, Lingam's history mirrored Japan's. A quick glimpse at the duration of his life, particularly the part that he had spent in Japan, provides us with convincing evidence in support of this presumption.
He was born to a South Indian merchant family with business interests in Malaya and Singapore. Many of the male family members of the well-established clan had been sent to Europe for higher studies and Lingam, too, was offered that opportunity. Instead, after completing high school in Singapore he decided to travel in the opposite direction – and sailed for Japan with the dream of becoming an engineer specializing in power generation. He hoped to eventually put into practice the knowledge acquired in Japan to expand the family business in the power sector. But destiny had something else in stock for him.
His first encounter with Japan was at the port city of Nagasaki on a sunny morning in the spring of 1935. The 21-year old Lingam had not the slightest hint that his stay in the country would be a long and eventful one – full of exciting encounters at a turbulent time of Japanese history. That first encounter also exposed his youthful eyes to a few contradictions of Japanese life. As his ship approached Japan from Singapore, he was pretty sure that he was going to encounter a country preserving its oriental traditions, which he had seen being appreciated in other parts of Asia. People he met at Nagasaki, however, were all dressed in Western attire; he had an initial sense of relief, convinced that the dress code was a sign that Western languages were equally at home. To his surprise, nobody spoke a single word of English and he had to find the way to the station himself, with much difficulty.
In Tokyo he enrolled at Kogyo University and rented a place near Shinjuku. It was a time when exiled Indians in Japan were organizing a liberation movement that would free India from British colonial domination. After the beginning of the war, as the imperial Japanese army started moving westward from Burma, the movement received the patronage of the Japanese government. It was sometime during the period that the leader of the movement, Rash Behari Bose, asked young Lingam to become his private secretary. Though he was a bit hesitant at first, believing that accepting the offer might disrupt his study, he decided to join Bose – and his close association with the leader continued until Bose's death in early 1945.
Japan's defeat placed Lingam in a difficult situation as he was essentially a part of the losing side. But he was eventually able to overcome that difficulty with the help of friends and acquaintances in Japan. The second phase of his life took him into the world of business where he eventually established himself as a successful Japanese businessman of Indian origin. India had always been close to him, but deep in heart he was much closer to his adopted country that he thought had given him so much. Joining the FCCJ in 1965, he gradually became a familiar figure who would spend much of his free time surrounded by his friends at the Club, which honored him with a life membership on his ninetieth birthday in 2004.
In an interview with No. 1 Shimbun last year, on reaching the milestone of 100 years, Chuck was asked how he felt being a centenarian. His quick reply was "nothing changes." Yes, Chuck, nothing overtly changes as we pass our ordinary days and get on with the difficulties of life. But we also know that there are times when a vacuum appears somewhere deep inside, a void that nothing can fill-up. This is exactly what many of us feel right now as we realize we will no longer share your presence. ❶
Monzurul Huq represents the largest-circulation Bangladeshi national daily, Prothom Alo. He was FCCJ president from 2009 to 2010.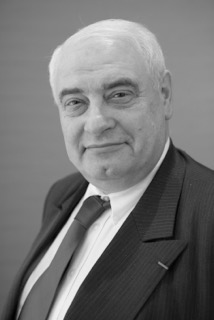 Michel Théoval (1940 - 2015)
FCCJ Associate Member Michel Théoval passed away on 24 June, 2015 in Paris.
Our thoughts are with his wife, daughter, friends and colleagues during this period of great sorrow.
As President of GHT, a division of PMC, Senior Vice Chairman of the European Business Council in Japan (EBC) and First Vice President of the French Chamber of Commerce in Japan, Michel Théoval dedicated his career to promoting both commercial and public relations with Japan on behalf of France and the European Union. Mr. Théoval also made a significant contribution to the EU-Japan FTA,which at present, is under negotiation.
Mr. Théoval was an active member of the EBC and the EBC Aeronautics, Space, Defence and Security Committee for more than twenty years and served with great dedication as Senior Vice Chairman of the EBC from 2010.
He was an active member of the French Chamber of Commerce in Japan from 1999 and served as First Vice President of the Chamber from 2006. Mr. Théoval was also appointed as a Foreign Trade Advisor to the French Government.
Aviation was Michel's great love and during his career, he worked for Cessna, Aerospatiale and Thomson CSF-Thales.In January 2011,Mr. Théoval co-founded GHT (Group HiTech), a divisionof PMC Co Ltd, a French advisory and strategy consulting firm, based in Tokyo, to introduce innovative European technology into the Japanese marketplace. In this capacity, he also supported cross-border partnerships for Japanese SMEs in the French marketplace.
Mr. Théoval wrote numerous publications related to defense and geostrategic issues and was a specialist in the field of military history.
Mr. Théoval was decorated by the French Government as a Knight of the National Order of Merit in 2001 and as a Knight in the National Order of the Legion of Honour in 2006.
訃 報
弊社GHT代表ミッシェル・テオヴァル儀 去る6月24日未明、心不全のため滞在先フランス・パリにて逝去いたしました(享年70歳)
ここに生前のご厚誼に深謝し謹んでご通知申し上げます
故ミッシェル・テオヴァルは、ピー・エム・シー株式会社の一部門であるGHT – Group Hi Techの代表をはじめ、欧州ビジネス協会・在日欧州連合商工会議所(EBC)シニア副会長、在日フランス商工会議所(CCIFJ) 第一副会頭として、フランスと欧州連合、双方の立場から常に強い情熱を持って日本との商業・広報活動を行ってまいりました。
現在交渉中であるEUと日本間のFTA協定についても、多大なる貢献を致しておりました。
以下に故人の略暦をご紹介いたします:
欧州ビジネス協会(EBC)、及び同協会航空、宇宙、防衛、安全保障委員会にて20年以上に亘りメンバーとして積極的に活動、2010年よりEBCシニア副会長を務める。
在日フランス商工会議所において、1999年より会員、2006年より第一副会頭に就任、また、2003年よりフランス政府対外貿易委員会(CCEF)委員に任命。
航空分野(aviation)に対する深い情熱から、セスナ社、アエロスパシアル社、トムソンCSF社、タレスジャパン社に入社、トムソンCSFジャパン株式会社とタレスジャパン株式会社においては代表取締役社長を務める。
タレスジャパン株式会社を定年退職後、2011年1月、東京に拠点を置くフランス系コンサルティング会社、ピー・エム・シー株式会社にてGHT – Group Hi Techを共同設立。欧州の革新的なテクノロジーを日本市場へ紹介すると共に、日本の中小企業のフランス市場とのパートナーシップをサポートする。
軍事史のスペシャリストであり、防衛、戦略地政学問題について多くの著書を記す。
叙勲暦:フランス政府より、2001年国家功労賞シュバリエ、2006年レジオンドヌール勲章シュバリエ受勲。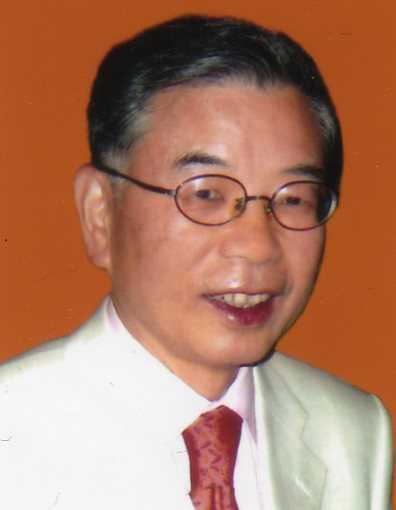 Yozo Hasegawa (1943-2015)
We regretfully announce the passing of Mr. Yozo Hasegawa, former Board of Director of FCCJ and former co-chair of the Special Project Committee, from pancreatic cancer at a hospital in Tokyo at 09:13 am on January 20, 2015. He was 71 years old. Mr. Hasegawa was a Regular member of the FCCJ since 2001. We thank Ms. Haruko Watanabe for allowing us to distribute to our members the following obituary she wrote for Mr. Hasegawa.
Lucy Birmingham
FCCJ President
We are deeply sorry to inform you of the sudden passing away of Mr. Yozo Hasegawa, our beloved and respected colleague of the Foreign Correspondents' Club of Japan.
Mr. Hasegawa died at age 71 due to pancreatic cancer on January 20 in Tokyo. His funeral will be conducted from 10:30 a.m. on January 31 at Reinanzaka Church, 1-14-3 Akasaka, Minato-ku. He was a confirmed bachelor and is survived by his elder brother Mr. Soichi Hasegawa.
Upon graduation from the Economic Department of Keio University, he joined the Nihon Keizai Shimbun (The Economic Journal of Japan). He served as bureau chief of the newspaper's Warsaw and Vienna offices. He was well known as one of the top journalists in the automotive industry as well as the anchor person of the Radio Nikkei Saturday morning show which presented examples of creative companies as well as introducing professionals in the fields of arts and sports.
He also served as a professor of Teikyo University and a lecturer of the Peers' University (Gakushu-in).
Hasegawa-san contributed his time and energy as the Club's second vice president in charge of human resources as well as co-chair of the Special Projects Committee, where he organized many factory visits.
Haruko Watanabe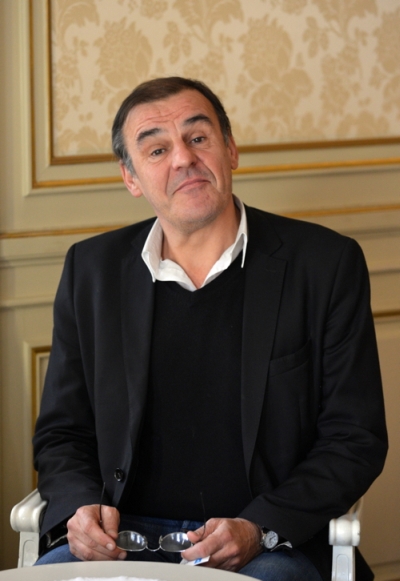 Photo by Yoshikazu Tsuno, AFP
Jacques Lhuillery (1954-2015)
Jacques Lhuillery, Tokyo bureau chief for Agence France-Presse, has died in hospital in France. He was 61 and had been suffering from cancer.
Japan was the most recent posting in a distinguished career with AFP that had stretched three-and-a-half decades, including stints in Tehran, Madrid, The Hague, Beirut, Lagos and Abidjan.
This geographical variety and the curiousness with which he probed life made Jacques a great storyteller, someone always ready with an anecdote. These came in a variety of flavors, from the whimsical – riding tricycles around the bureau in a just-post-revolutionary Iran – to the literally hair-raising, like the time he woke up to find his Nigerian house on fire, or drove through gun-toting militia to get back to the office and file his story.
Jacques was an accomplished raconteur with a talent for languages. He could tell his tales in English, German, Dutch, Spanish as well as his native French.
Although he never quite got to grips with Japanese, he achieved the same adequate degree of proficiency as he had in a dozen other languages – he could order beer. And wine. And whisky. A sufficiently lubricated tongue would reveal an impressive repertoire of quotes from cult French movies and on more than one occasion, an alarmingly realistic impression of a certain former President de la Republic, with whom he shared a name and a fascination with Japan.
Jacques was an old-time journalist, a man absorbed by his job, and someone who had little patience with bureaucracies and the formalities of modern working life. He was deeply inquisitive and never stopped asking "Why?" He used to say that he was the kind of person who would wake up in the morning wondering about something, and this was what drove him to write. "If I didn't scratch my head, I'd be scratching something else," he would say.
This curiosity brought him into contact with the great and the good, including dictators, prime ministers – Shinzo Abe among their number – and artists. One of his proudest moments in Tokyo was interviewing maestro Seiji Ozawa at the French ambassador's residence, on the occasion of an impromptu (and very exclusive) mini concert.
Jacques was a proud Breton, a man who wore his Gallic stubbornness as a badge of honor. He knew that this brought him into conflicts that might otherwise have been avoided, but never tired of putting up a fight. He was deeply proud of his family – a wife and four children – who travelled the world with him throughout his working life.
Last January, as he turned 60, he became a grandfather for the first time. The joy and delight in his eyes when he spoke of his young grandson was truly heart-warming.
His summer last year was spent back in France at the home he loved in Brittany, where he spent weeks indulging his greatest passions – family, fishing, reading and fine French food. When he came back to Tokyo in September, the cough that had dogged him for months was still there.He dismissed it as a virus until tests revealed he had developed lung cancer.
In November, he returned to France for treatment, leaving his colleagues in Tokyo under strict instruction not to tell people what was happening. When we heard from him, it was for him to speak of his optimism and his determination to beat the disease, despite the debilitating effect of chemotherapy.
His sudden death in a Brest hospital on the night of the Jan. 17 has deprived AFP of a funny, charming and ebullient Tokyo bureau chief, and an accomplished writer.
It has taken a wonderful father, grandfather, a husband and a son from one corner of Brittany.
And it has dimmed a light that shone in the world of journalism.
-- Huw Griffith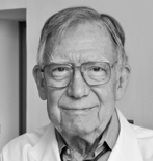 Dr. Frederick Isaac Shane (1925-2014)
It is with great sadness that Dr. Frederick Isaac Shane passed away November 12th, 2014 at 5:39 AM

I received the news of Dr. Shane's passing with the greatest personal sadness. I knew Dr. Shane from the early 1970's when I met him at the Training Meetings of the 5854th Civil Affairs Unit that met at the Old Sanno Hotel in Akasaka. He regularly traveled all the way from Kobe to attend the reserve meetings in Tokyo until he permanently moved to Tokyo. Dr. Shane was a very humble, kind, incredibly generous friend and mentor to all of us in the reserve unit. His experiences from his Korean War duty were passed on to all of us at the unit. Dr. Shane was already a Bird Colonel when I first met him and I was awed because he never pulled rank on company grade officers. He served his country in the United States Army Reserves until his retirement.
Dr. Shane was the director of the American Clinic Tokyo (formerly known as the Shane Clinic) for 60 years before his retirement in 2013. He devoted his entire career to serving the English speaking community in Japan. Many of the longtime residents as well as
visiting VIP's were medically served by the outstanding Family Practice Physician.
Dr. Shane joined FCCJ in February 1996 as Associate Member and resigned in January 2014 after his health started to fail him. His familiar face will be greatly missed by all of us at the FCCJ.
Milton H. Isa
Director, FCCJ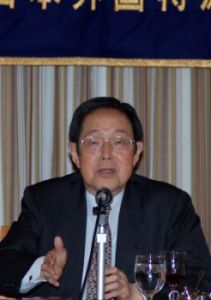 Shijuro Ogata (1928-2014)
Former Board Director, the Bank of Japan
From Jurek Martin in Washington
The formal obituaries of Shijuro Ogata, the former deputy governor of the Bank of Japan who has died at the age of 86, will take due note of his policy making roles over a long career, invariably executed with acumen. They will also record that, as he frequently said with affection, he was hardly the most famous Ogata in his own household, second to his wife, Sadako, who was the UN High Commissioner for Refugees for a decade and holder of more than one Japanese government humanitarian portfolio.
What is less well known is the extent to which he was single-handedly responsible for opening up the previously closed Japanese bureaucracy to the western media – and all through the device of a tea party of his own mischievous creation.
In the early 1980s the BoJ was generally considered to be subservient to, even under the thumb of, the mighty Ministry of Finance. Additionally, at the time, all Japanese government departments, with the exception of, naturally enough, the Foreign Ministry, which had no alternative, did not recognize the existence of foreign correspondents based in Tokyo. They preferred to deal with the strictly Japanese "kisha," or press clubs, from which foreigners were excluded.
The same was true of Japanese industry. The prime example of this was when Toyota, announcing its first ever foreign manufacturing facility in California, forgot to apprise the American media, which learned about it the next day from Japanese newspapers. Representations were made, from the Foreign Correspondents Club on down, and Toyota promised never to do such a thing again.
All this never seemed right to Mr. Ogata, who combined the best of Japan's often suppressed liberal tradition with a puckish sense of humor and who, it so happened, spoke English perfectly. So, perhaps initially more in hope than in expectation, he began a series of weekly Thursday afternoon tea parties for resident foreign correspondents at which he would expand on the BoJ's thinking on monetary and economic policy.
He never made great news but he did make good copy and what the BoJ thought began to appear in the western press, like the FT, the Wall Street Journal and other influential foreign publications. This was anathema to MoF, unaccustomed as it was for the central bank to have a voice at all about anything.
MoF felt it had to respond and get its views out, too, and it had the man to match Ogata in the person of Toyoo Gyohten, its articulate and aggressive senior bureaucrat, then serving as deputy minister and equally fluent in English (but also known as "the beast"). So it began Friday night wine and cheese parties for the foreign hacks, who were suspected to be more partial to liquor than tea.
Eventually this came to the attention of MITI, the Ministry of International Trade and Industry, which then truly ruled the economic roost as the acknowledged mastermind of the Japanese economic miracle, recognized by no less than Chalmers Johnson, the formidable University of California Japan specialist. MITI made available its policy makers to foreign journalists at dinners as lavish as only the Japanese can provide, sometimes one-on-one, occasionally en masse. The foreign press reeled, in more ways than one.
Mr. Ogata, mission accomplished, reveled in all this. It was evidence, in his view, that Japan could become the more open society he desired. This was after all, in his bloodlines, from a distinguished family steeped in exposure to the wider world.
In the 1860s, before the formal Meiji Restoration, his grandfather had been dispatched by the Emperor to Manchester, England, to learn more about this industrial revolution that had barely touched Japan. He reported back on the city's belching smokestacks and concluded, much as Lincoln Steffens did about Lenin's Soviet Union 60 years later, that he had "seen the future and it works."
Mr. Ogata himself was the son of the editor of the Asahi Shimbun, a bastion of Japanese liberalism before he, and the newspaper he ran, were eventually coopted into the Japanese war effort in the 1940s. He was still a teenager when nuclear bombs destroyed Hiroshima and Nagasaki and remembers thinking at the time that the war was all over for his country. He was an old man when he published a letter in the FT two years ago bemoaning that Japanese nationalists were provoking an unnecessary dispute with China over the Senkaku islands. He stayed true to his beliefs throughout his life.
On a personal note, he and Sadako were my best eyes and ears (and friends) on the mystery that was Japan when I lived and reported from there, never more so than on the most difficult story I ever had to write, on the 40th anniversary of Hiroshima. Nobody ever gave me a better insight on what it meant to the Japanese.
Still, the indelible memory is of those early tea parties, down to the biscuits and the china cups. The sadness at his death is made the more acute by the knowledge that, in some ways, Japan has reverted to pre-Ogata type. The "kisha" clubs, I learned on good authority from an American who once worked for the Asahi Shimbun, do not admit the foreign press any more.
Jurek Martin was Tokyo bureau chief of the Financial Times from 1982-1986, and was FCCJ President from 1985-1986.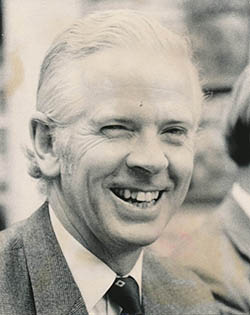 John Hubbard Rich, Jr. (1917-2014)
Veteran NBC News war correspondent and former
FCCJ president
Remembering John Rich
and D. Lee Rich (1920-2014)
by Charles Pomeroy
One of our more famous correspondents over past decades, John Rich, died on April 9th at his home in Maine. His death followed by five weeks that of his wife, D. Lee, who passed away on February 28th. They were soul mates to the end.
John Rich led an extraordinary life. First as a decorated war veteran and then as a legendary correspondent with a career spanning almost 50 years from the end of WWII in 1945 to the Gulf War in 1991-92. This is amply clear from the accompanying obituary sent to the FCCJ by his family that gives us an overall picture of John's life.
Our tribute will focus on John's contributions to the Club. These began in the very early years when he came to Japan immediately following WWII as the correspondent for International News Service (INS). A quick review of our history book, Foreign Correspondents in Japan, shows that he had a wry sense of humor, as can be seen in the first reference to him in our history book, on pages 34-35, in which he and several other Japanese-speaking correspondents appeared on a 1947 NHK quiz program. There, a bell was rung to signify a wrong answer, leading John to describe their group as "No-bell prize winners."
In a more serious role, John describes coverage of the 1948 executions of war criminals on page 37 of our history book. Pages 37 and 39 then mention his service as the Club's 2nd Vice-President in 1948 and 1949. It was during this period, too, that he covered the civil war in China and the Indochina War in which Ho Chi Minh was fighting French forces. John's command of both the French and Japanese languages served him well during these turbulent years.
John switched to NBC News in 1950. As their radio correspondent, he covered the entire Korean War from its very beginning in 1950 to signing of the armistice at Panmunjom in July of 1953. That set the record for the longest coverage of the war by a single correspondent. He was also noted for his many color photos—rare for the period—taken during that conflict. These were later turned into a book, some of which can be seen at this link:http://issuu.com/seoulselection/docs/koreanwarincolor_1 .
Like many correspondents during the K-War, John alternated between the Korean battlefront and Tokyo. As noted on pages 61-62 of our history book, John wryly describes the overturning and burning of his new car by student protesters during the May Day riots of 1951, an event captured on film by the AP's Max Desfor. In an unfortunate bit of timing, he had lent the car to a correspondent friend who, unwittingly, had parked it near the headquarters of General MacArthur.
But a major turning point awaited John in Seoul following the Korean War. There he met his future soul mate, Doris Lee Halstead—known to one and all as "D. Lee"—who worked for the State Department as a secretary. They were married in September of 1954 and launched their new family with two children born within the next two years while living in New York. Then, as both a radio and television correspondent, John headed the NBC bureau in Berlin, a base from which he covered other wars, both the cold one in Europe and hot civil wars in Africa.
The Rich family quickly expanded when D. Lee gave birth to twins in Berlin, increasing their number of children to four. There, he also witnessed the Berlin Wall being raised in 1961 before moving on to Paris. There, for expressing his views on their problems in Algeria, the French government made him persona non grata—which only added to his prestige among correspondents. This perhaps hastened his return to Tokyo in 1962—this time with D. Lee and four children. John again became involved in Club affairs, which would lead to his presidency in 1970.
D. Lee Rich, while looking after the family, also found time for the College Women's Association of Japan (CWAJ), an organization that held an annual showing of woodblock prints in Tokyo to raise funds for its scholarship program. That's where I first met her in the 1960s when one of my prints was included in the CWAJ show at the Tokyo American Club (my ambition to become an artist faded soon thereafter). I recall being impressed by her knowledge of modern Japanese prints. It was only later as a newly minted correspondent that I got to know John.
John's leadership style was low-key, but effective. A number of critical issues were resolved during his one-year presidency of the FCCJ from July of 1970. First off was the membership crisis, in which the increasing number of Associate members threatened to overwhelm the correspondent membership. The total number of members was frozen, at slightly over 2,000, as described on page 189 of our history book. Secondly, he established a committee to re-write the Club's Articles of Association and By-Laws, a project involving a number of key members over the next four years. It was also one that served us well until the recent revision to bring us in line with koeki status.
And then there was our history. The Club's Silver Jubilee took place during the Rich administration, which seemed appropriate for a veteran correspondent. Due to limited space in the Club, our 25th anniversary was observed along traditional lines in November. This was followed by a full-scale gala event held at a major hotel in January of 1971 to celebrate the event, which was attended by Prime Minister Eisaku Sato and his wife. They can be seen in a photo with John and D. Lee toasting the occasion on page 195 of our history book. To mark this anniversary, John announced the creation of an FCCJ scholarship fund for young journalists, with an eye to the future.
While still president of the Club, John in 1971 was among the select group of Press Club members to be allowed into China as part of the opening of that country under its so-called Ping-Pong diplomacy. Other noted members included China-experts John Roderick of the Associated Press and Greg Clark of the Australian. This event is described on page 194 of our history book.
D. Lee, too, expanded her role in community affairs by introducing an art program to brighten the lives of patients at St. Luke's hospital in Tokyo. In 1970 she was named "Woman of the Year" by the Tokyo American Club. She and John, both avid tennis players, regularly played at the Tokyo Lawn Tennis Club, where on one occasion they met Crown Prince Akihito (who is now Emperor) Princess Michiko. This meeting was captured on film, which can be seen in the Photo Gallery on the memorial website for D. Lee Rich at the link below. They were, indeed, a busy couple.
John's next major appearance in our history book came in 1976, when the Club premises moved from Babasaki-mon to Yurakucho. The photo on page 225 shows him and fellow Club stalwarts carrying the FCCJ sign in the short march up Nakadori to our new home. Those stalwarts are John Roderick on his right, Mack Chrysler on his left, who in turn is flanked by Max Desfor, all former presidents. This impressive photo also appears on back slipcover of the book.
From his NBC base in Tokyo, John Rich had also covered the war in Vietnam until the fall of Saigon in 1975, marking his second round in that area following his earlier coverage with INS following WWII. Nearing the end of his career he then became NBC's senior Asian correspondent as well as a vice-president of the RCA Corporation, the parent of NBC.
But being an old warhorse, John couldn't resist covering the Gulf War in 1991-92. This time it was for the weekly Journal of Westbrook, Maine, as described on page 318 or our book. He was 73, the oldest correspondent to cover that war. Somehow, it seemed an appropriate way for him to end his career, once again a war correspondent.
Both John and D. Lee were community-minded and contributed much to the Club. Despite covering wars for decades and rubbing elbows with generals, emperors, and prime ministers as well as military "grunts" on the ground, John remained unassuming, open, and accessible. My final contact with him was in 2004 during his last visit to Tokyo. Having heard from a mutual friend that he was in the Club, I called from my retirement home in Otsuchi on the Iwate coast to welcome him back. We had a nice chat, in which he described his return to Tokyo as "delightful." Ever the gentleman, he sent me a follow-up postcard, dated October 12, 2004, that I kept as a memento.
John Rich and D. Lee were, indeed, soul mates to the end. RIP
Further details can be found at the below links. The photo galleries in particular are of interest:
John Rich:
http://obits.dignitymemorial.com/dignity-memorial/obituary.aspx?n=John-Rich&lc=1640&pid=170620331&mid=5927932
D. Lee Rich:
http://obits.dignitymemorial.com/dignity-memorial/obituary.aspx?n=Doris-Rich&lc=1640&pid=170048814&mid=5882635