Image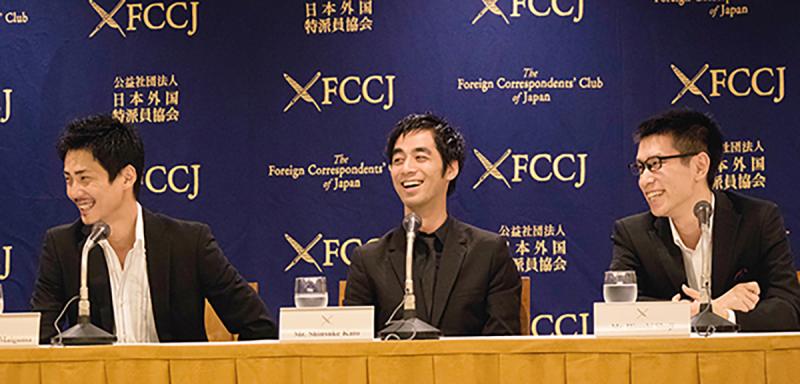 Three handsome young men in black suits descended upon FCCJ for the sneak preview screening of Ken and Kazu, looking for all the world like the grown-up yakuza versions of the street punks in the film. But then they smiled and laughed, and it was clear that they were nothing at all like the lowlifes populating the extraordinarily beautiful, brutal and moving feature debut of Hiroshi Shoji.
By rights, the film should provide a major bounce on the trio's springboard to success, and the suits were in honor of their first joint public appearance since October last year, when Ken and Kazu won the Best Picture Award in the Japanese Cinema Splash section at the 2015 Tokyo International Film Festival.
In the months since, the film has been traveling the international festival scene, from Shanghai to Edinburgh to Taiwan to Germany to New York and Korea, earning acclaim for its breathtaking cinematography and the bravura acting chemistry of its two leads, as well as the Shakespearean depths of its tragic tale.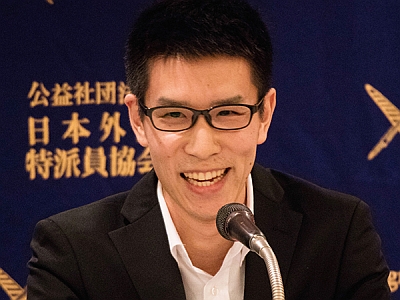 Top: Shoji (©Koichi Mori), Left: Maiguma (©FCCJ),  Right: Kato (©Koichi Mori)
As is often the case with unknown filmmakers, however, Shoji and his up-and-coming stars have not had the privilege of accompanying Ken and Kazu on every stop. Thus, the reunion at FCCJ provided a rare opportunity to share their filmmaking adventures with an appreciative international audience.
Based on the writer-director's award-winning 2011 short of the same name, and with Shinsuke Kato and Katsuya Maiguma in place again as the titular characters, the film wastes no time in luring us into its thoroughly realistic Japanese underworld: Ken and Kazu are small-time dealers of methamphetamines operating out of an auto-repair shop that's mostly a front for money laundering by a local yakuza boss (Haruki Takano) who was Ken's childhood classmate.
They're in it only for the money: Ken needs it to start a new life with his pregnant girlfriend, Saki (Shuna Iijima), and Kazu needs it so he can put his mother, suffering from dementia, into a care home. Ken is level-headed, responsible, watchful; but he is forced to go along when Kazu — all glares and threats, a wounded tough guy with a dark secret — decides to up the ante for a bigger piece of the action. They start working for a rival gang, but inevitably, the two friends are driven into a desperate double-cross.
Despite working on a shoestring budget, Shoji delivers one of the most powerful character studies in recent memory. Ken and Kazu is evermore intense and thrilling as it hurtles inexorably to its fateful climax, anchored by performances of heartbreaking tenderness and explosive anger. The film's accomplishments are partially due to the two-and-a-half years the director spent meticulously whittling it down from 141 minutes to a tight 96 minutes; but also to the incredible casting.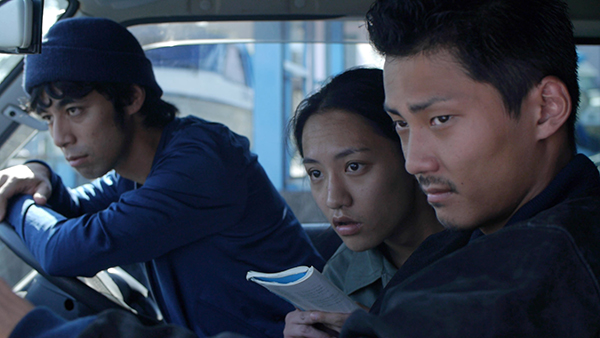 Ken and Kazu break in a new member of the gang. ©KenToKazu_Movie
It is, as one FCCJ audience member put it, "just stellar, all down the line. Everybody was just great. How did you do the casting?"
Explaining that he had gone to Tokyo Film Center College of Arts with Maiguma (who also graduated from the directing course, but took up acting afterward), Shoji replied: "We've been friends for over 10 years now, and after he played the same character [Kazu] in the short film, of course I had him play it in the feature. As for the role of Ken, Kato-san actually auditioned for [the short film version] online. After we'd selected him, I then started molding the characters around them. That's why I think the characters suit the actors, and why we could get a realistic depiction of the characters."
The emcee interjected, "So these two are actually violent drug dealers?" "Yes," laughed Kato. "We were beating each other up in the greenroom while you were all watching the film."
Shoji discussed the process of rehearsal and script revision after the actors had been cast. "These two are really different types of actors, so we spent about 3 weeks developing the characters and script together, and we changed just about everything from my original script. " No, we didn't!" said Kato. "Shoji-san is actually really stubborn — we didn't really veer much from the original script at all."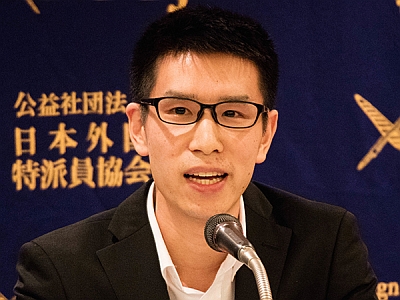 ©Koichi Mori
"What's the key to Ken and Kazu's relationship?" asked another interlocutor. "So much of their backstory was left unexplained, and I wondered what had brought them so close together." Said Maiguma, "Maybe this is different from what the director had in mind, but my own take on the characters is that they're like brothers. You can't explain a sibling relationship, but it's there and you just feel it." Added Kato, "With friends that you're always around, there aren't always clear reasons why you became friends to begin with. But I think Ken and Kazu complement each other, they need each other, they wouldn't be able to complete anything without relying on each other."
Another audience member commented on the setting. "This doesn't look like the Japan that we usually see. These characters, did you live near people like that and know them personally?" Shoji responded, "I shot in the town where I'm living, Ichikawa, Chiba Prefecture, and I think I was able to capture the nuances of the people and the area because I'm living there."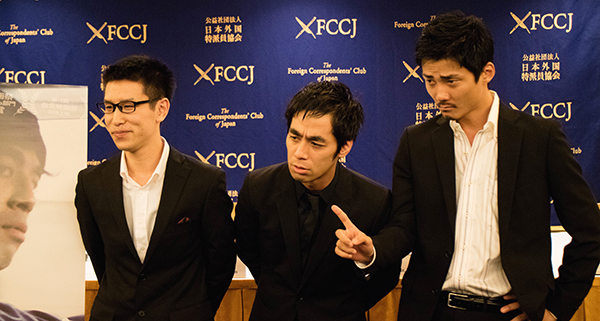 Ken and Kazu show just how tough they can be during the photo call.  ©Koichi Mori
Yet the feeling persisted that Shoji himself couldn't possibly be part of that milieu. Shoji sidestepped the suggestion that the film fits snugly in the Japanese yakuza genre, noting that he'd been a huge fan of Hollywood and Korean films for years. "They say that directors always put a lot of themselves in their first film," he said. "That's true in my case. I often think about friendship, rivalry, making choices. I think about these issues a lot, and that's why I wanted to make a film addressing them." He later stressed that his main focus could be seen in the film's final minutes, and the actions of Ken: "I think it all comes down to the moments in life when you do something for someone else, selflessly, and that's one of the important messages."
In my introduction before the screening, I had evoked Martin Scorsese's Mean Streets, the 1973 work that shares some parallels with Ken and Kazu, not only in style and character, but in career timing. That little film was made when Scorsese was still relatively unknown, and the two lowlife pals were played by relatively unknown actors: Harvey Keitel and Robert De Niro. Mean Streets launched all three into the firmament, of course; only time will tell if Ken and Kazu does the same.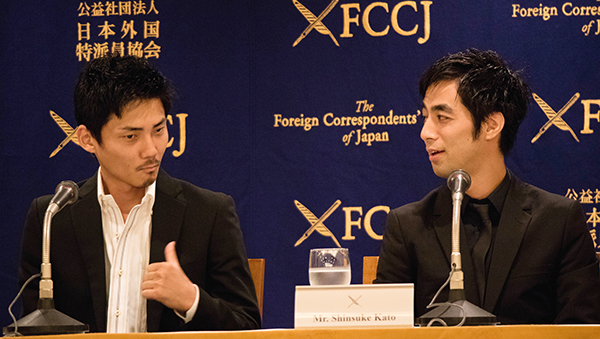 Japan's answer to the young De Niro and Keitel? Or is Kato Japan's Al Pacino?  ©Koichi Mori
But this is not your usual Japanese indie, at least by today's standards. Proof positive: UK-based distributor Third Window Films is handling international sales for the film, which are reportedly brisk. The company's CEO, Adam Torel, recently went on record, joining many other international critics in lambasting the current crop of Japanese releases. Among their complaints: actors either overact or do nothing at all, directors favor rambling longueurs over story- and character-building arcs, and bargain-basement production values cripple the impact.
There's a long way to go before the Japanese industry can recapture its once-vaunted position in the global cinema firmament, but Ken and Kazu is a reminder that talent will out.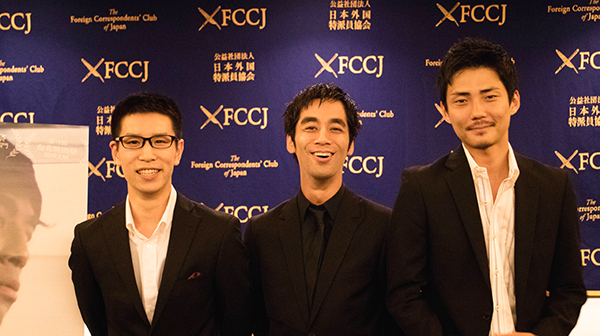 ©Koichi Mori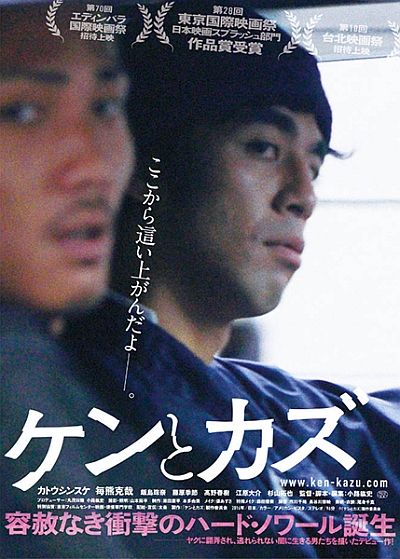 ©KenToKazu_Movie
Posted by Karen Severns, Thursday, July 21, 2016
Read more
Published in: July
Tag: Hiroshi Shoji, Shinsuke Kato, Katsuya Maiguma, Adam Torel, yakuza, Tokyo International Film Festival, awardwinning, drugs    
Comments