Image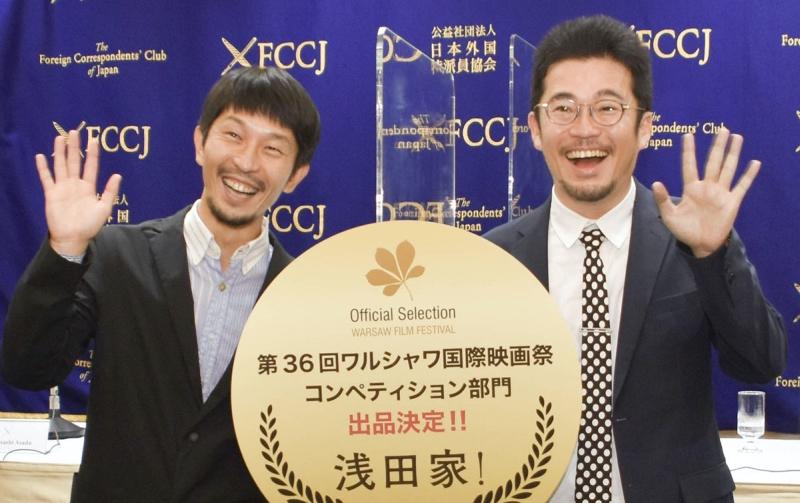 It's the rare Japanese director who can balance humor and pathos with the dexterity demonstrated by Ryota Nakano. After just four feature films, he has established a familiar voice and a favorite subject: the family, as it faces dark days. Yet there is always brightness in the gloom, and scenes of gentle humor are punctuated by endearingly quirky details.
In his much-heralded feature debut, Capturing Dad (2012), the titular patriarch has just died, yet one remembers most the moments of mirth, like the payoff to a slow-building punchline about a young boy's obsession with a tuna fish. Admittedly, Nakano's next two releases, both enormous hits in Japan, elicited more tears than laughter —in Her Love Boils Bathwater (2016), a matriarch who runs a bathhouse is dying of cancer, and in A Long Goodbye (2019), an aging father is spiraling into Alzheimer's.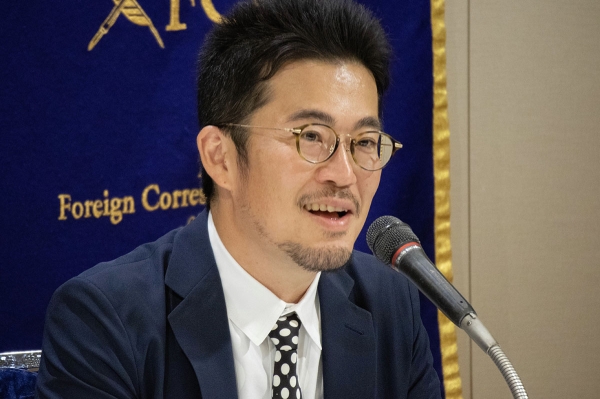 ©Koichi Mori
But his playful, poignant new The Asadas rediscovers the joyous, slightly off-kilter tone of Capturing Dad, even with a second half that is set in the aftermath of the 2011 Tohoku earthquake and tsunami. The film is a reminder that, should the trend continue, Nakano may become this generation's answer to the legendary Yoji Yamada, whose prodigious output (nearly 90 films and counting) has been almost entirely devoted to comedies centered on the family unit.
Appearing at the Q&A session following FCCJ's screening, Nakano explained how he'd become involved in the project, the first he's made based on real-life characters. Indie producer Shinji Ogawa (Piéta in the Toilet, River's Edge) had optioned the underlying rights in 2012, and approached Nakano after seeing Capturing Dad. Recalled the director, "He showed me this amazing photobook of all the Asada family members in cosplay, and said he wanted me to make a film about them. My first reaction was, 'What a bizarre family!' But I thought there must be some really interesting drama behind the impulse to dress up and pose for all those photos.
"As a filmmaker," he continued, "I also always felt I had a responsibility to make a film about the 3/11 Tohoku disaster, and I had so far been unable to do that. When I met Mr. Asada and his very unique family, I finally felt that I could depict the disaster in a way that was true to my vision.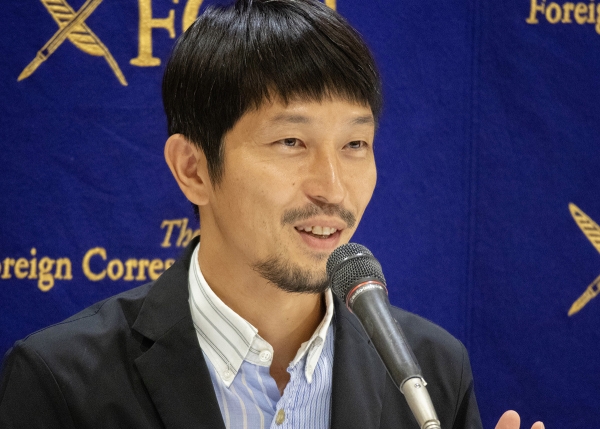 ©Koichi Mori
"From the beginning of the project, we knew we wanted to have a happy ending. I felt it might be difficult to end in an upbeat way, considering that we were depicting the aftermath of 3/11. But after I'd gone to the stricken areas and interviewed survivors, I realized that they were much more forward-looking than we'd expected. So we felt it would be acceptable to end on a hopeful note."
After some 18 drafts of the script, and dozens of interviews with various Asadas and other real-life people who would be depicted in the film, Nakano was ready for the casting process. With the actual Masashi Asada sitting next to him on stage, he told the FCCJ audience, "Needless to say, the most important role to cast at first was Masashi Asada. As I got to know him, I realized that he can be quite a slacker, quite laid back; but he's also really affable, and has a way of winning people over, making it very difficult to dislike him.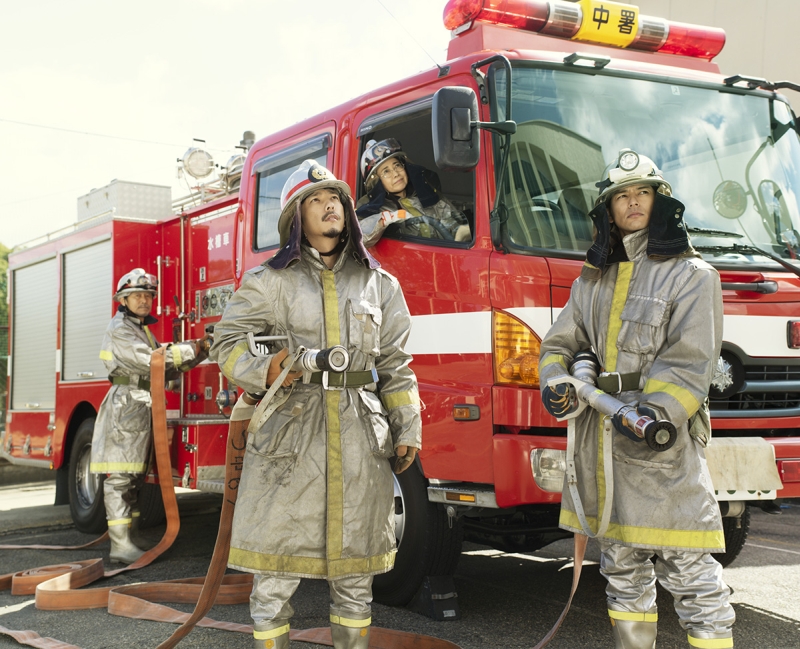 © 2020 "The ASADAS"Film Partners
"We had to figure out the best person to play that kind of character. When it comes to (Kazunari) Ninomiya, he can seem quite detached at first, but he's a real people person. He has this genuine quality, like Mr. Asada, that attracts people to him."
Ninomiya is one of Japan's hugest movie (and pop) stars (Letters from Iwo Jima, Nagasaki: Memories of My Son), and his casting enabled Ogawa and Nakano to attract another huge star, Satoshi Tsumabuki (Waterboys, Traces of Sin), to play Masashi's older brother, as well as a big-name supporting cast.

©Koichi Mori
The film was inspired by Masashi Asada's exploits, and while judiciously skirting hagiography, Nakano's script allows Ninomiya to express Masashi's reckless, free-spirited character in ways that are as irritating as they are charming.
Admitted the real-life Masashi, "I still have trouble believing that my photobook has been made into a film, and that Mr. Ninomiya is playing me. I'm very honored by that."
Whether or not you're familiar with that photobook — which immortalizes the Asada family in a series of hilarious, inventive photographs taken by Masashi — you will be enchanted by this foursome and its unusual dynamic. Here's a family that plays together, stays together, talks about their hopes and fears together, and occasionally, dresses up in silly costumes together.

©FCCJ
In The Asadas, Masashi (Ninomiya) is given his first camera by his photo-nut father (Mitsuru Hirata) at age 12, and decides he will grow up to be a photographer. When he's close to flunking out of art school, he's assigned to take the one photo he would take if he knew it would be his last. Masashi decides to recreate a childhood incident in which the entire family, including his elder brother Yukihiro (Tsumabuki) and mom (a marvelous Jun Fubuki) are in the hospital together. The Asadas have so much fun with the reenactment that Masashi begins shooting them in a range of cosplay getups: as firefighters, racecar drivers, superheroes, ramen chefs, rockband members, politicians and more.
But no Tokyo publisher will touch his "family photos" at first, and Masashi has to rely on childhood crush Wakana (Haru Kuroki) for support. After his fortunes finally begin to turn — in a twist that is stranger than fiction — he starts receiving requests to take family photos from across Japan. When the Fukushima disasters occur, he rushes to the devastated area to check on one of the families he had shot, and winds up staying on in a pivotal role.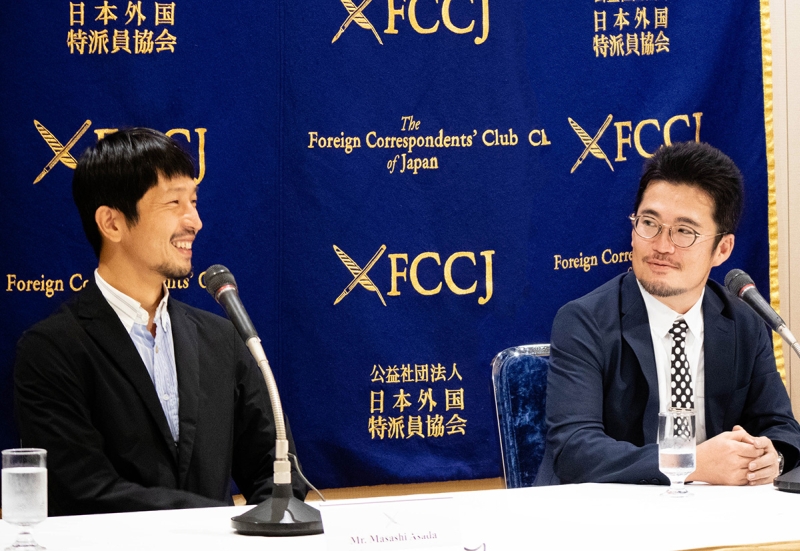 ©Koichi Mori
With spirited recreations from Masashi's bestselling photobooks (there have been several more since the first in 2008) and a cast working in top form, The Asadas pays tribute not only to the significance of family ties but also to the power of the photograph. As Masashi puts it, "a single photo can make memories tangible and sometimes, it can even give us the strength to live on."
FCCJ Asadas KM-2
©Koichi Mori
Asked how he'd engendered such a close-knit vibe from the actors, Nakano responded, "I decided to start the film shoot with the recreation of the Asada family photo album. We shot about 15 photos over the course of two days, working morning to sunset, with constant costume changes. The actors were laughing a lot and by the end of those two days, they'd become a family because they'd worked through the process together. That had been exactly my intention by starting production that way."
Explained Masashi Asada, "The family photos you see in the film are nearly identical to the ones I shot with my own family. The first one we recreated was the firefighters photo, and we were able to shoot it at the exact same fire station, with the same fire engine and uniforms."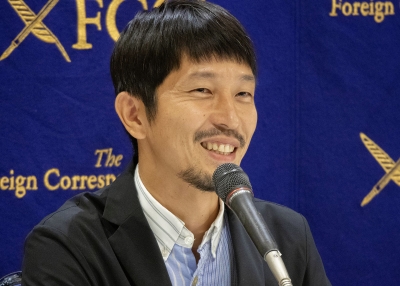 ©Koichi Mori
And what was it like shooting actors rather than real people? Admitted Asada, "Professionals make me a lot more nervous than amateurs, because I'm much more used to the latter and it's easier for me to coax people who are quite shy. [As for Ninomiya], watching him up close on set, I found his method of easing himself into a scene without seeming to prepare quite surprising. But when we were recreating the family photos, he was attuned to the tiniest details. He really has an eye for things."
"Did the experience make you want to start directing films yourself?" he was asked. Asada laughed. "This was the first time I'd been involved on a movie set, and I hadn't realized just how many people are involved in the process. When I shoot my own photos, I don't even have 10 people there. On this set, there were more than 10 times that many people, and it was quite amazing to see the director bringing them all together. I realized that it was something I would never be able to do. In short, I don't think I'll be making a film in the future."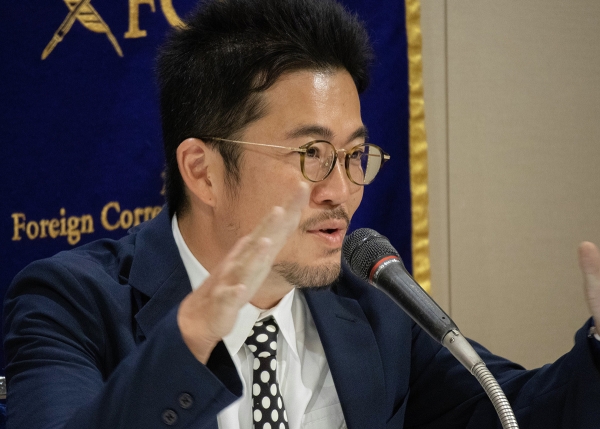 ©Koichi Mori
Asada was asked about his greatest influence, and immediately responded, "Shoji Ueda. He was a photographer based in Tottori, where the huge sand dunes are located, and he would shoot his family against the backdrop of the dunes. The photography scene was centered in Tokyo, but he stayed in Tottori and developed such a distinct style that he became internationally known for what we call 'Ueda-cho' (Ueda-style) photography. I respect him not only for his work but for his way of life."
He paused before adding, "And I hope that my work might someday become internationally famous and lead to the coinage 'Asada-cho.'"
Without missing a beat, the director chimed in, "And I, too, hope to be known internationally for 'Nakano-cho' films."
Nakano is no stranger to non-Japanese audiences, having first traveled widely with Capturing Dad. His new film will make its international premiere in competition at the Warsaw International Film Festival in mid-October, before going to the Busan International Film Festival and elsewhere.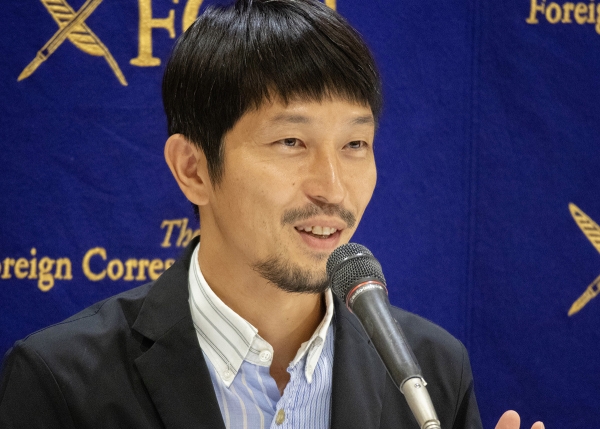 ©FCCJ
"It was my intent from the beginning to make this film not just for Japanese audiences," he said. "Because it's a film about family, and about the 3/11 disaster, I believe that it will also strike a chord with international audiences.
"I would go so far as to say that tonight's screening, with an audience of people from so many different countries, feels like attending a small international film festival. So this is the de facto international debut of the film, and I'm very eager to know what you thought of it."
Not surprisingly, the applause was spontaneous and substantial. It's surely a sign of things to come.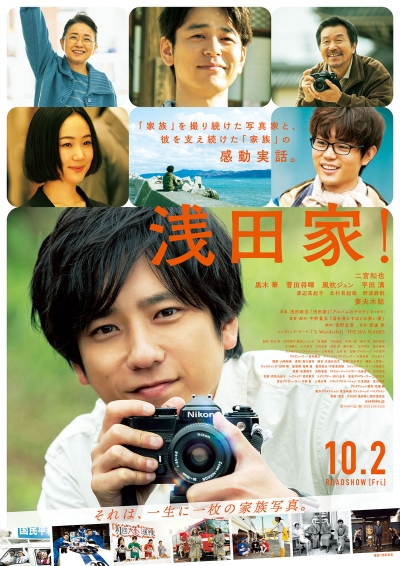 © 2020 "The ASADAS"Film Partners
Posted by Karen Severns, Friday, October 02, 2020
Selected Media Exposure
    Review: The Asadas
Read more
Published in: September
Tag: Ryota Nakano, Masashi Asada, Kazunari Ninomiya, Satoshi Tsumabuki, Haru Kuroki, Fukushima disaster, awardwinning, Yoji Yamada    
Comments