Image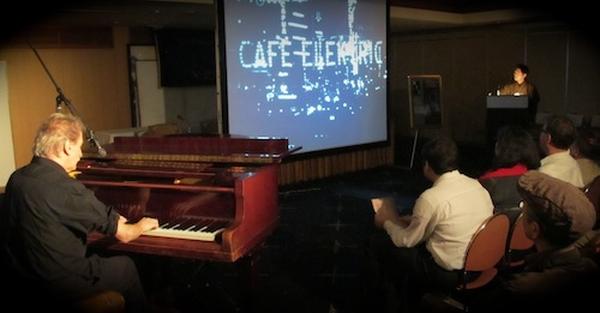 FCCJ helped kick off the Silent Film Renaissance 2014 from Vienna: Treasures of Filmarchiv Austria series, running from November 11 – 16 at the National Film Center in Kyobashi, with a special screening of Gustav Ucicky's 1927 film Café Elektric, accompanied by renowned pianist Gerhard Gruber and benshi narrator Ichiro Kataoka.
The Movie and Entertainment Committees cohosted the evening, which began with a cocktail party featuring a selection of Austrian wines. Once upon a time, silent films in Japan had live piano and benshi accompaniment. But unlike other nations, which quickly embraced talkies, Japan continued to feature benshi — the era's real stars — even when it meant turning down the film's own soundtrack. Not content to merely narrate the story and act out characters' dialogue, many benshi became famous for providing their own unique interpretations of the action taking place on the screen.

Gruber (middle left) talks with new FCCJ fans, while Kataoka (right)
and NFC Director Hisashi Okajima chat with an overseas visitor.
The audience at FCCJ was treated to an unforgettable performance by two artists who are devoting their lives to keeping the theater's bygone traditions alive. Gerhard Gruber is a composer and pianist who has accompanied some 400 silent films over the past 25 years, not only in his native Austria but around the world. For the last decade or so, he has worked with benshi narrators, including the legendary Midori Sawato. She is Ichiro Kataoka's mentor, and he amused everyone by describing how he followed her around for a year before she finally accepted him as a student. Kataoka studied performance at Nihon University and is now the best-known benshi of his generation. In 2013, he and Gruber partnered to form the duo East Meets West, which accompanies silent film screenings throughout Europe.
Café Elektric is set against the backdrop of a fashionably naughty café in Vienna, which all its characters patronize, and features screen icon Marlene Dietrich in one of her earliest roles. The story is a familiar one, of a spoiled rich girl (Dietrich) who falls in with the wrong man, of a fallen woman who falls in with the right one, and of the vicissitudes of fortune. But with the exceptionally dynamic Kataoka narrating, and the dramatic Gruber ranging breathtakingly over the keyboard, the film became as electric as its café.
Tsuneishi describes the loss of Japan's silent film heritage.
Summoning admirable stamina, the performers appeared at a brief Q&A session following the screening, to discuss their career choices and their collaboration. Gruber recalled a grim childhood in a Catholic boarding school, feeling that films became a "window to freedom." He still feels emotional about it: "Just like you meet someone and you marry him or her, and you do not divorce, I have not. I still like my partner very, very much." Although he has written basic scores for his partner, he essentially improvises each time he accompanies a film. "It should always feel fresh and new every time you watch it."
Fumiko Tsuneishi, an archivist at Filmarchiv Austria and the curator of the series at the NFC, also joined Gruber and Kataoka to field audience questions. Prior to going to Vienna in 2006, she had spent seven years at the NFC and organized some of the first digital film restoration projects in Japan. She spoke about the substantial output of Austria's film studios in their 1920s heyday, and the fact that a large percentage of films have survived (often overseas, where prints had been imported). "The loss of Japanese silent film is immense, really incredible," she explained. "Most of them are lost, only 3 percent or so have survived. Very few Japanese films were exported abroad, so there is very little chance to find any [remaining] films somewhere else."
Café Elektric is one of the 16 films being screened in the NFC silent film series, several of which also feature benshi and piano accompaniment. Along with several recently restored erotic shorts, other highlights include Der Rosenkavalier, Die Sklavenkönigin, Orlac's Hände, Die Freudlose Gasse and Romeo und Julia im Schnee, directed by Ernst Lubitsch in 1920 before he found fame in Hollywood.
  — Photos by Koichi Mori.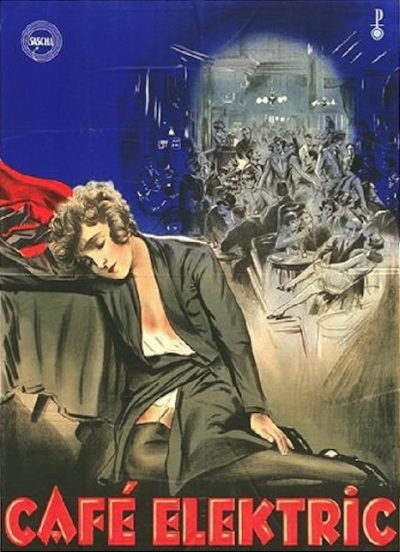 Posted by Karen Severns, Tuesday, November 11, 2014

Read more
Published in: December
Tag: silent film, benshi, Marlene Dietrich    
Comments