Image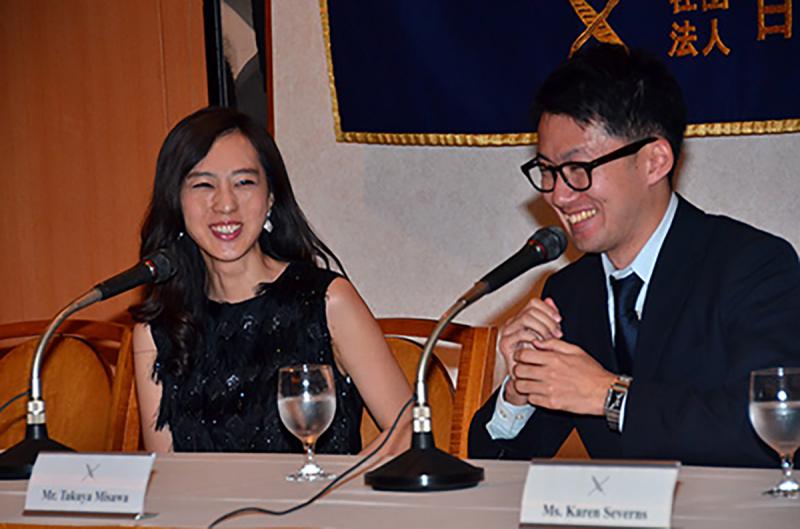 After playing at major film festivals around the globe for the past 10 months, scooping up the Best Screenplay Award in the Future Forward Section of the Beijing Film Festival, and earning accolades for being such a congenial homage to Yasujiro Ozu, Chigasaki Story finally arrived at FCCJ for a sneak preview ahead of its theatrical debut in Tokyo over the weekend.
Our announcement had trumpeted: "There's nothing like an effervescent comedy of manners to cure the late-summer blahs… Inspired both visually and musically by Yasujiro Ozu (with a little Woody Allen thrown in), the tale is infused with light, bright sentiments and low-key mellow-drama, anchored by a charming young cast."
We also mentioned that Chigasaki Story is set in the beautiful 115-year-old Chigasaki Inn near Shonan Beach, the actual retreat where Ozu wrote some of his greatest works, including Late Spring (1949), Early Summer (1951) and the masterpiece Tokyo Story (1953). And we highlighted the director's use of frames-within-frames and "pillow shot" interludes eliding time, favorite Ozu devices.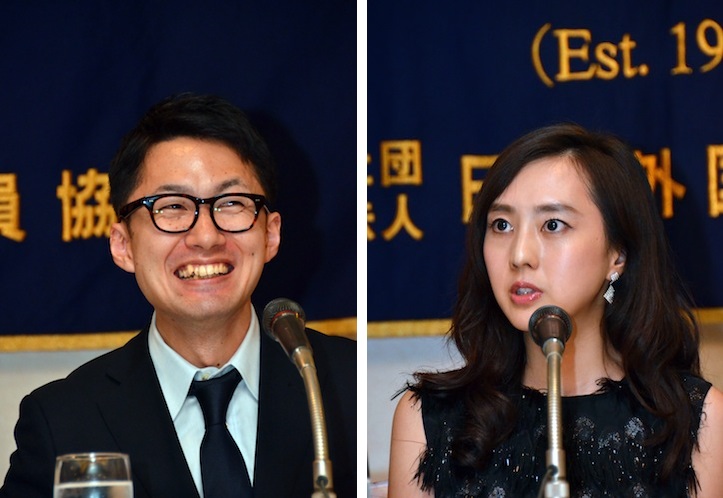 Misawa had assisted Sugino on two prior films, the extent of his apprenticeship before taking the directorial reigns himself.
So there were some surprises in store during the Q&A session after the screening, when first-time feature director Takuya Misawa was asked whether he'd planned to pay homage to the classic master from the beginning. "We didn't actually set out to make a story about the Chigasaki Inn," he admitted. "That only came about later in the production process. The original script stipulated 'an inn' for the location, and it wasn't until we went location hunting and found the Chigasaki Inn, which luckily gave us the okay to shoot, that we made changes to the script so it was set there."
Then came the kicker: "I wasn't necessarily trying to pay homage to Ozu while we were shooting. But during the editing process, I started feeling that it seemed a bit like an Ozu film. So I made some changes to certain scenes to improve [the similarities], but without deconstructing what I set out to do. Some of the 'pillow' scenic shots were filmed during post-production."
A young Japanese man in the audience noted that he found the film to be more like an Eric Rohmer or a Woody Allen work, and Misawa was pleased: "One of my favorite directors is Woody Allen, especially the way his characters aren't quite what they seem."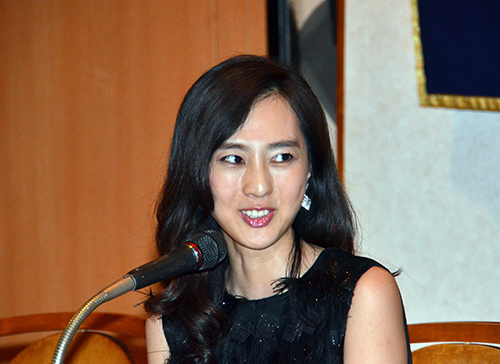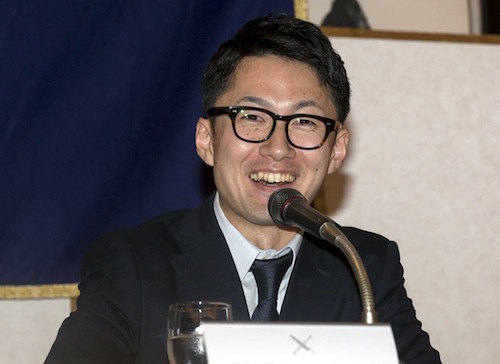 Misawa gave his producer one of the juiciest roles in the film,
and she nailed it. Bottom photo ©Mance Thompson
While the maturity of his vision belies his age and experience — Misawa is still a student at the Japan Institute of the Moving Image, the film school begun by Shohei Imamura — Chigasaki Story does focus almost exclusively on the under-30 set. Innkeeper Risa, who's inherited a traditional guesthouse from her parents, is hosting a group of archaeology students led by Prof. Kondo, and awaiting the arrival of her former airline colleagues Karin (a terrific Ena Koshino) and Maki (a deliciously uptight Sugino). They're coming to attend Risa's wedding party, which is being held several weeks after the actual wedding in Hawaii. Risa's staff includes the shy student Tomoharu, who immediately attracts the attentions of the flirty, long-legged Karin. Tomoharu is also the object of fellow student Ayako's secret affections, and he ping-pongs between the two women without noticing their increasing jealousy. Maki begins her own seduction of Prof. Kondo, with whom she had studied eight years earlier, but the professor has someone else in mind. The friendships, feuds and flirtations, fueled by drink, finally erupt on the eve of Risa's Hawaiian-themed wedding party.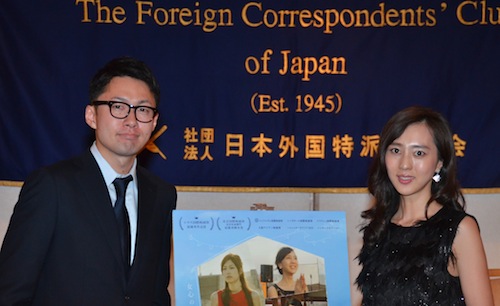 As critic Derek Elley earlier noted, "This type of film is much more difficult to pull off than it seems, but Misawa shows a remarkable assurance in both writing and direction, helped by an expertly picked cast." He was also helped by Wa Entertainment, a boutique production-distribution company that hired him as an intern in 2012. He served as Sugino's producing assistant on the Koji Fukada comedy Au Revoir l'Ete (which we screened at FCCJ in January 2014), and then served as her assistant director when she made her Indonesia-set film Taksu last year.
Even in Japan's independent film community, a chance like that given to Misawa is exceedingly uncommon. As Sugino explained, "I've been working as a producer, as well as acting, since I was 25, and I often met with cynical comments and attitudes from people in the industry. So I really wanted to break through that wall. Because I think, if there's something you want to do, why not do it? Why not take on the challenge? I really relish working with young people who have the passion and the energy to do that."
Misawa described being given just three requirements for his script — summer holiday, beach, students gathering — and Sugino interjected, " This all started because we [Wa Entertainment] really wanted to do something for him. We provided the framing for the project, but as the executive producer, I wanted him to bring as much of himself into the film as possible, to give it his own flair."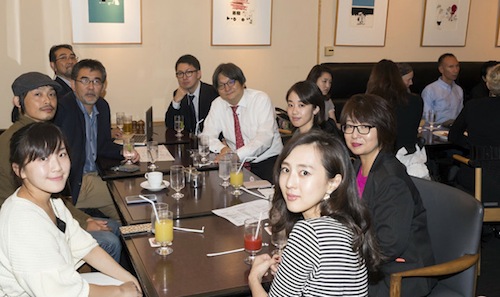 Wa Entertainment head Sousuke Ono (in red tie) and Chigasaki actress Juri Fukushima
(to his left) join Sugino and others in the bar following the event. ©Mance Thompson
After an audience member praised him for the film's dialogue, Misawa admitted that he's always eavesdropping on conversations in family restaurants, since they're a good source of chit-chat, and he paid tribute to the improvisatory skills of his actors, hinting that several of the scenes were heavily ad libbed.
 
As for the catchy score, he explained: "The music came about during post-production. I did try matching the visuals with classical music, but I ultimately chose to use jazz, which Woody Allen does. He uses ragtime, which arrived early in jazz history. It came on the scene around the time that the Chigasaki Inn started business, and I thought that was relevant, as well."
After what will surely be a successful theatrical run for Chigasaki Story, Misawa's next milestone will be film school graduation next spring, but he is already working on several new scripts. It's not often that a first feature feels like a mid-career high mark, and we can't wait to see what he directs next.
As for Sugino, who has won Best Actress awards in Japan and a 2014 Rising Director Award at the Busan Film Festival, as well as been the focus of special sections devoted to her work at the 2011 Tokyo International Film Festival and the 2013 Taipei Film Festival, she is eager to continue having it all. She has finished six projects in the past 18 months, including acting in upcoming films from Kiyoshi Sasabe and Ronan Girre. "I really don't have a favorite genre," say Sugino. "I want to try all types of films and roles, whether they be quiet and nice, or angry and hysterical. And I want to work with people from many other countries as well." International directors, take note!
  — Photos by Mance Thompson and FCCJ.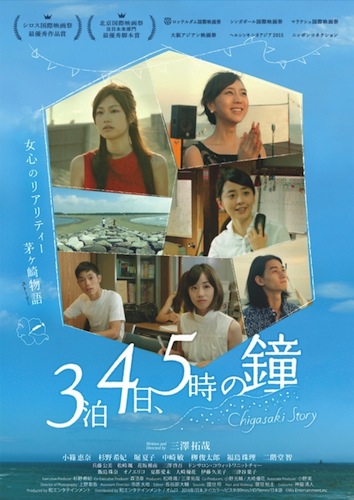 ©2015 wa entertainment, inc.
Posted by Karen Severns, Sunday, September 20, 2015
Media Coverage
Read more
Published in: September
Tag: Yasujiro Ozu, Kiki Sugino, Takuya Misawa, Woody Allen, awardwinning, comedy    
Comments