FILM FESTIVAL FEVER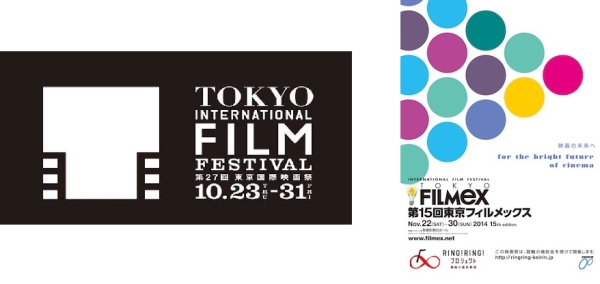 Apples and oranges: both taste sweet.
Much is made, at this time of year, of the differences between the Tokyo International Film Festival (TIFF) and TOKYO FILMeX (Filmex), despite there being no reason whatsoever to compare them. A brief rundown makes the disparities clear: TIFF is now in its 27th year and remains the only Japanese festival accredited by the FIAPF (just 15 festivals qualify for this A list, including Berlin, Cannes, Montreal, Shanghai and Venice). Filmex marks its 15th anniversary this year, and remains small and specialized by choice. TIFF is presided over by a director-general who changes every few years, since the position is shared between a handful of Japan's most powerful studio-distributors, under the aegis of the Ministry of Economy, Trade and Industry and the Tokyo Metropolitan Government. Filmex, which is backed primarily by Office Kitano (as in "Beat" Takeshi) and the bicycle racing organization Keirin, has been overseen by its two devoted founders since it began in 2000. TIFF generally screens over 100 films each year, while Filmex's lineup is only a quarter of that.
So this type of side-by-side evaluation is essentially meaningless. Film audiences in the Kanto area are fortunate that both festivals exist, and both are due praise as well as constructive criticism. In this era of dwindling public funding for cultural events, increasing competition from other film festivals (especially to snag world and national premieres) and static attendance numbers, festival organizers must juggle an array of often contradictory demands just to stay afloat.
A recent article about TIFF derided its "glitz and glamour," which is absolutely beside the point. Like Cannes, where glitz and glamour reign supreme (there is even an Official Cannes Shop on its website), A-list international film festivals must always balance high art with utter baloney. Just check their red carpet videos if you think Berlin, Venice, et al. are above celebrity fawning, and their lineups if you think they are really "all about the films."
Yet TIFF's reputation as being aspirational, rather than inspirational, continues. This is partially due to its management structure, which makes its art-vs.-commerce balancing act more difficult and has virtually precluded organizers from establishing an ongoing "vision" for the festival. But the laudable work of its veteran programming crew, led by the indefatigable Yoshi Yatabe, with Kenji Ishizaka overseeing all the Asian selections, is too often overshadowed by the festival's Special Screenings section. Because TIFF occurs just before the fall's high-profile films hit the theaters, Japanese distributors use this section as a platform to publicize upcoming releases — and they share costs with TIFF to bring a bevy of the festival's biggest stars to the red carpet.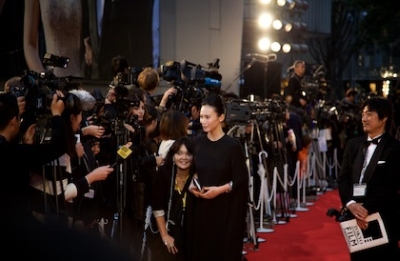 TIFF Muse Miki Nakatani works the red carpet.  ©2014 Aude Boyer
Although Special Screenings account for a small portion of the films screened at the festival, it is these that TIFF often earns its critical drubbing for; while the exceptional films shown in the Competition, World Focus, Asian Future and (sometimes) Japanese Splash sections are too quickly forgotten. But the art-to-commercial film ratio is surprisingly high at TIFF, with internationally heralded selections that Tokyo audiences are unlikely to ever see in theaters, since Japanese distributors have grown increasingly conservative about releasing arthouse titles, particularly foreign ones.
Amply earning the "international" in its name, TIFF brings a staggering array of films from around the world to Tokyo audiences each year, and past award winners include titles from Uruguay, Bosnia-Herzgovina, Albania, Bulgaria and Kazakhstan, along with many European and Asian countries. A glance through the annual Competition section lineups reveals a decided preference for arthouse fare, with many of the films verging on the social-realist miserablism that Filmex specializes in.
This year's TIFF Grand Prize went to one such: the drug-addiction saga Heaven Knows What by sibling directors Joshua and Benny Safdie, marking the first time an American film had received the honor since John Sayles' City of Hope in 1991. Of all TIFF winners, only the 2011 Grand Prizewinner, The Untouchables, by French directors Olivier Nakache and Éric Toledano, has actually been a box-office slam-dunk (and the most successful French film ever shown in this nation of Franco-cinephiles).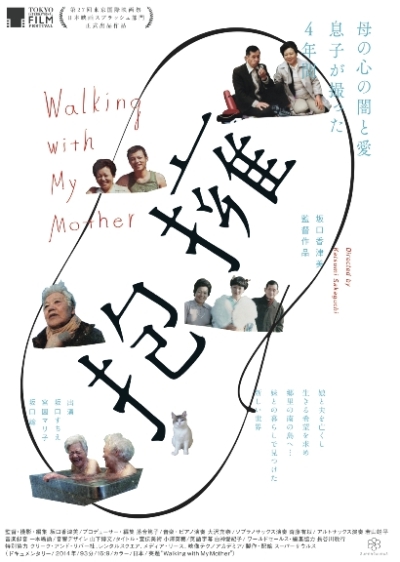 Walking with My Mother ©2014 Supersaurus Inc.
The Movie Committee will be screening the TIFF film
Walking With My Mother, a wrenchingly truthful documentary
about aging and loss, by director Katsumi Sakaguchi, in April.
During its October 23 – 31 run this year, TIFF screened 175 films from 42 countries/regions, yet it will probably be remembered most for its focus on animated titles, including the first-ever complete retrospective of work by Hideaki Anno (creator of Evangelion), for its screening of Charlie Chaplin's City Lights in the historic Kabuki-za theater, and its wide range of allied events, including a World Cosplay Summit and star chefs on hand to serve up Tokyo Cinema Cuisine.
Doraemon made his English-language debut at TIFF. ©2014 Aude Boyer
Fortunately, TIFF encourages audience feedback, as well as providing ample opportunities for attending press to chat on and off record with staff about what is and isn't working in any given year. It's impossible to imagine sitting down around a picnic table with Cannes President Gilles Jacob during his festival, yet casual get-togethers are precisely what TIFF Director-General Yasushi Shiina seems to enjoy most. He welcomed a group of foreign journalists, including FCCJ's own Monzurul Huq, to essentially ask How're we doing? on October 28.
In his second year at the TIFF helm, it is clear that Shiina is working hard to continue Tom Yoda's successful steps toward raising the festival's international profile. "In my first year, I tried to figure out how we could enhance the festival," Shiina told the group, "and one focus we decided on was animation, because we wanted to showcase Japanese content on a bigger scale." To a suggestion that the focus may have been too much of a good thing, Shiina conceded, "When we announced the initiative last year, the press started calling us the 'Tokyo Anime Festival,' but I think animation is just one of the ways to get [younger] audiences into theaters. And our opening and closing films maybe gave the impression that we had too much animation." (TIFF opened with the world premiere of Disney's Big Hero 6 and closed with hotshot director Takashi Yamazaki's Parasyte, a live-action version of the popular sci-fi manga.)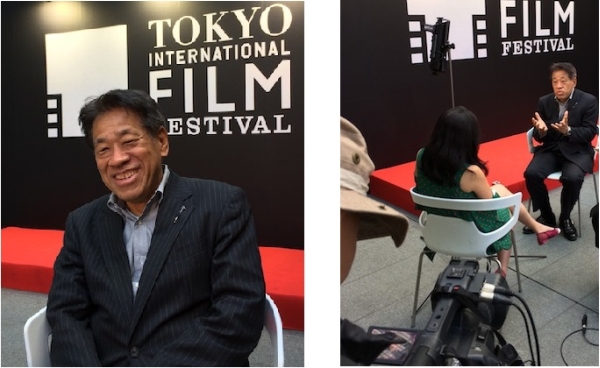 Director-General Yasushi Shiina meets the foreign press.
Shiina also discussed the increase in selections from Asia: "We always wanted to focus more on Asian films, not just screening them, but having creators come to Tokyo and participate. With the Japan Foundation Asia Center [which just launched the new Crosscut Asia initiative, focusing on national cinemas in the region], we could accomplish this." He repeated his emphasis on supporting young creators: "We're doing an event with Pia Film Festival, inviting five or six PFF films this year, not just one, and bringing the winners of student film festivals in Japan to allow them to interact and also participate with established creators like Takeshi Kitano," who was the recipient of TIFF's inaugural Samurai Award during the closing ceremony.
Shiina is clearly grappling with a variety of challenges for TIFF's 28th incarnation in 2015, but perhaps his biggest is to find a permanent home for the festival's growing girth. Hampered by a lack of space and cinemas since its move from Shibuya to Roppongi in 2004, its market has taken place way out in Odaiba for the past 2 years, and many of this year's screenings were held in Nihonbashi. "Once I accomplish the reuniting of TIFFCOM and TIFF in one location, I can retire," Shiina laughed. "But next year might be too soon."
TOKYO FILMeX has its own challenges, but an expanding slate necessitating more space is not one of them. Despite its limited size, Festival Director Kanako Hayashi and Program Director Shozo Ichiyama firmly believe that "one film festival can change the world," and their ardent audiences clearly support the notion.
From its first incarnation, Filmex has focused on assuring that there will be a "bright future of cinema" (its motto) through the education and encouragement of filmmakers throughout Asia, as well as promoting the involvement of young cinephiles and supporters through its membership program. Filmex conducts workshops throughout the year, and brings emerging practitioners from all over Asia to participate in its Tokyo Talents  sessions, with mentoring by famed filmmakers and other industry veterans, in alliance with the Berlinale Talents program. It also selects a group of student filmmakers to bestow the festival's popular Student Jury Prize.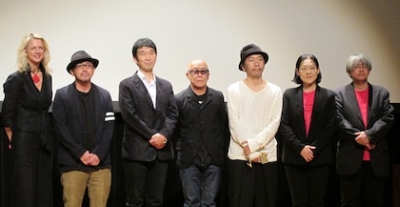 At the Filmex lineup announcement at the Embassy of Canada, Festival Director Kanako Hayashi
and Program Director Shozo Ichiyama (in red shirts) and Laurie Peters, Head of Public Affairs and
Culture at the Embassy, flank the four Japanese directors in this year's festival: Takahashi, Shinozaki,
Hiroki and Tsukamoto.
This year, Filmex features 25 films over its November 22 - 30 run, with nine Competition films vying for its Grand and Special Jury Prizes, eight from Asia/the Middle East and one from Japan (Izumi Takahashi's Dari Marusan, the only world premiere), with acclaimed Chinese director Jia Zhang-ke (A Touch of Sin), a frequent presence at Filmex, heading the Competition jury. There are also 11 special screenings and two early David Cronenberg mini-features (part of a Filmmaker in Focus sidebar, with the great Canadian director unveiling his latest, Maps to the Stars, as the Closing film). There are also three digitally remastered works from 1960 — Nagisa Oshima's Cruel Story of Youth, Osamu Takahashi's Only She Knows and Hidetaro Morikawa's The Tragedy of Bushido in the festival's Time of Destruction and Creation section, jointly presented with Shochiku.
The Movie Committee will be screening (at least) two
Filmex selections in 2015: Ryuichi Hiroki's comedy-drama
Kabukicho Love Hotel, on January 8, and Shinya Tsukamoto's
searing antiwar masterpiece Fires on the Plain, in July.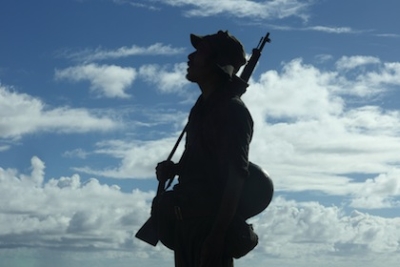 Fires on the Plain ©2014 Shinya Tsukamoto/Kaijyu Theater
The 2014 selections are unusual for the inclusion of four high-profile Japanese titles, including the Opening film, Shinya Tsukamoto's extraordinary Venice-buzzer Fires on the Plain, Ryuichi Hiroki's crowd-pleasing Kabukicho Love Hotel, Takahashi's Dari Marusan, and Makoto Shinozaki's Fukushima-focused Sharing, marking the popular director's first Filmex appearance in 14 years.
Kabukicho Love Hotel costars Kaho Minami and Atsuko Maeda share a laugh at the
Filmex premiere with their director, Ryuichi Hiroki.  ©2014 Aude Boyer
At Filmex's opening ceremony on November 22, Hayashi told the audience, "In the process of selecting these 25 films, we have encountered many surprises and miracles." And then, reminding everyone why filmmakers continue to swear their allegiance to the festival, she stressed: "We respectfully recognize these filmmakers' braveness, determination and affection for the audience."
Posted by Karen Severns, Tuesday, November 25, 2014
Read more
Published in: November

Tag: TIFF, Filmex, Festival, Yasushi Shiina, Yoshi Yatabe, Kanako Hayashi, Shozo Ichiyama, Ryuichi Hiroki, Shinya Tsukamoto, Kabukicho Love Hotel, Fires on the Plain, arthouse, Walking with My Mother, animation    
Comments