Image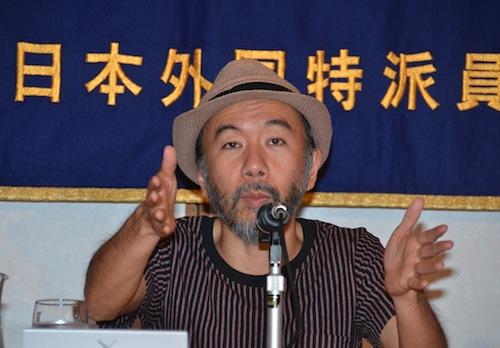 Leave it to the indefatigable Pio d'Emilia, longstanding FCCJ member and longtime friend of iconoclastic director Shinya Tsukamoto, to pose the one question that everyone was asking themselves, but would never, ever want to answer: "Is there any situation where you would eat human flesh?"
D'Emilia had just watched the director's graphic, harrowing new adaptation of the semi-autobiographical war novel Nobi by Shohei Ooka, about a Japanese soldier's gruesome ordeals in the Philippines during the closing days of World War II, where starvation was a far greater killer of men than enemy bullets and bombs. Tsukamoto's Fires on the Plain highlights the surreal carnage, the chaos and the cannibalism, only slightly exceeding Kon Ichikawa's 1959 adaptation in its brutality and savagery. A perfect reinterpretation for our time, it is an intensely visceral reminder of the utter obscenity of war: Kill or be killed, eat or be eaten.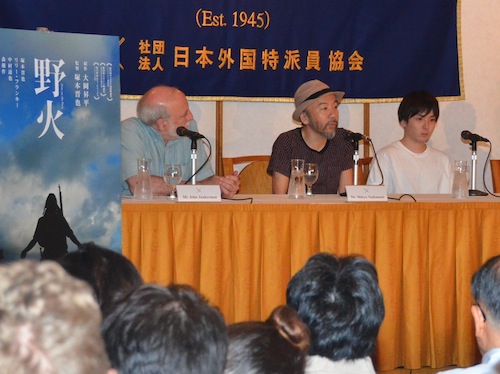 Tsukamoto describes his 30-year journey to bring Ooka's novel to the screen.
But the director was quick to explain, "In the original book, the author deals with cannibalism as a central issue… but the choice, the moral dilemma of whether or not to eat human flesh, is not a focus of this film. It's not depicted in great detail. And the reason is that when I heard accounts from soldiers who fought in the Philippines [during extensive interviews he conducted a decade ago], I realized they didn't have any capacity to think about their actions. They were so pressed, so desperate, that they were unable to address this moral dilemma. The soldiers stranded in the Philippines started by eating water buffaloes, then they would go into the villages and ransack houses for food… eventually, they went into the mountains and ate whatever they could find. When they found maggots eating the flesh of the wounded, they would eat the maggots. Human flesh would be attached to those maggots… Given their situation, I could contemplate eating human flesh, particularly if a fellow soldier was already dead and doing so could allow me to stay alive."
But he also stressed, "We should never again allow a situation to occur in which people would have to face such a quandary. We have to do whatever we can to stop Japan's slide toward militarization."
Young actor Yusaku Mori, who makes his acting debut in the film, struggled to answer d'Emilia's pointed question as well, providing his response in both flawless English (he had trained to be a translator at the University of Sunderland), as well as in Japanese. "I guess never. Never," he said. "I think there might be a situation where I might eat human meat, but I never want to do this."

Shinya Tsukamoto and Yusaku Mori respond to some surprising questions.
Considering the current political and cultural climate in Japan, and the ultra-rightists' success in preventing the Japanese from seeing Angelina Jolie's Unbroken — which was falsely rumoured to contain scenes of cannibalism and has effectively been barred from release here — it is especially gratifying that Ooka's bleak, nightmarish vision of hell-on-earth is being retold by one of Japan's own, boldly defying the revisionism of the white-washers and providing a timely corrective to all the mythologizing versions that routinely draw audiences, such as 2013's Abe-endorsed Eien no Zero (The Eternal Zero), which became one of the top-10 grossing Japanese films of all time.
The fiercely independent Tsukamoto was prompted to make the film by the Abe Administration's inexorable moves to expand the role of the military. "When I first started thinking about [adapting Ooka's novel] 30 years ago," he explained, "it was in the context of the Showa period in which I'd grown up, when people generally believed that war was something evil. So I conceived of it as having a universal message that was widely shared, that war should never be repeated. But as the decades passed, it has become a very different thing. Now, there's a sense in which war could occur in the near future, that Japan is moving steadily in the direction of repeating the errors of the past. The possibility of another war is a very real one."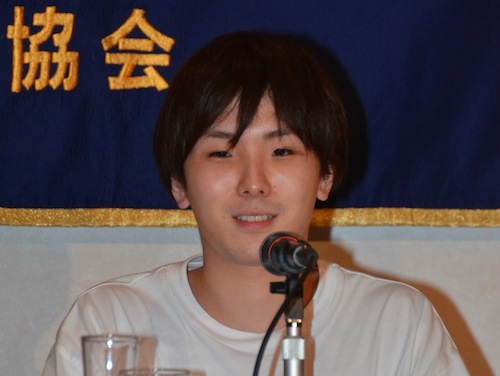 Mori found his calling through an open audition.
Photographed in lush color where Ichikawa's earlier film was in black and white, Tsukamoto's Fires on the Plains captures the stunning beauty of the Philippines (and its stand-ins, Hawaii and Okinawa), contrasting the verdant forests, the flowers dripping with dew, the stunning sunsets with the hallucinatory desperation of its solitary protagonist, the filthy, isolated Pvt. Tamura (played by Tsukamoto himself). Already half-dead from TB and starvation when his regiment succumbs to the inevitable, Tamura desperately clings to his last shreds of humanity in a world gone mad around him, as he stumbles, inexorably, to the very edge of the spiritual abyss.
For anyone who has followed Tsukamoto's career, this grisly, gripping anti-war story seems the perfect subject for him to wrap his dark creative brilliance around. World premiering in fall 2014 at the Venice Film Festival, it has gone on to widespread acclaim at 27 other international festivals, an accomplishment that is all the more staggering when one understands just how limited the film's budget was. To get it made, Tsukamoto's crew also acted as extras, and most of those involved — as is often the case with the director's films, as well as many films in Japan — were volunteers, paid primarily in daily bento and the certainty that they were contributing to a worthy cause.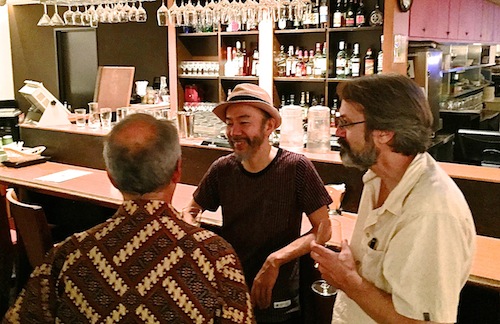 After the screening and Q&A, Tsukamoto relaxeswith Japanese-film
aficionados Mark Schilling and Markus Nornes in the bar.
"One of the essential aspects of the film was to capture the splendor of the Philippines, and this presented a great challenge" from a budgetary standpoint, Tsukamoto told the FCCJ audience. "I had a small crew, and I shot the jungle scenes there myself, as well as acting in them. But most of the film was shot back in Japan, with a large number of volunteers… We purchased one army uniform and then made 50 copies of them ourselves. We purchased one gun and then made 20 replicas. In the scene with a jeep and a truck, we actually had to create the large truck from cardboard boxes."
A tribute to Tsukamoto's unfailing ability to work cinematic magic with little more than inspiration and commitment, as well as a powerful call to the nearly-lost cause of peace, Fires on the Plains is absolutely essential viewing — not only for those too young to remember Kon Ichikawa's film, but for everyone who believes that Japan can best honor its Pacific War veterans, in this 70th anniversary year of WWII's end, by refusing to turn away from the truth of their experiences.
  — Photos by Koichi Mori and FCCJ.
Posted by Karen Severns, Wednesday, July 15, 2015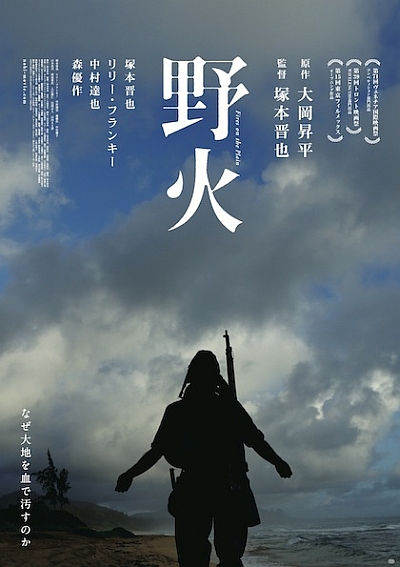 ©SHINYA TSUKAMOTO/KAIJYU THEATER
Media Coverage
Read more
Published in: July
Tag: WWII, Shinya Tsukamoto, Yusaku Mori, Shohei Ooka, international coproduction, Filmex, Venice Film Festival, awardwinning,
cannibalism    
Comments